When you watch a film by acclaimed South Korean director Park Chan-wook, you're likely to sit through something intriguing, complex and incisive about the hidden motivations that make people do the most unusual things.
Whether it's military tension (Joint Security Area), righteous revenge (Sympathy For Lady Vengeance) or abject imprisonment (Old Boy), his movies are often about human behaviour that's unfathomable and unknowable, until its layers are peeled open.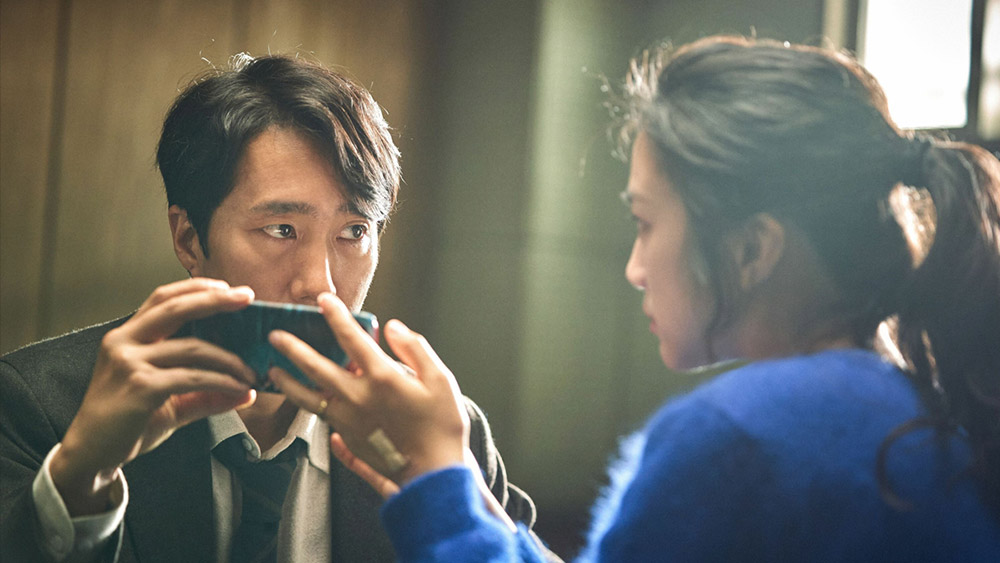 When you see Chinese actress Tang Wei (Lust, Caution), you know that she's a marvellously subtle performer who can exude an enigmatic aura of the most unreadable kind too. One look from her intelligent eyes, one furtive glance from her knowing, secretive face, and she becomes a veritable seductive presence. A femme fatale who seizes your attention as she draws you deeper and deeper into whatever she's not telling or revealing yet to the audience. 
The burning question about the character she plays here, amidst a narrative that explores the unpredictabile, is this – as the central, bewitching woman of mystery, did she murder her husband?
Here then is Decision to Leave, an absorbingly tangled Park Chan-wook/Tang Wei combo of Korean filmmaking solidity and Chinese acting inscrutability. This modern Korean noir about fatal attraction reveals itself piece-by-investigative piece, resulting in a romantic mystery-thriller, pitched primarily at adults, that is quizzical, dramatically overwrought but still quite terrifically effective. Especially for wistful folks who might have had an uncontrollable, even dangerous, obsession with somebody inexplicably alluring once in their lives. While this film isn't Park Chan-wook's best, it still, no pun intended, fixates you. 
Imagine the agonising sensation of a newly discovered soulmate gone awry. This obsessive connection which one human being can have with another – either with good, bad or very extreme consequences – is what often fascinates director/co-writer Park to no end in his interesting, intricately crafted plots.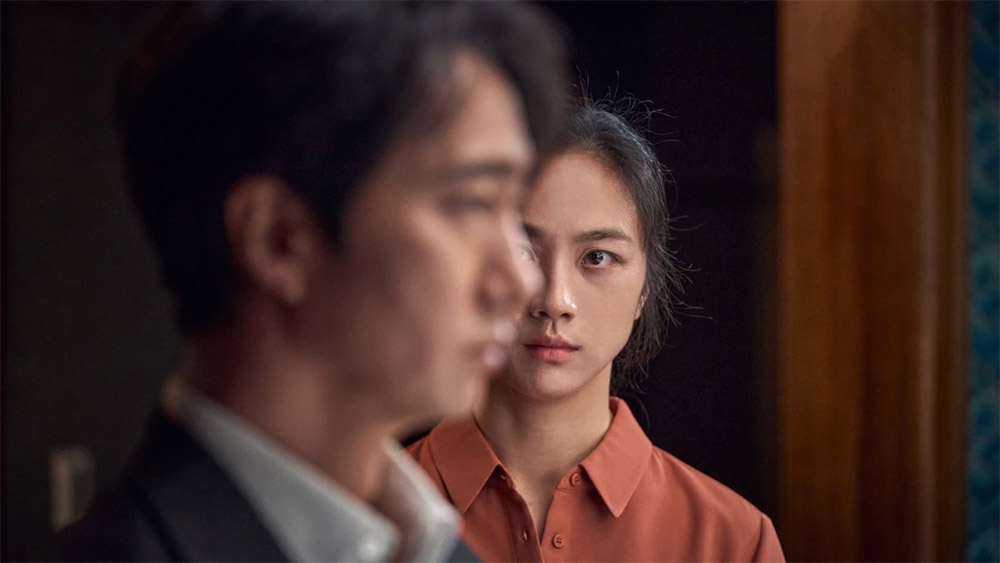 The body of a man was found after he fell off a mountain top in Busan. His attractive, coldly composed wife, Song Seo-rae (Tang), is the prime suspect and it's a situation which she doesn't make any better for herself, by not appearing sad, upset or even bothered by his death.
The baffled detective handling her case, Hae-joon (Park Hae-il, War Of The Arrows, Moss), cannot understand why Seo-rae goes straight back to work as a caregiver in an old folks' home right after her husband dies. Her non-grief isn't exactly the "crashing wave" of wifely pain he expects her to show.
"Living old people come before dead husbands," the spouse answers coolly and matter-of-factly.
The detective, a married man and diligent top cop who's destined to wither into a muddled mess under her spell, can't stop thinking about her or even get a good night's sleep as his dedication to unsolved cases – the guy has a murder wall of gruesome pin-ups in his home – turns him into an edgy insomniac. Cue the new woman's solution for his sleeplessness in a good bedroom scene. Believe us when we say this – if you're a man, you'd want Tang Wei to put you to sleep.
Somehow, this case is uniquely different as the cop becomes captivated primarily by his new charge's natural beguiling beauty and unnatural personal origin. Seo-rae, a Chinese national, is the half-Korean, half-Chinese daughter of a Korean wartime hero in Manchuria.
Her husband may simply have commited suicide. But as the signs point towards the wife being the one who likely did the dark deed, the cop, growing increasingly wobbly with unauthorised desire, goes against his investigative instincts by submerging his basic suspicions. He wants to believe her story and confirm her alibi to prove that Seo-rae is truly innocent.
Which is enough uncharacteristic behaviour to make Hae-joon's partner ask whether he would've spent so much time and shown so much interest in interrogating the suspect up close and very enticingly personal, if she was "not beautiful, not foreign, but was just a Korean man?".
Okay, probably not. But hey, you know how a restless cop in film noir goes weak when he finds out that the dead body is linked to a sexy body, right?
Maybe it's the assertive way Seo-rae uses a translation app in her phone to spruce up her limited Korean words. Although you can't really tell they're limited since the lady speaks the foreign language like a native (Tang is superb switching back and forth between languages, being married in real life to Korean director Kim Tae-yong). Maybe it's her irresistibly sensual part-bold, part-vulnerable temptress ways. Surely, it must be due to the Korean penchant for, you know, a homicidal love story. There's truly a great kick to be had here in such gloomy, doomy yearning.
"After going crazy for a woman, I ruined the investigation. I'm completely shattered," Hae-joon confesses when he realises that he has become complicit in preserving Seo-rae's innocence as his neat world crumbles and their aching association ends. Who is this mysterious woman that makes him ignore his every detective instinct?
We risk giving crucial hints away. We'll just tell you that the plot adds one curious layer upon another when Park, as is his trademark fondness, tests the depths of emotion, passion and sexual tension between the two leads in the movie's beautifully-framed cold and misty setting. The helmer, who won the Best Director award for this flick at this year's Cannes Film Festival, actually names a Korean song called "The Mist" as a source of inspiration for this story.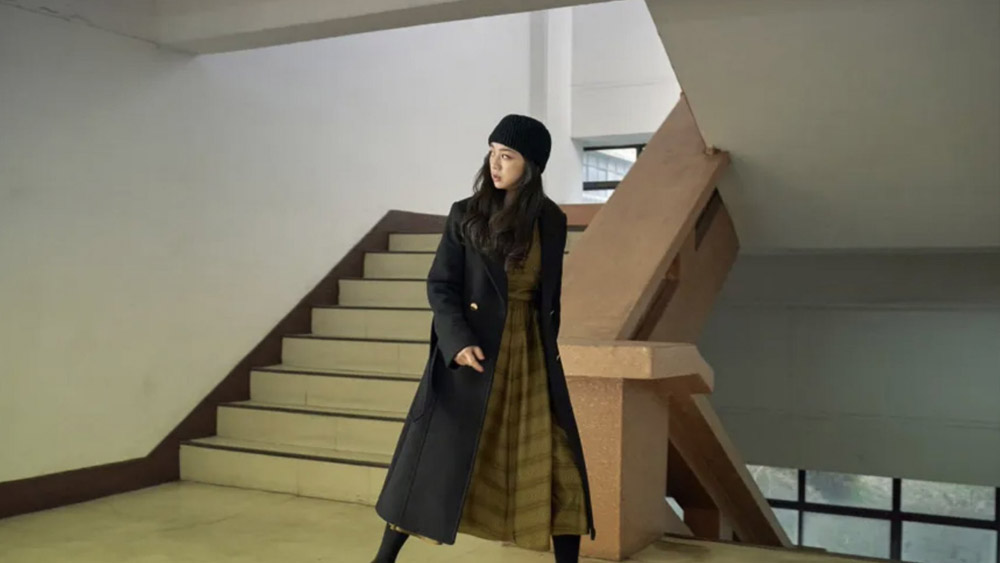 Now, when the same strange morbid thing happens again in a Black Widow sense with a new husband also ending up stone-cold departed, matters come back to square one when Hae-joon and Seo-rae cross connected paths again. Pay attention to the little details. Korean films are absolute masters when it comes to retracing previous small steps that are actually huge indicators.
Still, two things basically lessen this tale. The smitten Hae-joon stakes Seo-reo out, lives in his car outside her house, watches her and actually imagines himself being right there with her in the same place as though he's next to her when sequences showing the truth are revealed. Director Park's stylistic insertion motif takes getting used to and often makes a complex plot more confusing.
And those aforementioned splendidly filmed scenes of misty, achy longing between the two never-the-twain lovers run a real risk of turning this flick into a soppy Korean TV melodrama.
But of course, everything is made invariably good by the great, magnetically elusive Tang Wei.
You don't really know why her Seo-rae is so attracted to Park Hae-il's rather charmless cop, Hae-joon. But you can definitely see it happening the other way around. The man can't get her out of his mind and neither can we.
Tang captures every scene she is in, with no prisoners taken, until we realise that this is not about the man being in love with the woman. It's about the woman playing with love for the man.
Her temptress, tagged unluckily with lousy partners, is a person fated not to end up with a "commendable man" like the detective.
"For such a man to speak to me, something on the scale of murder must happen," Seo-rae reasons pensively.
Er, excuse us for disagreeing.
Even a murmur, let alone a murder, would make us come see Tang Wei.
GEEK REVIEW SCORE
Summary
Tang Wei is the reason Decision to Leave compels us to make the decision to stay.
Story -

8/10

Direction -

9/10

Characterisation -

8/10

Geek Satisfaction -

8/10