Geeks will know American actress Emma Stone as Gwen Stacy in both of Marc Webb's Amazing Spider-Man movies. Often described by the media as one of the most talented actresses of her generation, 29-year-old Stone broke into showbiz by landing a lead role in Easy A (2010). Things only got better as the actress took on roles in comedies like Crazy, Stupid, Love (2011) and Magic in the Moonlight (2014).
Stone also showed the world that she could handle serious roles in The Help (2011) and Birdman (2014), which also earned her a nomination for an Academy Award for Best Supporting Actress. As if that's not enough, she sang and danced her way to winning countless Best Actress accolades (including an Oscar, of course) for playing an aspiring actress in La La Land (2016).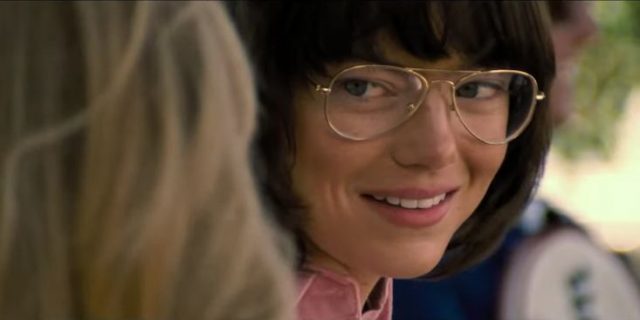 Yet, there are some, including this writer, who aren't fully convinced that Stone is a good actress, as she seems to be playing herself in every movie.
That view no longer carries any weight, thanks to her portrayal as Billie Jean King, the former World No. 1 professional American tennis player.
In this biographical sports movie loosely based on one of the most famous tennis events of all time, Stone plays King who finds herself competing in a challenge match against Bobby Riggs, who was a tennis champion himself. Aptly termed "Battle of the Sexes", this 1973 match was a publicity stunt that caught the attention of the national limelight. The 55-year-old Riggs played against 29-year-old King as a sign of male chauvinism, and wasn't shy about taunting all female tennis players during the events leading up to the televised event.
Stone may have delivered the best performance of her career in this movie, directed by husband-and-wife team Jonathan Dayton and Valerie Faris, who impressed critics with their feature film directorial debut Little Miss Sunshine (2006). There are many opportunities for Stone to shine in this 121-minute film, as she easily oozes charm in some sequences, and becomes subdued in others.
The icing on the cake is a powerful scene that takes place after King wins the titular match. (It's not a spoiler. Learn your history kids.) Stone gives a thoughtful performance as her character retreats into the changing room to calm herself down before facing the ecstatic crowd – this is the kind of clip that will play during awards shows during those "and the nominees are…" moments.
It sure helps that Stone's co-star is the ever-reliable Steve Carell as Riggs. The 55-year-old actor has come a long way since playing Michael Scott on The Office (2005-2013). With his impressive credentials in both comedies (The 40-Year-Old Vrigin, Evan Almighty, Date Night) and dramas (Seeking a Friend for the End of the World, The Way, Way Back, Foxcatcher), Carell gives an empathetic performance as Riggs. He is a character you'll despise and have compassion for at the same time.
While Stone and Carell headline the film, they do not have as many scenes together as one might wished, but it is a joy to watch them feed off each other's energy. Supporting characters played by Sarah Silverman (Wreck-It Ralph), Bill Pullman (Independence Day: Resurgence), Alan Cumming (The Smurfs) and Elisabeth Shue (Leaving Las Vegas) also lend gravitas to the film.
Written by Simon Beaufoy (Slumdog Millionaire, 127 Hours), the movie is well-crafted and has both comedy and drama. Marketed as a sports film, it is actually more complex and explores gender equality and social justice. Considering how King became an icon for the LGBT community with her continual determination to secure equal opportunities for women, it explains why this crowd-pleasing movie was given a M18 (Some Mature Content) rating.
GEEK REVIEW SCORE
Summary
Come awards season, we are expecting acting nominations from this crowd-pleasing film about gender equality.
Story -

8/10

Direction -

8/10

Characterisation -

8/10

Geek Satisfaction -

8/10
---

Drop a Facebook comment below!