There are laptops, and then there is the ASUS Zenbook range, designed as premium, thin and light devices that offer superior performance and battery life for day-to-day mobile professionals. The Zenbook 14x OLED Space Edition graced our desks in April, and now, we got to check out its younger sibling, the Zenbook 14 OLED which has been updated with the latest Intel 12th generation Core i7 processor.
The first thing anyone would notice of this 14-inch laptop is the unique Japanese Kintsugi-inspired design etched on the lid, which provides a fresh and artistic feel to the traditional ASUS brand logo that graces machines of this type. The Zenbook 14x OLED measures 313 x 220 x 16.9mm, and weighs a mere 1.39kg, which actually feels a little heavy for its size.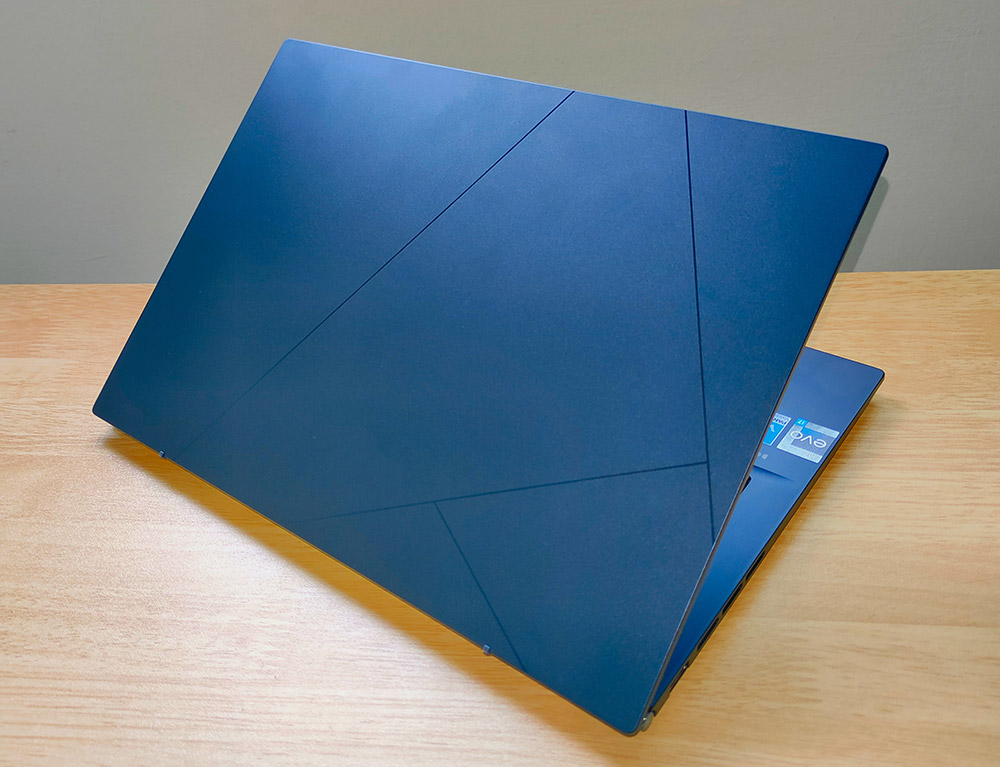 On the right edge of the Zenbook are 1 x HDMI 2.0b, 3 x USB-C with Thunderbolt 4 support, a 3.5mm audio jack, and 1 x MicroSD card slot, while on the left, users get 1 x USB 3.2 Gen 2 type-A connector situated alongside the laptop's ventilation air vents. You may want to take extra caution of the hot air blowing from the air vents, especially if you are accustomed to using a left-hand designed mouse.
OLED displays are gaining popularity thanks to their high contrast ratio and lower power consumption, compared to the more common LCD, and it is no wonder manufacturers are slowly incorporating them to their line of high-end laptop PCs and tablet devices. When we first powered up the Zenbook 14 OLED, we were greeted with a sharp, vibrant 14-inch OLED display, powered by 2880 x 1800 pixel resolution at 16:10 aspect ratio, 90Hz refresh rate, 0.2ms response time and cinema-grade 100% DCI-P3 color gamut.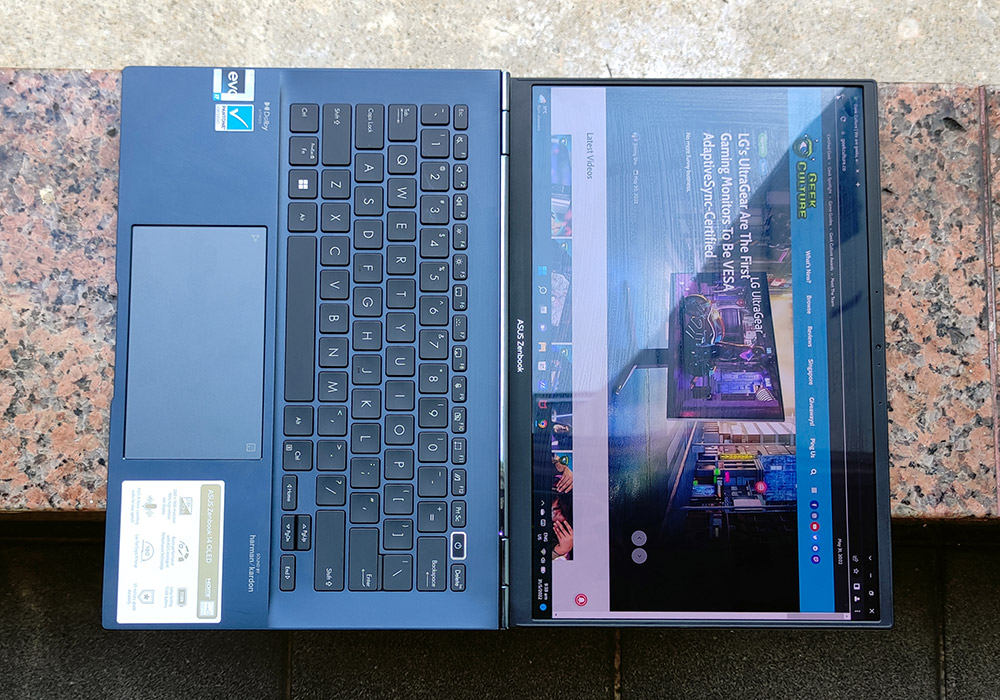 We played several ultra high definition videos along with high resolution images, and the OLED screen did not disappoint with its sharpness and brilliance. The Zenbook 14 OLED also boasts 550-nit brightness, which means pictures and videos would still look vivid when you view them outdoors, anytime of the day even under direct sunlight. Should you find the screen too glaring, you can easily adjust the brightness using the function keys on the keyboard, and the machine provides a total of 10 levels of brightness control. We also noted that the hinges allow the display to be tilted backwards to a full 180-degree, which is ideal for those who use a vertical dock at home or in the office, with an additional keyboard and mouse.
The full-sized keyboard provides a comfortable typing experience, but in order to have sufficient spacing between keys, the directional keys at the bottom right are made smaller; each of them about half the size of a button on the keyboard. This makes it slightly difficult to use when we are scrolling a document or webpage. If you are frequently using the Zenbook 14 OLED in a dim-lit room, you will be pleased to know that the keyboard buttons are all equipped with backlight with three levels of brightness control via the function keys. The power button on the upper right corner is also a fingerprint sensor, which can be used to register your fingerprint as a log-in option via Windows 11 settings.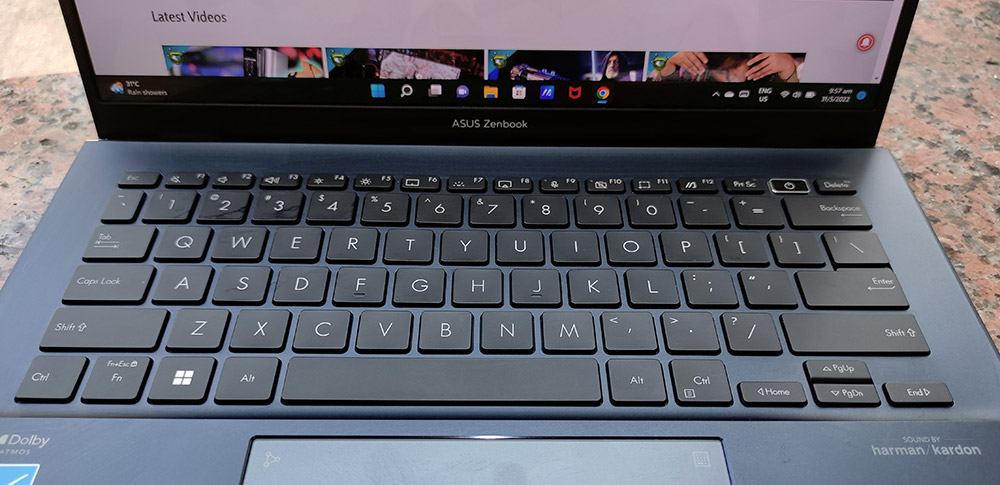 Since it has dominated the visual department, the Zenbook 14 OLED would also like to do the same for the audio, and it features a Dolby Atmos stereo sound system that is certified by Harman Kardon and claims to deliver powerful and immersive audio. Sadly, the external speakers did not do the content justice, as while there is strong bass, it lacks something in the treble department when we played songs. It's a pitfall of having speakers on a small machine though the good news is that audio quality is much better when listening via a wired headset.
The ASUS Zenbook 14 OLED is also an Intel Evo certified laptop, and this certification applies only to high-end laptops with the latest Intel 12th generation processors that can deliver good performance and power efficiency, are lightweight, and offer Thunderbolt 4 support for fast data transfer, as well as built-in Wi-Fi 6E. In terms of hardware, the Zenbook 14 OLED is powered by an Intel i7-1260P processor (2.1GHz), and is equipped with Intel Iris XE graphics, 16GB LPDDR5 RAM and 512GB NVMe SSD.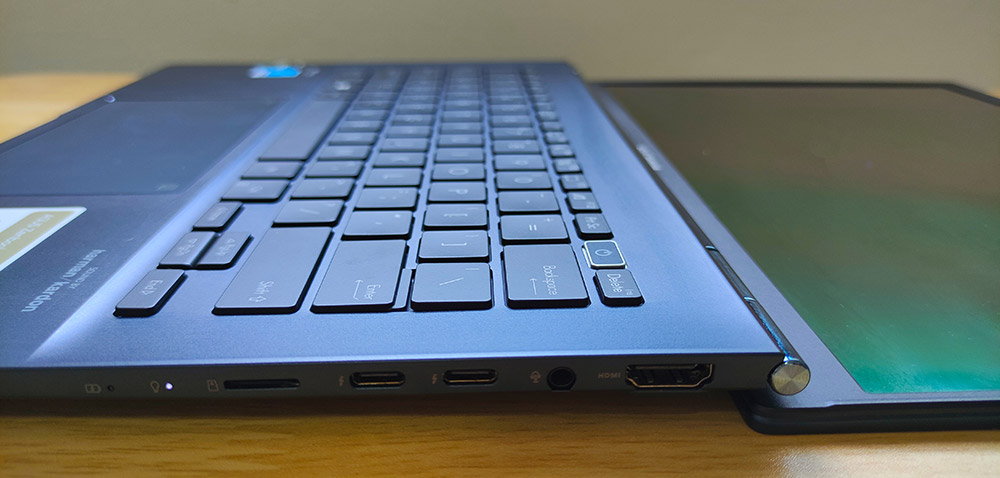 On testing, the Zenbook 14 OLED scored an overall 5,368 (9,775 for essentials, 6,740 for productivity, and 6,375 for digital content creation) in the PCMark 10 Professional benchmark tests, which is almost on par with the Zenbook 14X OLED Space Edition we reviewed earlier.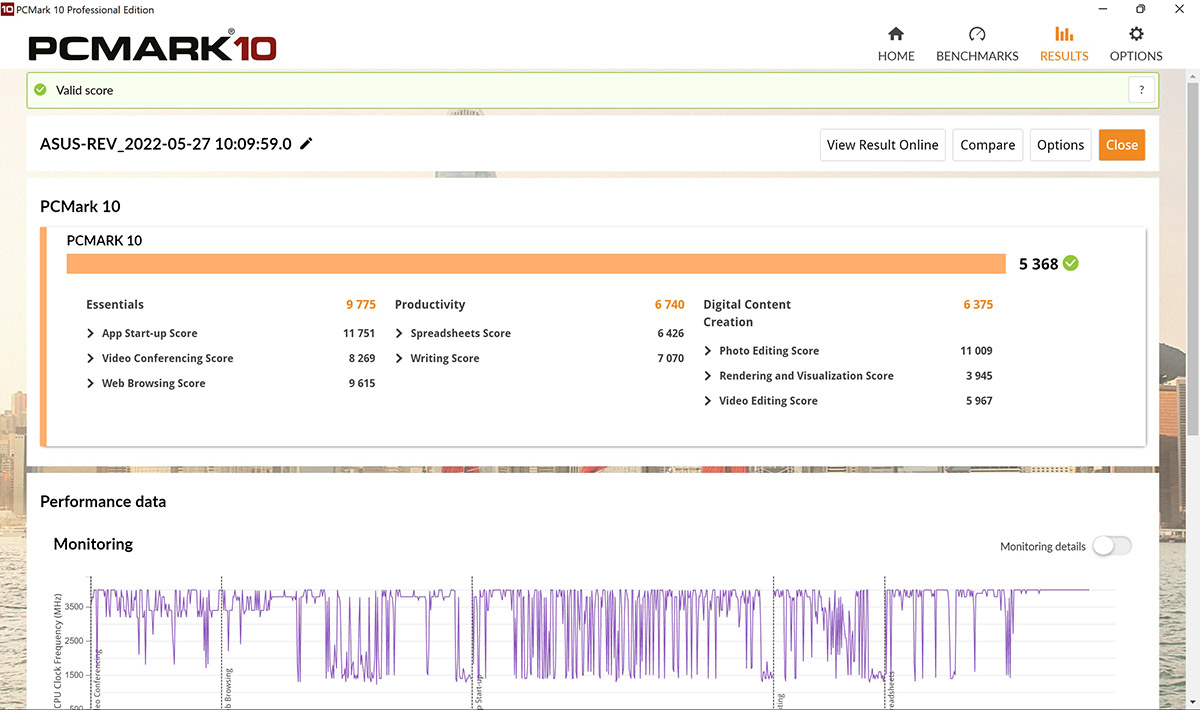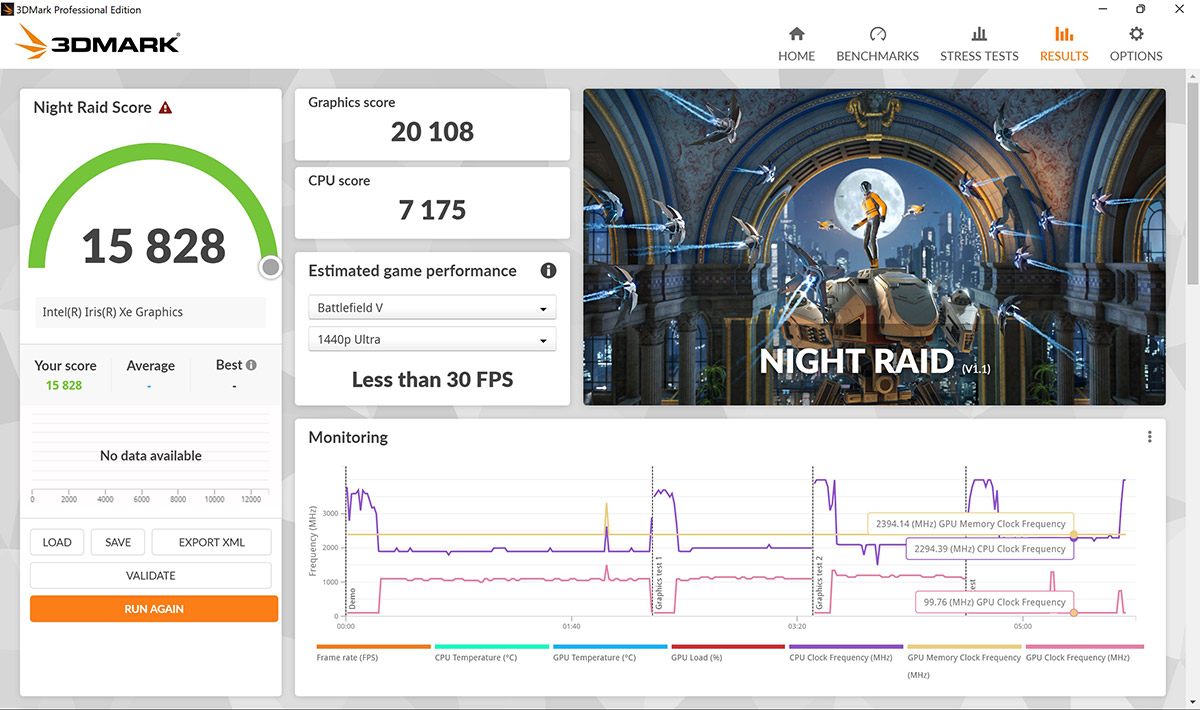 Benchmarks done on PCMark 10 & 3DMark Professional Edition
On the GPU benchmark, it managed a score of 15,828 on 3DMark Night Raid and 4,826 on 3DMark Fire Strike which translate to average graphics performance, but that is understandable as the Zenbook 14 OLED is not designed as a gaming machine.
We did try running 3D games such as Borderlands 3 and Godfall, and the Zenbook 14 OLED did not stutter too much, but if you want a smoother gaming experience, it is advisable to lower the in-game graphics settings.
On a full charge, the ASUS Zenbook 14 OLED lasted almost 10 hours when we played a 4K Ultra HD video on a loop in full screen mode. We also ran battery drain tests for typical office application usage including web browsing and office Word document, and the laptop managed 10 hour 52 min before it shut down automatically.
As a thin and light laptop, the ASUS Zenbook 14 OLED has a stunning OLED display and proves to be a good performer. With a price tag of S$1,899, this makes it more attractive than its Zenbook 14x OLED sibling. The ASUS Zenbook 14 OLED is available now on the ASUS Store.
GEEK REVIEW SCORE
Summary
The ASUS Zenbook 14 OLED not only looks elegant, but it also has a superior OLED display, features and performance that will awe most mobile users.
Aesthetics -

9/10

Build Quality -

9/10

Performance -

8.5/10

Value -

8.5/10

Geek Satisfaction -

9/10