Smartphones are pretty commonplace these days, and if you saw the attention given to the likes of Samsung and Apple, you might think that high-end phones are the hot, in-demand items, but like PCs, there are the regular machines and the ones purpose-built for gaming.
And no, we're not talking about phones that are also able to handle games, but specialised devices that leave the rest in the dust at the arcade. Razer started out strong a few years ago, but no one is really looking forward to a new Razer phone. On the other hand, the other name in gaming smartphones is still at it – Taiwanese tech giant ASUS, with its latest ROG Phone 5.
Now, before you go Google it, no, ASUS never released a ROG Phone 4, moving from 2020's ROG Phone 3, to Phone 5 this year. Why? Well, you have to be Asian to understand that to the Chinese, the number four sounds like the word for death, and that brings with it an incredible level of inauspiciousness, which is why Chinese brands tend to avoid anything that sounds like death in their branding, including the use of the number four. 
But if you're a smartphone connoisseur, the skipping of a number is not new – Apple famously skipped the iPhone 9 and went from iPhone 8 to iPhone X, and not to be outdone, Samsung went from the Galaxy S11, to the Galaxy S20. What matters is what's in the phone, and when it comes to gaming, ASUS knows its hardware of moving beyond performance, battery life and display. One of the reasons why the folks at ASUS ROG have made their gaming phones so successful is the fact that they have kept these considerations as their number one priority, and continue in their stride to dominate the market in these areas.
Design-wise, the ASUS ROG Phone 5 comes in two colours, the Phantom Black and Storm White. The entire silhouette of the phone gives off a futuristic look, but thankfully, not in a manner that is too loud. Rocking the ROG Vision rear matrix display, gamers can customize and cycle through different RGB colours and their effects. From booting the phone, receiving calls/texts to charging, each function can be customized with a different colour and lighting effect. For example, the "Flash and Dash" effect puts the light blinking in a rhythm and is our current favourite. If you wanna keep things low-profile you can go for the "Static" effect that displays a solid colour or off the entire colour display.
The primary display is a 6.78-inch 144Hz Samsung AMOLED display offering ultra-low touch latency, that makes the latest action, open-world, first-person shooter games that are graphic intensive like Genshin Impact or Call of Duty look buttery-smooth.
Accompanying the phone is the classic 3.5mm audio jack and a USB-C port at the bottom. So if you're rocking the in-ear monitors, this phone works for you too. But what exactly makes this device stand out as a gaming-oriented one?
Firstly, much like its predecessor, there is a Side-Mounted USB-C port on the left of the device, for when you game in landscape mode and need to fast charge, the cable won't be interfering with your grip on the end of the device. Because if you've ever gamed on any other Android device or iPhone, you know how annoying the cable can get with your right or left hand holding on to the device. So no more awkward finger positions when you want to charge and play!
The phone measures 172.8 x 77.2 x 10.29 mm and weighs 238grams. Although it feels a little heavy and lengthy to hold in one hand, the trade-offs for this weight comes in terms of pure performance. The latest ROG Phone 5 leaves its predecessors behind as it runs on the new 5nm Qualcomm Snapdragon 888 processor, along with an overclocked Adreno 660 GPU. This is by far the fastest Android phone ROG has ever built and will be a challenge to beat.
With the latest Snapdragon processor, it can handle many games smoothly and if you need constant and stable network connectivity, the Phone 5 supports Wi-Fi 6. Of course, a gaming phone needs to be tested with games. So we played several including Call of Duty, Dead Cells, Genshin Impact and Mobile Legends to find out how good it stacks up. Loading up Genshin Impact or Call of Duty took less than 10 seconds and, comparatively, doing the same on the iPhone 12 took slightly over 10 seconds. In the highest setting on Call of Duty and Mobile Legends, both game's frames per second (FPS) were stable around 60 with Dead Cells running around 140-144 FPS. Throughout the gameplay, we never faced jittery graphics or delays in video output.
On the Geekbench 5, the ROG Phone 5 also tops the single-core and multi-core benchmark scores against other Android phones like the OnePlus 8 and Samsung Galaxy S20+.
We also tested the phone with The 3DMark's Wild Life benchmark, which measures GPU performance by rendering a demanding game-like scene. Using the software, the ASUS ROG Phone 5 scored 92% better than all other devices such as the Huawei Mate 40, Xiaomi Redmi K40 Pro, and Samsung Galaxy S21 with an overall score of 5,753. However, the ROG Phone 5 still lost to Apple's iPhone 12 and Huawei Mate 40 Pro+, with their scores ranging over 6,000. The best score on Wild Life benchmark currently is the Apple iPhone 12 Pro Max's 8,208.
Where ASUS differentiate the ROG phone is with its built-in Armoury Crate and Game Genie software, which helps to level up any gaming experience. Armoury Crate is a gaming portal where you can view your entire library of games, with linked functions to optimize each game with the recommended hardware and software setting. This includes throttling between the performance limits of your CPU, GPU and even RAM, allowing players to fine-tune the hardware and software, to match the demands of each game. There are also options to tweak touch sensitivity, fan speed, and even display properties as well.
There are also system modes that you can toggle, to set priority for performance or battery life. The X Mode for example is the mode best for gaming as it optimizes its CPU, RAM and GPU to its peak performance while the Ultra Durable mode preserves the phone's power and keeps everything like the refresh rates running at the lowest setting. The option to edit your ROG Phone 5's rear matrix display lighting can be done in the Armour Crate as well
Game Genie is a quick-access setting that you can swipe in for quick changes you want to make while you're halfway in game. Hardware changes won't be available in Game Genie unlike the Armoury Crate. With the Game Genie, you can observe your game's FPS and phone's current temperature. There are also several other settings you explore, like setting up the AirTriggers, Macro and Quick Control which we did while we were testing Call of Duty later on.
They even dedicated an Esports Mode which can be easily accessed via the power button, to make sure your competitive game is not disturbed. With the mode on, there won't be alerts nor calls and several other features, including screen brightness, AirTriggers, audio haptics, macros and key mappings would be locked or disabled. Turning it on basically shuts out your phone from all or any interferences you might face while on your important game, although it still can't help you from your parent's hounding.
Every single function, software and even hardware were built with the intention to make this the most optimal gaming phone ever and so far it has fulfilled what it promised to do.
AirTriggers are also a continued presence for the ASUS ROG Phone 5. While in landscape mode, AirTriggers are basically new intuitive ways a gamer can control or interact with their phones. Using motion sensors, you can tilt your phone for additional controls or with its ultrasonic touch sensors, tap the long edges of the phones for extra button inputs you can map for your games. The touch sensors and motion control in the new ROG Phone 5 are fully improved from seven to nine sensors for higher accuracy and sensitivity from its predecessor. It supports gestures like sliding, swiping, continuous triggers and tapping for example. Mapping up to 14 specific touchpoints simultaneously, you can develop new techniques or ways to explore controls for your own gameplay.
With the AirTriggers on, we mapped our fire button for Call of Duty to the right touch sensor and dived into a few rounds of the game. It's technically a leverage as our aim and firing rate were clearly faster and feels way easier to shoot with our right index finger and have our right thumb free for other use. We also tried GRID Autosport with the motion sensors and it definitely steered us into a whole new gameplay experience. However, if you want to fully dive into the landscape business, hook yourself up with the optional Kunai 3 Gamepad for a full-on portable console experience.
Of course, intensive gaming comes with heat, and a lot of it, but the new GameCool 5 cooling system on the ASUS ROG Phone 5 uses an optimized thermal structure to ensure that hot spots are kept away from our fingers and are evenly dissipated to the corners of the chassis.
We took that to that test and ran Call of Duty while we were outdoors and the phone went up to about 42° celsius on max performance settings. The heat of the phone did feel like it's spread towards the corners of the phones at first, but when the temperatures peaked, it didn't really matter as there wasn't much difference we could feel between our fingers anyway.
And for the gamers who are worried about overheating the phones when you charge and play, toggling the charging mode to "Bypass Charging" while you're playing a game supplies the power straight to the system instead of the battery and prevents the phone from heating up.
Without sacrificing the 6,000mAh high capacity battery, the ASUS ROG Phone 5 has increased the 30W charging capacity of the Phone 3, to 65W here. Charging up to 100% will only take you 52 minutes with quick charging available on both USB-C ports. In our test, the phone's battery went up from zero to approximately 70% in 30 minutes.
Two additional features to keep your battery lifespan longer are the Custom Charging limit where you can limit your charging up to a certain percentage, and Steady Charging, which allows you to lower the temperature from the charging. By keeping the charging limit below 100% and making sure it never overheats, ASUS says users can prolong their phone's battery life.
The last thing that should detract you from buying a gaming phone would be its cameras, because who needs good cameras to game, but the ASUS ROG Phone 5 comes packed with decent lenses. Of the three rear cameras, the main camera uses the IMX 686 64 MP wide-angle lens that allows lossless 2x magnification. The secondary camera is a 13MP 125-degree Ultra-wide angle, and the last is a 5MP macro camera. The front camera offers a 24MP lens, which is perfect for video calls and selfies.
We took the camera out for a walk in the day and night to test its camera capabilities, and of course, it didn't exceed expectations but it didn't disappoint either. The day shots and its lossless magnification were quite impressive for a phone that's not camera-centric. Even at night it still provides quite a good image of the streets or your friends. However, the photos start to look grainy at night when you try to zoom in. The selfie camera does what it's meant to do and takes I guess, decent selfies.
The video mode can capture 8K video in 30FPS and supports HyperSteady Video along with Slow-Motion from 480FPS in HD to 120FPS in 4K. We kept the 8K video recording going on for 15 minutes and the battery drained almost 10% while temperatures rose to about 38-40° celsius. The clip itself was 15 GB and made us question if the 128 GB capacity can support the 8K video function.
As for audio, the ASUS ROG Phone 5 takes a leap forward with their GameFX, a new audio experience for mobile gaming. With two dual front-facing speakers, they are pushing the limits of smartphone audio by delivering more power in their amplifiers. The phone supports all major high-quality Bluetooth transmission standards like aptX HD and AAC.
There are also several option accessories that you can purchase to add-on the entire experience, including the ROG Gaming Clip to mount the phone on top of your console controllers, or the Kunai 3 Gamepad if you want a ROG optimized gamepad made for the phone itself. The ROG Phone 5 is built with a modular design to give that extra versatility whether you are using the phone's screen or an external TV. You can connect the gamepads directly to the phone or go for the All-in-One mode and play it like an actual gamepad through Bluetooth.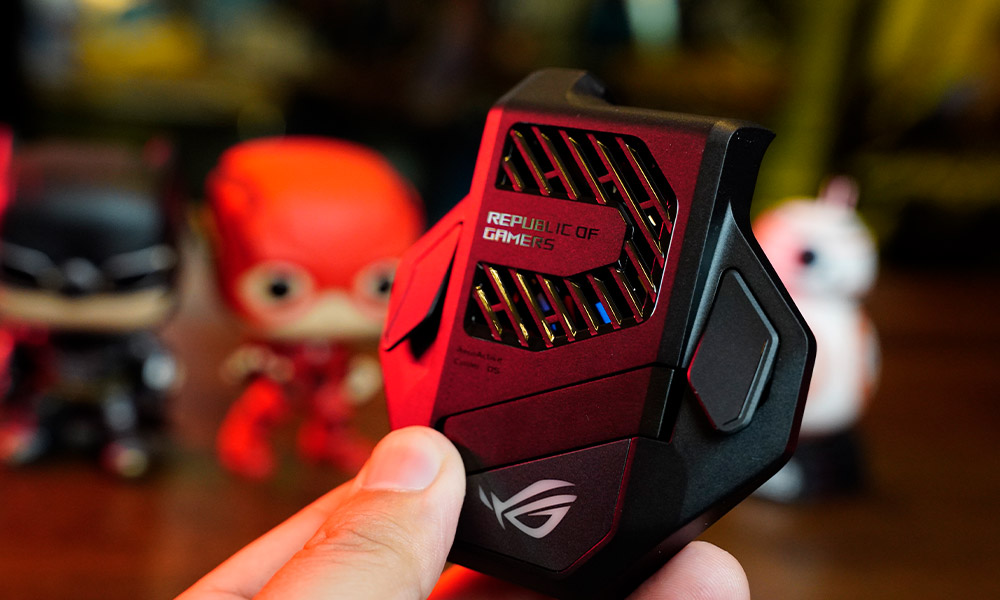 The ASUS ROG Phone 5 is no doubt a game-changer for mobile gaming and if you're asking if it exceeds our expectations, the answer is yes. Trying out the latest games gave us an extremely smooth performance and has no doubt achieved way more than what it was built to do. The ASUS ROG Phone 5 is probably the only gaming phone out there in the market that can offer you so many features and additional tools for those who seek optimal customization.
And if you're expecting a hefty premium price for this all-rounded gaming phone, you might be surprised to find that the ROG Phone 5 comes in three different options with the cheapest model of 8GB RAM and 128GB of storage priced at 799€. The 12GB RAM and 256GB storage model goes for 899€ while the 16GB RAM and 256GB storage model goes for 999€. The ASUS ROG Phone 5 comes with its own aero case and charger.
There are two other editions of the phone which will be released along with the ASUS ROG Phone. The ASUS ROG Phone 5 Pro 1,199€ will come with additional touch sensors on the back of the phone, as will the ASUS ROG Phone 5 Ultimate (Limited) 1,299€, which will also be sold in its limited-edition Matte White design along with 18GB ram, 512GB storage space and includes the Aeroactive Cooler 5.