This review was conducted together with Singapore Triathlete Lucas Neo, who completed 500km of running, cycling and swimming with the Apple Watch Ultra.
In the first 24 hours that Singapore triathlete Lucas Neo received his Apple Watch, he wore it for a casual 43.6km cycling ride (1h 21mins) that evening, and a short 2km (44 mins) swim at his pool the next morning.
As a first time user of Apple's Watch and iPhone 14 as an athlete and not as a casual user, the 32 year-old wanted to familiarise himself with the recent updates in the ecosystem's hardware and software, before he embarked on a 100km (2hr 57mins) cycling ride into Malaysia the very next day.
A long time user of Garmin's activity trackers, his current 955 has served him well with all three activities he does on a weekly basis, and like many in his friends circle of athletes, has watched the news of the Apple Watch Ultra with keen interest, along with a slight note of apprehension. While they are aware of Apple's forte in developing quality instruments, the Apple Watch is viewed more as an activity tracker for the masses, and less so as a professional tool for extreme athletes, until now.
Announced in September, the Watch Ultra marks the American company's first foray in providing a utilitarian tool for those who indulge in extreme activities, including mountaineering, cross country running, long distance skiing, diving, and those who might dismiss half-marathons and prefer to take part in triathlons, a multisport endurance race consisting of swimming, cycling and running.
Triathlons also come in different formats, from the Olympic (Swim 1.5 km, Cycle 40 km, Swim 10 km), regular 70.3 (Swim 1.9 km, Cycle 90 km, Run 21.1 km), which Neo is currently training for in next year's 70.3 World Championships, and the well-known 140.6 Iron Man version, which consists of a 3.9 km swim, 180.2 km bicycle ride and 42.2 km run.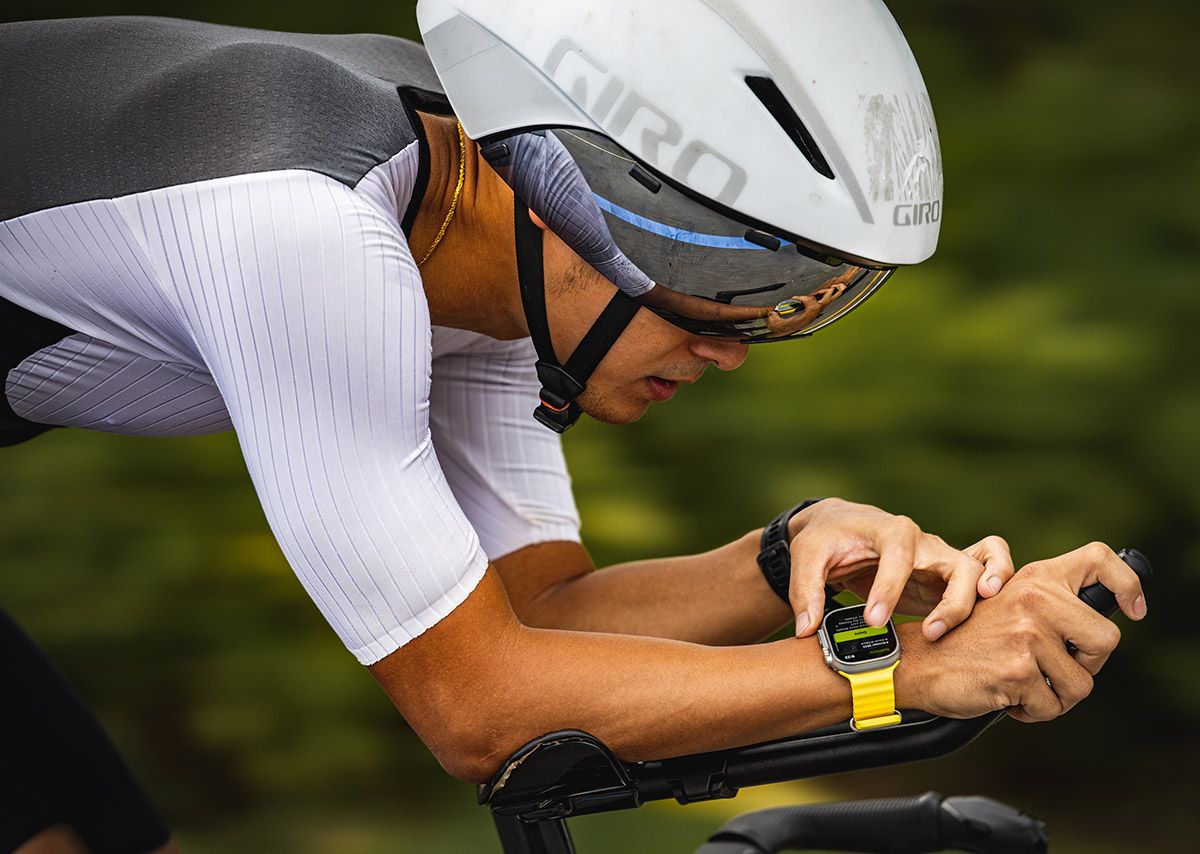 The Watch Ultra comes in a 49mm titanium shell with a sapphire crystal glass display, offering up to 2,000 nits of brightness, and an extended battery life of up to 36 hours on a single charge. It also comes with a new button guard by the side, to prevent unintended activation, and a new orange action button. Touted by many as the Apple adventure watch, it caters to folks who wear gloves in extreme conditions, and comes packed with dual frequency GPS that taps on the L1 and L5 frequencies, providing greater accuracy for those looking to track their location and activities more precisely.
Apple has also announced a yet-to-be-launched Oceanic+ diving computer app for the device, which comes with WR 100 water resistance and EN certified EN 13319 for scuba divers, to reach depths of up to 40m. When underwater, the watch will automatically switch to a new depth app that relays time, depth, and temperature.
To cater to a more narrow group of users, Apple has also launched three new straps – the Trial loop, made of a lightweight textile, which helps runners adjust the fit quickly, while the Alpine loop, made of a high-strength yarn, allows for improved adjustability with a G-hook fastener. The Ocean band is suited for water sports, and stretches to allow for a better overall fit over wetsuits.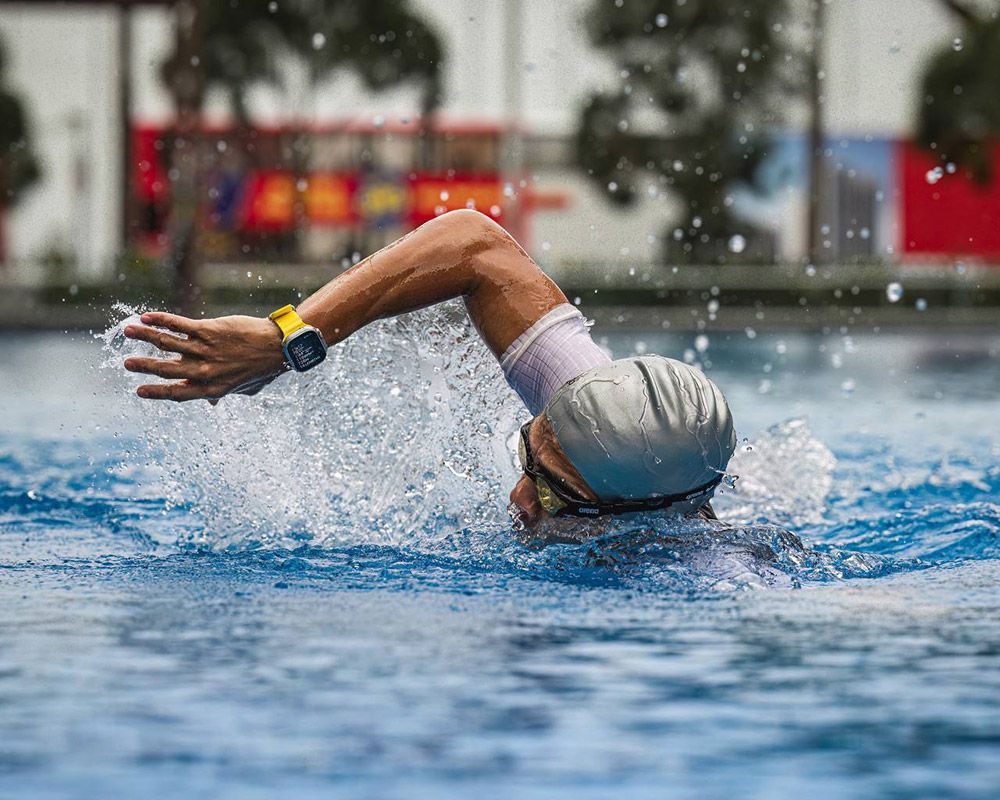 And from his very first sojourn, Neo has seen the strides Apple has taken to push ease of use and the useful metrics for users like him, offering him the basics including heart rate, speed and elevation during cycling, providing data metrics that are quite consistent with his Garmin 955. When it comes to swimming, the Ultra is able to automatically record each lap, even when he swims a different distance on some laps. However, the base interface does not reflect overall moving time and overall moving pace.
In terms of what he is used to when it comes to swimming, the Watch Ultra also provides a different heart rate from the 955, and a SWOLF reading that he reckons is a little too generous. Swolf is a score that measures an individual's swimming efficiency, using a combination of stroke count and time taken in the water. That said, during his 2km morning swim, both the 955 and Ultra missed out on the same two 50m laps from the 40 laps he took that morning.
During one of his open water swims at Tanjong Beach, one lap was misrecorded on the Watch Ultra. His Garmin, Strava and Ultra recorded a consistent swim for three of the four laps, but the Ultra indicated that he deviated on one lap. Still, this is a recurring issue with his Garmin devices as well, as on occasions, there will be readings that are off. His swimming buddy, who was using the Garmin 945, recorded even less accurate GPS readings during the same swim. This discrepancy is not unique to these devices, as recording auto laps does increase the occurrence of data deviation, which is why swimmers also want the option to start and stop recording laps, for more accurate readings.
Still, the Ultra was limited in its offerings for swims, as there were not enough options to choose from. For open water swims, Neo would have preferred the device to offer distance alerts, such as for every 200m milestone, for when he does not, or cannot look at his watch.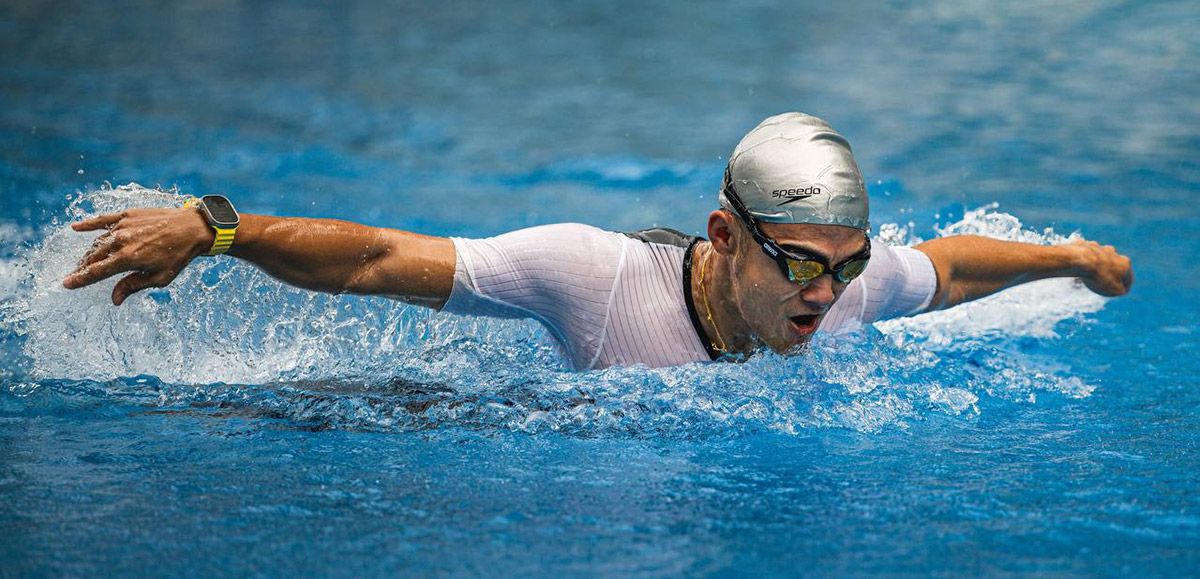 What really impressed Neo was when he went on his 100km cycling to Malaysia, and completed it in under three hours recorded by the watch, with full GPS. At the end of the ride, the Ultra retained a 74% life while providing him very precise GPS location results. The heart rate recording also matched that (off by one beat) of the Garmin heart rate monitor he had strapped on his chest, except that his Ultra was fastened securely on his left wrist the whole time.
While the Watch Ultra recorded an elevation of 468m, his 955, along with the trackers used by his two cycling companions, all recorded an elevation of slightly above 500m for the ride. His 955 recorded an average speed of 34.3km/h, while the Watch Ultra provided 33.8km/h.
Across the course of the next two weeks, Neo spent time with his Watch Ultra on both open water and pool laps, running on indoor treadmills, tracks and in nature parks, as well as cycling great distances here and in Malaysia, clocking a total of over 500km combined, and found the Watch Ultra to be intuitive for first time users, provided accurate data and greater features and functions that most other fitness trackers in the market.
Combined with current features that include sleep monitoring, HRV or heart rate variability, blood oxygen levels and ECG, fitness tracking for indoor and outdoor activities, and now, extreme sports, precision GPS tracking and greater durability, as well as smartphone features including messages and calls, the Ultra is a dedicated fitness tracker that outperforms the rest with its strong ecosystem.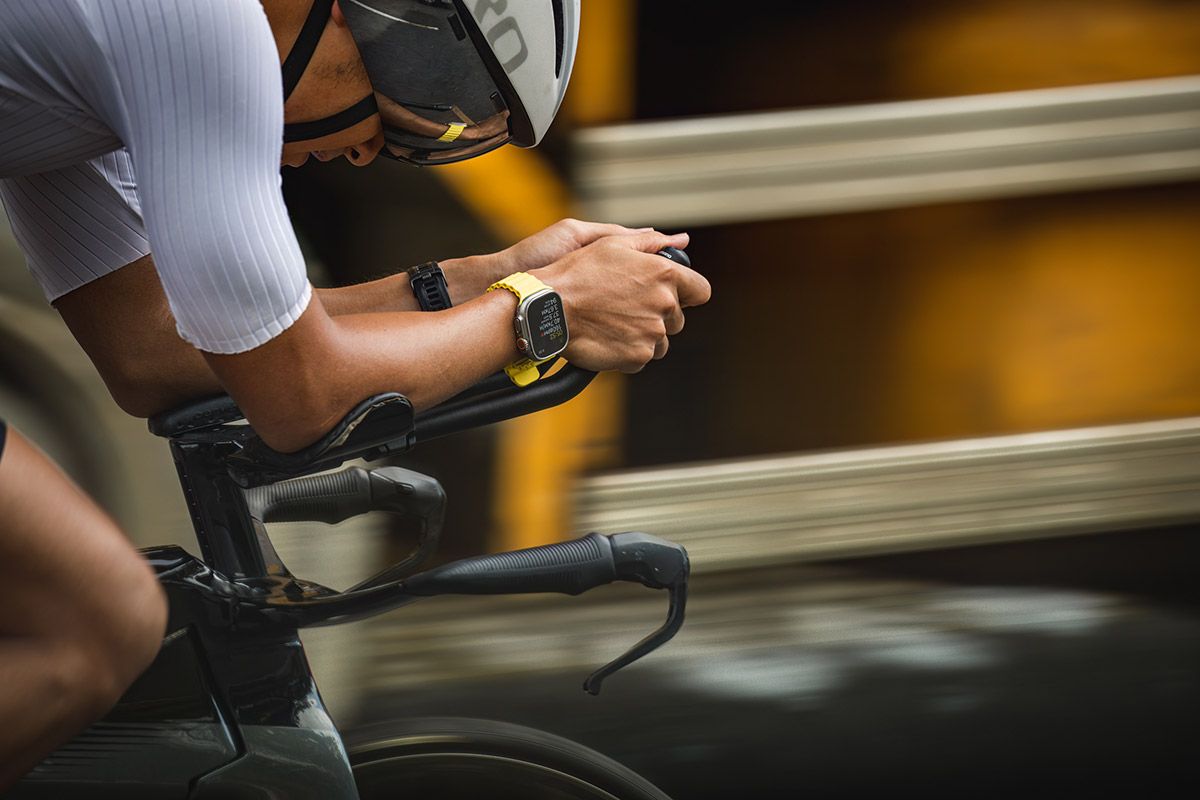 Is it the best in terms of recording data? That's a little harder to determine as there are some discrepancies between those provided by the Garmin 955 and Watch Ultra. Think of it as using the various running apps to track your runs, from RunKeeper to Strava – there will always be differences so accuracy is something fitness tracker users have come to accept more as a guidance. On some metrics, the Ultra might seem to be less lenient, and vice versa so ultimately, it depends on which the user is comfortable with. With swimming, both are not fully accurate with recording automatic laps, though the Ultra does not offer rest intervals metrics.
With cycling, the Ultra is an all rounder, providing detailed positioning and extremely accurate in determining starts and stops during the journey. With runs, the app provides GCT (ground contact time), cadence, stride length, with easy to configure intervals, as well as detailed heart rate monitoring and GPS, so the only recommendation is to use the correct strap, as the 62g device, while light, can start feeling like a burden when you're hitting the 10km mark.
What makes the Watch Ultra amazing though is its support for apps that enhances the use case. Just as the upcoming Oceanic+ app will turn the watch into a dive computer, some of the missing features that extreme athletes are looking for can be found in third party apps Neo reckons, and the one that made the Watch Ultra work extremely well for him is WorkOutDoors.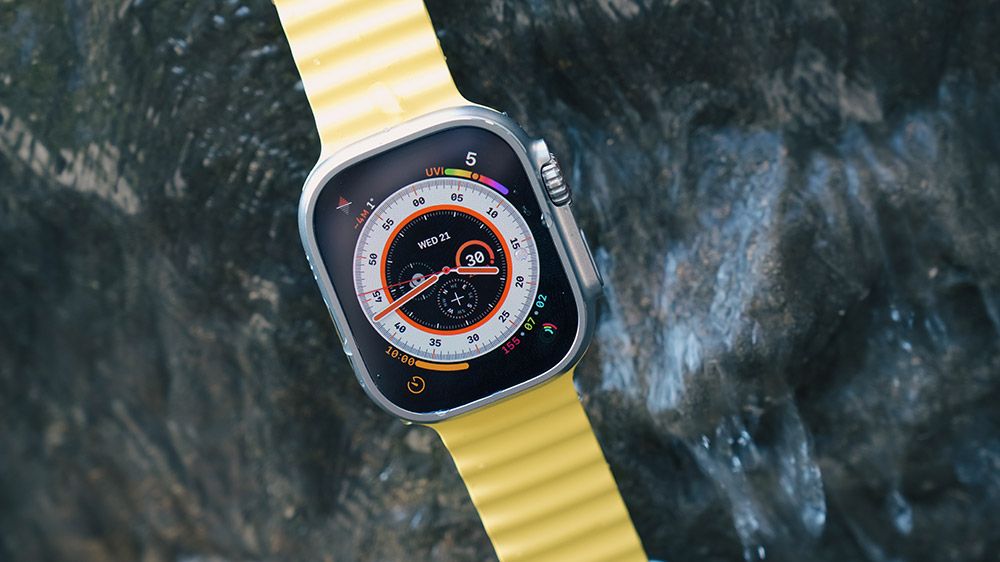 This advanced workout app offers over 600 data points and graphs for 38 different activity types, and users can configure activities based on their own preferences, including loading a route. There are hundreds of metrics and options just for running and you simply set the metrics on the phone app, and everything will be synched to the phone when you fire it up. For swims, he was able to configure the app to alert him each time he hit the 200m mark during open water swims, which would provide him with pacing and performance indicators without looking at his phone, though he was unable to test the accuracy of this feature on the app.
WorkOutDoors also offers a detailed map option, including offline use, allowing users to track their runs and cycling directly on the watch, without using their phones, so cycling with this app means there's no need to mount the iPhone on a bicycle, and if you're using aero bars for long distance cycling, a glance at your wrist is all you need to determine your general location. If Apple were to make this app a default with each Watch Ultra, their combined prowess would make this device unbeatable.
If there is one quibble, it's that the smart features also become a restriction where battery life is concerned. For endurance runners, the Garmin 955 offers 40 hours in GPS mode, or 15 days without. Depending on your use, the 36 hours of regular battery life, and up to 60 hours on low power mode on the Watch Ultra means a portable battery is still a requirement if you intend to cycle long distances or run across several days, but that's the price of having cellular connectivity.
The Apple Watch Ultra is out now and retails from S$1,199 (US$799).
GEEK REVIEW SCORE
Summary
The Watch Ultra offers plenty of new features and features for athletes, even though there is a high chance that there will be users who will buy this for the flex – afterall, we all probably know more owners of Rolex Submariners, which was designed for divers, than we do actual divers. Even if you buy this watch for the aesthetics, know that it comes packed with features and a stronger battery life.
Aesthetics -

9/10

Build Quality -

9/10

Performance -

7/10

Value -

8/10

Geek Satisfaction -

8/10