When smartphone makers decided to do away with the 3.5mm audio jack, it gave rise to a new segment of wireless audio accessories but while there are plenty of options available to consumers in 2020, it's also fair to say that a good three quarters of them are terrible products, from lack of audio prowess, poor battery management, pairing issues to being just poorly made equipment.
Where do the new Adidas FWD-01 sport in-ear headphones come in, then? One of the sporting giant's first forays into the audio market, the FWD-01 is clearly intended for athletes, fitness enthusiasts, and runners as its target audience.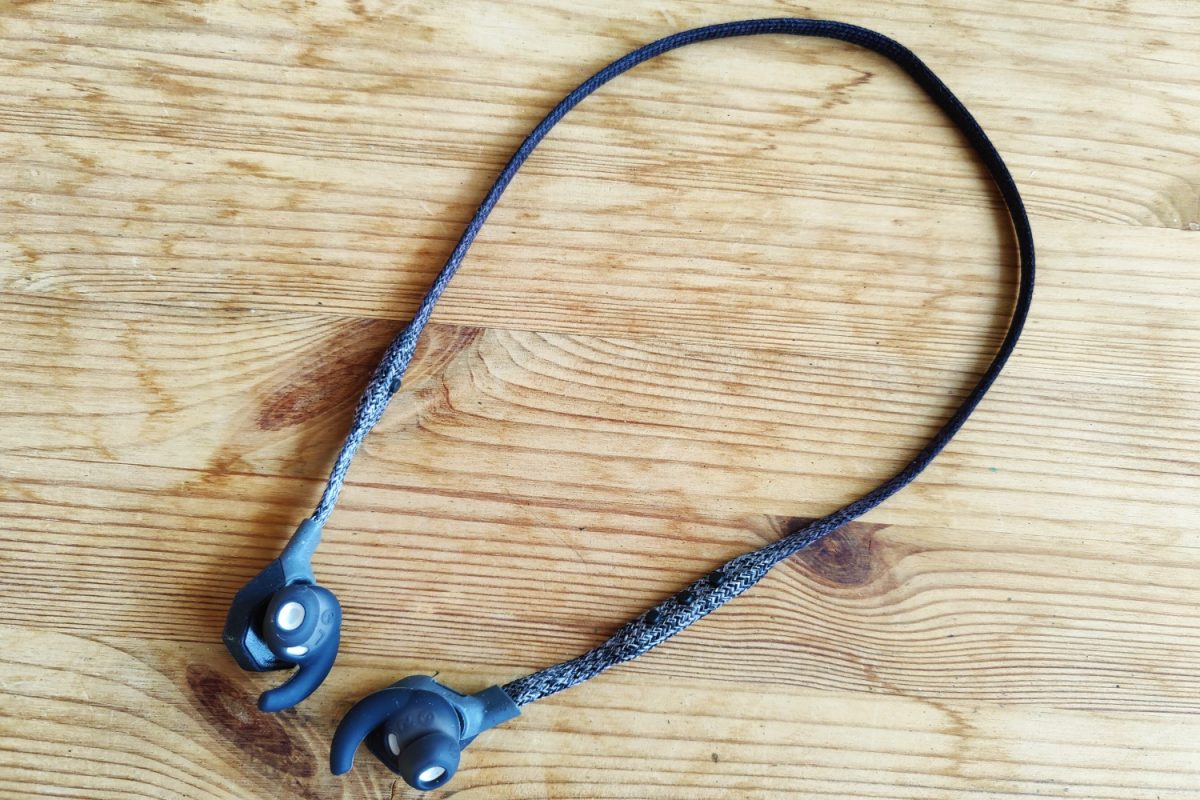 From the onset, it ticks all the boxes of a typical pair of sport-oriented headphones: the earpieces themselves are connected via a small knitted cord with analogue controls, sweat-resistant (IPX4), Bluetooth 5.0, and a 16-hour battery life. However, it does come at the cost of US$149/S$249, which could be a deal-breaker for some.
Right out of the box, the Adidas FWD-01 is arguably one of the chunkiest pair of running headphones one might see. Wearing it, it doesn't feel as heavy as it looks, though it does pop out rather grotesquely from afar. Its black-and-grey colourway does give it a nice understated look, which offsets its rather bulky design, though not by much.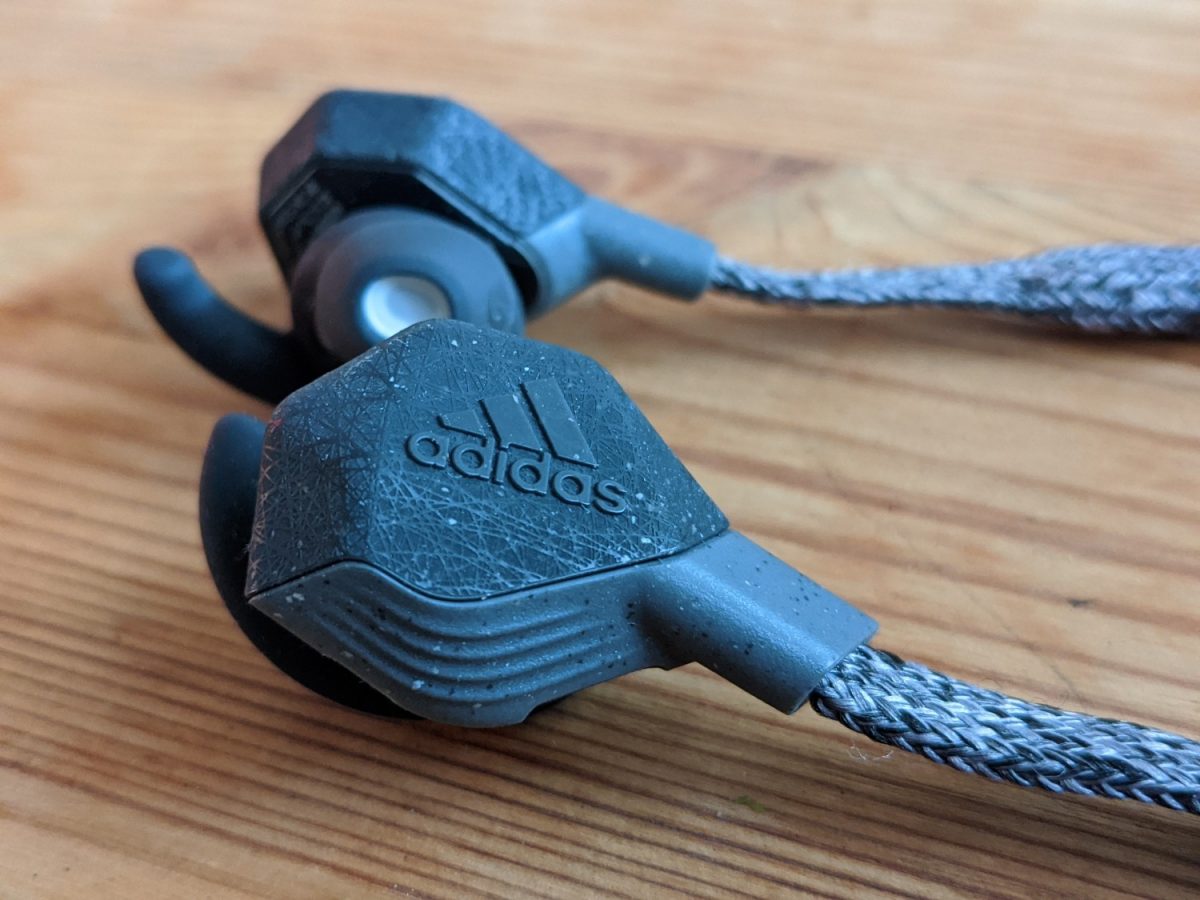 The buds themselves sport a rather interesting industrial, flecked design, which could have been intended to resemble a pair of chiseled rocks, but depending on your perspective, could also resemble a pair of beat-up earbuds that have seen years of use. Despite what we consider to be a rather divisive design choice by Adidas, the earbuds definitely feel durable, and snap together magnetically for the ease of storage.
The sweat resistance is an obvious addition to any running headphones, and the FWD-01's IPX4 rating does the job quite well. After a run, simply give it a good wipe with a towel or cloth, and it's good to go again. But since its IPX4 rating is a low one, considering the other more water-resistant options in the market, definitely do not wash this under running water, let alone bring this it out for a swim.
Four pairs of silicone eartips and earfins are included in the box, which is nice for users of different ear sizes. The fit, however, wasn't as good as we'd hoped, as it felt rather loose while running. We wager that Adidas' design intent on enabling some passive transparency (basically reducing the ear tip size to let in a little bit of sound for runners to be aware of their surroundings) was what led to the ear tips being loose. This compromise in comfort could be looked into should the German sporting brand decide to produce a sequel to the FWD-01.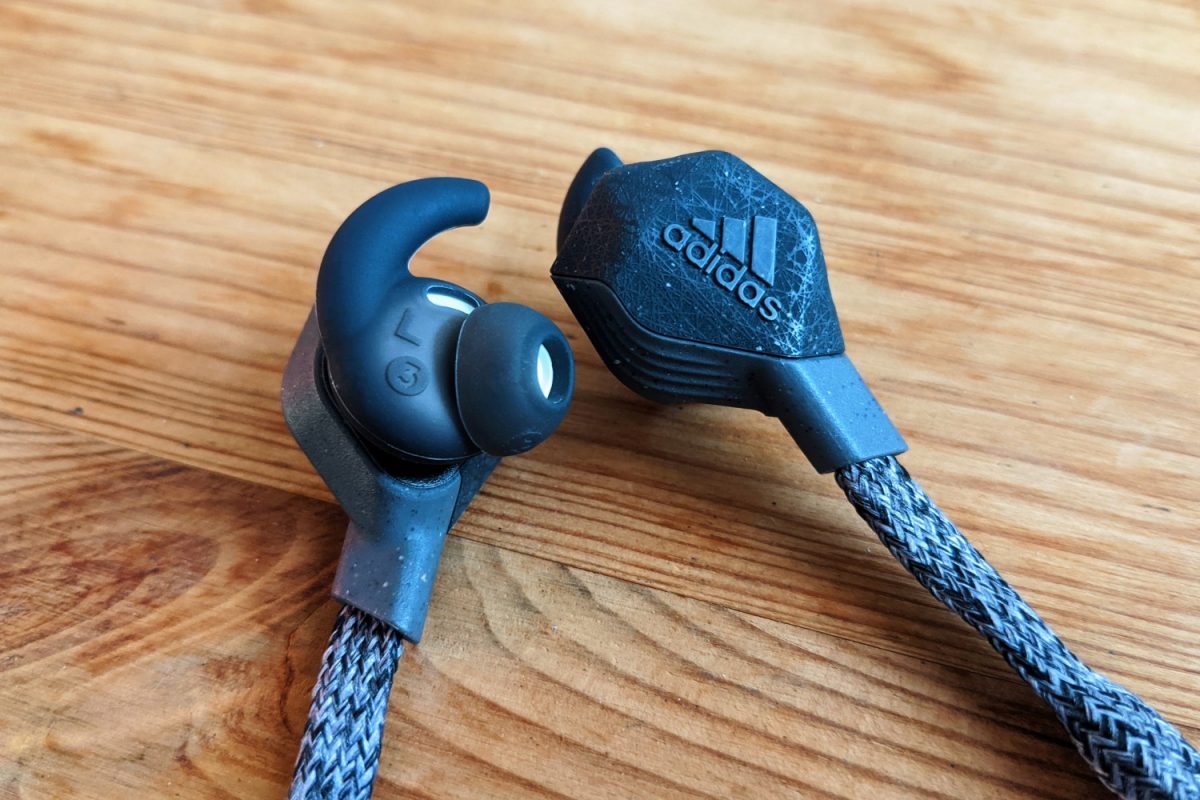 The band holding the earbuds resembles a single shoelace, which suits the sporty aesthetic of the Adidas FWD-01. Adidas' signature three stripes logo located on either end of the band is reflective, which makes the wearer a little easier to spot in the night. Analogue controls are located on either side of the band as well. The three located on the left side control the volume and playback, with the middle button for Bluetooth pairing and taking calls as well.The fourth button on the opposite end of the band is a fully-customisable one, which allows you to program custom controls for Spotify playlists and other music-related controls. Pretty nifty.
From our time using the FWD-01, the controls are satisfactory in terms of responsiveness. Using them isn't a hassle either, which is good especially when you're running and don't want to fuss over the controls too much.
Like any wired Bluetooth running headphones, the band doesn't feel heavy and isn't too long, and it rests comfortably on the wearer's back as they go running. From our time spent with the FWD-01, we've found that the band doesn't weigh you down, nor does it bounce too much to bother you. However, while the fabric on the shoelace is no doubt comfortable and stylish, we've found that it tends to fray a little after a few uses. We imagine this will become even more so after a few months, or even a year, and restoring it to its original state might be an issue. While it doesn't hamper the FWD-01's functionality, it does become somewhat of an eyesore. Interestingly though, the band seems to be odour-resistant (provided you air it out properly after a workout), though it remains to be seen whether this will be the case after 6 months to a year.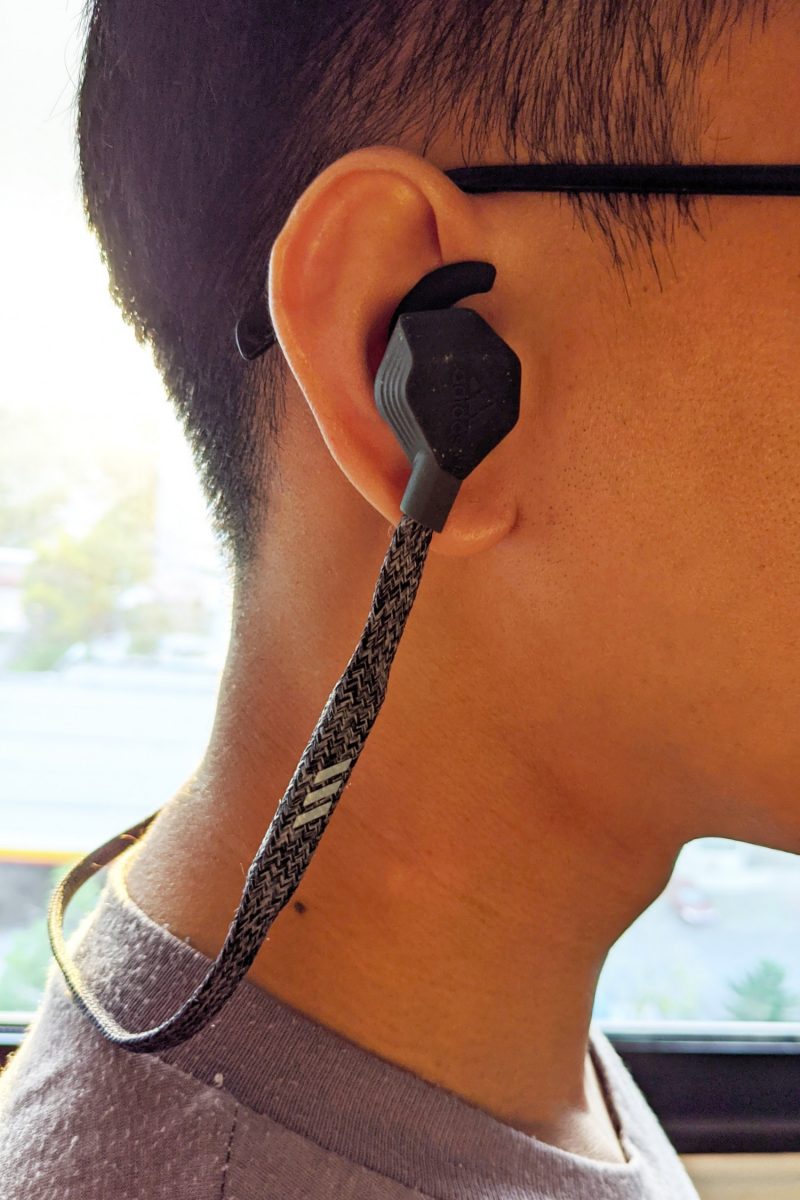 While there are quite a few question marks around the design choices for the Adidas FWD-01, not much have cropped up from its performance and overall utility. For starters, its connectivity is quite strong, even when running across the neighbourhood for about 20 minutes. Setting up is rather simple too; simply download the Adidas Headphones app on your phone, boot up the headphones, and it'll be connected in no time.
Being Adidas' first-ever range of audio equipment, the FWD-01 does a decent enough job in the audio department, though it doesn't yet match up to the likes of Jaybird or Bose, both of which have been in the industry for much, much longer. The base preset EQ is pretty solid, which is by default bass-forward, which certainly pumps some adrenaline in your workout. As such, bass-heavy genres such as EDM and hip hop will no doubt benefit from it. But if that's not for you, there are other EQ presets available in the app, or it can be manually edited, giving you a bevvy of audio options.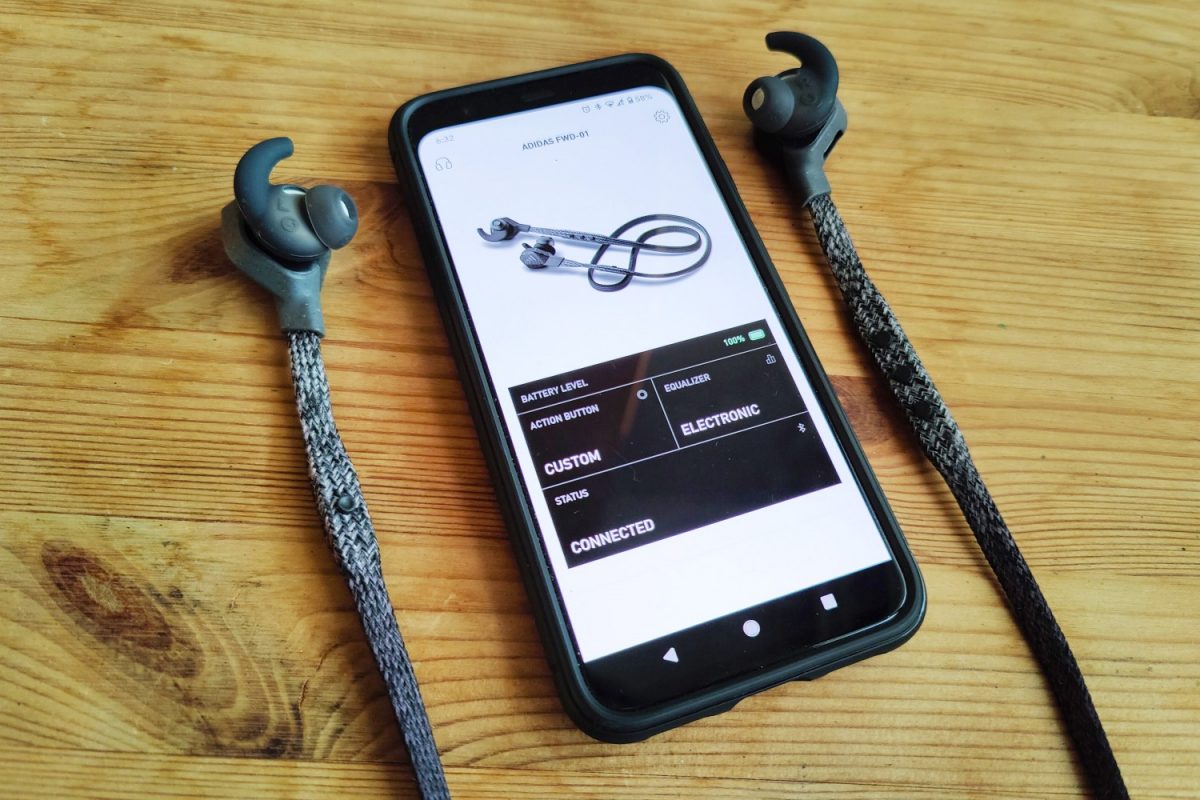 However, for its relatively good dynamic range, we've found that the mids and highs do taper off at certain frequencies, especially in jazz or rock tracks where melody usually takes centre stage, often sounding rather hollow and muffled. This is where the FWD-01's sonic versatility comes into question, and as such might not be for everyone with certain musical tendencies.
Furthermore, while its Bluetooth 5.0 connectivity is extremely stable with phones, it doesn't pair well with laptops or desktops. This then limits its versatility quite considerably, which means users have to use a separate pair of headphones when taking this out to the office and gym on the same day.
Surprisingly, the FWD-01 takes calls pretty well, for a pair of sport-oriented headphones. The clarity of the voice in our test calls were relatively clear, and vice versa, making this an unexpectedly good option for the office. Also, it does get a good amount of battery life (up to 16 hours of playback from our use), with USB-C fast charging, which is a good step-up from the majority of headphones in the market that are still stuck with micro-USBs today.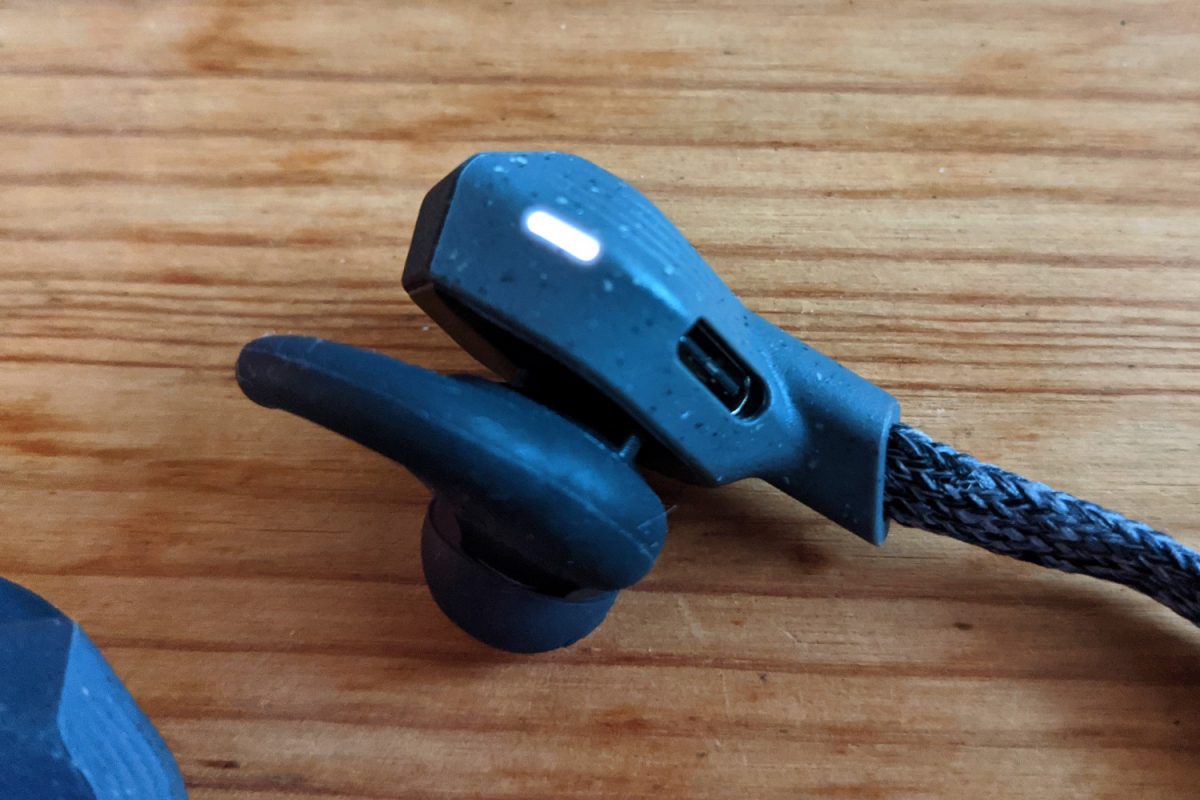 For US$149/S$249, the Adidas FWD-01 is a little too much for too little on an audio product. If Adidas wants to charge for that amount, it needs to up its game on many fronts, including the water-resistance, audio quality and fit. Despite this, however, it does its intended job well. We just can't recommend it as much as we'd like to.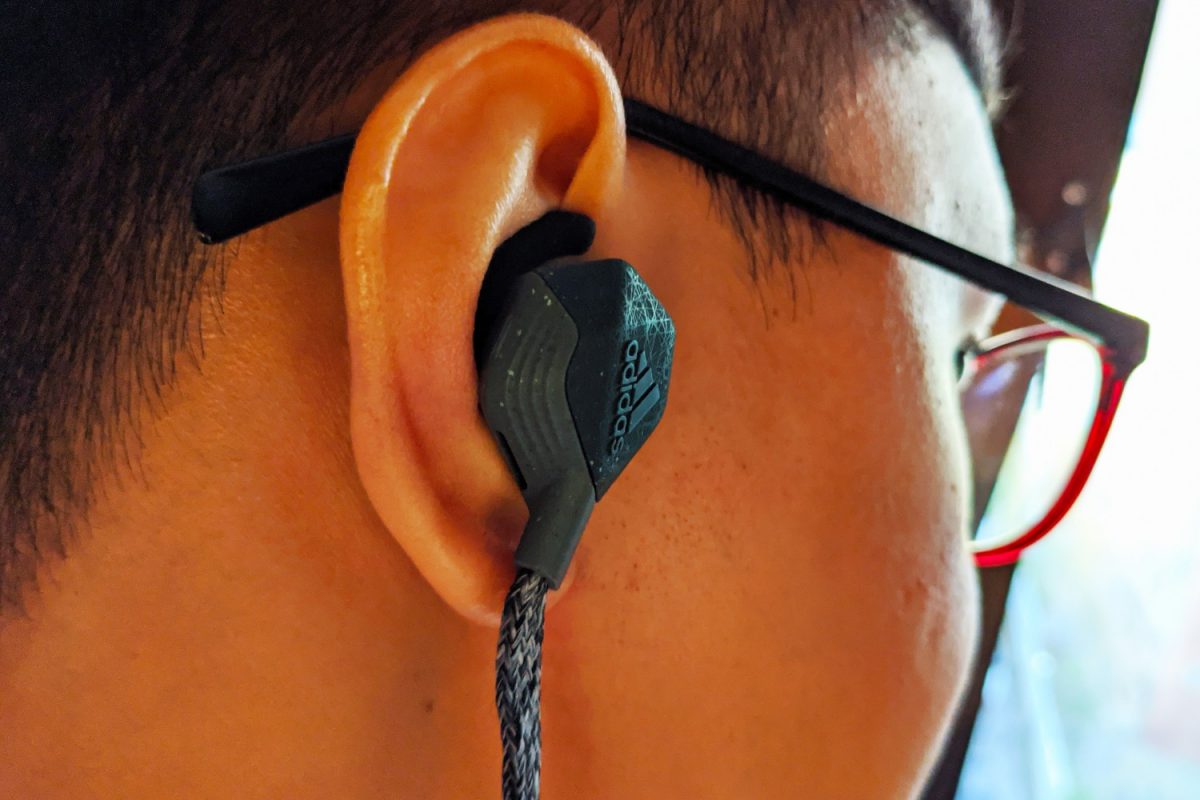 GEEK REVIEW SCORE
Summary
Adidas' first foray into the audio world has been a somewhat mixed bag. While it is clearly meant for running, and does quite a good job at it, its use elsewhere is rather limited, making it, in essence, a one-trick pony.
Aesthetics -

6/10

Build Quality -

8/10

Performance -

8.5/10

Value -

7/10

Geek Satisfaction -

8/10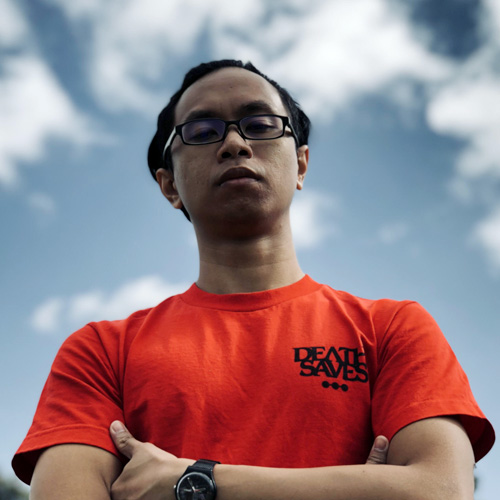 Marion has a serious RPG addiction. Sometimes it bleeds into real life; he forgets to sleep because he thinks he has a Witcher's body clock. Forgive him in advance if he suddenly blurts out terms such as "Mind Flayer" and "Magic Missile", because never once does he stop thinking about his next Dungeons & Dragons game.