Mention TikTok, and trending short-form videos, viral dances, and catchy music come to mind, as the video-hosting platform has made waves in the social media scene, taking down competitors and even challenging mainstays, but it looks like the Chinese-owned company is just getting started.
For its next conquest, the widely-used app is turning to a familiar, highly-related industry — audio. Enter TikTok Music, the company's music streaming service that's currently in its experimental phase. Initially rolled out in Brazil and Indonesia earlier in July, it has now widened its scope to include Australia, Mexico, and Singapore, offering a complimentary three-month trial to selected users in these newly added regions.
Here's how to get started: TikTok Music can be downloaded from either the Apple App Store or Google Play Store and linked to the primary TikTok app, despite being a separate app. Not only does the service enable users to locate the full versions of viral songs featured on the popular video-sharing platform, it also features the ability to import their existing library and listen to songs offline, along with creating shared playlists.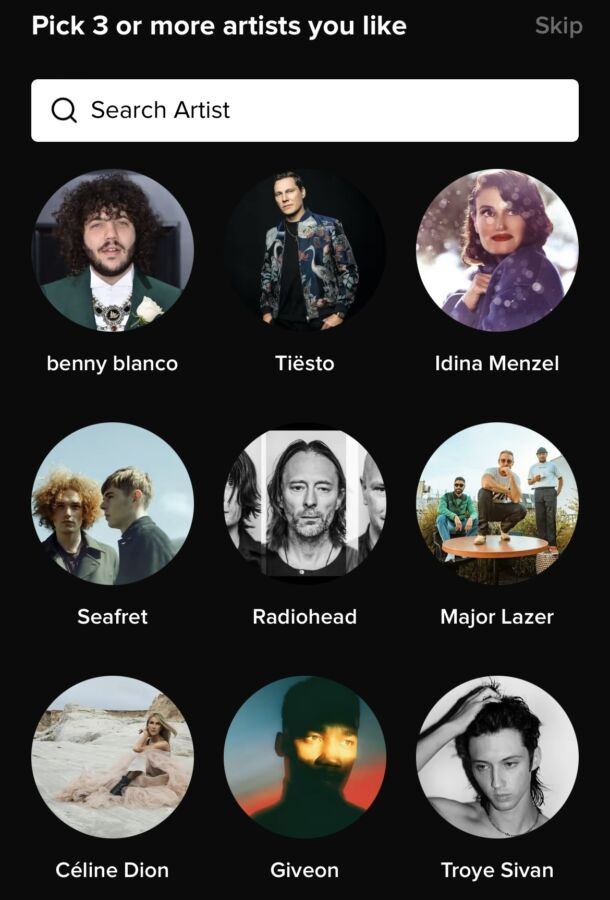 Setting up an account on TikTok Music is simple. The music streamer will prompt you to choose a minimum of three artists you enjoy, but you aren't limited to this number – select as many as you want to customise your music preferences. This facilitates the app's process of synchronising your favourite TikTok tracks and giving personalised music recommendations.
TikTok Music is well-stocked, matching up to the expansive libraries of Spotify and Apple Music, which is quite a feat. Whether you are seeking American hits, from the old classics to the freshest releases, or exploring global music, TikTok Music doesn't disappoint. Fans of European music, for instance, can expect the eclectic sounds of Björk, the haunting ballads of Gotye, the pop tunes of Sigrid, and a host of other tunes.
The same goes for Asian music. Likewise, TikTok Music stands tall here, offering a rich selection from Chinese superstars like Jay Chou, G.E.M, Teresa Teng, and more. The service also does a fantastic job catering to the Cantopop audience, with picks hailing from Jacky Cheung, Andy Lau, and other celebrated icons. This broad array of global music serves to satisfy diverse tastes, and is a convenient one-in-all platform for listeners of various international artists.
TikTok Music's interface is divided into three primary sections: Home, Explore, and Me. The Home section is reminiscent of the original TikTok app, divided into subsections (For You, Fresh, and Familiar) which offer music based on your taste, new releases, and songs that align with your preferences respectively. The Explore section is dynamic and diverse, featuring categories like Based On Recent Picks, Made For You, TikTok Viral, and more, with the option to refresh and discover new music at your leisure. Meanwhile, Me acts as the user's personalised profile space.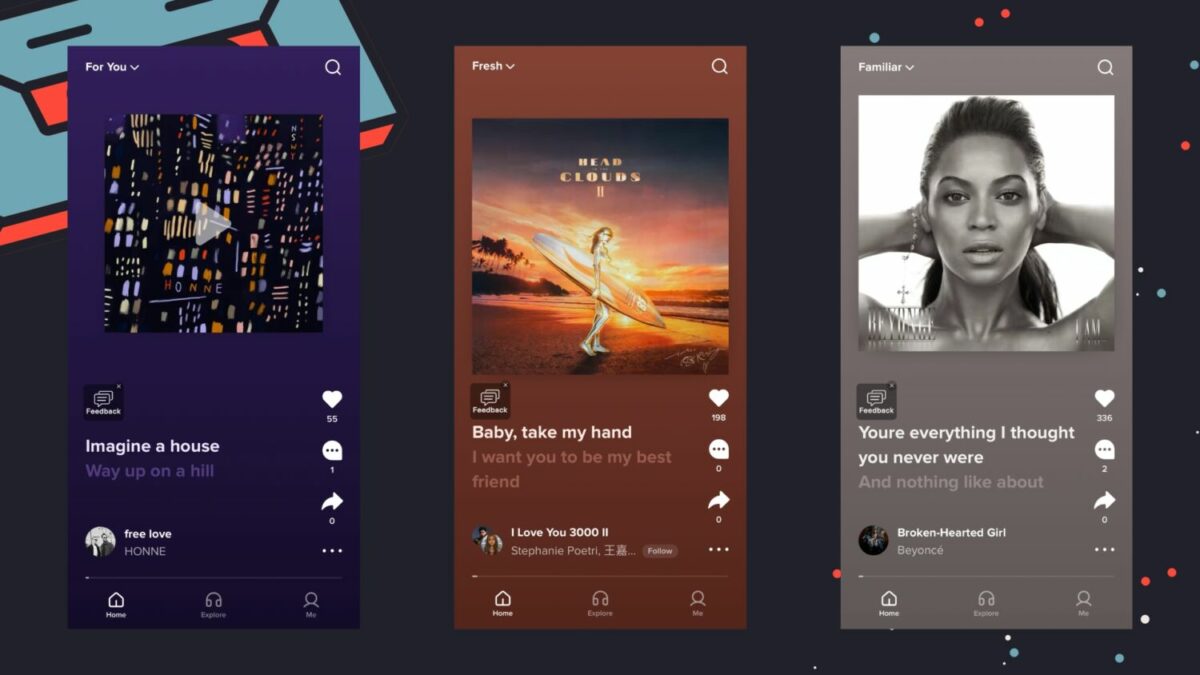 Delving more into the specifics, the Home segment shines with its customised offerings and engaging features. Apart from allowing users to interact with tracks by favoriting, commenting, and sharing them across various platforms like TikTok, Facebook, WhatsApp, and Instagram, it also delivers an enhanced listening experience with several user-friendly features. Much like Spotify, personalised playlists can be created, and songs can be downloaded for offline use.
Similar to Spotify, TikTok Music offers a highly personalised music experience. Users can curate their own playlists, tailoring their listening experience to their mood or preferences. If you're interested in collective music choices, collaborative playlists also offer an avenue for shared musical tastes with friends or family. Downloading songs for offline use is another feature that mirrors Spotify, providing uninterrupted access to your favorite tunes even without internet connectivity.
These downloaded tracks come in three audio qualities: excellent, good, and regular, but no, TikTok has not revealed its music file format, or the bitrate used. Another thing to note is that the 'excellent' option for the audio quality is only exclusively available for premium subscribers.
Beyond this, TikTok Music also offers the same connectivity to hardware, so users can push music to speakers, from connecting via AirPlay, Bluetooth, or CarPlay, or your home speakers or desktop. As for voice-controlled playback, Siri can be your personal DJ — simply grant it access to your TikTok Music data, and you can easily play your songs with simple voice commands, making the platform comprehensive, user-friendly, and flexible.
Additionally, the platform gives you ample browsing options, be it delving into a rich selection of suggested songs, revisiting your recently played tracks, or exploring your pre-existing favourite songs.
Unlike Spotify, TikTok Music features adjustable sound effects and various audio qualities. Additionally, it boasts a powerful search function and a variety of genre-specific channels like Pop, Rock, Mood, Indie, and Hip Hop. In short, its Home section is a comprehensive blend of personalisation and interactive features, making music streaming an engaging experience.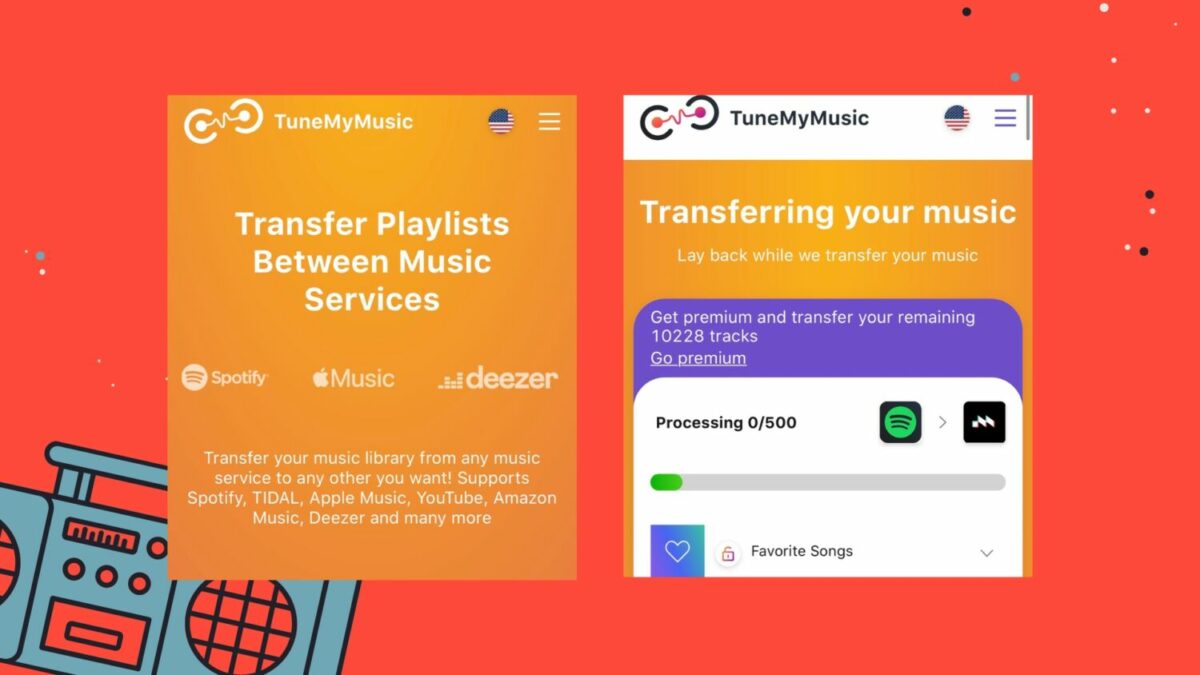 A standout feature of TikTok Music is its ability to import your music library from apps like Spotify, Apple Music, Amazon Music, and Deezer. No matter the format of your tracks, whether AAC, FLAC, or MP3, the app seamlessly facilitates the transfer using TuneMyMusic. It's also important to note that the free service has a limit of 500 tracks. However, subscribers of the premium service will be able to transfer all their tracks without any restriction.
This feature not only grants convenience but also offers creative freedom as you can create and share playlists, enhancing the community vibe within the app. When compared to giants like Spotify or Apple Music, TikTok Music maintains many of the established features such as playlist creation and sharing, while adding the unique twist of easy music library importation.
When pitted against its competitors, there are some noteworthy comparisons. Similar to Spotify and Apple Music, TikTok Music offers playlist creation and the sharing of songs and playlists, retaining the social element that many users appreciate. However, the added ability to import music libraries with ease gives TikTok Music a unique edge over its competitors, making it a robust and appealing choice for those considering a new music streaming platform. It certainly helps that the transfer process is both user-friendly and straightforward.
Venturing further into the Explore section reveals a treasure trove of features that amplify the discovery aspect of the platform. It provides an advanced search function, enabling you to look up artists, songs, and lyrics. You can even search for different songs in languages such as Chinese, Japanese, and Cantonese. You'll find song recommendations inspired by your recent selections and a personalised playlist consisting of an artist mix that aligns with your musical preferences. Notably, TikTok Music goes a step further in personalising your experience by offering curated playlists like Happy Pop and Daily Vibe, tailored for different occasions and based on your favorite tracks.
The Explore section doesn't stop at personal recommendations. It also serves as a gateway to trending music, presenting tracks going viral on TikTok and the top 30 songs making waves on the platform. It provides a collection of recommended playlists tailored to various occasions and vibes, enhancing the way you experience music depending on the mood or situation. A refreshing feature is the option to update the page for new music suggestions, ensuring constant exposure to new tracks that might catch your ear.
To illustrate the dynamic nature of TikTok Music, these are the current top five songs on the app in Singapore, compared to the top five on Spotify. In TikTok Music, the tracks ruling the charts are Cupid (Twin Ver.) by FIFTY FIFTY, Dance The Night by Dua Lipa, Barbie World (with Aqua) by Nicki Minaj, Ice Spice, and Aqua, Angels Like You by Miley Cyrus, and Malampagi by Saixse.
Meanwhile, Spotify's top five songs in Singapore are Seven (feat. Latto) (Explicit Ver.) by Jung Kook and Latto, Super Shy by NewJeans, What Was I Made For? by Billie Eilish, Cruel Summer by Taylor Swift, and vampire by Olivia Rodrigo. The differences in these lists highlight the unique mix of global and local tastes catered to by each platform, showing the breadth of musical experiences available to users.
TikTok Music's most unique offering is arguably the Song Catch feature, an intuitive, Shazam-esque tool that identifies the tunes that envelop your surroundings. Whether you're sitting in a bustling café, hearing the distant echoes of Frank Sinatra's That's Life, or catching the tail-end of a catchy tune in an Instagram reel that's uncannily like Billie Eilish's Bad Guy, Song Catch has you covered.
This feature isn't merely limited to ambient music identification; it deftly picks up tracks even from other platforms like TikTok, YouTube, and Instagram, expanding its utility beyond your immediate environment. It's a breeze to use – simply disconnect your earphones, ensure the song is playing aloud, and within 15 seconds, you're able to see the identified track in TikTok Music.
Pair this with the lyric search feature, which makes finding that elusive song with the catchy chorus – let's say, Sweet But Psycho by Ava Max – that you couldn't put a name to, a cinch. All in all, these features contribute to an enriched user experience, transforming your musical encounters from passive listening to engaging exploration.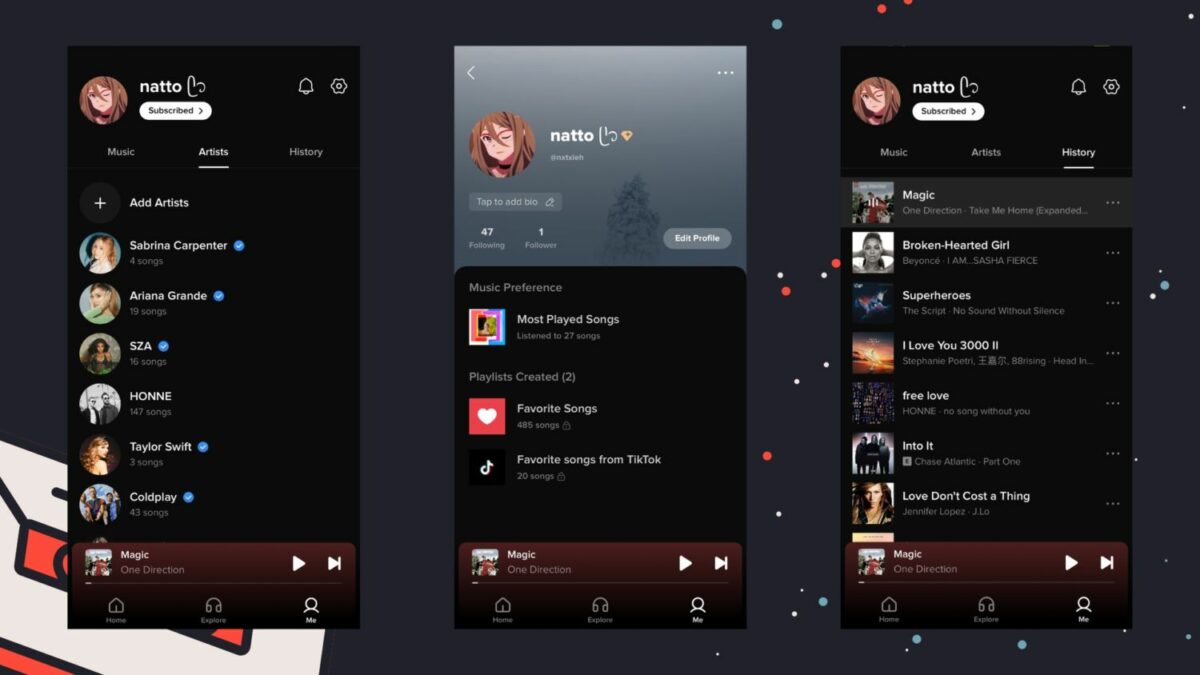 Navigating to the Me section of TikTok Music unveils a personal haven for one's music preferences and interactions. Here, users can curate and access their playlists, as well as their favourite songs, including those discovered on TikTok. The app offers the flexibility to sort songs by recently played, updated, or added as well, giving access to a highly organized and tailored music library. There's also the handy feature to view your favourite artists and a comprehensive song history that showcases previously listened tracks.
The Me section is not only your music hub, but also a place for profile customisation and interaction. It houses your messages and notifications, allowing listeners to keep up with their friends' activities on the platform. Additionally, TikTok Music brings a personal touch to the profiling business, letting them edit their profile picture, cover photo, username, and bio.
Being in early access, the app values user feedback and encourages individuals to pen down their impressions. It seems to be striving to perfect its platform, and user reviews are a key part of that process, but TikTok has done some work on its own to further increase its appeal. In a bid to bolster its audio library, TikTok has strategically partnered with major music entities such as Sony Music, Universal Music Group, and Warner Music Group to strengthen its foray into the competitive world of music streaming.
Since its inception in 2016, TikTok has become an influential player in the music world, propelling many songs to hit status via viral trends, and acting as a springboard for new artists and music discovery. Reflecting this impact, competing streaming services have curated dedicated TikTok playlists, and it seems TikTok is ready to directly challenge industry heavyweights like Spotify, Apple Music, and Amazon Music.
In the realm of music streaming services, TikTok Music aims to establish itself as a formidable competitor against established platforms like Spotify and Apple Music. At first glance, TikTok Music's user interface shares striking resemblances with Spotify, with its intuitive layout and personalised playlists, making for a comfortable transition for current Spotify users. However, TikTok Music is adding its own unique spin to stand out in the crowd.
One significant advantage of TikTok Music is its deep integration with TikTok, a goldmine of viral music trends. If you've ever wondered about the full version of a catchy tune from a TikTok video, this service has you covered. This blend of social media and music streaming is a distinct edge that may appeal particularly to the younger demographic.
The Song Catch feature, akin to Shazam, adds another layer of convenience, especially given its ability to recognize songs from within other apps, a step beyond what most other services currently offer. Meanwhile, the Explore section presents an impressive array of personalised and dynamic music discovery options, furthering its commitment to cater to individual music tastes.
Despite these unique elements, TikTok Music might face hurdles in persuading Spotify or Apple Music users to switch over. It's essentially asking consumers to transition to an essentially similar product with a few unique features. The pricing is competitive but not necessarily cheaper, especially for those who are already committed to another platform's family or student plans.
The cost of the service in Singapore is S$7.90 per month for an individual account, S$16.98 for a family account (up to six accounts), and a discounted S$4.98 for students. Considering the features on offer, it's certainly an attractive proposition for music enthusiasts.
From the brief look of things, TikTok Music appears to be offering an innovative blend of personalised music streaming, social interaction, and discovery that sets it apart from the competition. While still in its early phase, there's a fair bit of potential for TikTok Music to reshape the music streaming landscape. Whether you're an avid TikTok user or a music lover in search of a fresh experience, TikTok Music may well be worth tuning into.