The phone season never seems to stop, with one model rolling in after another. Following the recent release of Huawei's Honor 10 and the OPPO R15 series, LG is next in line to push another contender into the market, hot on the heels of its latest iteration, the LG G6.
As per the trend of dual phone releases, where a "Pro" or "Plus" is attached to the higher-tiered sibling of two models, the team's new addition predictably takes up the LG G7+ ThinQ name, after the existing LG G7 ThinQ that's already on the market. Barring the additional 64GB storage space, the duo is exactly identical, with Singapore solely welcoming the G7+ Thin Q to her shores.
Admittedly, having "ThinQ" as part of the naming convention does sound a little out of place. The team has an explanation for this, citing that it's actually the term to refer to their artificially-intelligent platform that connects all devices together. In other words, any LG product with "ThinQ" attached to it can be easily hooked up to the other gadgets for pairing or controlling purposes, such a washing machine to the G7+, for instance.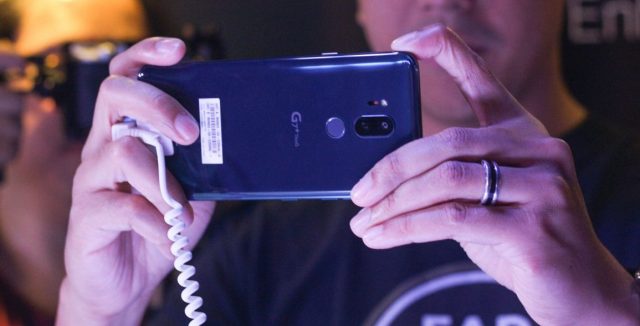 Armed with a sleek and slim bulk, the phone sports a highly reflective surface that while does add a little glimmer to it, also makes the colour shade appear duller and more one-tone, especially for the New Platinum Gray iteration. Following it would be the New Aurora Black and New Moroccan Blue versions with a surface that has less shine; all three of them are still fairly susceptible to fingerprints, however. The grip, at least, is comfortable, with the right cut for a snug fit.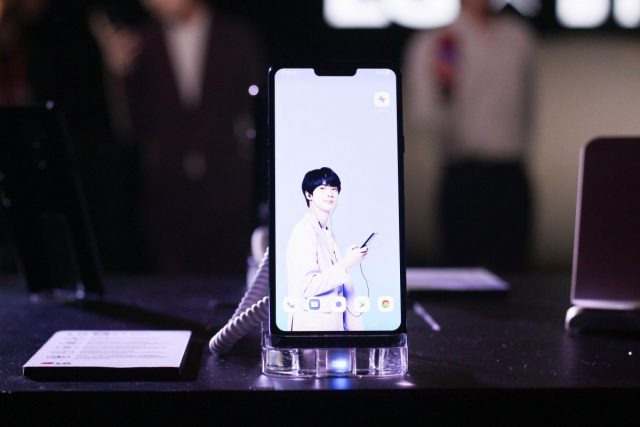 As expected from a 2018 flagship device, the G7+ is equipped with a nifty 6.1-inch IPS display of a 3,120 x 1,440 resolution, alongside a 19:5:9 aspect ratio. The taller-than-usual measurement means users are offered a more immersive experience, compared to the usual 18:9 one adopted by many other models on the market.
LG's newly-implemented LED technology allows for some neat features. For ease of viewing under direct sunlight, there's the Super Bright Display, which activates the peak brightness of 1,oo0 nits for around three minutes, before it turns off to prevent overheating. Six different viewing modes are available as well, ranging from Auto and Sports to Game and Expert, in which users can finetune the image further by adjusting the screen temperature and RGB levels individually.
Depending on whether you are a fan of the notch, the overall big-screen viewing experience may be slightly marred. Jumping onboard the notch bandwagon sees a cutout at the top of the phone that houses the front camera, and also dips into the display screen.
In a way that's similar to the P20, there's the choice to remove the notch – in a manner of speaking – through decorating the area with software customisation options, or adding black bars to mask its presence under the "New Second Screen" feature.
On the left side, the volume rocker sits above a new shortcut button called the AI Key, which grants users access to Google Assistant, and by extension, Google Lens – a first-ever for a mobile device. Double-pressing it will bring up the latter's vision recognition feature, which can be disabled but not remapped. As usual, the power button rests alone on the right.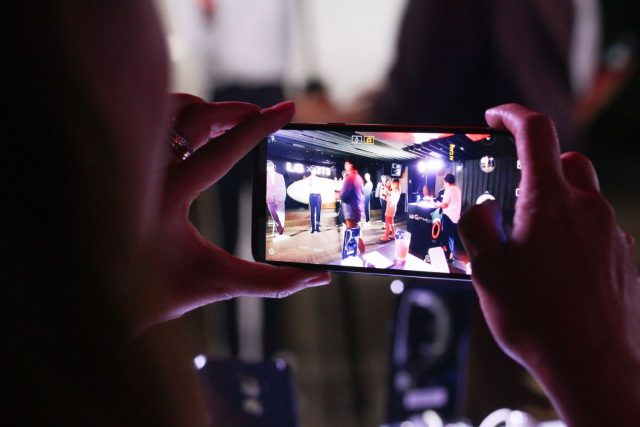 Keeping up the trend of dual-lens camera systems, LG's latest model sports a 16MP primary sensor of f/1.6 aperture, with an additional 16MP secondary wide-angle one to follow. On paper, these traits seem to be fairly respectable, especially when coupled with a host of features. Apart from the new Portrait Mode – a long overdue element that should have already been implemented in earlier iterations – there's also the obligatory night mode, as well as the AI Cam.
With AI being the latest buzzword in the industry, it's hardly surprising that LG has implemented AI capabilities into their camera technology. Offering up to 19 different shooting modes, the G7+ allows for more intelligence-optimised shots. Notice how the camera is able to detect and label nearby items in the above gif, albeit with some slight inaccuracies.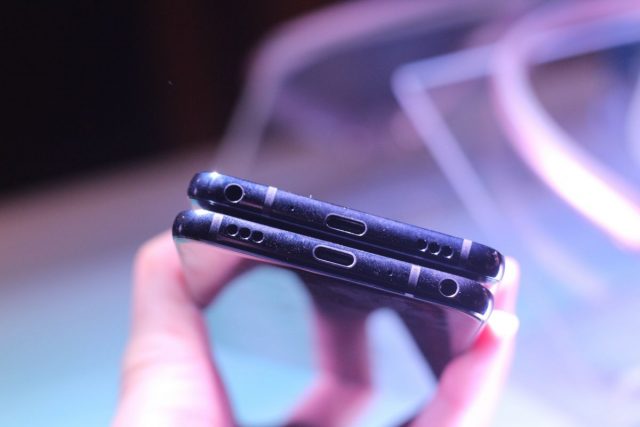 At the base of the phone are the much-welcomed 3.5mm ear jack, a USB-C charging port, and a single bottom-firing speaker that boasts way more power than it looks. Termed the Boombox Speaker, it utilises the internal space of the smartphone as a resonance chamber to deliver double the bass, and increase its base volume level by six decibels. Because of the audio enhancement, users are able to feel the strong thumps of vibration in their grip – a sensation that takes a while to get used to.
For individuals who prefer their audio source to be even louder, the phone can be placed on hollow surfaces such to allow for the resonance chamber to double up as a woofer. In this arrangement, the bass effect is further amplified, which gives rise to the occasional crackling at high volumes.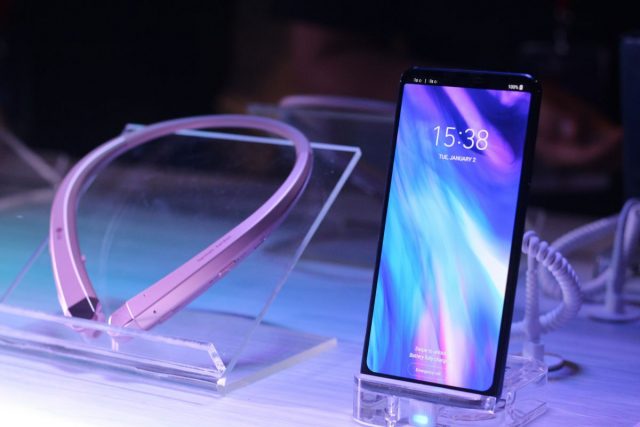 But perhaps the most noteworthy feature of the G7+ lies in its implementation of DTS:X technology, which is another first for the team. When paired with earphones, the phone is capable of delivering virtual 3D sound (think surround sound) for a richer audio experience that of course, works better with high-impedance models.
During the hands-on session, a short reel of an action movie was played, and it quickly became apparent that the effect was different. There's a sort of depth to the audio, most evidently observed during sword-fighting scenes, where the lingering clash of metal echoes all around. At higher pitch, it was observed that the audio came across as slightly distorted, and volume levels do seem to be inconsistent, though it could simply be a one-off incident.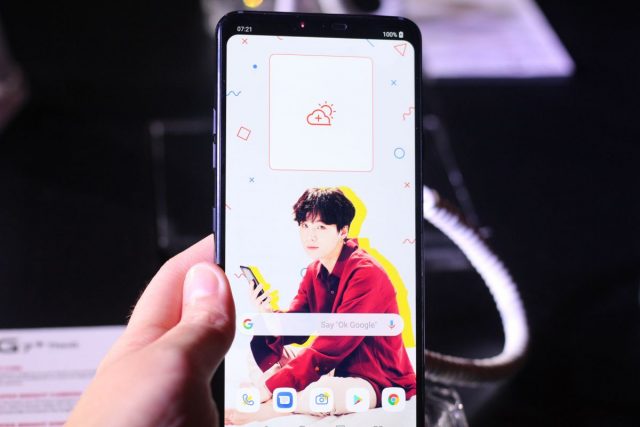 Under the hood, the LG 7+ is sufficiently-equipped to pit against the other top-tier flagships of 2018, boasting Qualcomm's latest and most powerful chip, the Snapdragon 845 chipset. Accompanying it is 6GB of RAM and 128GB storage space, alongside a 3,000mAh battery.
Owing to the oversaturation of the mobile phone market, there's certainly a need for brands to come up with defining features to set their models apart from countless others. In the case of the G7+, its strength appears to lie in the audio department, but it remains to be seen if that's sufficient enough to go up against competition in the field.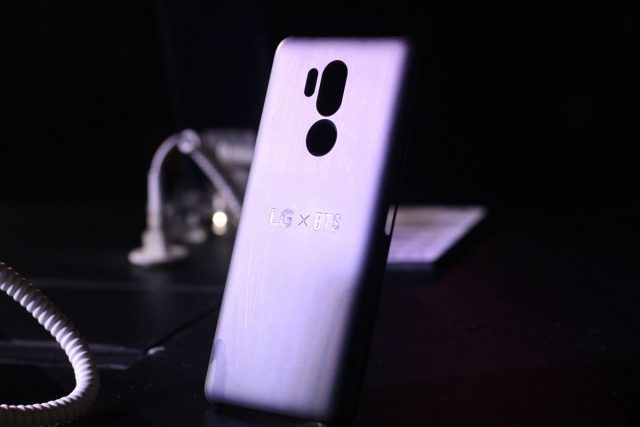 Slated for a June 2, 2018 release, interested parties may register their interest early from May 22 to 31 and receive over S$400 worth of premiums, including a fast-charging wireless charger, a LG Tone Infim Bluetooth headset, and a BTS case on a first-come-first-served basis. More information about the phone can be found on LG's official website, with a deeper analysis to be covered in our upcoming review, so do stay tuned!
Series
LG G7+ ThinQ
Operating System
Android 8.0 (Oreo)
CPU
Qualcomm Snapdragon 845
Display
6.1″ /564ppi / 3120 x 1440 (QHD+)
Memory
128GB Storage / 6GB RAM
Expandable up to 2TB
SIM Card Interface
SIM 1: nano SIM card
SIM 2: nano SIM card / microSD
Size
71.9mm (width) / 153.2 mm (height) / 7.9 mm (depth)
Weight
162g
Camera
Front: 8MP (f/1.9)
Back: 16MP (Super Wide Angle, f/1.9)+ 16MP (Standard Angle)
Battery
3,000mAh
Colour
New Platinum Gray, New Aurora Black, New Moroccan Blue
Retail Price
S$1,198
Si Jia is a casual geek at heart – or as casual as someone with Sephiroth's theme on her Spotify playlist can get. A fan of movies, games, and Japanese culture, Si Jia's greatest weakness is the Steam Summer Sale. Or any Steam sale, really.
---

Drop a Facebook comment below!

---