From the start of time in World of Warcraft, the Alliance and the Horde have been duking it out, with grand battle clashes, flashy moves, and battle cries aplenty. Rogues dance on the battlefield, deadly nimble on their stealthy feet, while the hunters strike enemies down from a distance, dishing out high burst damage with dangerous proficiency. Fights are as brutal as they are fun, and the adrenaline pumping through one's veins is almost always a guaranteed constant.
After years of gameplay, however, things can become weary and repetitive. Blizzard is well aware of that, and has pushed out expansions after expansions to retain the players' interest. Next in the lineup is World of Warcraft: Battle for Azeroth, slated for release in Summer 2018 – or more specifically, before September 21, as noted on the Blizzard store.
First announced at BlizzCon 2017, the title is set to explore the wounds suffered in the long-standing feud between the two main fractions. With the promise of exhilarating times ahead, the newest expansion will feature tons of brand-new content, including:
Two new continents, where a champion of the Horde, or a defender of the Alliance, goes exploring in zones and dungeons in Kul Tiras and Zandalar respectively.
The Heart of Azeroth, a legendary neck piece that grants the player equipment upgrades.
Allied Races, three for each faction, and each with their unique racial abilities.
Warfronts, a classic World of Warcraft real-time strategy game mode that allows for a 20-player co-op.
Island Expeditions, in which players are slotted into groups of three to fight against opposing forces, or a team of enemy players.
Level cap increase to 120, with new quests and raids to boot.
Extra treats are in store for the more eager fans who have already made their pre-orders (S$49). With a level-110 character boost, new expansion quests are no longer a worry, for players can now enter the fray fully geared up for victory. Throw in the early recruitment of Allied Races, and a head start is definitely in order!
For those who are also a dedicated follower of Blizzard's other titles, this is where your loyalty will be awarded. Purchasing a Digital Deluxe edition (S$69.99) will entitle you to the following crossover and in-game goodness:
World of Warcraft: Charge into battle astride the Seabraid Stallion (Alliance) and Gilded Ravasaur (Horde) mounts, and explore new frontiers with Tottle, the baby Tortollan pet, at your side.
Hearthstone: After a rough day on the front, rest up at the tavern and play a few hands ofHearthstone with your hot new Azeroth Is Burning card back.
StarCraft II: Make your mark on distant worlds with Horde- and Alliance-themed sprays.
Heroes of the Storm: Roar onto the Battlegrounds of the Nexus riding your Primal Flamesaber, a fiery new mount with three variants.
Overwatch: Champion your faction on the battlefields of tomorrow with Horde and Alliance voice lines for Torbjörn and emotes for Tracer; sprays featuring Anduin, Sylvanas, Jaina, and Varok Saurfang; and player icons representing Kul Tiras and Zandalar.
Eagled eyed readers would notice that the Battle for Azeroth key art looks somehow vaguely familiar..
And you're probably right! The same pose that we see now once adorned itself on the boxsets of the original Warcraft real time strategy game. A phrase so old, it's probably lost in present day consciousness.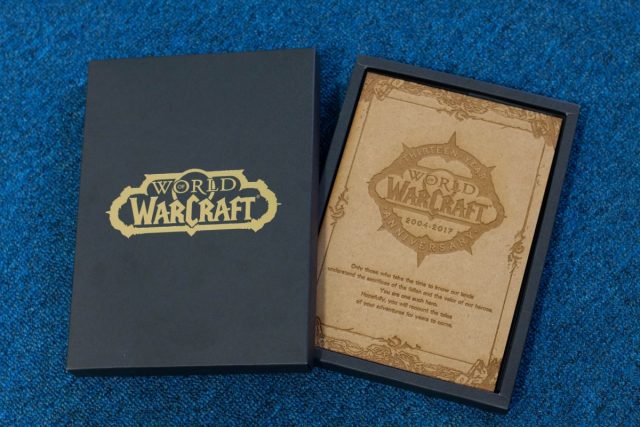 To celebrate the news, we have 5 sets of World of Warcraft 13-Year Anniversary Plaques to give away, an emblem that tells of many years of loyalty and dedication!
---
ENTER NOW TO WIN
To stand a chance to win, simply complete these 2 simple steps:
SHARE THIS POST and TAG a friend (or more) whom you play WOW with. ->
Fill in the form below.
Give us a LIKE below if you haven't done so yet, so you won't miss out on future similar giveaways!
[GIVEAWAY HAS CLOSED]
The giveaway is open to all residents of Singapore. The giveaway closes on 17 February 2018 @23:59hrs (GMT+8). 5 lucky winners with the correct answers will be picked at random. The winners will be notified via email by 20 February 2018. Good luck!