Shoes. Everyone needs them, but good shoes are so expensive nowadays. Since we consider all our fans as friends, we have it on good authority that Bata Heritage is having a Friends & Family Sale, with shoes selling from US$8.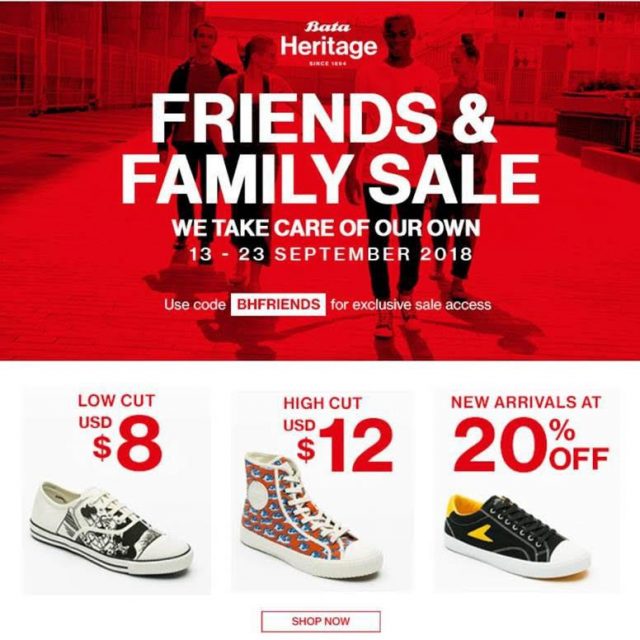 There are plenty of shoes to choose from. For the geeky minded, there are a few Star Wars shoes, like the Stormtrooper Low Top Canvas or the Astroboy Flying City shoes. There are also more design-oriented shoes like the Black & White Canvas High-Top or the Red Wave Print (High Top Canvas) designed by Julien David. If those are way too much pizzazz for you, there's always the option of choosing the more muted High Top White Red Ankle or the classic BT Light Coated Black Canvas. But really, why buy a boring pair of shoes when you can get R2-D2 on your feet?
Enter the magic word BHFRIENDS on their website to gain access to their sale. There is a shipping fee of US$6 for a single pair and US$12 for two pairs or more, which is rather affordable for shipping considering the savings. We advise you buy a few pairs or grab a few friends and family who wants a new pair of shoes if you want to get the most out of this. The Friends & Family Sale is happening right now until September 23, 2018.
Dea wishes she could play the latest Tomb Raider or Uncharted, but she can't, so instead she reads and watches other people play. On her down time, you can probably find her re-reading Captain Marvel. The Carol Danvers one.
---

Drop a Facebook comment below!

---