Whenever Apple launches a new iPhone, the debate isn't if it's superior to Android or if it's worth the premium that the devices carry. The indecision is over which of the four devices you should pick
If you're moving into an upgrade, and just want the best that Apple has to offer, that's where the 6.1-inch iPhone 15 and 6.7-inch iPhone 15 Plus come in. Powered by last year's A16 Bionic system on chip, both come with dual rear cameras and offer a cheaper, albeit standard performance.
If you're looking for superior hardware in the form of a new A17 Pro chip and three rear cameras, the Pro range is the way to go and if a 6.7-inch device seems too overwhelming, that's where the Apple iPhone 15 Pro comes into the picture.
The 6.1-inch device fits snugly in your hand, and the new brush metal titanium finish around the curved edges offers a more textured frame that provides a better grip. With a new blue, white, black and natural colour, the overall aesthetics channels class and very much worth the starting price of S$1,649 for the 128GB model.
Right out of the box, the iPhone 15 Pro is cool to the touch, thanks to the new Titanium with textured matt glass back, which provides an added luxurious feel when compared to previous models. We got our hands on the new blue titanium model and the iPhone 15 Pro is as good as it looks.
As mentioned, the 15 Pro is powered by the latest A17 Pro chip, an Apple-designed chip featuring a groundbreaking 3-nm processor and 19 billion transistors. It is said to be 10% faster than its predecessor, the A16 Bionic Chip, and this feels true, although not the most noticeable when compared side by side. It is perhaps more evident when comparing the A17 Pro Chip to the A15 Bionic Chip in the iPhone 14 and 14 Plus models. Where speed and performance may not necessarily be an issue for everyday use like surfing Safari or scrolling through social media apps, it is a point to consider for avid mobile gamers.
The new chip stands out in the way it processes graphics, as evident when we played the early chapters of Resident Evil Village, a 2021 console game that now runs beautifully and smoothly on a smartphone. Colours and frame rates are vibrant and smooth, providing a rather impressive immersive experience, especially for a phone with a phone for its size.
The 15 Pro comes with a Super Retina XDR Display, which makes for great viewing of video content, be it via YouTube or streaming services including Netflix and Disney+. And if you need to make a movie, simply slide it effortlessly in the back pocket of your jeans/pants, or the inside of a jacket or handbag.
Of course, one of the biggest differences in the phone's design that can't be ignored is the new action button. A once single-function ring/silent switch on the left side of the iPhone, the action button allows users to quickly toggle between functions just by a click on the button. While it is set on ring/silent on default, you can customise it to activate Camera, Flashlight, Voice Memos, Focus Modes and Magnifier as of now. The press and hold gesture of the button is easy to master, and there are visual cues to inform its user. While convenient, make sure the phone isn't pressed up against something in your bag, and accidentally hit the action button and launch said function.
Another big difference is the switch to USB-C instead of the Lightning connector. Apple is rather delayed in this change in the smartphone game, but it is one that is welcomed, especially since the latest MacBooks and iPad Pros already adopted USB-C much earlier on. This is especially since users can now use the same USB-C cable to charge or use across their various Apple devices, be it the MacBook or the iPad.
Year after year, Apple taunts competitors with its camera performance and set-up. The #ShotoniPhone campaigns has an extended portfolio ranging from professional DSLR photographers to music video directors for artists like Olivia Rodrigo and NewJeans. This is with good reason.
The 15 Pro flaunts an impressive rear three-camera system and thanks to the A17 Pro Chip, the 15 Pro has the equivalent of seven pro lenses in its camera set up. This includes a 12MP Ultra wide camera and a 48MP Main camera that can switch between three focal lengths – 24mm, 28mm and 35mm. The camera set up also includes a 3x telephoto camera that works well for close-up shots and catching things in motion.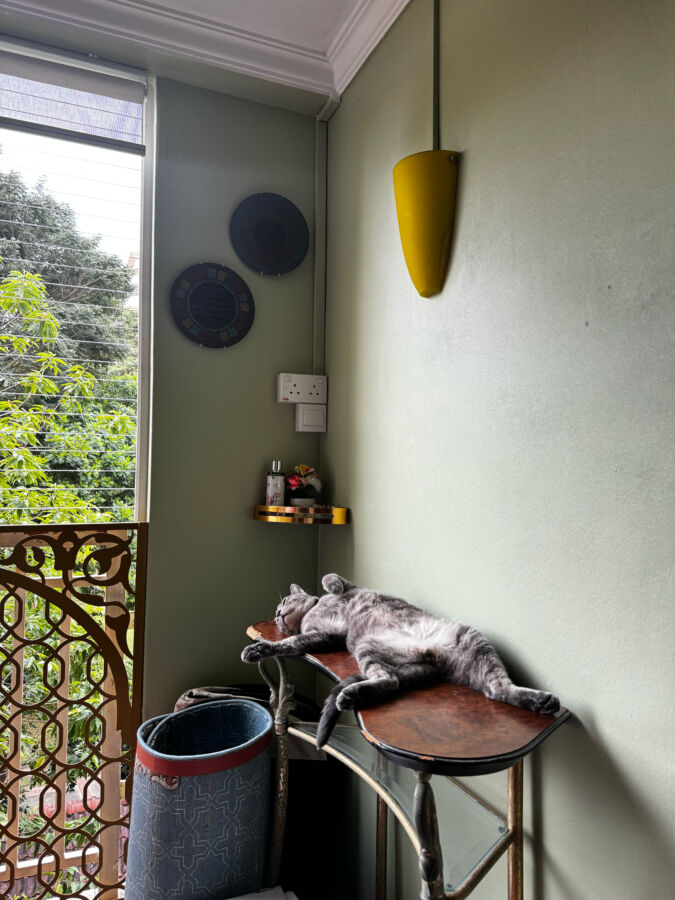 Switching to Portrait Mode is less of a need with the 15 Pro too. When the Camera mode is triggered, its default mode is able to automatically detect depth. On the off chance it doesn't, one has to simply tap the screen to focus on a particular subject, whether that is a human, item or in our case, a cat having a lazy evening nap, to use Portrait Mode. Details are not spared, and quality is not compromised even when the camera is zoomed up to 15x – a game changer particularly for users who frequently attend concerts.
While the early investment might be high, it is definitely one that is worth it especially when upgrading from an earlier iPhone model, or even switching from an Android device. Packing plenty of Pro features that can be maximised for both personal and professional content creation, an immersive experience when consuming visuals and the ideal hand and in-pocket size, the iPhone 15 Pro can easily meet the needs of its users. With the new titanium backing that is both luxurious to the eye and to the touch, the iPhone 15 Pro truly is something one will want to flex.
Plus, who doesn't want to say they've got the newest gadget from Apple?
The iPhone 15 Pro is available in 128GB, 256GB, 512GB and 1TB of storage. It is available from 22 September.