Detective Conan has spawned a total of 22 movies over the course of its long-running serialisation, and all of them have featured home country Japan as the main backdrop. With the upcoming The Fist of Blue Sapphire film – slated for airing in Singapore on June 13, 2019 –, the pattern is set to change, as the iconic sleuthing character will make a trip down to Singapore, which makes it the first Detective Conan movie to be based outside of Japanese shores.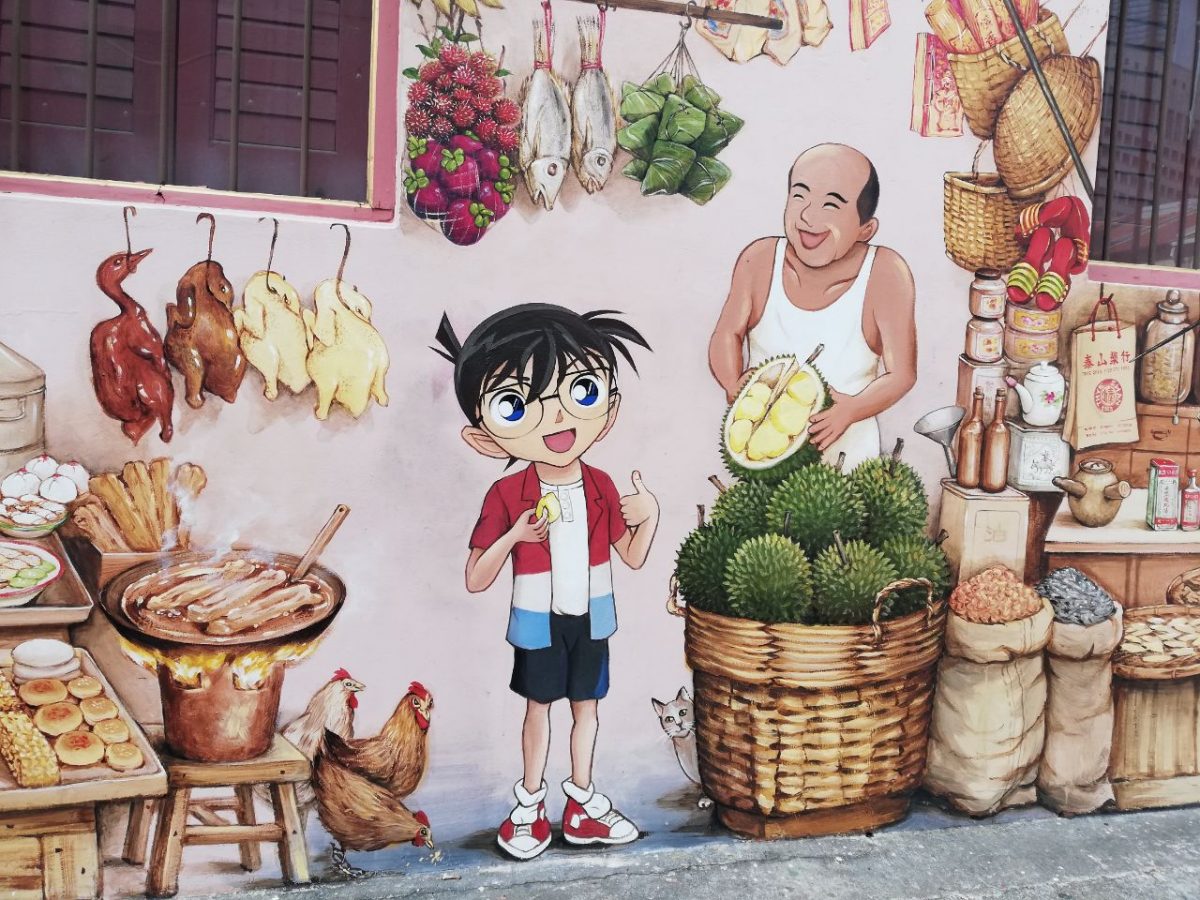 To celebrate its impending release here, Singapore Tourism Board (STB), film distributor Odex, and Thye Shan Medical Hall have tapped into the talents of local mural painter Yip Yew Chong to usher in a commemorative welcome. The collaborative effort saw the latter unveiling a special, wonderfully-adorned Detective Conan mural along the bright pink wall at 266 South Bridge Road – the exit leading out of the popular Chinatown Food Street.
According to local media outlet Mothership, Yip shared that an "imaginary and impossible shop selling all sorts of things one can find in Chinatown" was painted as a nod to a scene in the film, where the premises of Chinatown are featured.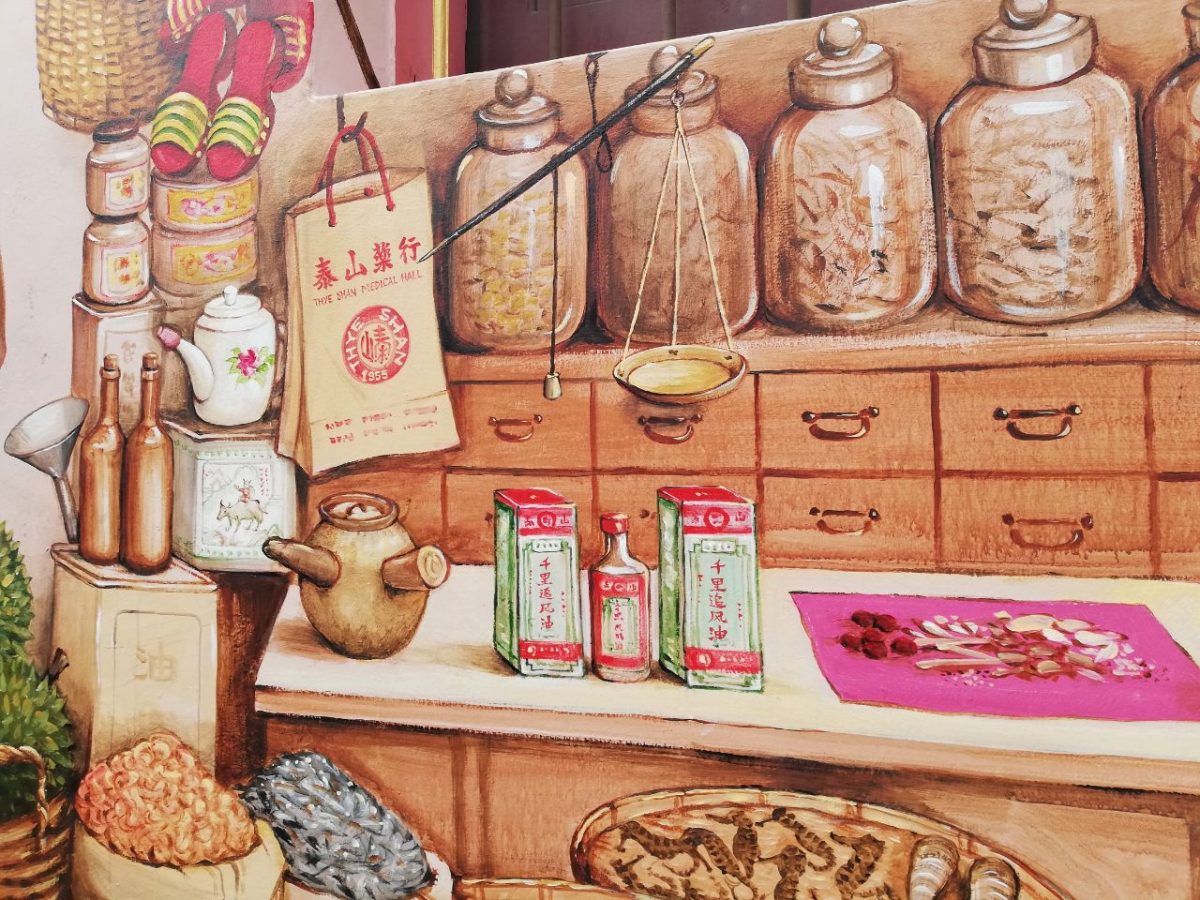 Indeed, the mural is chock-full of familiar elements found in Singaporean and Chinese culture, such as herbs and ointments from TCM (Traditional Chinese Medicine), bamboo-stitched steamed baskets, and traditional pastries. The pile of durians, being one of the mural's main stars, is placed in plain, centred view with Conan, while in company of a few chickens and a curious cat.
The entire process, as revealed by Yip, took three and a half days to complete – an impressive feat, considering the full stretch of the mural painting, as well as the added challenge of rain every single afternoon. He added that he "[doesn't] believe that Conan has ever had durians before, but he seemed to [have] liked it."
What's perhaps even cooler than having Conan try the King of the Fruits is the invitation of voice talents Kappei Yamaguchi (Conan) and Naoko Matsui (Sono Suzuki) to add their very own finishing touches to the work. In a tongue-in-cheek move, the former also left behind the signature insignia of Kaito Kid – Conan's nemesis – on the wall, which serves as a reference to the character's signature on his heist notes.
In fact, Yip himself has hidden a blue sapphire somewhere in the painting that can easily go unnoticed due to the sheer detail present. Having a dash of anime flair is hardly Yip's usual style, but it seems to have taken off really well here – and the man concurs, stating that the contrast was interesting.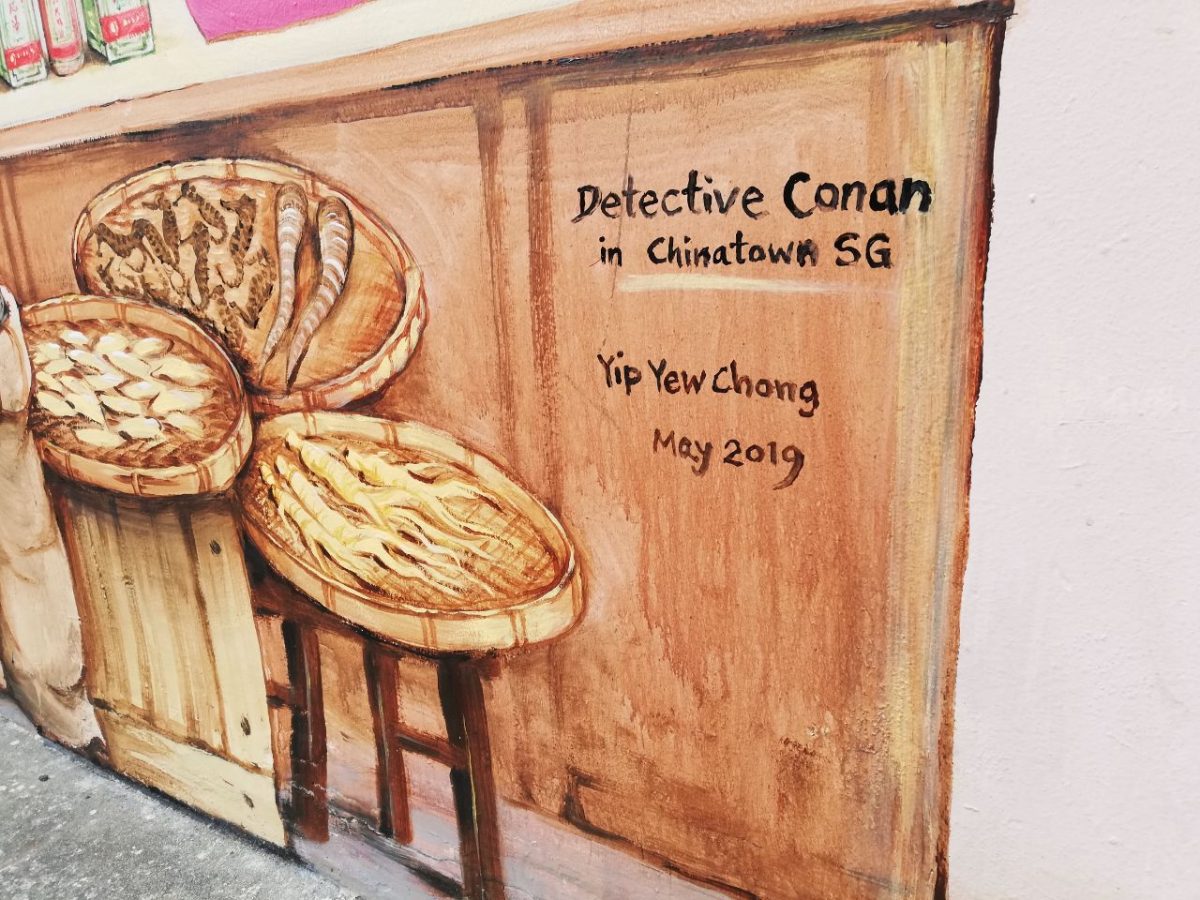 Who would have thought that the idea of durians and Detective Conan will eventually see the light of day? Not us, but we're certainly not complaining, for that's one handsome, noteworthy piece of work right there.
---

Drop a Facebook comment below!