When Lumberjanes first launched in 2014, no one could have predicted what a huge hit it would have been as soon as it hit the shelves. Created by writers Grace Ellis, Shannon Watters and Noelle Steveson and artist Brooke Allen, the series is one of BOOM! Studios bestselling original titles. A comic for-all-ages, it has a diverse cast and does an incredible job at representing a minority in the male-dominated industry, both behind-the and on-the pages.
Brooke Allen will be in town for STGCC 2016 so we caught up with her to find out 12 things you really need to know about the artist and co-creator of the Eisner and Harvey behind the award winning series.
1. She really loves all things monstery, including kaiju
Allen draws a lot of inspiration for her monsters from the things she enjoys in different media such as movies, music, cartoons and toys — from cheesy, early 90s B horror and cult movies to the more recent Pacific Rim; and music from John Carpenter and Umberto to 1950-70s composers and Sci-Fi soundtracks from Gil Mellé and Jay Chattaway; and 90s cartoons such as Biker Mice from Mars and Street Sharks as well as Toho classics like Ultraman and Godzilla and other tokusatsu series like  Kamen Rider and Battle Fever J. 
She mentions, "werewolves were among my first favorite monsters growing up thanks to the book Cycle of the Werewolf."
2. In fact, her favourite kaiju is Pestar from Ultraman
While Allen likes anything that combines or monsterizes her favorite animals  such as bats, beetles, and rodents. Many of her favorite monsters are also some of her favorite toys, especially Pestar from Ultraman,  partially because it is a two-man puppet suit. She pretty much loves all the kaijin from tokusatsu shows such as Kamen Rider, Musasabeedle and Godzilla.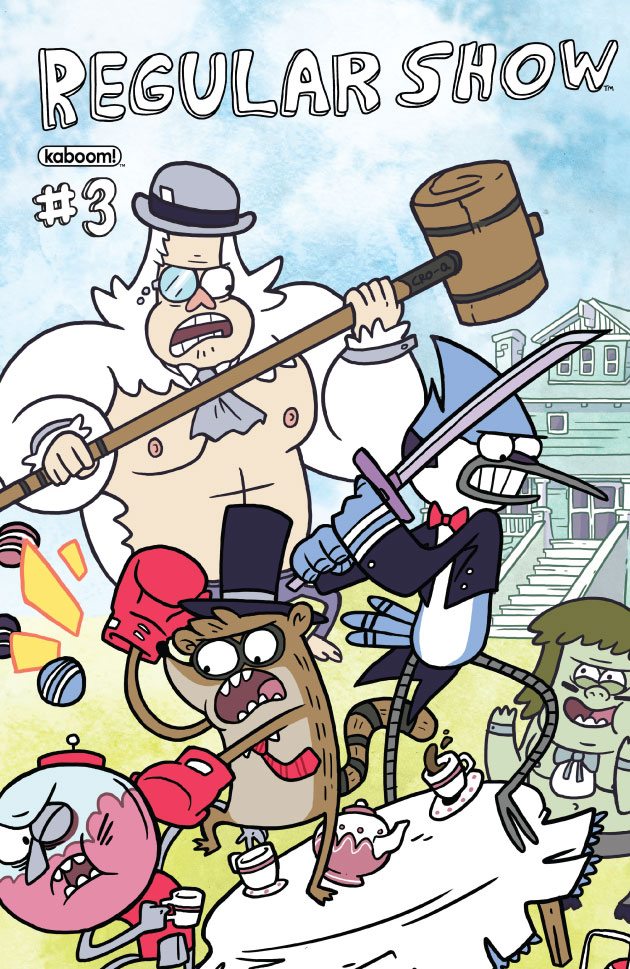 3. She thinks that the Lumberjanes and The Regular Show crew would get along swell 
Having worked on a number of different titles, Allen thinks that the Lumberjanes would take meeting different people (and talking creatures) in their stride, such as the characters from The Regular Show. She says, "I'm sure Ripley would take an immediate liking to Skips because he would be the most fun to climb and ride around on and Jen would probably sympathize deeply with Benson since they're both in the position of wrangling/supervising the rest of their crew."
4. For her, the ultimate Lumberjanes adventure happen in space
Halloween specials are Allen's favorite and while she thinks that a great adventure for the girls to go on would be something to do with horror and monsters with social justice or a monster living amongst the campers. But she thinks that the ultimate adventure would take place in a galaxy far, far away — if there was a way to send the girls there.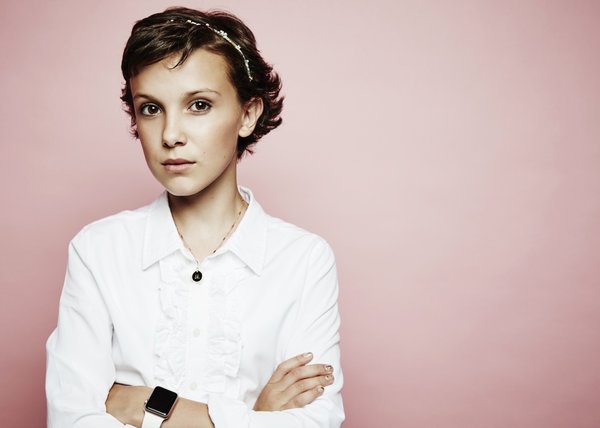 5. She wants Millie Brown (from Stranger Things) to play Molly 
Allen's dream cast for a live action Lumberjanes movie includes Joey King as April, Alexys Nycole Sanchez or Bella Ramsey as Ripley, Jessica Williams or Yara Shahidi for Jen and Gwendolin Christie for Molly. While she hasn't decided who she'd like for Mal, Allen says that she would prefer someone Korean or of Korean descent.
6. It humbles and terrifies her to be a female role model in the comic industry
As a minority representative (female artist who is working on a diverse heroine-centric book) whom others look up to, Allen says "I've definitely started paying more attention to the things I say and do both online and in my day to day which has ultimately made me a more thoughtful person. And through working with the writing team on Lumberjanes I've become a better feminist; many times learning along with the readers about the works of notable feminist icons and women of history."
7. She's not too interested in telling tragic queer stories or  cautionary tales 
"To show a world where  people are never given a second glance because of their gender or sexual orientation" is as equally important to Allen as the stories of struggle and the threats that the LGBTQ community faces.
Allen is also cautious about creating "hollow", stereotype characters that are different for the sake of being different; a trope which often befalls LGBTQ characters.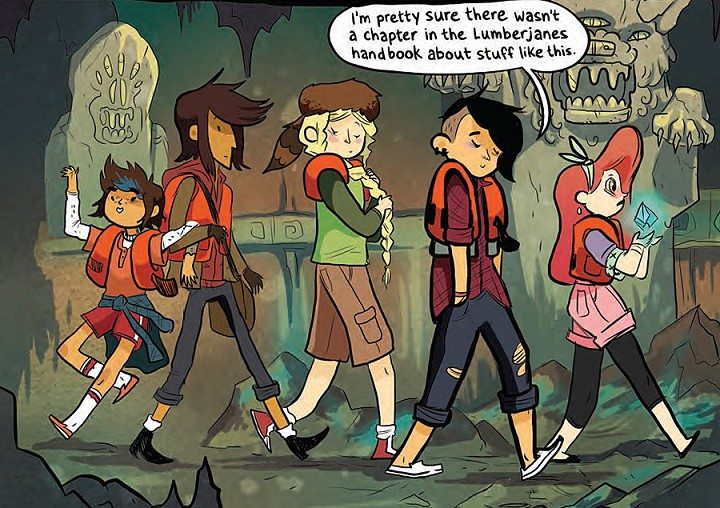 8. Representing diversity is a big deal for her
For Allen the casts' gender and sexual identity is something close to her heart. Being part of the LGBTQ community has a huge impact on Allen's stories and characters as she thinks it is important to see characters that represent herself and her community in mainstream media. "It goes a long way in helping feel like you belong in society when you can see someone from your community being a hero of a story," says Allen, "it validates your existence to the rest of society who may only be vaguely aware of marginalized groups. Seeing yourself accurately depicted in a story is vital to showing others that you belong, that you're perfectly normal and aren't something strange or other."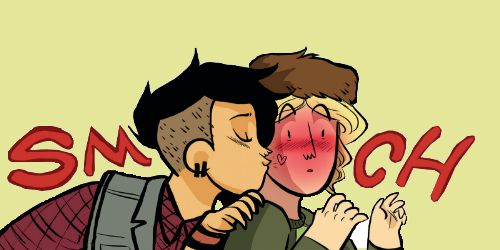 9. She finds it easy to relate to the characters 
Because she's been in their shoes before –especially the sweet, blossoming romance between Mal and Molly. Allen says "All Mal and Molly scenes are heavily relatable to me growing up queer and having a crush on my best friend who would eventually turn out to be my first girlfriend." About Jo's coming out scene, she emphasizes the importance of the story developing as natural as possible and mentions that it "It was a conversation that I feel like I've had myself in many different ways, both as the voice of Barney and Jo, with friends over the years, so I can certainly relate."
10. She hopes that her work will help encourage other creators to be more inclusive 
Allen is hopeful that Lumberjanes shows that creating multifaceted characters which reflect the true diversity of society will get creators to realize that they make stories more relatable and compelling. She attributes the love for the characters to their ability to fill a void in comics when it comes to representing women, LGBTQ and people of colour.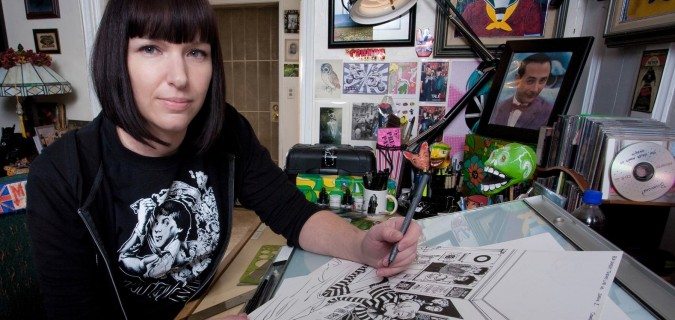 11. Her idol is Blue Monday's Chynna Clugston 
Allen really admires the revolutionary way Clugston experimented with format and the medium as a whole (like squeezing a song title written into the gutters in between panels to act as a "soundtrack" for readers). Without Clugston, we may not have a "Brooke Allen" as "She's still one of my heroes to this day because I don't know if I would even be drawing comics if it weren't for Blue Monday." She is also a fan of Jillian and Mariko Tamaki's work (This One Summer) and Claire Wendling.
12. Her best advice for aspiring female comic fans? Just do it.
Just keep drawing, creating characters and stories, and moving forward. According to Allen there are just four steps to it:
Do not let anyone stop you from creating characters and stories or bar you form passionate about something because it is a male dominated realm; "Comics can be about ANYTHING and made by anyone! It's all about storytelling and if you have a story to tell you're halfway there."
 Do not be afraid of failure — as "imminent and ever present as death itself, scary, evil failure lives hand in hand with your successes and truly the only thing worse then failing is letting the fear of it keep you from trying in the first place."
Finish that comic. "Start out small with a story you tell over a couple pages or maybe even just a few panels and work your way up to something larger, but always finish it."
Share it! "Thankfully now with the internet we're not at the mercy of big publishers to get our work out to an audience and majority of comic artists are getting their start (myself included) by posting their work online. Self publishing mini comics and  attending conventions is also an excellent way to meet other artists and editors which can lead to jobs in the industry."
---
Brooke Allen will be making her first appearance at the Singapore Toy, Game & Comic Convention (STGCC) on the 10 and 11 September, at the Sands Expo and Convention Centre, Level B2, Halls E and F.
Victoria is a consummate dragon trainer fueled by ice cream and cake. A huge cartoon, tokusatsu, bronze and modern age comics fan, she aims to one day use her cosplay skills to become a spy like Sydney Bistrow.