Apple's latest iPhone 13 and 9th generation iPad series has just been released recently, and just like with other smartphones, users will want a set of accessories to not just get the most out of their latest marvel of modern technology, but also to better protect their pocket supercomputers. These accessories are, nowadays, seen as necessities to complement the iPhone and iPad ecosystem that can serve as great companions to users' devices.
Here is a list of accessories from Belkin that will go perfectly with that new iPhone 13 and iPad.
A screen protector is a staple for smartphones. While the iPhone 13 boasts a more durable Ceramic Shield display, an extra bit of armour can serve as extra insurance against inevitable bumps and drops. When swiping on a screen protector now feels almost identical to swiping the raw screen, this really is a no-brainer.
Also, since users will be touching the protector often, these also come with antimicrobial coating that will ward off surface bacteria. And for those who are concerned about air bubbles and at times tedious application of the screen protector, the Easy Align tray will ensure a smooth, foolproof process. Just place the phone in the snug tray, pivot the screen protector onto the phone, and voilà! No more minutes of ensuring alignment, reapplying the screen protector, and getting frustrated when the result still turns out to be less than ideal.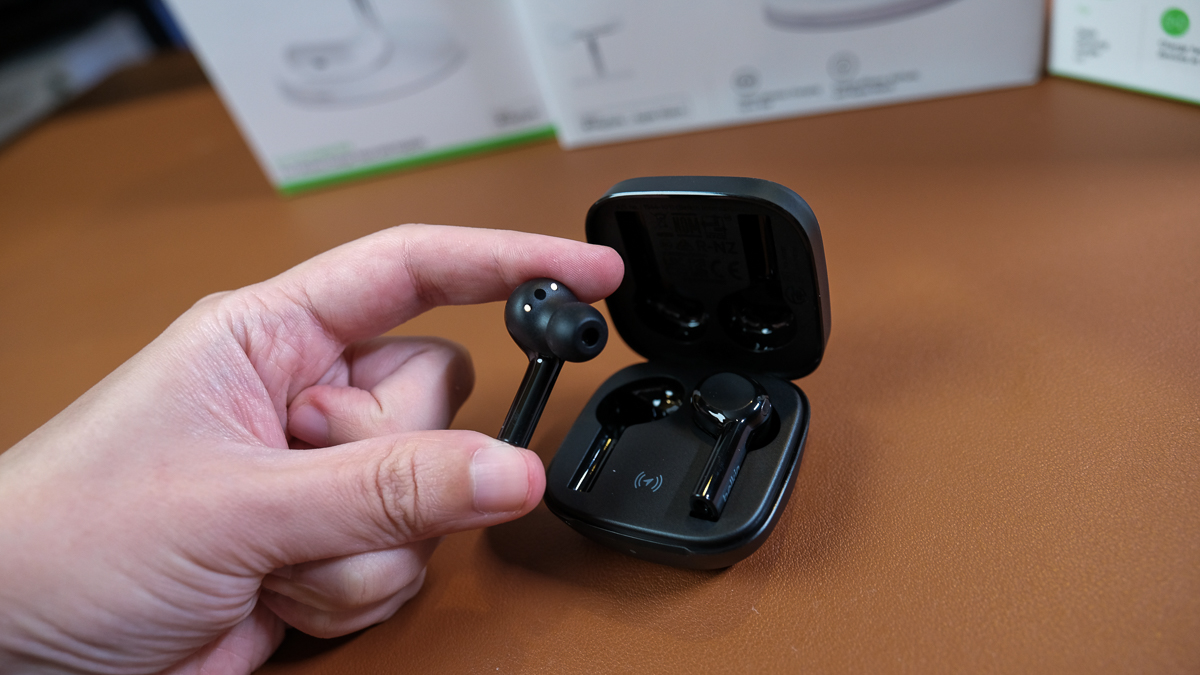 True wireless earbuds are getting increasingly popular, with the convenience they afford and the lack of tangled cables to deal with. Boasting a robust battery life and snug fit for those who like to listen to music or podcasts while exercising, the Soundform Freedom True Wireless Earbuds will make a killer combo with the iPhone 13.
They are also one of the first third-party accessories to be integrated with the Apple Find My network. This means that in a way, it is part of the family of devices that can be easily found if misplaced, especially for those who have late nights, and always find themselves fumbling around for their devices in the morning. Given how compact these earbuds are, this is definitely a welcome feature. Also, with the easy and seamless Bluetooth connection, this pairing will make the earbuds and the iPhone 13 seem like they belong together in the most natural way.
The case also offers wireless charging. This means that if users have some of the wireless charging pads mentioned below, they will be able to easily keep the already robust 36 hours battery life of these earbuds feel like infinite power. After all, users just need to place the case on the charging pad, and not have to mess around with any cable, which gives the charging process a 'set it and forget it' quality.
Users will often use the iPhone for video calls, music, and movies. Thus, when the smartphone can be easily placed on a peripheral that can play out the audio at a higher level of clarity and fidelity, it will improve the experience that the iPhone is capable of giving. This lets users who enjoy listening to podcasts or music while taking showers or baths hear the audio crisply even with the showerhead running, even from a room away (with open doors).
And when the multi-faceted gadget can charge the iPhone while outputting better audio wirelessly? Consider this wireless charging stand + speaker a winner that brings an extra layer of convenience to users.
There's no need to tussle with multiple cables, or worry about fraying cable ends with this wireless charger. Being the only third-party brand that features MagSafe wireless charging technology, this is a highly convenient product for users who live their lives within Apple's ecosystem. Given how users with multiple Apple devices often have different spots around their home or office to charge each device, at times even forgetting if a device is charging or not, having the ability to have three devices easily within view and charging from a single spot helps lighten the load in terms of mental bandwidth.
The convenience aspect is nailed down perfectly by how the charger is able to detect the iPhone pretty much instantaneously, without users having to readjust and always worry about the charger not working properly.
Not only can this gadget charge the iPhone, Apple Watch, and AirPods all at once, making it a charging hub for multiple Apple products, it can also be used as a kind of stand so users can watch videos comfortably on their iPhones.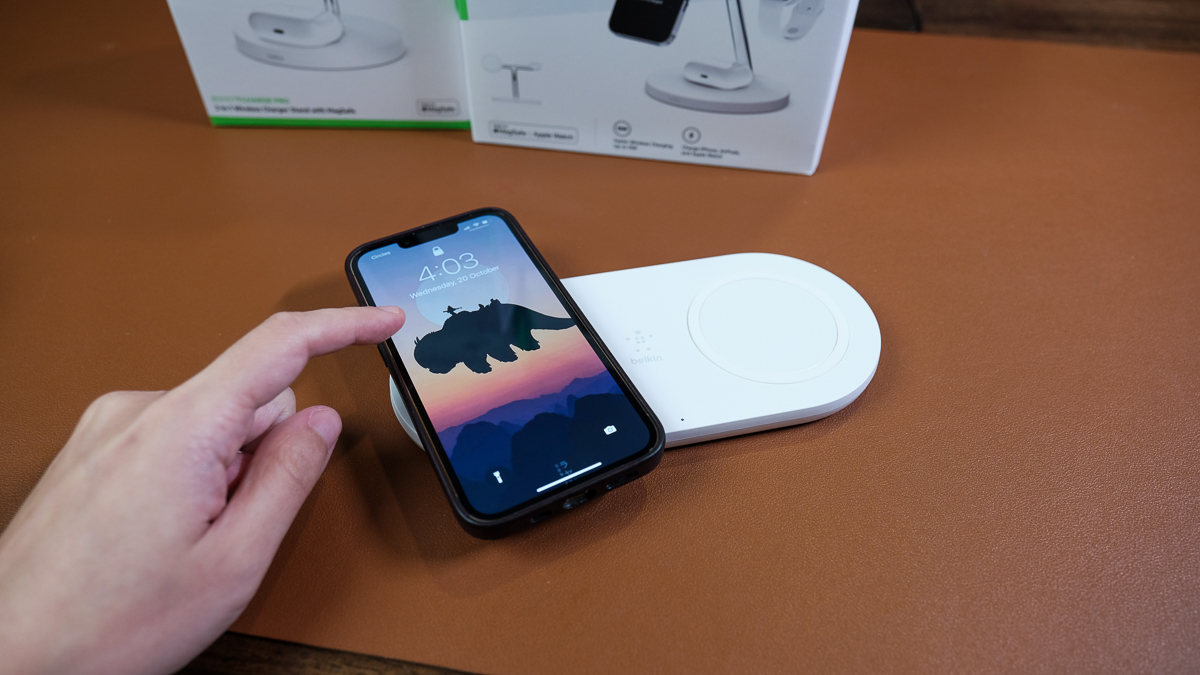 For users who own two iPhones, or who have housemates who are also using the latest smartphones, these 15W Dual Wireless Charging Pads will make cable management a breeze and prevent fights that arise due a scarcity of power outlets for charging. These charging pads are also engineered to work with smartphone cases. Charging one's smartphone can really be that easy now.
Or, hey, for users who own any true wireless earbuds with a wireless charging case, the Dual Wireless Charging Pads will make the iPhone and earbuds combo truly feel like one. Instead of having to switch out a single cable between devices, or having two cables taking up two power outlets, This is one single device, taking up a single power outlet, allowing users to charge both devices at once. Given the way earbuds and smartphones are usually used together as a set, it makes sense then to allow them to be charged side by side, with no risk of either one going uncharged.
Portable chargers are, like screen protectors, a staple. Since they are made to be carried around, having them be fast-charging and lightweight help a lot. Not only will the MagSafe charging feature prevent the cable from getting damaged by being tugged around carelessly, the two-metre long cable allows users to comfortably use their iPhones even while they are charging.
No more worrying about frayed cable ends when charging is as simple as a quick snap to the back of your iPhone! Due to how secure the magnetic charging is, there is no issue of charging being stopped halfway without one realising due to unintentional adjustments or shifts. Not only that, this comes with a wall adapter! There's no need to hunt for one, or deprive another device or accessory of theirs.
And for wall chargers, which we all inevitably end up relying on frequently, this dual USB-C charger manages to bring fast charging to two devices at once, while taking up just a single power outlet. Each port delivers 20W of power, all contained within a compact design that will fit in most places. This is a convenient, space-saving solution, especially in a world where people tend to not have enough power outlets, and at times having to stack extensions on top of extensions.
Able to charge an iPhone from completely flat to 50% in 25 minutes when paired with a USB-C cable with Lightning connector and an iPad from flat to 50% in 40 minutes when paired with a USB-C to USB-C cable, this is a powerhouse of a charger. And being able to do that to two devices at once? Talk about overachievement.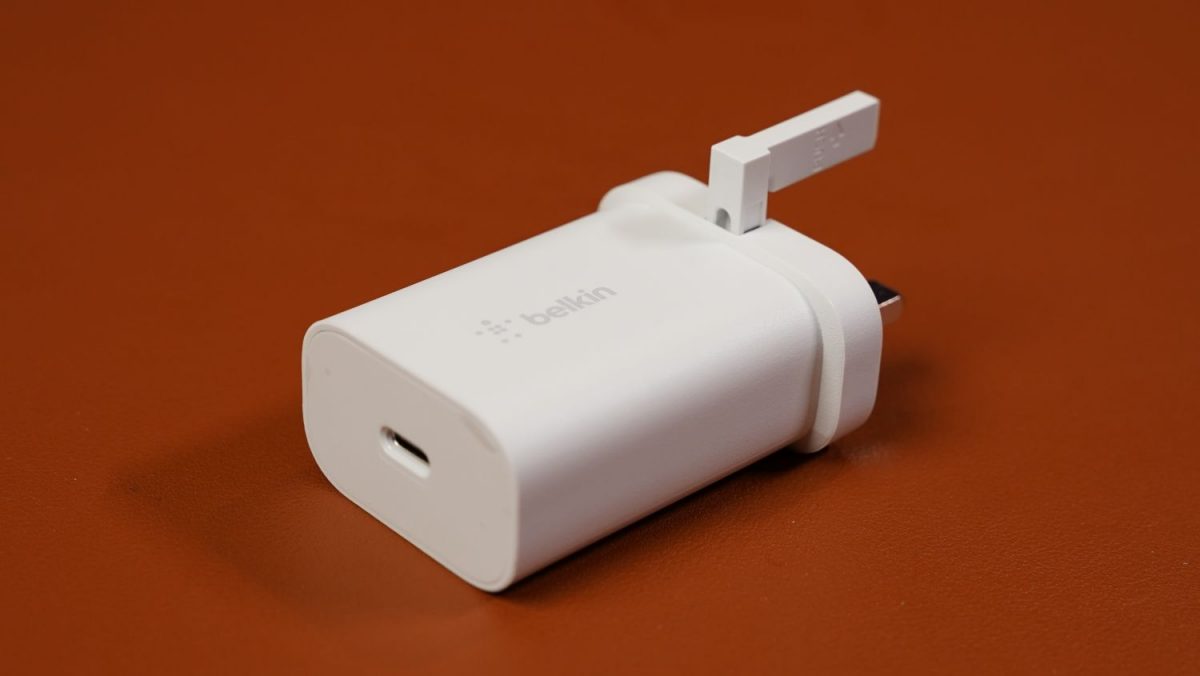 For those who prefer an even more compact design that's fuss-free to carry on travel while still enjoying fast charging, this wall charger is the way to go. It has optimised charging speed, providing safe charge with just the right amount of power. This is proof that the standard wall charger can really be improved upon.
Just like the Dual USB-C PD Wall Charger, this is able to deliver an equally fast charge to both iPhones and iPads. Not only is it perfect for travel, it is straight up a time-saver of a wall charger. After all, faster charging means less time spent waiting for one's phone to charge up before leaving the house, or before resuming any work that was being done on the phone.
We try to reduce the number of cables we use and have to manage, but we are still not cable-free. We may never be free from having cables lying around, feeding power to our devices. Hence, the cables we use should ideally be both sturdy, and of sufficient length. Belkin's one metre long blue cable is not only of an agreeable length, it also looks stylish.
Made of silicone, which has a gratifying texture to touch, it makes the process of connecting devices something that's just that slight bit more pleasant. The material is not a random aesthetic choice, however, because silicone is a poor conductor of heat. As such, the cable is made with safety in mind. This is a win-win situation.
---
Readers who want to optimise their lives and the spaces they inhabit, to make their space within Apple's ecosystem more homely, you're in luck! Geek Culture is giving away a whole slew of Belkin accessories!
All you have to do is tell us why these products will be a great addition to your life, and the five best answers will clinch the prizes, which total up to over S$1,000!
The prize pool will be as follows –
Top Prize
x1 Soundform Freedom True Wireless Earbuds
x1 Magnetic Wireless Charging Stand
x1 USB-C PD 3.0 PPS Wall Charger 25W
Second Prize
x1 2-in-1 Wireless Charger Stand with MagSafe 15W
x1 USB-C PD 3.0 PPS Wall Charger 25W
Third Prize
x1 Wireless Charging Stand + Speaker
x1 Tempered Glass Screen Protector for iPhone 13 Pro Max
Fourth Prize
x1 15W Dual Wireless Charging Pads
x1 Tempered Glass Screen Protector for iPhone 13 Pro
Fifth Prize
x1 Magnetic Portable Wireless Charger Pad
---
ENTER NOW TO WIN
To stand a chance to win these accessories, simply complete these simple steps:
SHARE THIS POST and TAG a friend or more** you would like to share these accessories with ->
Fill in the form below and answer a couple of simple questions.
Give us a LIKE below if you haven't done so yet, so you won't miss out on future similar giveaways!
If you are unable to use the form below for some reason, head to the original article on GeekCulture.co here.
The giveaway closes on 14 November 2021 at 23:59hrs (GMT+8) and open only to Singapore residents. 5 lucky winners will be picked at random. The winners will be contacted via email by 16 November 2021. Good luck!
**These steps are entirely optional, but we greatly appreciate if you choose to show some support to Geek Culture by sharing and tagging the post so that we may be able to bring more giveaways to you all in the future!