It's been an eventful four years since Gotham's debut in 2014, but it's finally wrapping up in its upcoming fifth season. With the city of Gotham descending into some sort of lawless cesspit, completely removed from governmental influence, we're clearly in the end game.
And it's amidst this chaos that we're going to be reintroduced to one of the Bat's more recognisable adversaries, Bane, in Gotham's heavily "No Man's Land"-inspired final arc.
In an interview with Den of Geek, Gotham's showrunner John Stephens declares, "He's integral to the resolution of No Man's Land," going on to describe the character as, "very, very strong, and very angry … While keeping elements from the books like Peña Duro and Venom … we made him integral to the fact of coming in as a special ops government agent."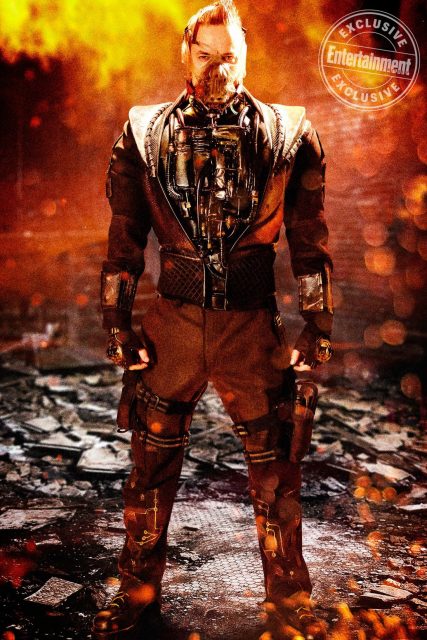 Courtesy of Entertainment Weekly, we now have a proper look of Shane West (Nikita, Salem) in his Bane duds, surrounded by flame-licked carnage. Sporting a slightly rubbery, translucent mask that's connected to a metallic, steampunk breastplate boasting a network of tubes, this version of Bane seems less… bulkily muscly than his previous renditions, either on screen or comic. Although, it may just be a side-effect of that padded cargo jacket emphasizing West's trim waist.
Nevertheless, Stephens has revealed that the character will be introduced as a more benign Eduardo Dorrance, before taking on his supervillain mantle, so maybe that explains his less… aggressive styling.
Whatever the case, you can look forward to seeing West's version of Bane kick some ass and crush some skulls when Gotham returns to the small screen for its last leg in 2019.
JoYFQ is a Gryffindor who distracts herself from the pitfalls of capitalism and hegemonic representations by reading fanfiction. Has surprisingly good RNG luck in games. Probably just jinxed herself.
---

Drop a Facebook comment below!