Digital literacy is incredibly important in this day and age, and as seen at today's Apple Swift Explorers Singapore 2023, it's better to start them young.
Organised by Crescent Girl's School using resources from Apple, and supported by Tinkercademy, an Apple Professional Learning Provider, Swift Explorers Singapore is a series of free coding-related activities that allow students to learn app design and coding on iPad using Swift.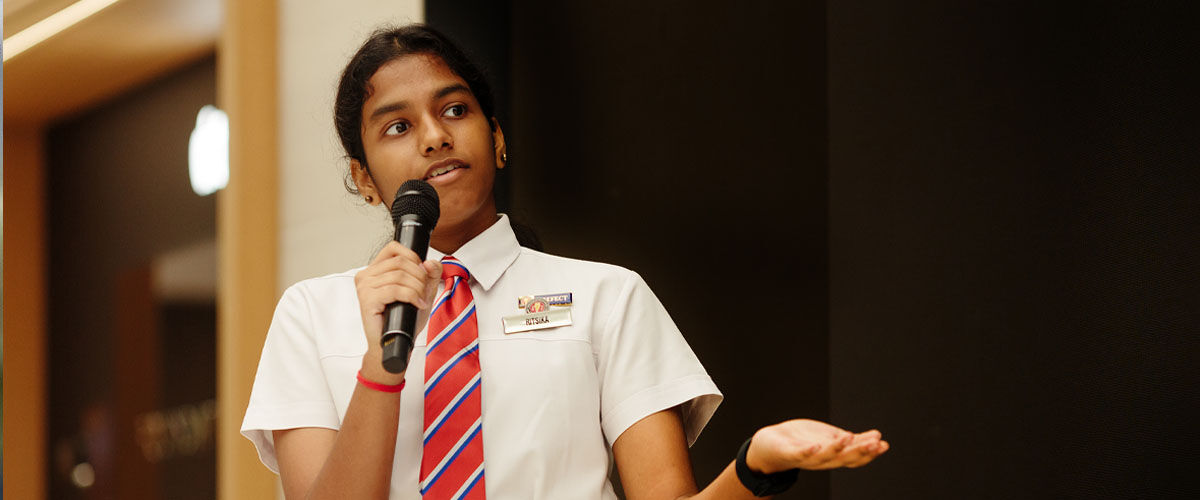 As part of the Swift Explorers Singapore initiative, participants learn basic coding skills using Swift Playgrounds and learn how to create their own virtual world, before turning their app designs into fully built utility apps. More than 60 schools and thousands of students participated in Swift Explorers Singapore and 20 schools presented their winning app ideas today at the Apple Orchard outlet. This year, the teams include Primary Schoolers with students as young as 11 years old.
For the first time, this edition of Swift Explorers Singapore includes participation from Pathlight Primary School, Singapore's first autism-focused school, and International School UWSEA (Dover), in addition to public schools.
The apps presented focused on four key themes such as personal wellness, student education, environment and sustainability, as well as the inclusion of minority communities. Some examples include Marty from Jurong Secondary School, an app developed to help Migrant Workers in Singapore learn English; Foodie Buddy from Ai Tong School, an app developed to reduce food wastage and a marketplace to sell soon-to-be expired food at discounted prices and Isight from Pathlight School, an app that helps to identify early signs of eyesight problems in young people and facilitate timely treatment.
A full list of winning apps can be found listed below:
| | |
| --- | --- |
| App Name | Description |
| Zen Buddy | The main objective is to provide a safe space for teenagers to explore their mental health needs, learn effective coping mechanisms, and prioritise their well-being. Features include daily check-ins, breathing exercises and peer support features. |
| The Learning Pocket | This app helps to streamline the digital experience of a teenager. It is an all-in-one app, with features that include – notes sharing, a financial tracker, friend finder, a discount finder and a chat function. |
| Foodopia | Foodopia hopes to help people browse through allergy-friendly recipes. They can enter their dietary restrictions and receive suggestions to cater to their needs. These suggestions include recipes and restaurants. This allows users to cook at home but also gives them options to go out for a meal. |
| Healthier Senior | This is a lifestyle app that aims to engage elderly communities in Singapore and help better integrate them into technology. The three key features of the app are news updates, health reminders, and a community forum. |
| EnviroHub@Yuhua | The app aims to share environmentally sustainable practices with the broader community. It offers a variety of resources such as blogs, videos and more. It provides useful eco-friendly tips promoting sustainability to the everyday Singaporean. Additionally, the app has a marketplace feature where individuals can donate items or surplus food to others within the community. |
| Peace of Mind | Journalling has long been established as a powerful tool for improving memory, mindfulness and communication. Tapping on the "Mind Palace" method, this app reimagines a new alternative to journaling. In this app, users can add customisable objects into their virtual home and link them to their memories and journal. |
| HelpHTD | This app is designed to help people learn new hobbies or skills without distracting advertisements. |
| Happy Student Life | Mental health issues such as anxiety, depression and stress are experiencing an upward trend among young individuals in Singapore. To address these concerns, the app aims to assist students in navigating mental health challenges throughout their academic journey. The app offers personalised support services and tailor-fit self-care strategies to ensure that students receive the necessary assistance they require. |
| Bartley Sea Explorers | This app was developed to raise awareness among youths regarding the significance of safeguarding our oceans and the diverse marine ecosystem. Through a range of interactive games featuring ocean creatures, youths are able to gain insights into pressing issues like water pollution and the hunting of endangered sea animals. To facilitate further learning, the app provides links to external articles and offers in-app quizzes. |
| Foodie Buddy | This app is developed to reduce food wastage through timely notifications and a marketplace to sell soon-to-be expired food at discounted prices. |
| Workout Buddy | This app helps students track, monitor and receive exercise recommendations as part of their preparation for the National Physical Fitness Award (NAPFA). It allows users to set their NAPFA targets and exercises are selected based on their needs. The app helps the users to monitor their weekly exercise through reminders, exercise videos, timers and weekly summaries. Users can also reflect and check their exercise progress for improvement. |
| Allergy Guard | This app allows you to better diagnose your allergies. Scan your food and the machine learning technology built within the app would flag the possible allergens found in your food. |
| Jar-it | Overwhelming the brain with a list of seven tasks can lead to decreased productivity. To address these challenges, Jar-it, a task management app is developed to help determine the urgency of the tasks and contains a task completion feature to serve as an incentive for students to accomplish their daily tasks. |
| School Work Organiser | The app was designed to assist students to manage their assignments, foster communication, and improve academic performance. It also implements a badge rewards system to provide motivation. |
| Mini FUB | The app aims to help teenage students manage their lives better and reduce stress by providing a fun and engaging experience. Its key features include a virtual pet that levels up with task completion, a focus mode that blocks out distractions and a tracker for time management. |
| StyleMate | This app is a fashion app designed to simplify the process of finding the perfect outfit for any event. It has a built-in artificial intelligence system to ask personalised questions to determine the ideal outfit. The app also has a forum where users can connect with fellow fashion enthusiasts, offering inspiration and the opportunity to showcase their unique styles. |
| Marty | This app was developed to help migrant workers learn English to help them better integrate into the community. The app teaches common English phrases and enables workers to connect with peers who share similar experiences. Pre-made flashcards are also available to facilitate the learning of new phrases. |
| Muse | Writer's or artist's block is a common challenge. This app is designed to provide young writers and artists with an endless source of inspiration for their creative works by generating prompts across various categories for both writing and art. |
| Junior Mathematicians | This app is created with the intention of making mathematics learning a fun and enjoyable experience. It includes daily challenges and a reward system to unlock engaging games. It also offers a comprehensive database for users to practice math skill-focused questions and an in-app forum for questions and answers. |
| Isight | The prevalence of childhood myopia in Singapore is a significant concern, affecting around 65% of 12-year-old children. The purpose of the app is to identify early signs of eyesight problems in young people and facilitate timely treatment. The app features include a colour blindness test, visual sharpness assessment and eye care tips to maintain eye health. |