It's often been said that Apple doesn't create as much as it innovates upon what was developed before, and that much is true. From the iPhone, iPad, Facetime, AirPods, AirTags, iTunes, and more, the Apple version pretty much sticks, since most tablets are referred to as iPads, earphones are also known as AirPods, and you don't just video call someone – you FaceTime them. Freeform, Apple's latest collaborative app looks to want to do the same, by redefining the open task management tool that many of us have used in one form or another, from Evernote, Slack, Google Doc Editors, Slack, Trello and more.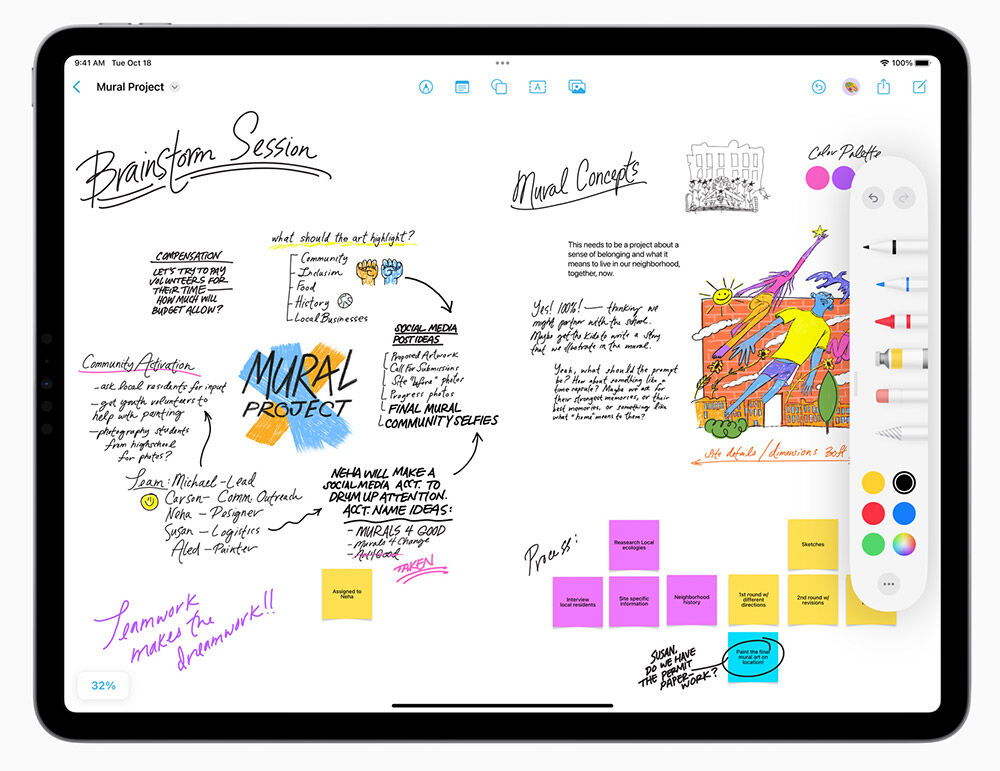 Such tools offer real-time capabilities to work on changes introduced by others, monitor completion, offer feedback and track deliverables, and more importantly, introduce new elements into a project, without requiring anyone to leave the app environment to say, watch a video, preview a photo or create a graphic or table.
Offered free as part of iOS 16.2, iPadOS 16.2, and macOS Ventura 13.1, Freeform is Apple's collaborative whiteboard app where participants can add content and while it can be used on an iPhone, iPad and Mac, Freeform benefits most from the unrestrained input from the Apple Pencil. The infinite concept also means there are no outer limits as the size of your whiteboard expands each time elements are added, from writing, drawing, adding graphs, icons, Sticky notes, images, videos for all involved to see, learn and add upon. If you're familiar with the collaborative elements from Google's free Doc Editors, Freeform is like a souped up version where you can invite collaborators to the same board, track their input and even get on a FaceTime call within the environment to provide real-time feedback and input.
Want to create a table and add a short video describing what you need, or an explainer to brief others? You can. Comment directly on an image for the designer to make a proper edit the next day? Yep. Assign elements to someone to remind them or for them to offer additional input? Oh, and be alerted when their portion has been updated? It's all there, and the beauty of Freeform is that it allows most of the activity to take place within the app, so there's no need to add a URL for others to preview a portion of a site – just take a screenshot and plonk it in. It's the same with a video – there's no need to host it elsewhere.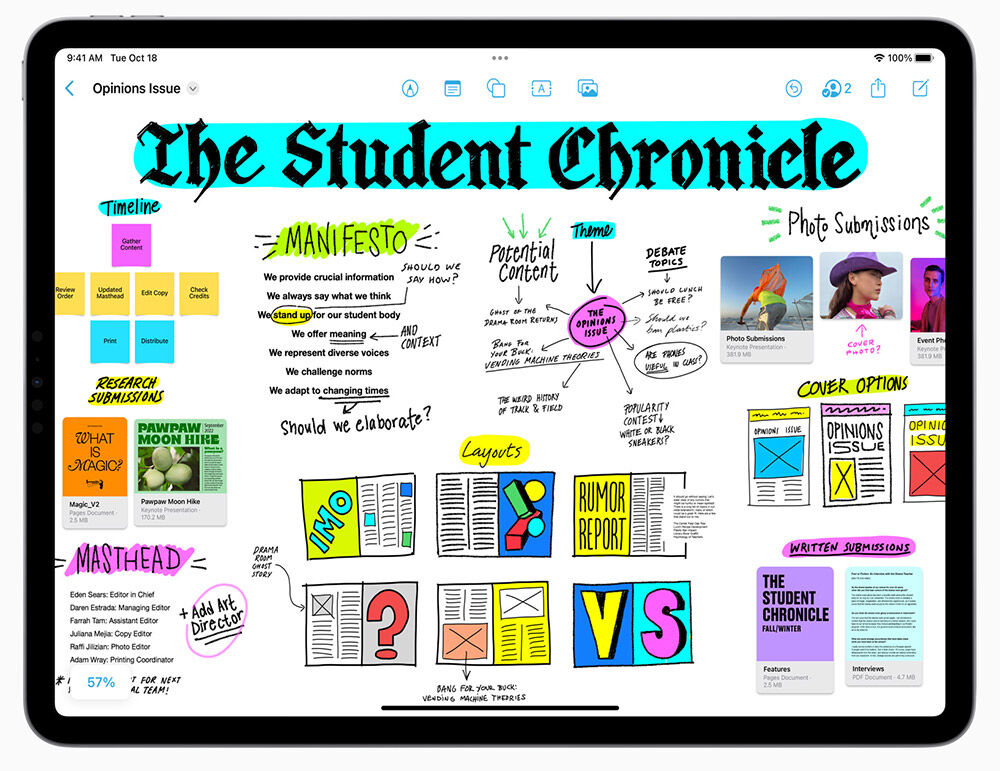 To aid in the creation of useful content, the app comes with a library of tools, from shapes and icons of everyday objects, from flat, geometric, animals and over a dozen other categories, Sticky Notes, text boxes, and tools for drawing, writing and more. Users can create multiple whiteboards and invite users directly from the app, and a link will appear on iMessage for them to open up Freeform to access your board.
Of course, the real consideration is how easy it is to use? As the board is hotels on iCloud, updates made by someone else, while in real-time, do take some time to be reflected on your device. Photos and video take somewhat longer to appear, but there is a grid that appears on an element that someone is working on, so you know if someone is busy on one portion of the board, and you can work on something else. How will this apply when up to 99 people can be invited to one board? That remains to be seen. In our review of the Beta version, not all updates were correctly reflected between two users though that could have been an early bug.
Any board that can grow will also need to be searchable, and Freeform allows that for text input, but for now, you cannot search for say, a hand-drawn table or pie chart, unless you remember to catalog elements on your board with a simple text description. There isn't a Track Changes function either, so you cannot go back to view the original input, and compare it to an update made by someone else, nor can you simply open the board one morning, to see what everyone else has added the night before.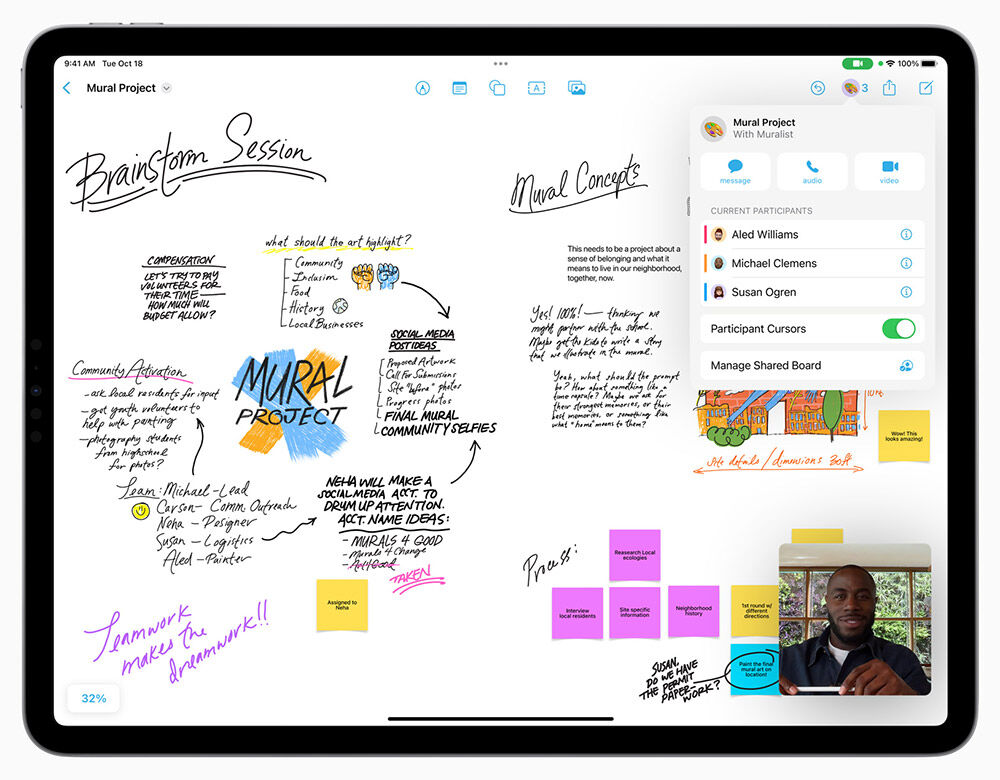 Granted, Freeform is still in its early stages, and Apple is likely working to improve on it, and add new features to make collaborations more effective. The current version is great for parents to see the status of their child's homework done in real time, or to introduce new ideas to a project. The current default mode is to scroll down to add new portions to a board in a linear manner, and our workflow has to understand that someone else might add information above and around a whiteboard, and not automatically scroll up all the time.
If you're used to simply working on text documents, Freeform offers a significant upgrade on the possibilities out there. Those of us used to Slack or Trello won't necessarily see a need to make a complete change here, as Freeform is currently only for Apple device users. iPhone users are also limited by the screen size, which requires much scrolling on what would eventually and inevitably be larger boards.
But as free tools go with unlimited capacity goes, Freeform is what the rudimentary Evernote and Google Doc editors should have turned into years ago if it tried.