Speed, performance, and power make up the holy trinity of gaming. When it comes to laptops, however, there's still one more factor needed to complete the equation – cooling, and lots of it. The Acer Predator 2023 lineup offers a four-in-one solution with its six upgraded gaming models, each featuring a kit that caters to different user demands.
True to its predator mantle, the Predator Helios 16/18, Helios Neo 16, Predator Triton 14/17X, and Nitro 16 are built brawny and deadly, and the form is less the focus, as whether flashy or low-key, these gaming machines pack a punch.
---
Kicking off the list is the Acer Predator Helios 16/18, the ideal pick for fans of the shooter genre or competitive fast-paced titles. The laptop promises a blistering 240Hz refresh rate, ensuring smooth action on a 16:10 WQXGA (2560×1600) IPS display that allows you to spot and kill the enemies before they can even react.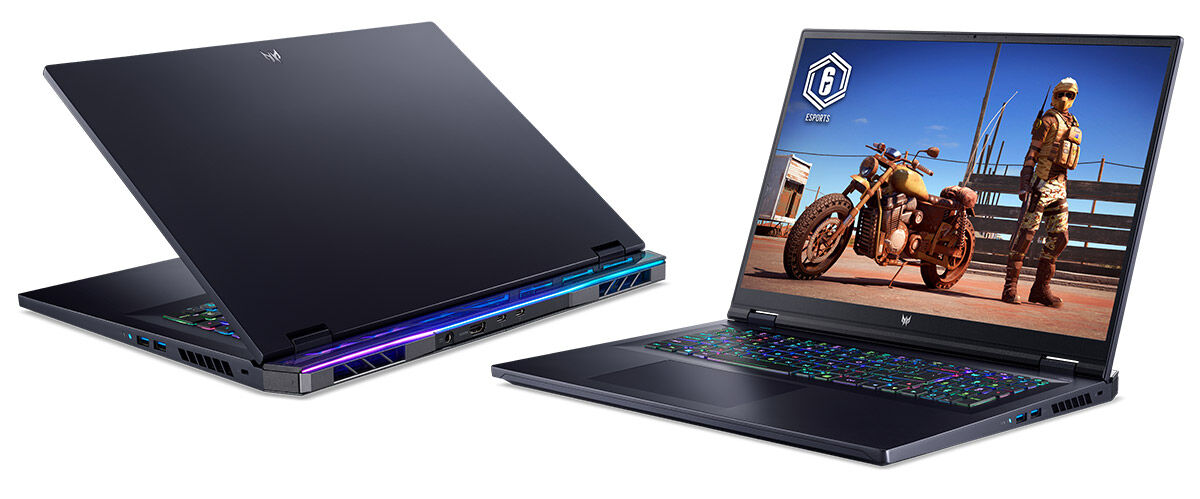 Armed with up to 13th Gen Intel Core i9 processors and an NVIDIA GeForce RTX 4080 GPU with Max Graphic Power (MGP) drawing up to 175W to fuel your gaming experience. In addition, it brings added hardware oomph to an already impressive suite of software capabilities, including NVIDIA Advanced Optimus and G-Sync support, as well as Acer's very own PredatorSense Utility app, which all work to optimise the gaming experience.
Barring screen size, the two variants are essentially identical in all but full name. Those who prefer a smaller form factor can opt for the 16-inch machine, while its heavier 18-inch sibling promises more screen estate to look far and wide. For the 16-inch model, packed with 16GB RAM and 1TB storage, the prices start from S$3,898. But if you have extra change in the pocket, the 18-inch model is going for S$3,998. Both can be upgraded to 32GB and 2TB respectively.
The Predator Helios lineup doesn't just bring on the heat. Courtesy of its top-of-the-line cooling technology, it's also able to beat the heat in the same way as the Helios Neo 16 does. The 2.6kg device, powered by 13th Gen Intel Core i7 processors and up to an NVIDIA GeForce RTX 4060 graphics card, boasts dual custom-engineered 5th Gen AeroBlade 3D fans, vector heat pipes, and rapid-cooling liquid metal thermal grease.
Combined, these components act to dissipate heat more efficiently and quickly, which makes the laptop a good fit for those who want to keep things cool during an intense gaming session. The Acer Helios Neo 16 is now available in store, at a sweet price of S$2,398.
---
Reserved for the most hardcore of gaming enthusiasts, the Predator Triton 17X packs enough horsepower to put desktop PCs to shame. The heavyweight laptop is the most powerful of the lot with the latest Intel Core i9-13900HX processor and an RTX 4090 GPU with MGP as well, accompanied by a WQXGA IPS display that offers a wide viewing angle of up to 170 degrees. More importantly, its 250Hz refresh rate keeps visuals free of tearing and stutter, allowing for a fluid, immersive gaming experience.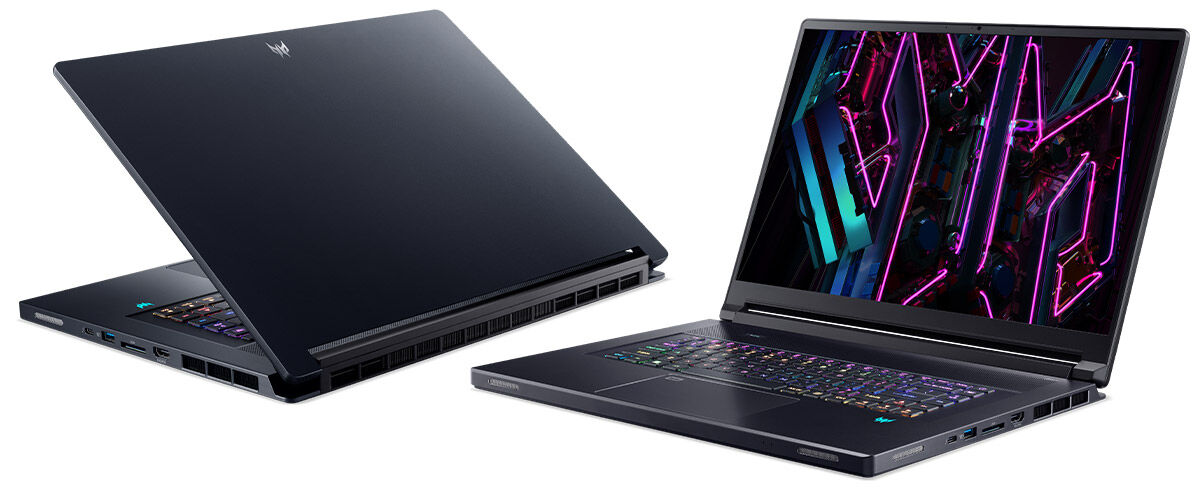 Still, the device's 3kg chassis might prove a little too hefty for some, and here's where the Predator Triton 14 has got things covered. Weighing in at 1.7kg, it presents a slimmer, more lightweight alternative with little compromise to performance – the lean, mean machine packs an Intel Core i7 processor and an RTX 4070 graphics card, alongside the same IPS WQXGA panel as its 17-inch counterpart. A sleek white sheen completes its look.
The Acer Predator Triton 14 is due to arrive first in April, with the Triton 17X following hot on its heel in May. Likewise, the respective pricing details have yet to be announced, but the latter will most certainly cost a lot of pretty, shiny pennies.
---
The last one's for the AMD loyalists. The only non-Intel build, the Acer Nitro 16 comes in a variety of builds topping off with a Ryzen 9 7940HS processor, an RTX 4070 GPU, and a 165Hz WQXGA display, which offers an all-rounded entertainment package. The gaming experience is further elevated by an enhanced cooling solution comprising dual-fan cooling, dual intake, a quad-exhaust port design, and liquid metal for the CPU, so users can stay cool in the heat of the battle starting April when the laptop launches.
Having choices is always a good thing, and there's a fair bit of that to go around with the upgraded slate of Predator laptops. On the surface, the models may not look all that different; dive past it, however, and their true value lies in the niche advantage that each of them offers. Need a trusty partner to handle fast-paced action? The Predator Helios 16/18 is the go-to pick. Want to turn up the heat? The Triton 17X says hi. Regardless of the model, speed and power will be a mainstay, which can only mean one thing – the Predator lineup is nothing short of fast, powerful, and deadly.
---
This article is brought to you together with Acer Singapore.