Large, flat-screen monitors do a good enough job at displaying a sense of immersion for users, especially as users get pulled into their favourite gaming spaces, where the visual elements prove to be a breathtaking spectacle. The continuous evolution of technology, however, means that viewing options have grown over the years, with brands and improved models sporting new features and capabilities.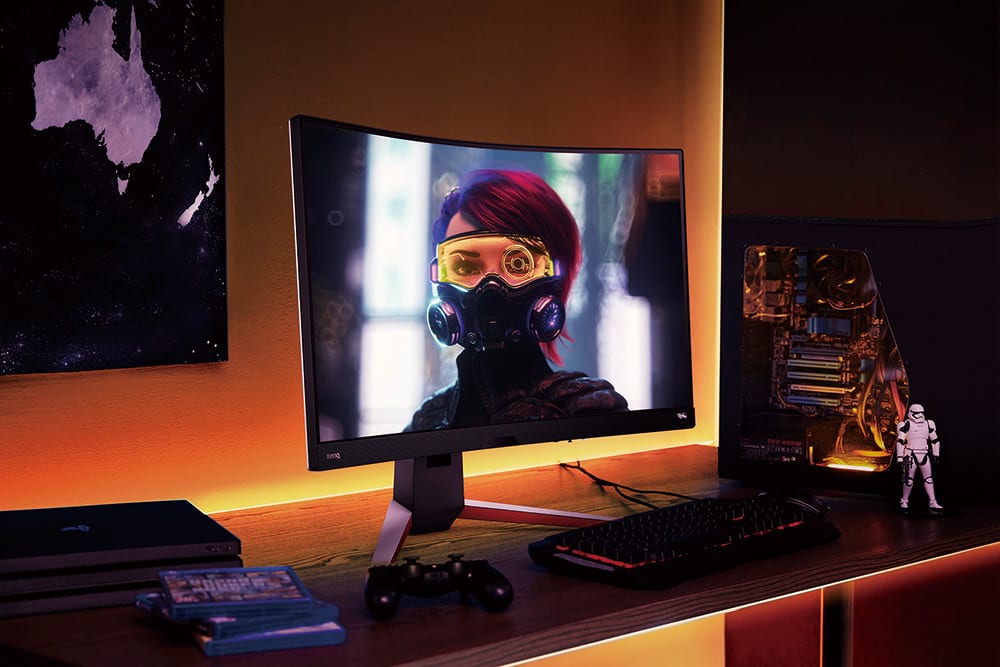 Curved gaming displays are a clear example of a recent technological breakthrough that has risen to prominence in recent times. Neatly arced at the top and bottom, these sleek lookers draw you closer to the action and allow all that busy activity to play out in an engrossing manner. The trade-off comes in the form of increased desk real estate, where more room needs to be set aside for the outward-facing panel and bulkier stands. A powerful rig also comes as a prerequisite, especially for those looking to enjoy maximum gaming prowess.
Just like the decision-making process for the purchase of their flat-screen counterparts, there are several factors to consider when choosing a curved monitor. Refresh rate, response time, and resolution continue to be standard demands, with curvature now added to the list as a new entry. For the most part, the panels are rated across the range of 4000R to 1500R, where lower numbers indicate a higher curve radius.
So why a curved screen? Simple math, as the curve of the screen matches the curve of your eyeball, thereby allowing you to notice the edges of the screen from the corner of your eyes with greater precision and clarity.
While it certainly is an exciting time to be a PC gamer, the vast selection of available options can also make for an overwhelming affair. Both the flat- and curved-screen lifestyle have their fair share of benefits, but there are reasons why the latter has been performing well in the tech circuit.
Let's break them down, with two of BenQ's hero models – EX3210R and EX3415R from the gaming-centric MOBIUZ line-up – along for the ride.
---
#1. Heightened immersion for the ages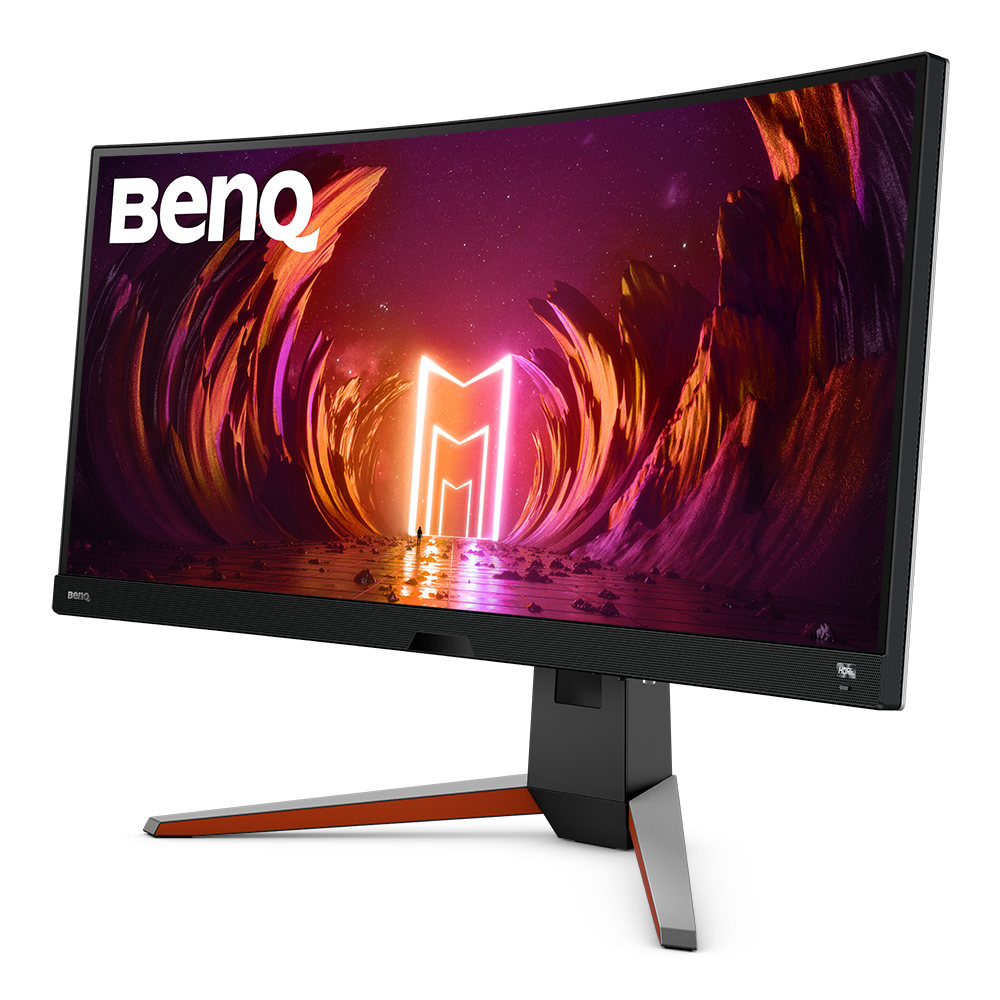 The world that we live in isn't flat, and it's an experience that curved monitors do a better job of mimicking than their flat counterparts. As they are designed to extend the image in an arc around the user's field of vision, the illusion of peripheral vision is created, which results in heightened immersion. This show of technology is, in fact, similar to how movie theatre screens operate, where on-screen images surround the individual instead of just being in front of them.
In the case of BenQ's monitors, the journey begins from the list of specifications. Boasting QHD resolution (2560 x 1440), a 165Hz refresh rate, and one-millisecond response time, the 32-inch EX3210R further enhances immersion with its thin bezels and 1000R curvature that spans a VA panel.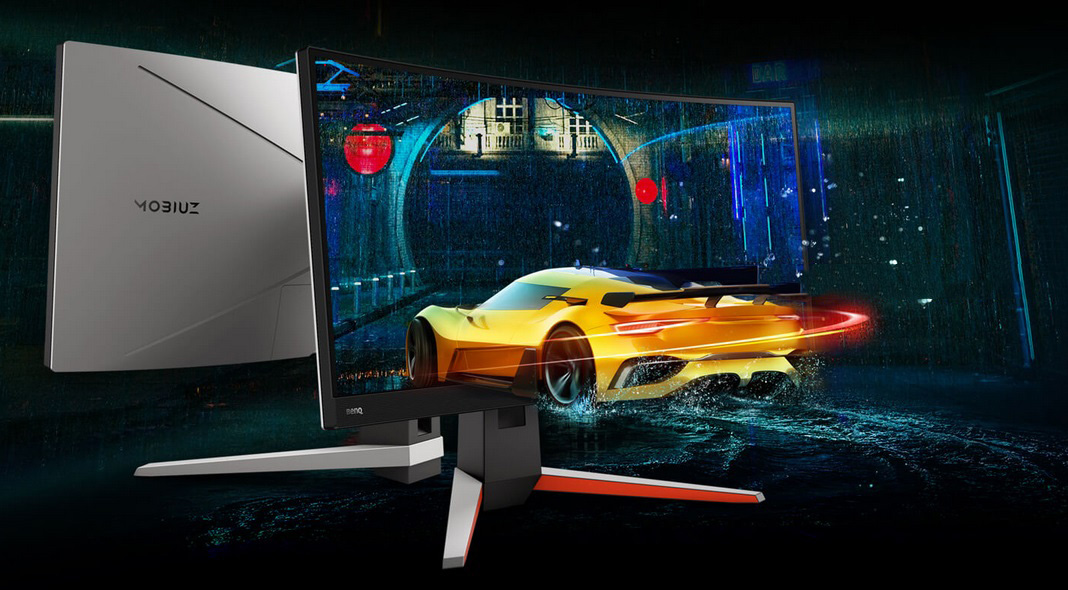 The EX3415R, meanwhile, marries its WQHD resolution (3440 x 1440), 144Hz refresh rate, and one-millisecond response time with a 1900R curvature on a near bezel-less HDR IPS display. Courtesy of BenQ's two 2W treVolo speakers and an accompanying 5W subwoofer, both monitors are able to elevate the sense of immersion through five sound settings that bring precise treble, rich mid-range, and resounding bass to the mix. This, aided by the monitor's curved build which directs sound toward the user, creates better acoustics, while also eliminating the need for an external speaker.
The FPS, RCG, and SPG Sound Modes have also been included for optimised audio submersion across various genres. Designed for first-person shooters, the first on the list delivers full audio intensity in the midst of hectic gunfire and bullet sprays. For the aspiring racer, the RCG option allows for eye-popping engine revs, while sports enthusiasts can enjoy crystal clear sportscasts with SPG activated.
Immersion is undeniably a gold standard to strive for in the PC gaming circuit, and BenQ continues to take up the challenge with its fine mastery of the audio-visual experience.
#2. Gaming goodness with ultrawide support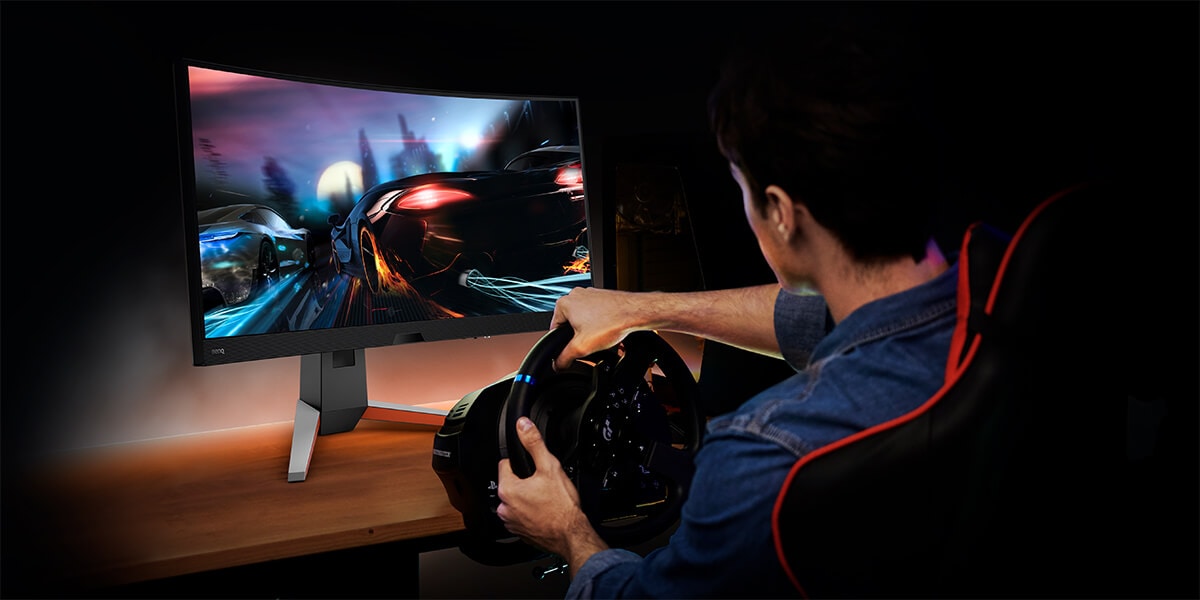 Wider displays mean extra room for viewing content – where most flat screens typically opt for the 16:9 aspect ratio, their curved cousins almost always sport ultrawide native resolutions. As such, the QHD and 4K standard are often modified to 3440 x 1440 and 3840 x 1600 respectively, with the aspect ratio coming in at 21:9 or 32:9.
The result is a beautiful, detailed landscape that wraps around the viewer, achieved through proper ultrawide support in-game. Outside of gaming, a far-stretching panel can be handy for other purposes as well, from multitasking to working on projects requiring multiple open tabs. Want to watch a video game walkthrough, host a Discord hangout session, and carry out your day-to-day activities at the same time? Problem solved.
For all their visual prowess, however, curved monitors aren't the best when it comes to unsupported games, which is why BenQ has two different options in store. The EX3415R is tailored for fans of ultrawide gaming, offering a 21:9 aspect ratio and 3440 x 1440 resolution that performs best with racing and flight simulator titles, such as Microsoft Flight Simulator, Forza Horizon 4, and F1 2021.

The EX3210R comes equally recommended for the same genre, but instead ushers in the 16:9 standard alongside a 2560 x 1440 resolution. In both instances, the curvature works to portray and replicate a more realistic 3D space for simulator enthusiasts, thus offering a definite advantage over the rectangular frame of flat screens.
Ruling the roads isn't always an easy task, but that will be less of a concern here. Both the EX3210R and EX3415R boast a dedicated Racing Mode, where users can play to win with a wide field of view, crisp image quality, and optimal brightness.
#3. Reduced eye strain for a greater comfort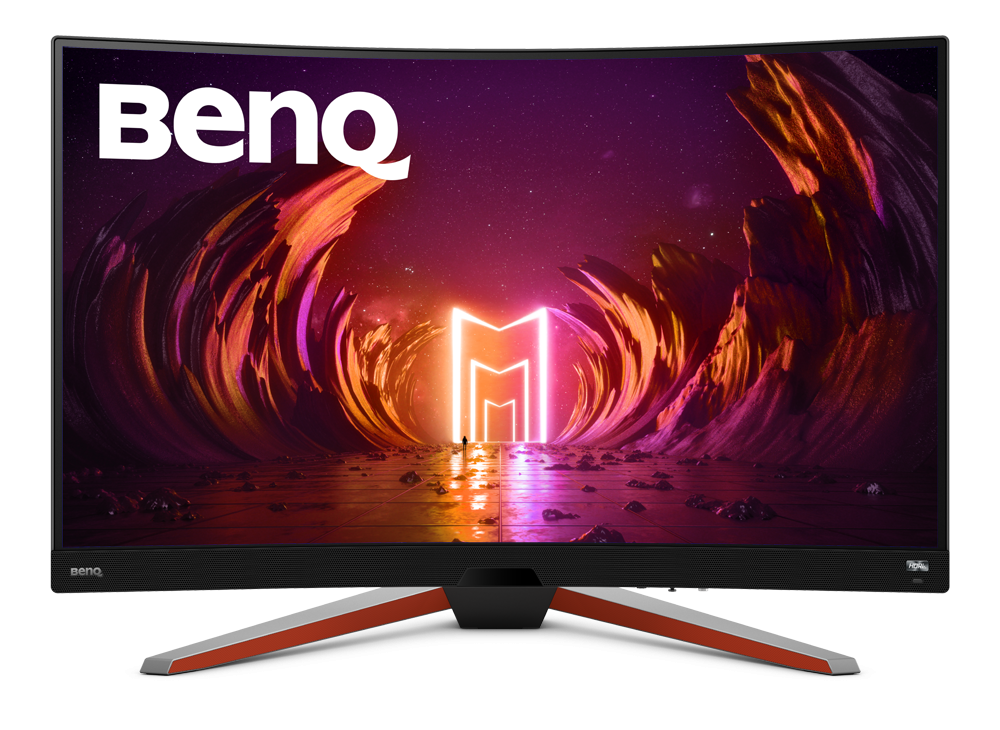 There aren't many occasions that can top the sheer joy and excitement of entering a video game world after a long day or week at work, but this act of gaming one's hours away can take a toll on the eye. Here's where curved monitors step in to improve viewing comfort and establish themselves as the friendlier pick.
While many high-end flat monitors are equipped with eye-care features like blue light filters, their curved counterparts are able to reduce fatigue over long, competitive gaming sessions without the need for external technology. The magic lies in the curvature, which helps to keep all images equidistant from the eyes, allowing them to work less when adjusting to images at different distances on the screen.
The eye-health-is-wealth rhetoric is further carried over to the EX3210R and EX3415R by means of BenQ's proprietary EyeCare technology. Equipped with the Brightness Intelligence (B.I), Low Blue Light, and Flicker Free technology, the duo is capable of automatically adjusting brightness levels according to the ambient light. That, coupled with the curved nature of the monitors, allows users to take in everything on-screen at once, without having to put too much strain on their eyes. 
Say goodbye to head swivels, headaches, and tired eyes – comfort is the name of the game here.
#4. Minimised image distortion
Muddy, speckled detail and blurry visuals can spoil the viewing experience, especially where breathtaking landscapes are concerned. On larger displays, such instances of distortion are particularly noticeable around the edges, with curved screens working to mitigate them through the physics of light projection.
The arced design of a curved monitor comes into play here. As opposed to flat displays, its shape allows light to be aimed at the viewer, which in turn, limits distortion. Flat displays, meanwhile, can only project light in a straight line, resulting in some rays being directed away from the user.
#5. Enhanced colour consistency and viewing angles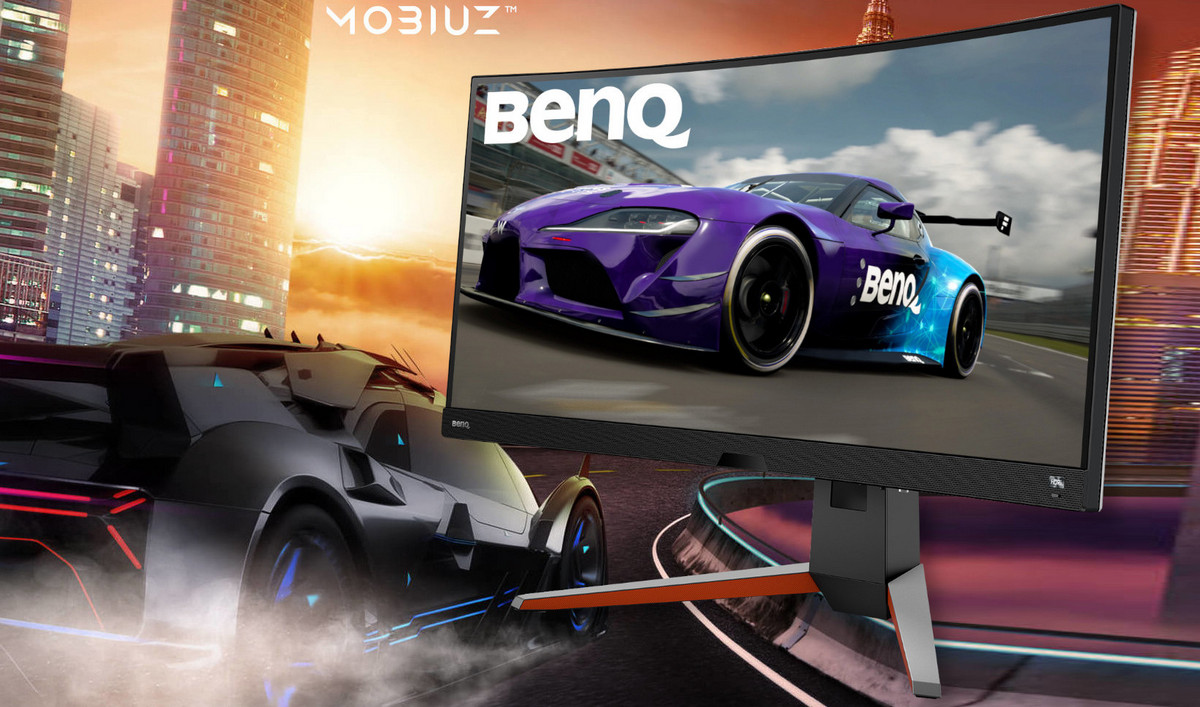 With curved displays come a larger field of view, and that helps to switch up the traditional gameplay experience. Not only is every pixel angled toward users for better colour consistency, they also do a more accurate job of approximating our natural eyesight to create a balanced viewing angle from various distances.
Consistency is key, after all.
---
With the EX3210R and EX3415R, BenQ is well-fitted to bring out the potential and appeal of the curved screen lifestyle. In addition to the features that curved monitors already offer, the company has also packed in several other elements to enrich gameplay, such as Game HDRi, quick on-screen display text (OSD), and remote control support. 
Game HDRi, for instance, enhances visual performance through the automatic detection of ambient light levels and analysis of on-screen content to produce well-adjusted HDR images, leading to clearer, sharper detail in the dark, enhanced contrast, and more balanced scenes in brighter environments.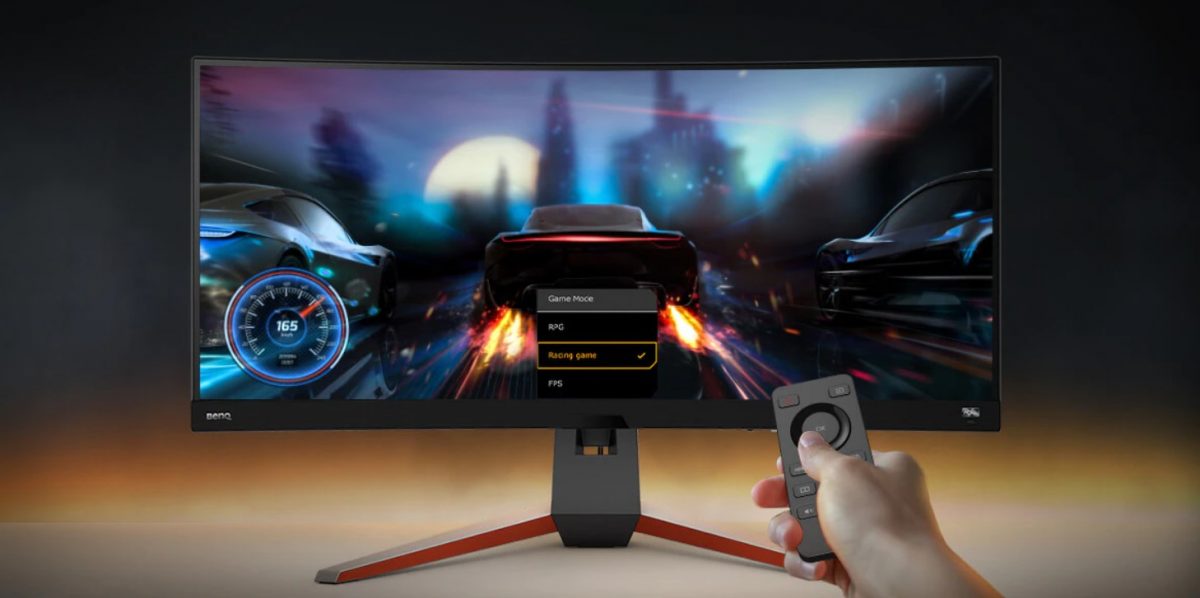 Quick OSD, meanwhile, allows users to set up and easily switch to their frequently used game settings, with the handy remote control granting smooth convenience in adjusting different game and sound modes from anywhere in the room.
It's an exciting time to be a PC gamer, and an even more exciting time to step into the world of curved monitors. Despite their seemingly gimmicky reputation, there are some serious advantages users can stand to benefit from, such as greater viewing comfort and ultrawide gaming goodness. The flat-to-curved transition will take a while to get used to, but it's a necessary trade-off for a more immersive, enveloping experience.