Between knowing the right words to say and just what to do, dating is tough. On the other hand, dating simulation games distill the complex world of dating into gamified social interactions, often allowing you to just reset if you make the wrong move. It's definitely a lot less risky than letting that special someone slip away in real life.
So, if you'd like a change of pace from online (or even real-life) dating, here's a list of the best dating sim games that will set your heart ablaze and even help you up your game.
---
1) Clannad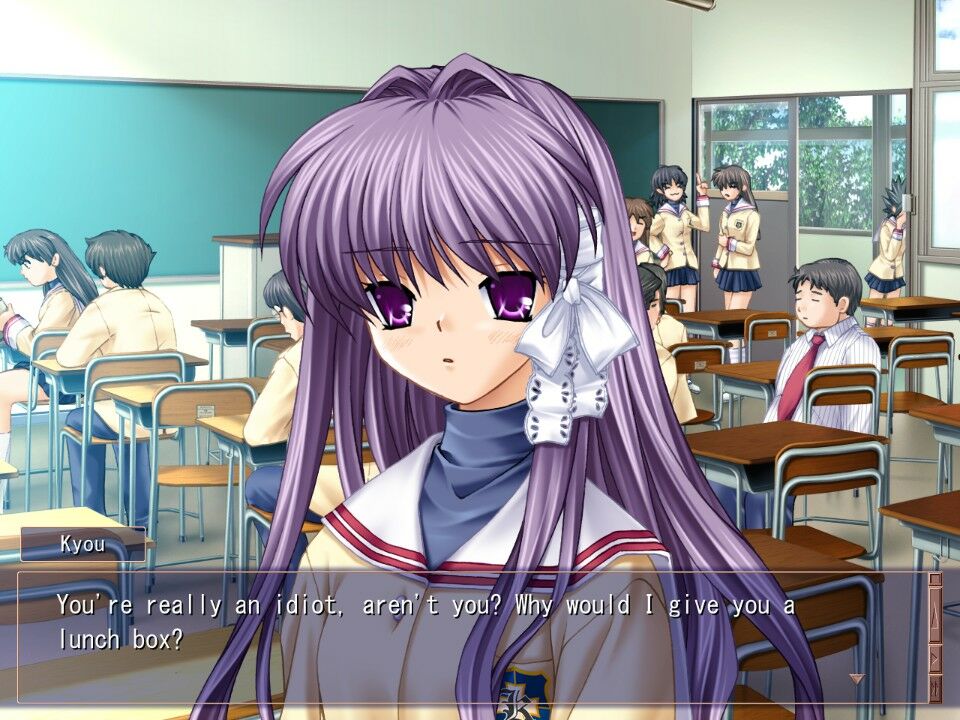 In the realm of dating sims, Clannad is a classic. Released almost two decades ago in 2004, the game features lush backgrounds, a beautifully-illustrated and life-like cast, and multiple engaging, branching plotlines. A strong yet relatable theme of family underscores Clannad's rich story. Meanwhile, the large number of dialogue options allow you to feel deeply invested in the romance.
Its massive popularity has also gone on to spawn anime, manga, and film adaptations, as well as a variety of magazines, books and drama CDs.
Platform(s): PC, PS2, PS3, PS4, PSP, PlayStation Vita, Xbox 360, Nintendo Switch, Android
---
2) Rose of Winter
Taking place in a fantasy world where you play as a brave and noble farmgirl-turned-knight, you are tasked with guiding one of four handsome princes through a perilous mountain pass.
Rose of Winter effectively captures the feeling of falling in love for the first time — understanding your potential love interest and learning from the experience. In fact, the game encourages you to pay attention to what each suitor says and how they behave, in order to embrace love.
Platform(s): PC
---
3) Arcade Spirits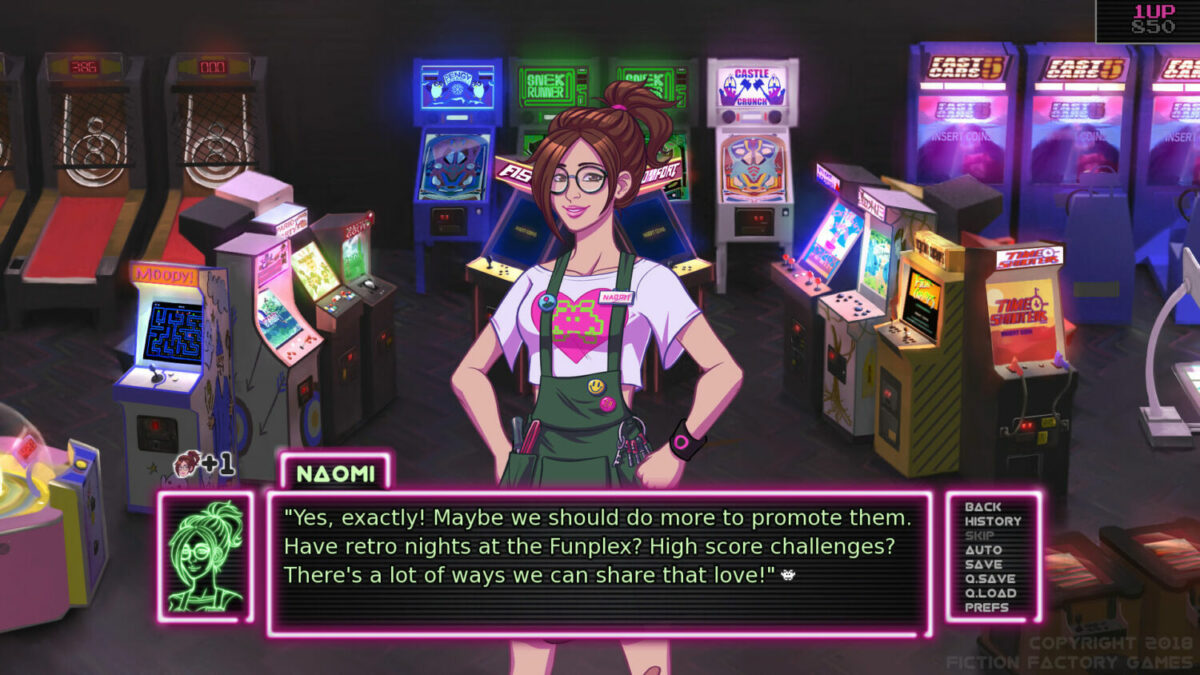 Arcade Spirits places you in an alternate timeline where arcade games are still thriving. Playing as an employee at a retro-themed arcade, you can form close bonds with your co-workers and regular customers. How you choose to interact with them shapes your personality. In turn, this determines your platonic relationships or whether you wind up with someone romantically.
Platform(s): PC, PS4, Xbox One, Nintendo Switch
---
4) Katawa Shoujo
Katawa Shoujo was put together by a rag-tag group of 4chan users hailing from various nationalities. So, it's a wonder that the game manages to be such a robust dating sim.
Each character in the story has their own disability that they're dealing with, which leads to a thought-provoking experience as you deepen your relationship with them. Ultimately, Katawa Shoujo's smart writing will surely tug at your heartstrings as it explores some heavy themes.
Platform(s): PC
---
5) Mystic Messenger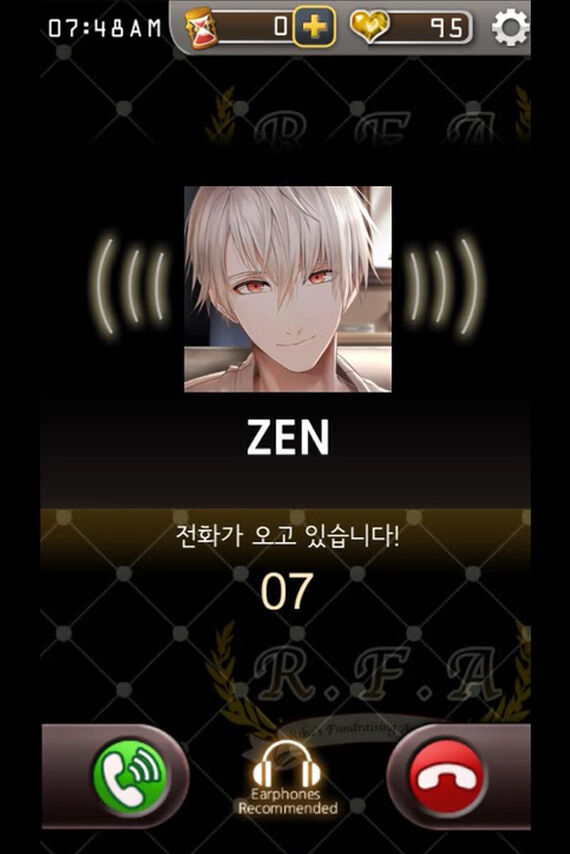 Designed to be played on phones, Mystic Messenger unfolds in real time. Players can converse with characters and make decisions in chatrooms; giving certain responses to characters will strengthen your bond with them. The game's sharp writing and real-time nature adds a heightened sense of realism that really packs an emotional punch.
Platform(s): iOS, Android
---
6) Butterfly Soup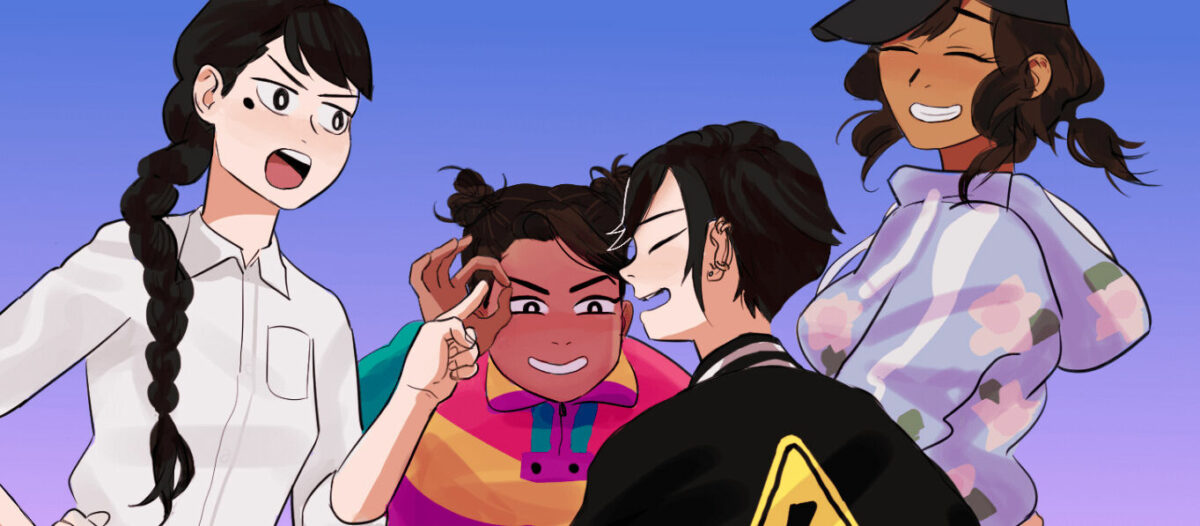 Butterfly Soup is both funny and heartfelt, featuring believable teenage characters as they navigate the tricky world of relationships. The game's profound exploration of queer romance is elevated by its witty, relatable writing and thoughtful pacing.
The kicker: The game (and its sequel) is available for download at "name your own price".
Platform(s): PC
---
7) Dream Daddy: A Dad Dating Simulator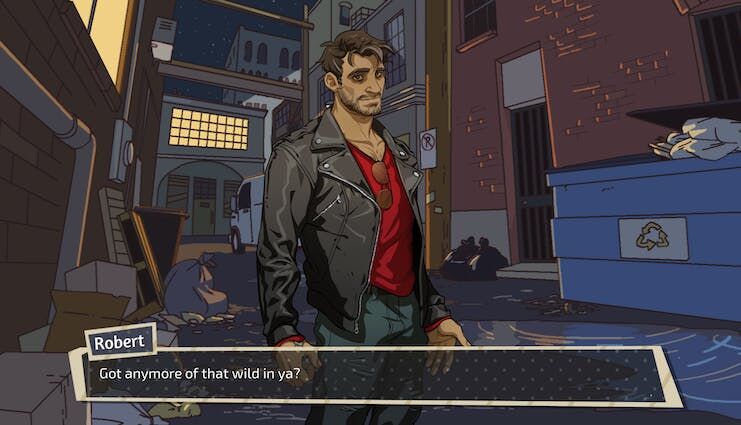 Dream Daddy focuses on community, empathy and the importance of building meaningful relationships. As you connect with eligible zaddies, you learn their their personal anxieties, phobias, and foibles — allowing you to gain a better understanding of them as people.
However, the game also reminds you that you have a daughter in your care. And you'll face some heartfelt tribulations such as attempting to remain involved in her life, while also trying to give her space. By balancing the humour with this earnest humanity, there's real life lessons to be found here.
Platform(s): PC, PS4, Nintendo Switch, iOS, Android
---
8) HuniePop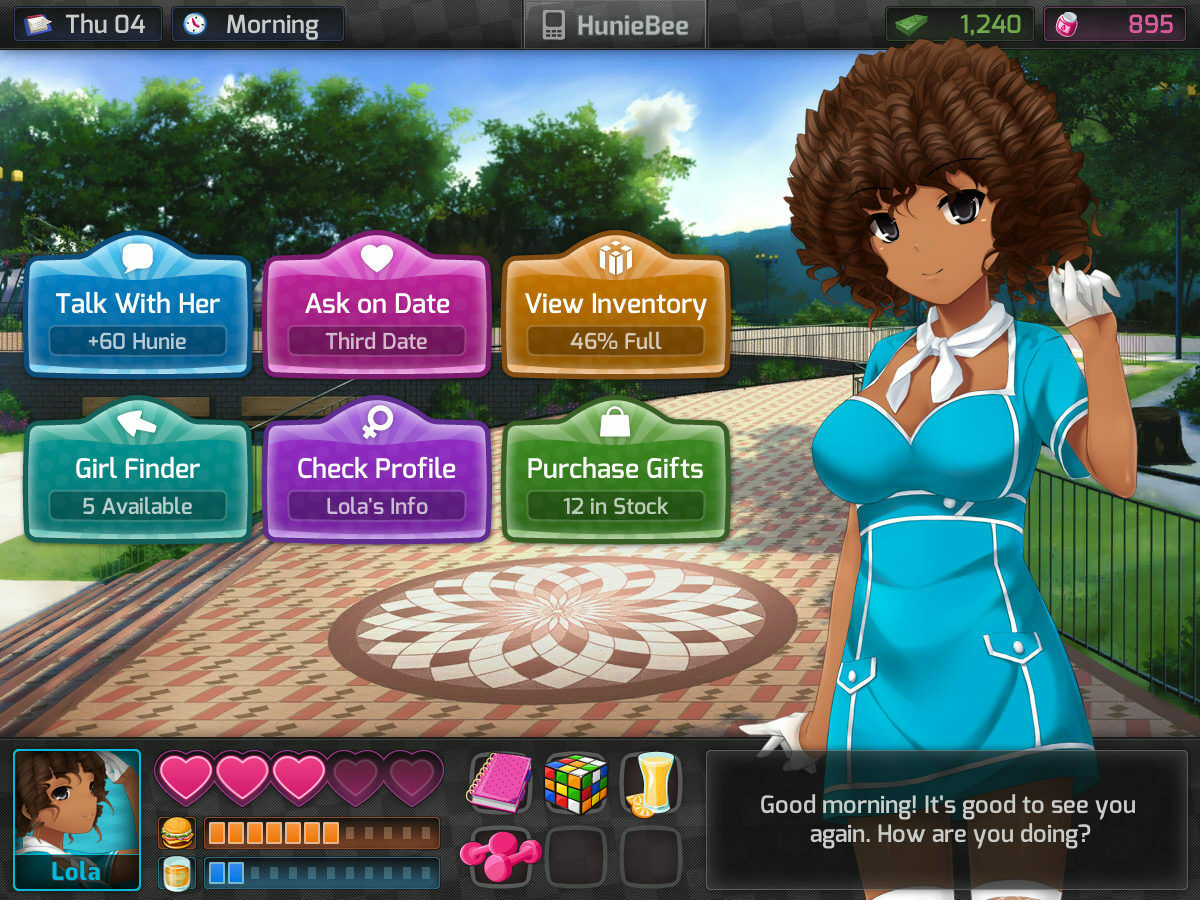 For the especially frisky player, HuniePop is unabashedly adult. That said, the romancing aspect of the game is supplemented with deep and challenging tile-matching mechanics. This adds a fun layer of strategy to HuniePop that will keep players engaged, even as they pursue their risqué rewards.
Platform(s): PC
---
9) Amnesia: Memories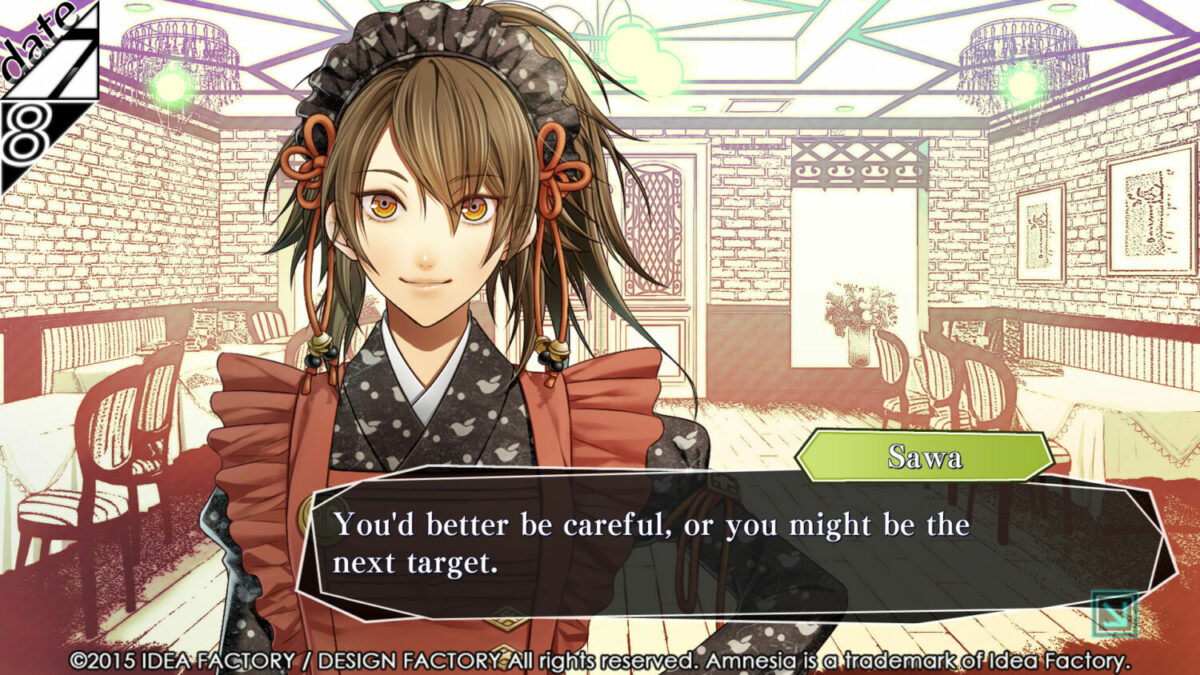 Would you like a little more mystery in your romance? In Amnesia: Memories, you play as a heroine who has lost her memories. You're tasked with hiding that fact as you navigate complex relationships with five men. Expressly choose to pursue any one of them at the start of the game, creating distinct storylines where the other characters assume different roles.
While interacting and learning more about your potential suitor, you can also play various mini-games like Rock, Paper, Scissors and Air Hockey against other characters.
Platform(s): PC, PlayStation Vita, Nintendo Switch, iOS, Android
---
10) Hatoful Boyfriend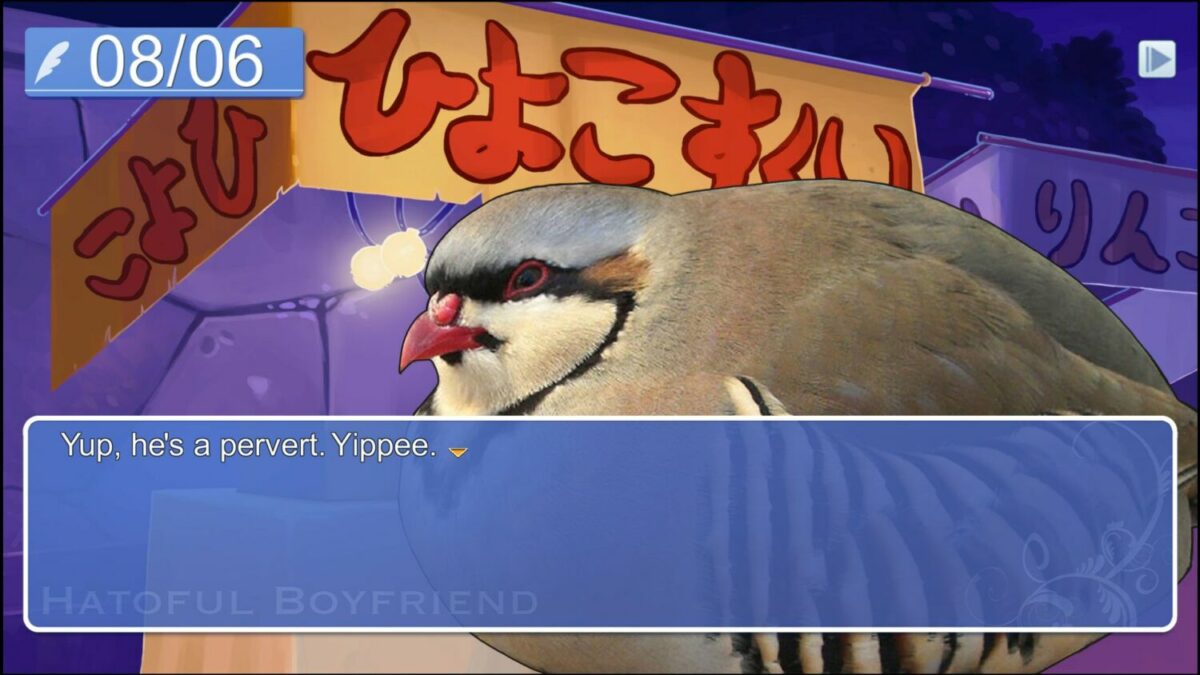 Hatoful Boyfriend dives right into the absurd: you find yourself attending a school of sapient birds as its only human.
However, this self-aware dating sim boasts witty writing, well-crafted characters, and amazingly deep storylines. As you uncover more about your feathered friends, you'll also learn more about the bizarre world the game is set in. The numerous story paths and incredible replayability cements it as one of the best and most popular dating sims out there.
Platform(s): PC, PS4, PlayStation Vita, iOS, Android
---
11) Monster Prom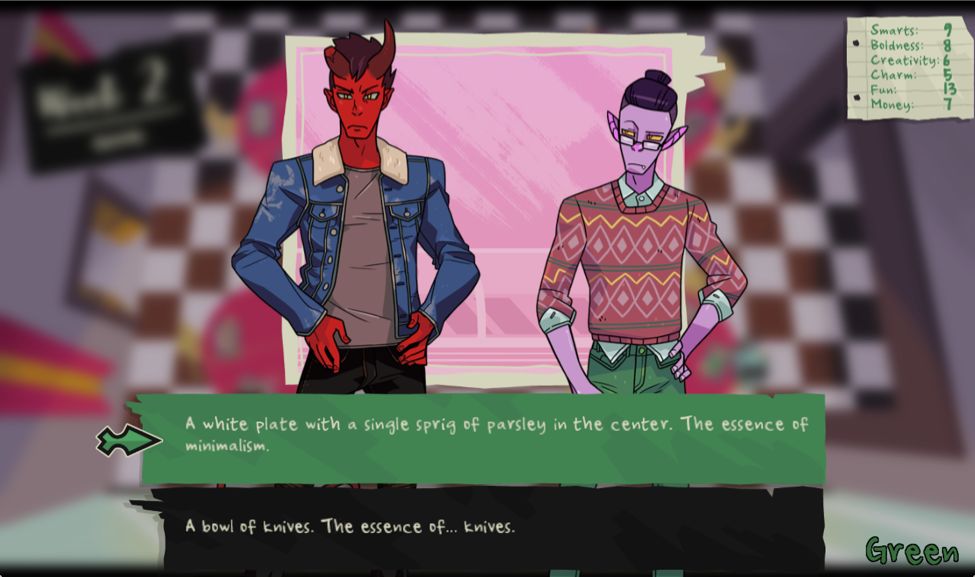 Set against the backdrop of a monster-filled school, you can choose to play as a variety of different characters — including Frankenstein's monster, a shadow creature, and more. You're tasked with seducing your classmates, who range from a mermaid to a demon.
Monster Prom's gameplay involves visiting different locations within the school. Each encounter strengthens your connections with potential suitors and increases your stats. Ideally, you'll boost your attractiveness through various traits so that one of the monsters will go to prom with you.
The writing is charming and full of great laughs, and the randomised story offers a certain degree of replayability. If you're still hungry for more, the game also has two sequels already in the bag!
Platform(s): PC, PS4, Xbox One, Nintendo Switch
---
12) Kaichu – The Kaiju Dating Sim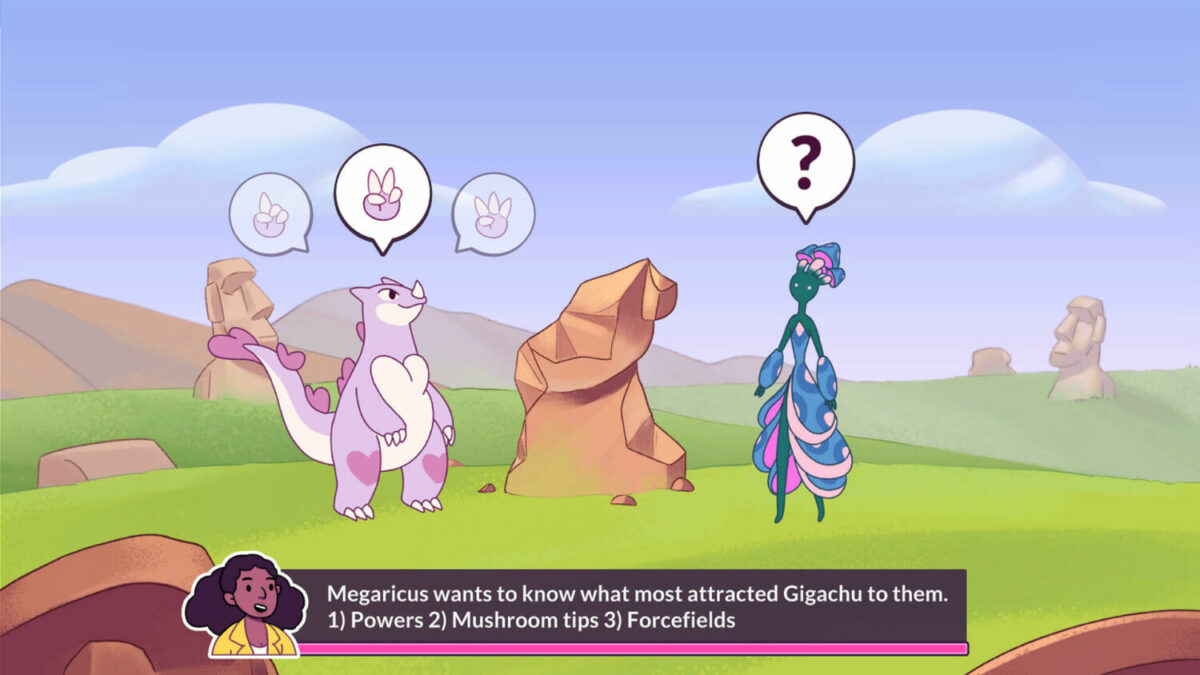 Love is hard. But gameplay in Kaichu is simple — answer multiple-choice compatibility questions as you woo your favoured kaiju. You need to discern the personality of the kaiju you love, and remember prior responses to help you tackle questions of increasing difficulty. Just like in real life, paying attention is key.
Platform(s): PC, PS4, PS5, Xbox One, Xbox Series X/S, Nintendo Switch
---
13) Sucker for Love: First Date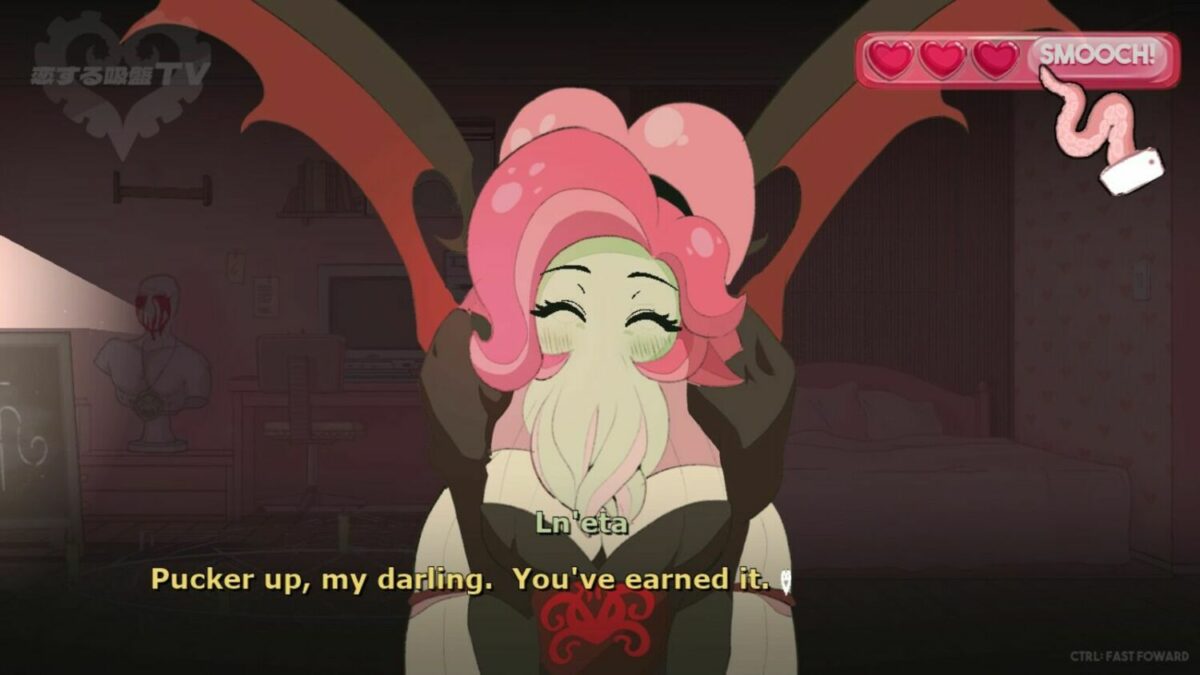 Sucker for Love blends both comedy and horror, calling for you to romance adorable anthropomorphic beings from the Cthulhu Mythos. You'll have to perform various rituals to get to the end goal of earning a coveted smooch. This keeps the gameplay feeling frantic yet fresh. The superb voice acting and artwork also help to enhance the hilarious and clever writing.
Platform(s): PC, Nintendo Switch
---
14) Doki Doki Literature Club!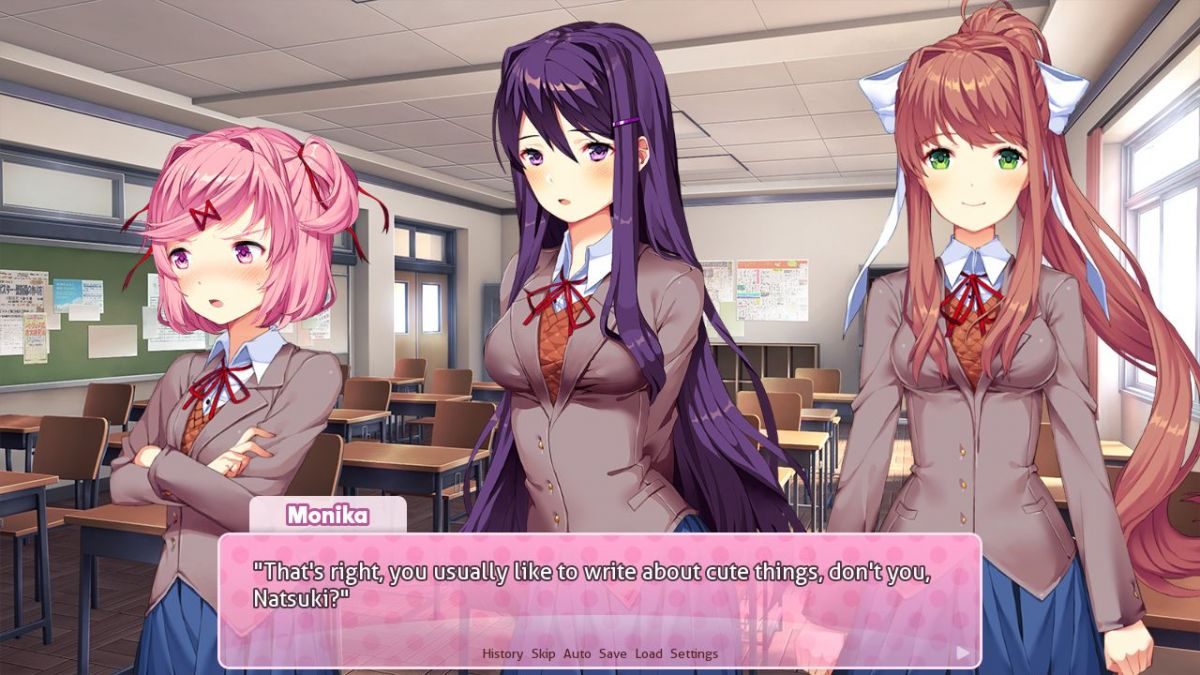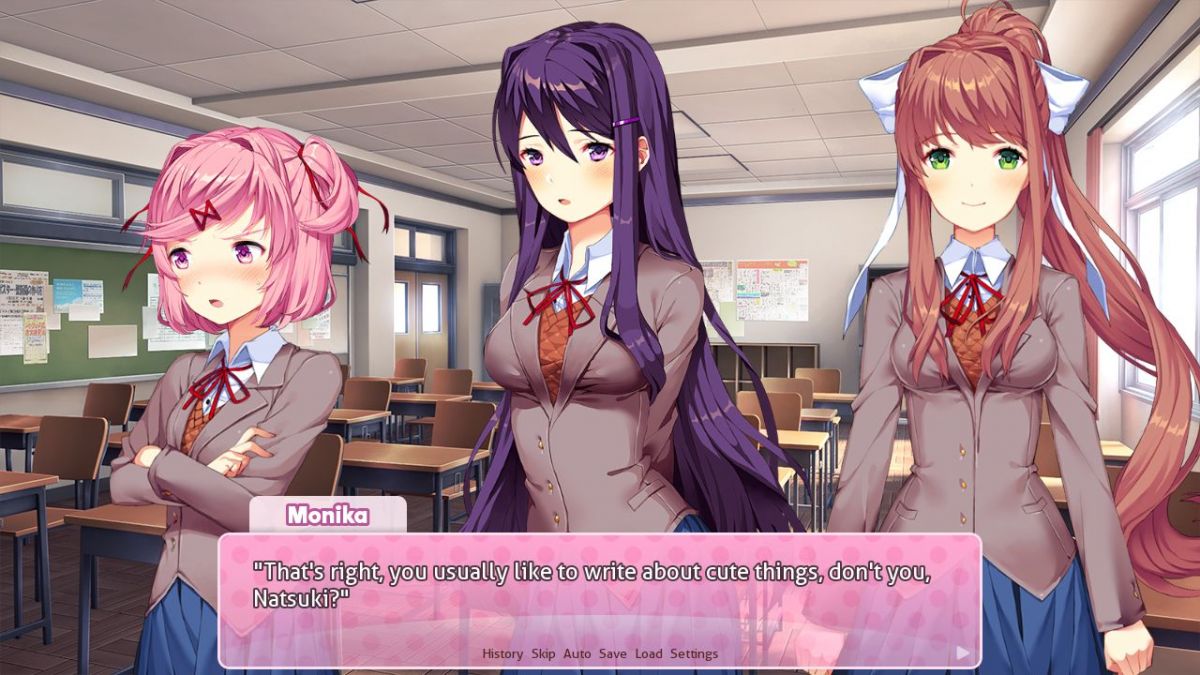 Doki Doki Literature Club! is notorious for being an excellent deconstruction of the dating sim genre. It explores interesting philosophical themes and serves as a thrilling meta-commentary on the concept of storytelling in fiction. To say any more would be truly spoiling the fun of the game.
Platform(s): PC, Nintendo Switch
---
15) YOU and ME and HER: A Love Story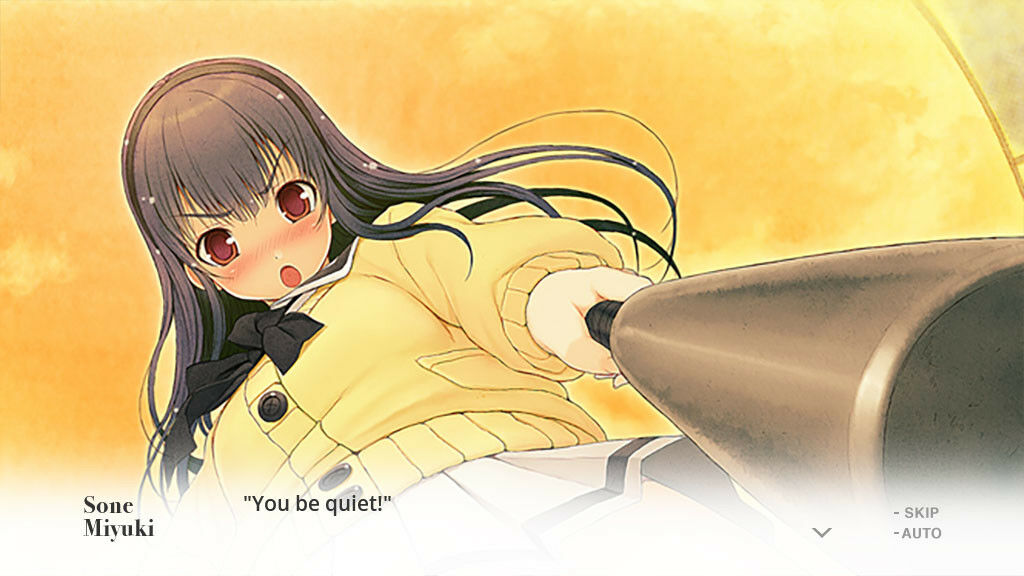 Also known by its Japanese title Kimi to Kanojo to Kanojo no Koi, YOU and ME and HER is just as delightfully twisted as Doki Doki Literature Club! If you've played one but not the other, do yourself a favour and check it out.
Platform(s): PC
---
16) Table Manners: Physics-Based Dating Game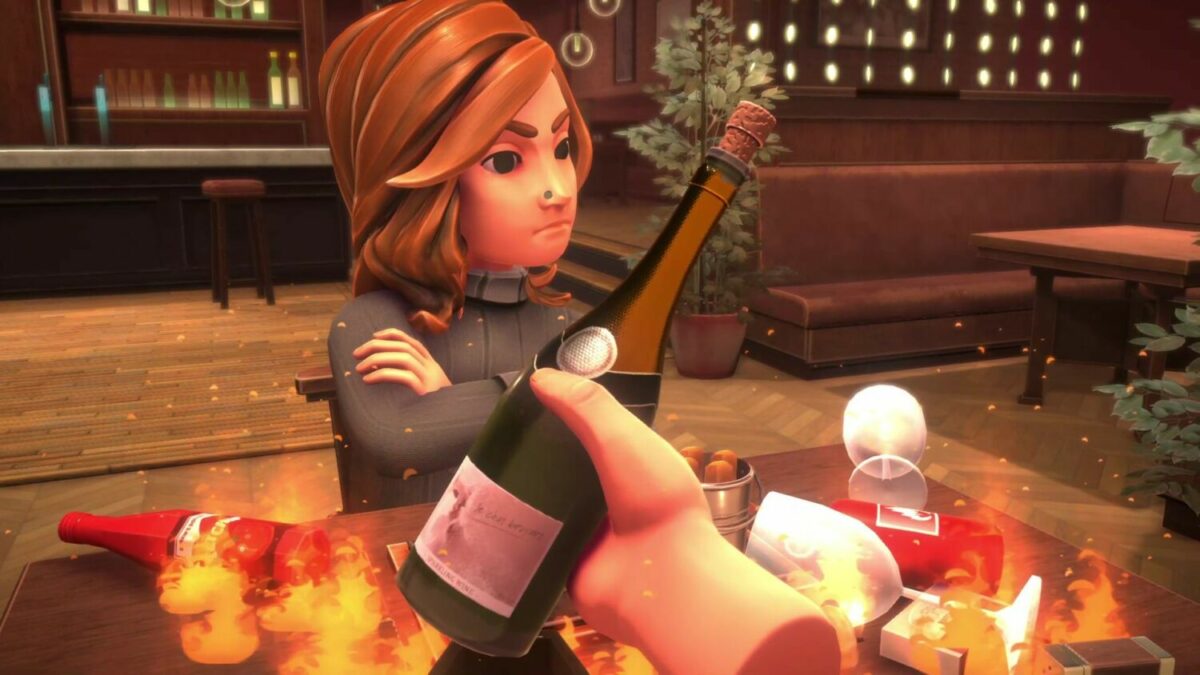 Of course, everyone knows that in real life, dating is more than just about making dialogue choices. What you do matters! Table Manners puts you in the hot seat of a fancy dinner, as you wrestle crazy physics to try and show your date a good time.
Think you're good enough to pour wine for your date and feed them sushi? You can find out in Table Manners!
Platform(s): PC