"Metaverse" is a buzzword that continues to rise in popularity, and MSI is jumping on board the trend, the technology company has announced its new gaming laptops for 2022, which have been upgraded to the latest 12th Gen Intel H-series processors, NVIDIA GeForce RTX 3070 or above GPUs, and Metaverse-compatible performance.
The refreshed line-up will bring the RTX 3080 Ti class of GPU to MSI's laptops for the first time, packing in 16GB of GDDR6 memory, a 17-inch display, and an improved 4th generation of Max-Q technologies with CPU Optimiser, Rapid Core Scaling, and Battery Boost 2.0 to enhance performance, efficiency, and battery life.
The Crosshair 15 Rainbow Six Extraction Edition is an exception to the rule, sporting a 15-inch screen instead of the 17-inch usual. A collaboration between MSI and Ubisoft, this device references the colour scheme of the tactical shooter title – yellow, green, and blue – and is designed for first-person shooter (FPS) enthusiasts. It comes armed with up to a QHD 240Hz display, and can be upgraded to an RTX 3070Ti GPU or 12th Gen Intel Core i9 processors.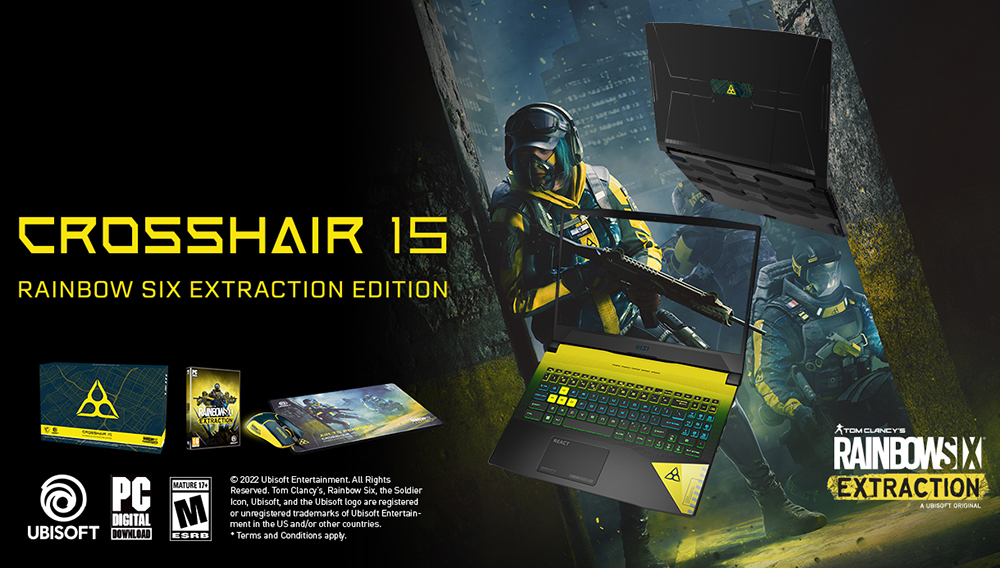 For those who fancy a larger screen, the Crosshair 17 makes for a viable alternative with Full HD resolution (1920 x 1080) and a 360Hz refresh rate.
The Stealth GS77 is built to be lightweight but powerful, allowing for both gaming and professional use. Available in the new Core Black colour option, the laptop now boasts a more durable zinc alloy hinge, alongside six speakers, a webcam lock switch, and support for up to 100W PD charging for better security and mobility. Three display iterations are up for picks: 120Hz at UHD resolution (3840 x 2160), 240 Hz at QHD (2560 x 1440), and 360 Hz at Full HD.
The Raider GE76 packs up to 4K display and up to an RTX 3080Ti GPU into a RGB-infused chassis for increased gaming performance, which is further supported by MSI Overboost and the Phase Change Liquid Metal Pad that boosts performance by an extra 10 percent.
For users looking for an added edge in cooling, the Vector GP76 and Pulse GL76 are able to offer increased airflow by 15 percent with Cooler Boost 5 Technology. The Sword 17/15 and Katana GF76/66 series, while also equipped with the same cooling feature, are different in terms of aesthetics, sporting a new knight image wielding an enchanted sword of victory.
Outside of gaming, content creators can turn to the Creator Z line-up, which are purpose-built as NVIDIA Studio laptops. The Creator Z17 is the world's first 17-inch laptop to support pen touch, and will feature a 16:10 aspect ratio, True Colour Technology, and a thin bezel design. The Creator Z16P, meanwhile, brings added performance boost with the Vapor Chamber Cooler.
From gaming to content creation, MSI seems to have covered most bases with its slew of refreshed laptops for 2022. The details of Metaverse compatibility are rather vague, and it's not known how that'd further benefit users, but the upgrade to the latest NVIDIA GPUs and Intel CPUs should still interest those looking for an enhanced gaming experience.
Pricing and availability for all laptops have yet to be announced.