Singapore is celebrating its 57th birthday, and there's nothing quite like national pride when you support local. Lazada is turning its 8.8 National Day Sale into a showcase of all things Singapore, with up to 90% storewide discounts across 75 Singapore brands, with the likes of Leftfoot, Heavenly Wang, Sunday Folks and TheJellyHearts coming on board the eCommerce giant for the first time!
Some say that queuing up is a national sport but no one wants that these days. After two years of a pandemic and multiple Lazada sales, we argue that finding the best deals when online shopping is what makes a true blue Singaporean.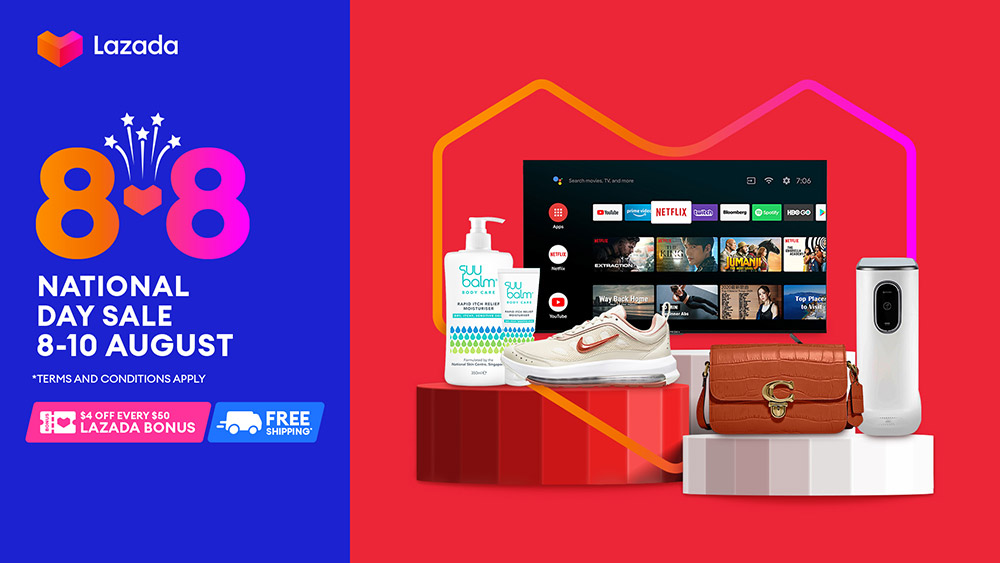 The three-day National Day Sale on Lazada rings in the deals from 8 to 10 August, to celebrate local talents and sellers, as well as excite shoppers with an exciting suite of promotions and prizes, including a 3-night cruise trip to Kuala Lumpur and Penang – but more on that later. 
With plenty of sales, new games and in-person experiences coming your way, Singaporeans have a lot to look forward to leading up to the National Day Sale.
---
Play Games and Set Sail with LazPark
If you're looking for a quick getaway, here's your chance! On 4 August, Lazada is launching a new virtual theme park called LazPark that allows players to earn vouchers, LazCoins and the 8.8 grand prize. The prize in question? A 3-night cruise trip to Kuala Lumpur and Penang worth S$2,458 from Resorts World Cruises!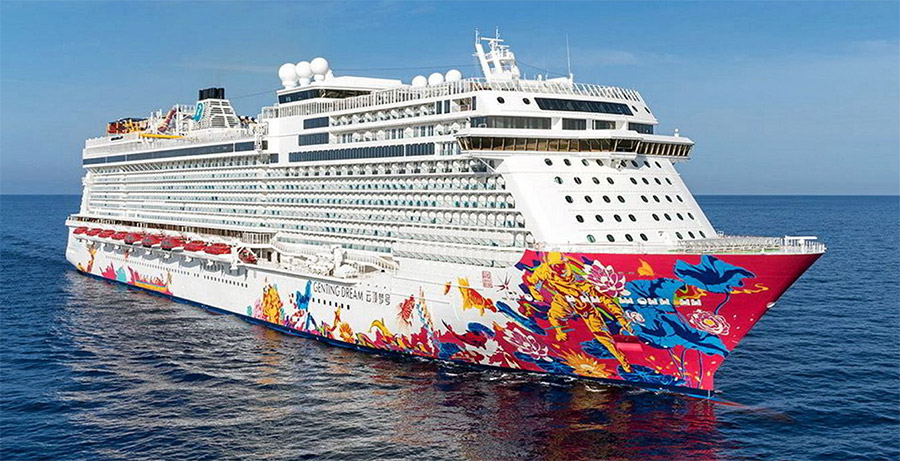 From 4 to 10 August, shoppers can play a range of simple mini-games at LazPark (from 12am onwards), complete daily missions and win a maximum of 70 golden tickets that increases their chances of winning the grand prize. To qualify, users have to make a purchase within the time frame – and carting out on 8 August shouldn't be a problem!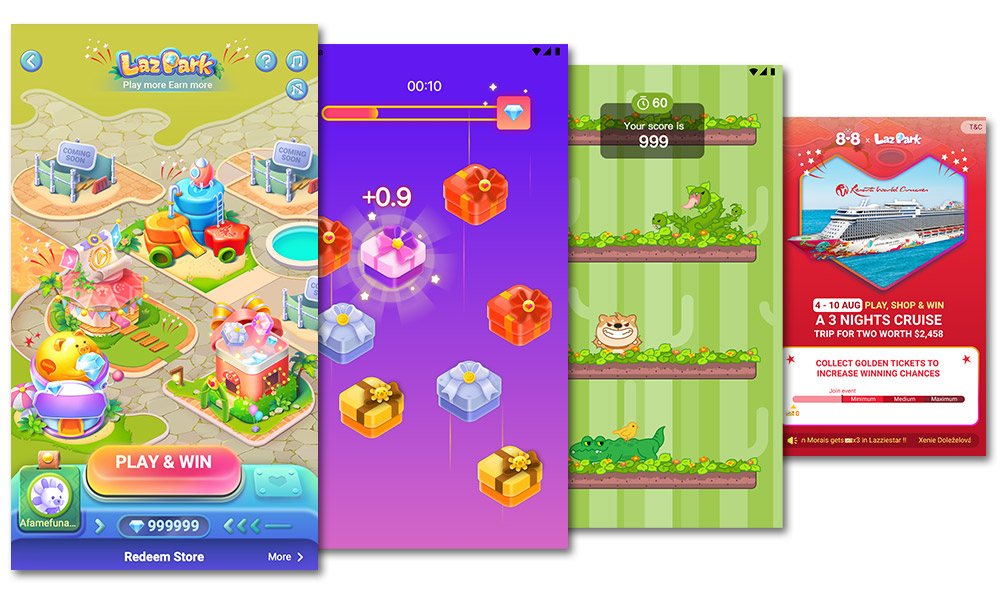 If you've got your eyes on the grand prize, we have tips on how to maximise your chances of winning it. Try these out:
Set a daily reminder to earn golden tickets on Lazada from 4 to 10 August.
Earn the maximum number of tickets possible in a day by checking-in daily (2 tickets per day), completing daily missions by playing the mini-games (6 tickets per day), browsing the "Just For You" page daily (2 tickets per day)
Make a purchase to automatically qualify for the lucky draw. (Don't worry, you just need to make one purchase – we checked)
Good luck!
---
Be prepared for a thrilling day of sales on 8 August, which starts early with the Midnight Local Brand Sale! From midnight, more than 75 made-in-Singapore brands will hold storewide flash sales of up to 90%, including well loved local stalwarts like PRISM+, New Moon, ComfortDelGro and Universal Traveller, as well as newcomers Leftfoot, Heavenly Wang, Sunday Folks and TheJellyHearts.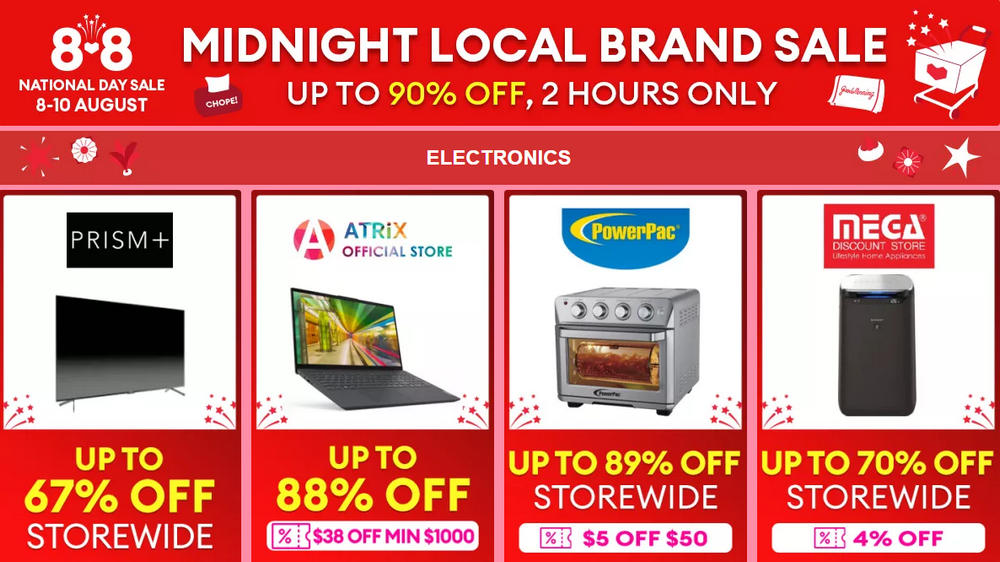 So if you've been eyeing a brand new monitor, have plans to travel overseas or want to stock up on some home-made goodies in your kitchen, here is your chance!
---
This is Home, Truly
Lazada kicks off Singapore's 57th birthday with a month-long online to offline experience at Come Home to KOHLER & Friends. From 15 July to 15 August, this pop-up event, powered by Lazada, sees 30 home and lifestyle brands showcase their best goods in a curated showcase where interested buyers can touch and feel products for themselves before having them delivered to the doorstep.
It's perfect for first-time homeowners who wish to make their humble abode feel a little more homely, or existing homeowners looking to spruce up their space, and visitors can view and try out a wide array of products from Samsung, Bang & Olufsen, LEGO, L'OCCITANE, Razer, Nespresso, OSIM, Tefal, WMF, and Philips Lighting, and more, to see how everything fits nicely in their home. The event is held at KOHLER Experience Centre, 52/54 Peck Seah Street.

On the Lazada app, users can collect vouchers that will help shave a few dollars off their final order. Top spenders have the chance to win more than S$8,000 worth of prizes ranging from an OSIM UDIVA 3 Transformer Massage Sofa for the first prize winner to a variety of products like the Nanoleaf Smart Kit to Foreo's Luna Play Smart 2 and more for subsequent winners.
Any purchases from Kohler Home Fair brands on Lazada also give shoppers the chance to participate on Daily Spin and Win and earn gifts like a mini speaker, power bank and even a Manchester United Football amongst plenty of other prizes.
---
Don't say we bo jio! On 8 August, Lazada's resident Chief Lobang Officer, Bong QiuQiu, will be running a livestream on LazLive from 8 to 9pm. During the hour-long livestream, the Singaporean lifestyle blogger and influencer will feature great deals from local merchants like Yeow, Butter and Milo!
Viewers will also get a chance to win vouchers that can help them save more during the National Day Sale. There's a total of S$1,000 worth of vouchers to be given out so this is a livestream you do not want to miss!
---
Ahh, the part we've all been waiting for. From 4 to 7 August, Lazada will be running Flash Sales for 24 hours! From 8 to 10 August, the Flash Sales will be held at 12am, 12pm and 6pm! And on 9 August itself, Lazada will be hosting a special S$5.70 flash sale to celebrate Singapore's 57th birthday.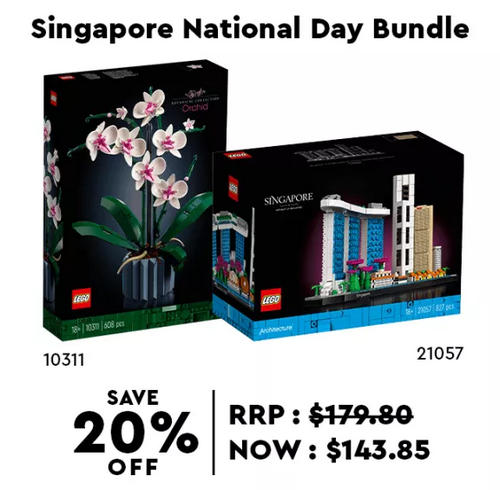 That said, here are some of our top National Day Flash Deals picks at midnight of 8.8!
---
This article is brought to you together with Lazasda Singapore.