Finding a gift for colleagues and friends during the festive season is a walk in the park, but for those still unsure of what special gift to get your significant other, best friend or geeky family member for the holiday season, the hunt stops here.
Murder mystery game series Hunt A Killer is an experiential gift that plunges players right into a well-crafted crime story filled with puzzles that are challenging, but solvable, and best undertaken as a group, for a fun-filled evening of suspense. Much like Escape Rooms that taps into the social aspect of shared experiences, think of Hunt A Killer as a board game coming to life, filled with well-crafted items, letters, and clues to serve as souvenirs of sorts for the whole challenge.
Check out a trailer for one of their games, Curtain Call:
While the game puts forward a challenge, Hunt A Killer also serves as more than a box of puzzles. Each game is a unique, immersive experience that appeals to the snoop and smart alec in all of us who can't wait to guess the identity of the killer in the third act. It's something that drives conversations about the process and encourages friends to excitedly share their thoughts about each case.
With each unique Hunt A Killer box providing a cosy yet unconventional activity that can be enjoyed indoors away from the elements, it's something that can be done together or separately, with friends over a video chat or conference call. This allows players to break away from the same old routines, giving them a taste of something fresh, different, and perhaps a bit macabre.
And like a crime TV series, Hunt A Killer subscriptions come in episodes which stack one on another.
They have nine premium sets, which are all-in-one games that each contain a fully fleshed out case to crack, in painstakingly designed boxes such as Camp Calamity, which we unboxed earlier this year. The prices range from US$29.99 to US$228.
There are also 10 box sets available, ranging from US$132 to US$165. Each box set contains all episodes of a six-month subscription shipped all at once. It is a great way to catch up on any previous seasons you got your eyes on.
Finally, there is the monthly subscription, where you have the option of paying monthly ($30 a month) or prepaying for longer plans in order to get additional discounts and a free gift. This allows you to receive the episodes in more manageable chunks, with escalating tension as each episode builds up to something bigger. At the time of this article's posting, they are offering a free one-time game if you sign up for a 6 or 12 month subscription.
All subscribers will start from the first episode of the current season, so there's no need to worry about when you start your investigation- if you sign up when it's currently the third episode of the current season, you'll be sent the first episode. And if you want to catch up to the latest episode, you can always request to receive the next box sooner and they'll be shipped by the next business day.
One worry that some may have is the lack of replayability with these boxes. While each case cannot be replayed by the same person once the puzzles have been solved, and the mystery cracked, you can host Hunt A Killer sessions like a Dungeons & Dragons dungeon master, where you facilitate for new groups of friends as they try to solve the case.
Ultimately, these sets are not technically board games but a mix of board games, escape rooms, tabletop role-playing games, and mystery novels. For mystery lovers looking for experiences that can't be replicated, Hunt A Killer is an undertaking to die for.
Right now is the perfect time to try Hunt A Killer, so here are some recommendations if you don't know where to start.
---
The Melancholy Killer is a premium set, which means it is jam-packed with puzzles, presenting a mystery that'll take around five to seven hours to fully solve. Not only that, the packaging is one that truly deserves the 'premium' tag – it is not a box, it's a briefcase! The briefcase that supposedly belongs to the Melancholy Killer, ready for you, the player, to sift through and investigate.
This story is written by Peter Gillespie, a producer, writer, and director of the famous and long-running America's Most Wanted TV series. A convicted serial killer, for reasons unknown, leaves you his personal belongings after being murdered in prison. Thousands believe him to be innocent, and it is up to you to find the truth.
True crime fanatics and mystery junkies are going to enjoy what they get here, especially with the presentation of the set, which is bound to give anyone pangs of curiosity. The case takes 5-7 hours to complete.
The Melancholy Killer: Serial Killer Game is priced at US$179, and comes with everything a sleuth would need to crack the full case. It is designed to be a single big case for you to dive right into, a breadcrumb trail that can be completed in a single sitting if you so choose.
---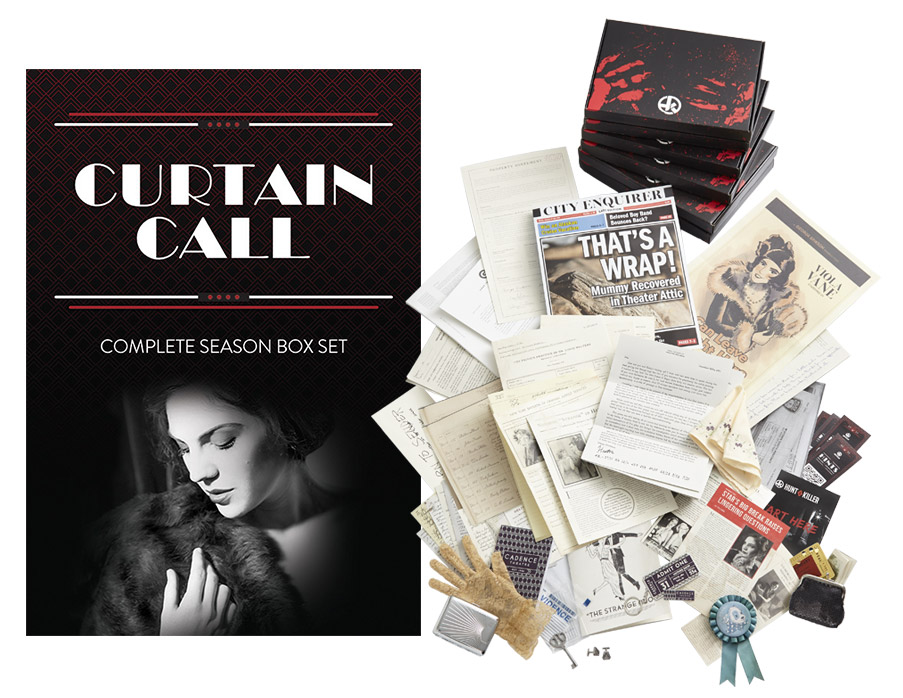 Curtain Call is a box set, which contains all six episodes of the season. Instead of subscribing to the latest season and eagerly waiting for the next episode to arrive at your doorstep month to month, you can work through the episodes at your own pace. Binge it all in a single day, do it week by week, it's entirely up to you.
At the time of writing, Curtain Call remains Hunt A Killer's most played set of all time, and it's the perfect set to get you started. After finding a mummified body in the attic of a theatre, you are confronted with a cold case from the 1930s that you need to solve in order to help the current owner of the theatre. Time is of the essence, and you need to find out who killed Viola Vane before it's too late!
For those who prefer a more fantastical and creative premise in your murder mystery, Hunt A Killer has just the right answer. This is one for the sci-fi and comic book fans or the mystery lovers who are intrigued by something less conventional. In the premium set Supernova, take on the role of a member of the Official Supernova Fan Club, a superhero who has gone missing after a battle against her archnemesis, The Void, on an alien planet.
Contacted by her brother, Gunny Graham, you will have to decode symbols and translate alien languages, among other puzzles, in order to reach the conclusion. Also, your choices matter, because there are two possible endings in this story.
Supernova is up for pre-order now, and is estimated to ship between mid to late December.
---
Alternatively, you can choose to gift a subscription to a mystery or horror aficionado of a friend. As much as it's great to receive all episodes in a single season at one go, there is something to be said about whetting one's appetite and looking forward to individual episodes arriving at one's doorstep. This is a gift that will spread an experience out over the course of months, serving it in satisfying chunks that can be the start of a new monthly routine. The arrival of each new episode can be a nice monthly surprise, with each small mystery eventually building up to a bigger, jaw-dropping revelation.
It makes for a great last-minute gift, because, well, it is a subscription that is delivered monthly, and so you won't have to worry about the singular package not arriving before the holiday season is over! Also, you won't have to worry about choosing the right set or story to send to your friends, because they will be receiving an email about your generous gift, and they will get to choose the mystery that piques their curiosity the most. Even if you miss the shipping cut-off date (13 December), you can schedule for the first box to go out on Christmas morning, which still works out perfectly fine and could even build further anticipation. They are great for ongoing date nights or game nights with friends and loved ones, because whenever a box arrives, you host a get-together!
There is a Mystery option, and a Horror option, which determines the general tone and mood of the story. The subscription comes in either a 6-month Season Pass for US$165, or a 12-month Double Season Pass for US$300.
---
(For the premium sets and box sets, if you wish for them to arrive by Christmas, orders will have to be placed by 13 December, otherwise you run the risk of the sets arriving late)
Opening up a Hunt A Killer box is always a treat, and we can't wait to get our hands on more cases to crack, puzzles to solve, and codes to decipher. There are killers to hunt, and we are the hunters. Why don't you join our ranks?
---

Drop a Facebook comment below!