Now that Samsung has wavered in its journey to becoming the top Android device maker, competing brands have been trying to jump ahead, and no one wants it as bad as Taiwanese handset maker, HTC.
After all, there was a time when the name HTC was synonymous with Android, and the company is now working hard to propel itself to the top of the Android food chain once again. We've seen plenty of brands, such as Asus, Xiaomi, Sony and Oppo launching stellar phones, released at a variety of price points last year. All are claiming to be awesome in their own way, and the latest by HTC, the U Ultra, is no different.
The company is banking hard on aesthetics, as well as its in-house AI, the HTC Sense Companion, to pave the way to victory in 2017's smartphone tussle.
Yes, you read that right. HTC is touting it's Google Assistant-esque software as having artificial intelligence. In reality, it's more of machine learning, where the software studies a user's habits, and serve notifications when needed.
It's hard to ignore the new design elements that HTC has incorporated into this phone, including the switch from a metal chassis to a glass one for the rear body. I'm not saying they are original, but the moment the HTC U Ultra sits within your hands, it's hard to ignore how amazing it looks. There is a solid grip to the phone, with its glass surface catching every possible ray of light on the room. Using this phone with a cover would be a real pity.
Depending on how light lands on the phone, the HTC U Ultra changes colour similar to that of a seashell. Looking at all the colours available, Blue and Pink would be the colours of choice to show off your newest device.
Like LG's V series, the U Ultra comes with a second screen for notifications.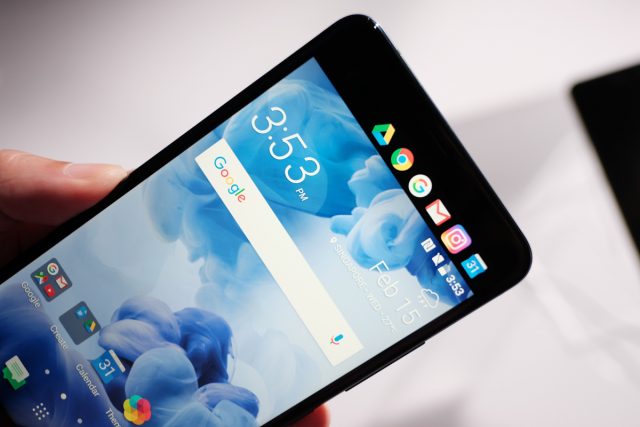 The display on the U Ultra is larger than the one on LG's current V20, and while the need for a second display still feels redundant, the combination of two displays does serve its purpose is displaying standalone notifications. Case in point? Expect the weather forecast to be displayed there, instead of having to turn on your screen. You might not always need the information, but having some useful information displayed unobtrusively is helpful.
As with the latest smartphones, the U Ultra comes without a removable battery. There are three buttons by the left side, for the Power and Volume controls. The fingerprint sensor sits at the base of the screen, and it uses a touch sensitive button that also doubles as the Home button.
Audiophiles beware though, like the current iPhone models, there's no earphone jack on the U Ultra, and everything runs through the sole USB-C port. This might be a cause of concern for regular uses, and serves as a change in direction for HTC, as it once championed the reliance of music, and they even owned the Beats for a while.
All that shiny comes at a cost – FINGERPRINTS!
The HTC U Ultra 64GB goes on sale in Singapore at the retail price of S$848 from 25 February 2017 in Black, Blue, Pink and White.
Quick Specifications
| | |
| --- | --- |
| SCREEN | 5.7 inch, Quad HD (2560×1440, 534 pixels per inch) Super LCD 3 with Gorilla Glass 5 |
| OS | Android 7 Nougat with HTC Sense |
| CPU | Qualcomm Snapdragon 821 (quad-core up to 2.15GHz) |
| RAM | 4GB |
| GPU | Qualcomm Adreno 530 |
| STORAGE |  64GB, plus micro SD expansion (128GB in sapphire glass version) |
| NETWORKING | 802.11 Wi-Fi a/b/g/n/ac (2.4 & 5 GHz), Bluetooth 4.2 |
| PORTS | USB 3.1 Gen1 Type-C |
| CAMERA | 12MP UltraPixel camera with 1.5 micron pixels, OIS, Laser Autofocus, PDAF, and f/1.8 lens. 16MP selfie camera. |
| SIZE | 162.41mm x 79.79mm x 7.99mm |
| WEIGHT | 170g |
| BATTERY | 3000mAh |
Gerald currently straddles between his love of video games and board gaming. There's nothing that interests him more than trying out the newest and fanciest gadget in town as well. He dreams of publishing a board game sometime in the future!
---

Drop a Facebook comment below!