When it comes to gaming peripherals, gaming titan Razer has been gradually pushing out many wireless models, including the recent Orochi V2, which is leading the market thanks to its long-lasting battery life.
Even with wireless gaming keyboards, they have had quite a success with their Razer Huntsman Mini that boasts a compact 60% form factor, dedicated to those who prefer only the ultimate minimalist experience.
Knowing how wireless is where the future is at, and how compact keyboards are becoming a gamer favourite, Razer had taken a step further in creating the ultimate blend between both, with the BlackWidow V3 Mini HyperSpeed wireless gaming keyboard.
A follow-up to their BlackWidow gaming keyboard series, the new compact BlackWidow V3 Mini HyperSpeed essentially downsizes the wireless BlackWidow V3 Pro into a form factor similar to the Huntsman Mini.
The BlackWidow V3 Mini HyperSpeed is a 65% form factor keyboard, not unlike the Huntsman Mini's 60%, as the smaller size reduction has more to do with the placement of seven additional keys, including four customisable macro ones, that provide gamers with a little bit more functionality while keeping its compact form.
Catered to dedicated gamers who prefer a more minimal look and clean set-up, the new 65% keyboard is a rather portable companion to bring around, weighing at just 724g, along with a 31.75 cm x 12.7 cm chassis. However, the full-height switches it offers, which is identical to the BlackWidow V3 Pro can be a little chunky to put into your bags.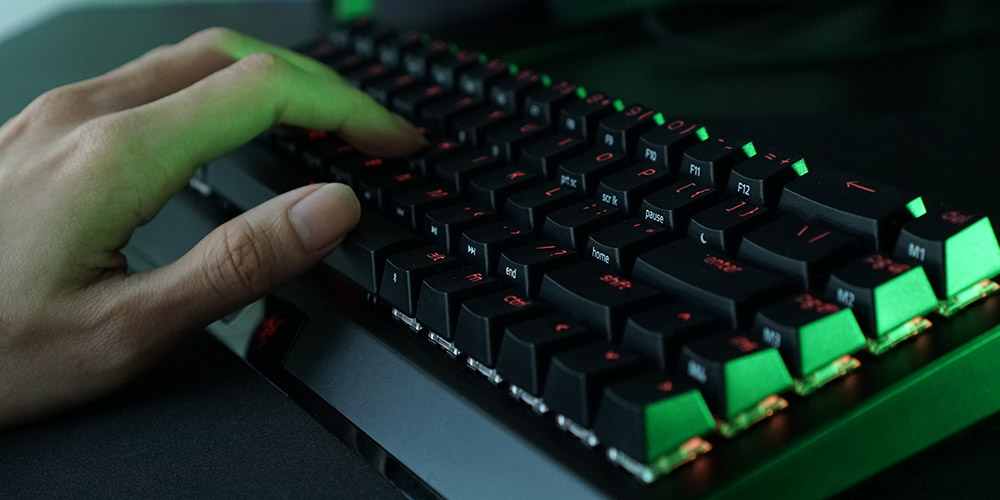 The switches available on the BlackWidow V3 Mini HyperSpeed includes their traditional clicky Green Switches for that tactile sound, and linear Yellow Switches which were upgraded with new sound dampeners, for those who prefer a more low-profile and silent typing experience.
Razer continues to use their new doubleshot ABS keycaps in a bid to extend the overall physical shelf life of the keyboard. While it doesn't really affect the typing experience, the thicker keycaps do feel a little bit more durable than usual.
The keyboard itself has a slight elevation for starters, but if it isn't enough, you can adjust the rear legs by 6 or 9 degrees higher, to get an even better typing angle. Having used it for a few weeks, we prefer the keyboard to sit at 9 degrees, for optimal comfort level and typing experience. Of course, that still depends on your own preference and whether you have a wrist rest, which unfortunately, the BlackWidow V3 Mini HyperSpeed doesn't include.
To preserve the size of the compact form factor, what Razer did was shorten the keys on the right side of the keyboard such as the shift, backspace, alt and fn keys. By doing that, they were able to add four arrow and four macro keys to create more functionality compared to the pure 60% keyboards. Every single key, including the four macro keys, can be customized to fit your own preferences, and for us, we had the M2 and M3 keys customized to adjust our media volume.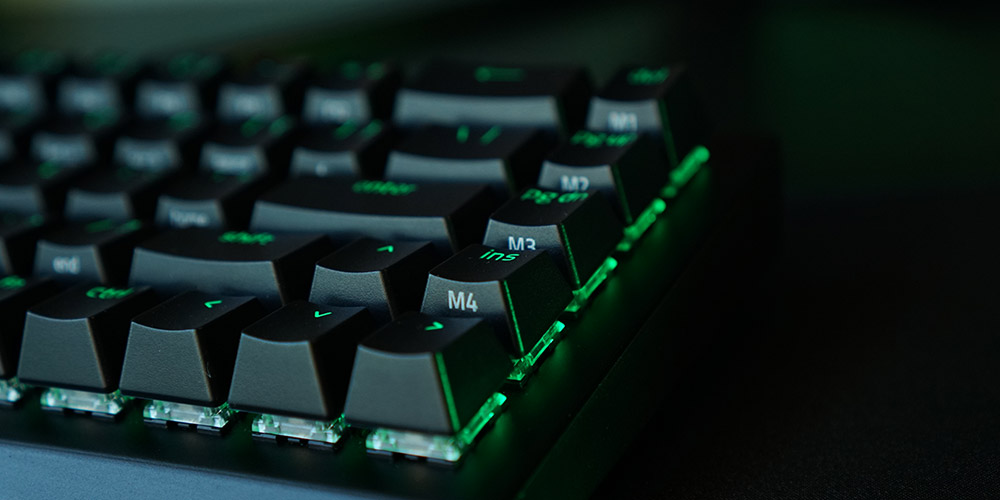 This resizing and match-up potentially opens up the keyboard to both groups of users who sit at the edge contemplating between getting a larger tenkeyless or smaller 60% form factor keyboard.
If you're intending to use the BlackWidow V3 Mini HyperSpeed as a permanent set-up, it is unquestionably a great complement for the minimalist thanks to the amount of space it can save. It's also no surprise why smaller form factor keyboards are increasingly popular, because whether it is for portability sake, aesthetics, or more mouse movement, the Razer BlackWidow V3 Mini HyperSpeed does the necessary in less space.
Besides its compact capabilities, the BlackWidow V3 Mini HyperSpeed features three different modes of use. Bluetooth, USB-C and HyperSpeed Wireless. While trying to set up the Bluetooth connection, it did take us quite a few attempts before we were able to detect the keyboard, but once you're done, the keyboard works pretty much seamlessly, even when you're alternating around with the other two modes.
The keyboard comes with a dongle that features Razer's HyperSpeed Wireless mode, a relatively new ultra-low-latency wireless solution for gamers who want a smooth and optimal typing experience.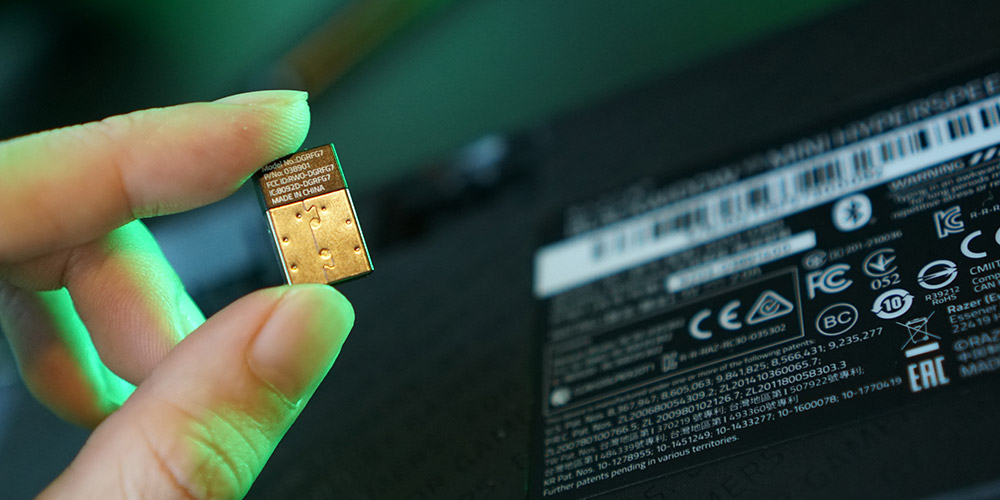 After alternating between Bluetooth and HyperSpeed Wireless, there's no doubt we found a difference in quality and performance as the Bluetooth mode faces occasional latency problems unlike the HyperSpeed Wireless, which provided us with a wonderful typing experience, and we could find no reason to stop using this mode.
Having said that, both wireless modes last only if the brightness is kept to a minimum. Like all Razer peripherals, the BlackWidow V3 Mini HyperSpeed comes with their Razer Chroma RGB and all its lighting effects, and this significantly affects the battery life of the keyboard.
At full brightness, the wireless keyboard can only last you up to 17 hours, at 30% brightness, it'll last you up to 48 hours and only when you turn the brightness completely off are you able to get up to 200 hours. So if you're into the whole RGB set-up, you might want to take note of its battery life.
We've tried running the keyboard at about 100% brightness, and it lasted us about two days of slightly over eight hours of use each. At 30% brightness, the keyboard can definitely last us one more day of use. If you're a big fan of RGB and you're both working and playing on the same set-up the entire day, you might find the need to have your USB-C cable ready at all times, which slightly nullifies the whole wireless experience.
However, you can still optimize its battery life by keeping your brightness to a low of 5 to 10% through Razer Synapse, so you get to have that bit of RGB glow and have the keyboard remain wireless for quite some time.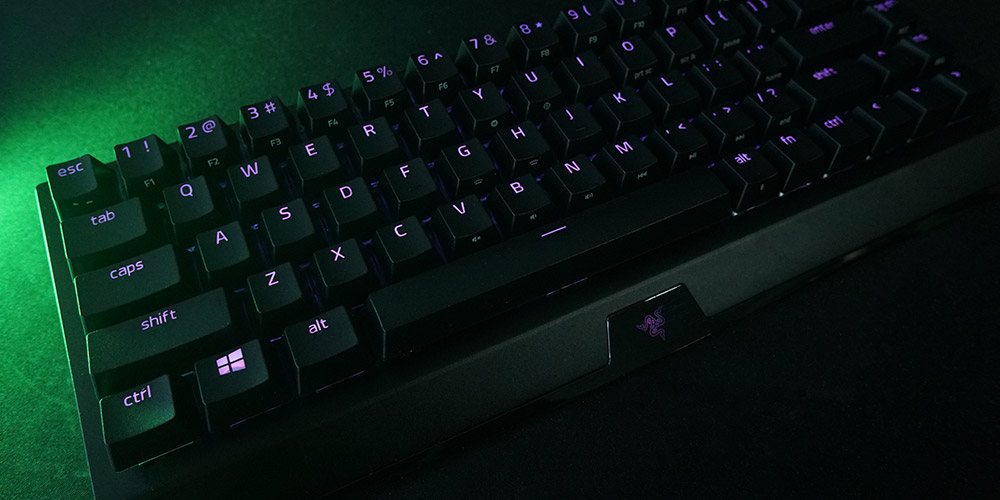 The keyboard also features the Razer HyperSpeed Multi-device support which lets you connect up to a few devices using only one dongle, helping you save at least one or two USB slots on your PC. Multi-device only works with newer Razer products such as the Orochi V2, and this has to be set up only through Razer Synapse, and you might need to keep your drivers updated.
While the HyperSpeed Multi-device works, it's not without faults or bugs. When we were using the Orochi V2's dongle as the primary connector, the BlackWidow V3 Mini HyperSpeed could connect but couldn't display any light or RGB despite Razer Synapse's settings. This was only solved when we changed the primary dongle to the keyboard's instead, which is a minor setback though it's one you might need to take note of if you're ever using the multi-device function.
All in all, the Razer BlackWidow V3 Mini HyperSpeed is a great 65% form factor keyboard that can offer gamers with both a low-latency performance and compact solution, though the premium price point and low battery life during high brightness might be a drawback for those who want the entire RGB set-up.
The Razer BlackWidow V3 Mini HyperSpeed is available for S$279.90 on Lazada, Shopee and Razer.
GEEK REVIEW SCORE
Summary
While the Razer BlackWidow V3 Mini HyperSpeed is a great 65% wireless gaming keyboard for the ultimate compact typing experience, those who prefer the RGB life might need to take note of its battery life at full brightness.
Aesthetics -

8/10

Build Quality -

8/10

Performance -

7/10

Value -

7/10

Geek Satisfaction -

7/10