Cooking can be a hassle, and in addition to the preparation and cleaning, takes up a huge chunk of time you could be using for other tasks. Like getting my trophies. Modern cooking equipment has helped alleviate such problems, and one of those is the trusty Philips Airfryer.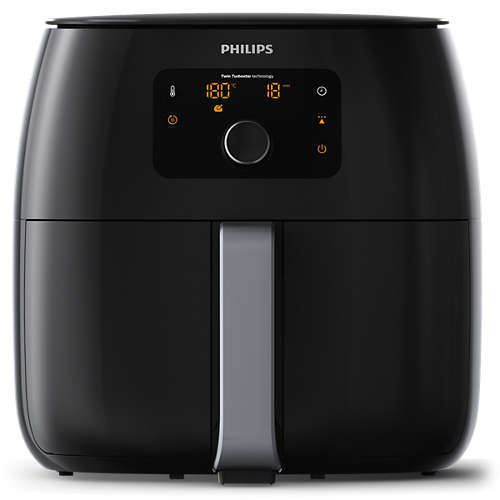 Airfryers are already sizable to begin with, but the Philips Avance Collection Airfryer XXL (HD9654) takes the cake compared to its contemporaries. Granted, it can cook up a storm with space for large batches of ingredients, but at 7.99kg, and measuring 433 x 321 x 315mm in size, you might want to take exact measurement should you be considering one for the kitchen.
When it comes to cooking, be it fries, frozen goodies, or even whole chickens, the XXL can handle them all easily with its extra large capacity. Backed by Twin Turbostar technology, the powerful motor and 1725-watt heating element ensure it cooks fast, with no preheating required, and most importantly, without the need for any oil.
The Twin Turbostar tech also helps in removing fats from food, up from 70% to 90% in this latest iteration. The fats are then collected in the fat reducer compartment located below the basket.
All these technologies are packed inside a solidly built body of steel and plastic, alongside easy to use controls. 5 preset cooking programs can be accessed with just one touch, and be it frozen fries, chicken, meat, fish, or baking, the Airfryer XXL has you covered.
We whipped up a big batch of fries in just 25 minutes, and chicken wings were ready to serve in just 20 minutes. And cuts of salmon belly were done under 15 minutes for a much healthier choice. The taste of food will be a departure from the usual greasier and saltier method, but you can always season your meal before and after it has been cooked.
In addition, there is the Keep Warm function, handy when you want to serve your food later. While testing the function, it kept a batch of crispy fries warm for a good 3 hours before serving. And if your food does get cold, the QuickControl dial lets you control both the temperature and cooking time with just a turn.
The flexibility of the Airfryer XXL gives you more variety of cooking methods to explore than just frying. With the included grill bottom, grilling became a less messy affair, with the aforementioned fat reducing and oil-free technologies working in tandem for a unique grilling experience.
With the right ingredients and settings, even baking and roasting can now be part of your repertoire of recipes. It helps that Philips has thrown in a recipe book containing more than 30 recipes for aspiring cooks to try, although it would have been better to have more localised ingredients.
Having the XXL in the kitchen together with conventional cooking equipment, it easily became the de facto option when it came to preparing meals. Cooking with it is a faster, cleaner affair, with everything constrained within the airfryer, not to mention healthier for those watching their diet.
While the first few attempts were not exactly top quality, giving it a few tries will eventually teach you the right settings and amount of food so it comes out perfect every time. Juicy, tender chicken, crispy fries, delicious fish, all without the trappings of oil, it is simply amazing.
The only gripe to be had is the cleaning up of the airfryer. While the removable parts are all dishwasher safe, for those of you with no dishwasher, you will have to wipe and wash all the different parts.
The various parts are often thin metal with hard edges, so take some caution while washing, and having so many components to dry is another hassle if you are constantly using it.
At a retail price of S$499, the Philips Airfryer XXL is a hefty investment. It takes up plenty of space, and if you are not using it regularly, it can become a white elephant.
But for families or those who prepare large meals and want it done quickly without a mess, we cannot recommend the Philips Airfryer XXL enough with its intuitive controls and excellent functionality.
Just make sure you leave some energy for cleaning its components.
GEEK REVIEW SCORE
Summary
It's a hefty price for a hefty product, but if you aren't into volume while cooking, look elsewhere.
Aesthetics -

8/10

Build Quality -

7/10

Performance -

8/10

Value -

7/10

Geek Satisfaction -

8/10
---

Drop a Facebook comment below!