Among the many things that the COVID-19 pandemic has affected, travel and tourism were the most affected, because things were literally brought to a standstill for an extended period of time. It has reshaped the industry and while many of us have been yearning to get on a flight without any restrictions, the latest Korean blockbuster, written and directed by Han Jae-rim, may make you think thrice.
Developed before the pandemic, and produced on and off during, the movie is our worst fear of flying, when there is an airborne virus flying around and messing everything up. The movie opens at a crowded Incheon International Airport, reminding us of the happy days where we all rushed through a sea of people while dragging our luggage to catch a flight. Jin-seok (K-pop idol Yim Si-wan) is nervously looking for a crowded flight to board and you just know not to be fooled by his boyish good looks, because this guy has some very evil plans up his sleeve.
Holed up in a toilet cubicle, we see Jin-seok slice a hole under his arm to conceal a capsule with a lethal and contagious virus. He manages to get past security, and there we have it – a walking biological weapon. You can expect all hell to break loose when he boards a packed plane to Hawaii.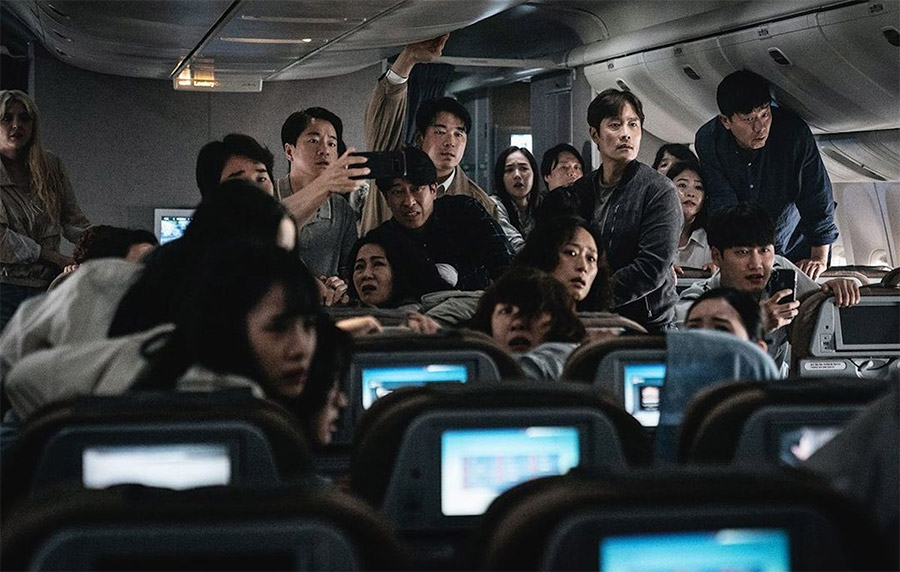 The film also introduces us to key characters on the flight. There's Jae-hyuk (the ever amazing Lee Byung-hun, who has aged like fine wine), a former pilot with a fear of flying who is bringing his daughter overseas for medical treatment; Hyun-soo (Kim Nam-gil), a pilot who has an unexplained grievance with Jae-hyuk; and a stoic team of flight attendants led by Hee-jin (Kim So-jin).
It doesn't take long for the movie to shake up fear in viewers. Jin-seok, with his eerie half smile, sets off the virus. One passenger dies horribly after being exposed, and the traumatising sight sends everyone into panic mode. That includes the audience, who have been recently made aware of the dangers of a virus that kills. What is going to happen next? Are people going to start coughing blood, collapsing and dying one by one in mid air? Are people going to turn ugly for survival? And how is the Korean government going to deal with this crisis?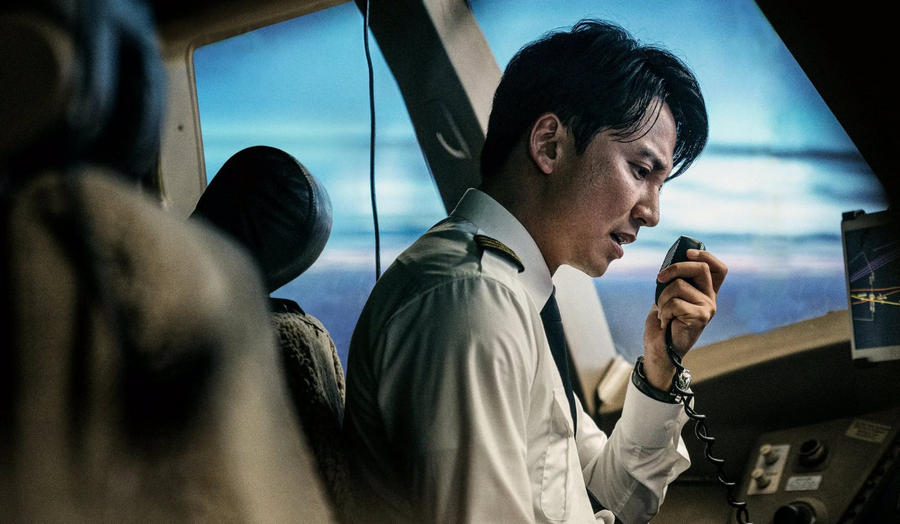 On the ground, there is righteous police detective In-ho (Cannes winner Song Kang-ho channeling the right amount of gruff) who is doing everything he can to manage the situation the moment he received a tip about the terrorist attack, along with Transport Minister Sook-hee (fellow Cannes winner Jeon Do-yeon) who is also doing everything she can to save the passengers while trying to maintain her stature, and Tae-soo (Park Hae-joon), the chief of the crisis management center at the presidential office, who has very difficult moral decisions to make when the idea that landing the plane could cause further exposure and infect the country.
We're pretty sure there are countless scientific inaccuracies and improbabilities peppered throughout the movie, and it is unfortunate that the writers came up with an almost laughable way for the passengers to receive a vaccination, but if you are willing to look past those and consume this big budget movie as pure entertainment, it is a solid piece of work worth your ticket price.
Although the movie stretches to 140 minutes, there are enough thrills to keep you at the edge of your seat. Watch out for a car chase through a busy street where In-ho hunts down a suspect, and scenes where the plane comes into close contact with fighter jets. The highlights are the breathtaking sequences filmed in the fully constructed aircraft – you see the passengers being shaken in their seats and tossed around when the plane turns upside down. You feel like you're right there with them in the doomed flight, and it suddenly seems like a good idea to just go for a local staycation instead.
GEEK REVIEW SCORE
Summary
A solid air disaster flick that deals with bioterrorism that may make you think twice about booking your next flight.
Story -

6/10

Direction -

8.5/10

Characterisation -

7.5/10

Geek Satisfaction -

8.5/10
---

Drop a Facebook comment below!