It has been a while since a movie could make us cry, and what's more, this is coming from a Korean movie. On the surface, this is a standard crime caper, but South Korean drama, Broker, written and directed by acclaimed Japanese filmmaker Hirokazu Kore-eda, and starring Song Kang-ho, Bae Doona, Gang Dong-won, and Lee Ji-eun is anything but, as the film touches on baby boxes – infants dropped off anonymously, to be cared for by others.
This incredibly touching tale about human relationships sees a group of misfits on a mission to sell a baby to deserving parents at the highest possible price. Yes, these characters are up to no good and are obviously breaking the law. The leader, Sang-hyeon (Song Kang-ho), is the owner of a humble laundry shop and also a volunteer at a church, where his friend Dong-soo (Gang Dong-won) works. The duo run an illegal business which sounds too outrageous to be true.
Sang-hyeon would steal babies from the church's baby box (a place where people can bring babies and abandon them anonymously in a safe place to be found and cared for), and Dong-soo would delete the CCTV footage to erase evidence. The duo would then sell the babies on the adoption black market for extra income. Things get interesting when a young woman So-young (Lee Ji-eun) returns to the church after ditching her baby, only to discover the two men's unethical doings. Instead of taking back her child, she insists on going with them to interview the baby's potential parents. A chatty orphan Hae-jin (Im Seung-soo) joins them for the ride, while two detectives, Soo-jin (Bae Doona) and Lee (Lee Joo-young), are on their trail.
Broker runs for 129-minutes and could have been many things – a melodrama where characters scream and wail so that actors can show off their dramatic prowess; a crime movie where the cops play cat-and-mouse games with the baby traffickers, before an exciting car chase on the busy street of Busan; a statement on social policies like abortion and adoption; or a comedy where characters are put in awkward situations and audiences can laugh when the baby poops on the two crooks.
But Kore-eda is of the opinion that audiences deserve more than that, especially in a world where it seems increasingly challenging to make meaningful connections with other human beings. In his film, characters have poignant and relatable conversations about whether it is okay to have a child even if you can't raise him, whether one can ever forgive the person who abandoned you, and how we continue to live with the people who have been with us all our lives. Are the two men giving unwanted babies an alternative lease of life which may be more comfortable, or are they purely immoral and greedy?
While the themes in Broker may sound profound and serious, Kore-eda approaches them delicately, sometimes even with humour. The entire film does not impose on viewers with a heavy-handed self-importance and thanks to a competent ensemble cast, these are characters you can easily identify with. These are people that you hope you can have honest discussions with, about living with the unforgivable decisions we have made. For its mastery, the film won the Ecumenical Jury Award and Best Actor (for Song's humane portrayal of Sang-hyeon) at this year's Cannes Film Festival.
There is a beautiful homage to Paul Thomas Anderson's 1999 film Magnolia, which moved us to tears. Aimee Mann's achingly reflective "Wise Up" is playing from detective Soo-jin's car, and we hear her reaching out to an unidentified person at the other end of the phone, making inconsequential small talk that a scene in a movie they watched "doesn't really make sense" (the sequence in Magnolia where the lonely characters burst into song doesn't make sense either).
While this sequence may have viewers scratching their heads, perhaps this is what Broker, and also life, is about. There are many things in life that do not make sense, but we have to go along with them and hope that somewhere along the way, we can make connections that keep us going.
GEEK REVIEW SCORE
Summary
The Broker is a beautiful film that reminds us about the importance of human connections, and how we depend on each other to forgive, heal and love.
Overall
9/10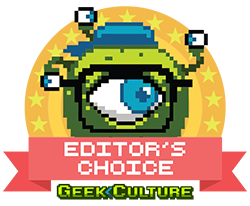 Story -

10/10

Direction -

10/10

Characterisation -

9/10

Geek Satisfaction -

7/10