For some, headphones are a highly necessary accessory for entertainment, especially with their high immersion factor when it comes to gaming. Accurately detecting a sneaking opponent's footsteps in a team fight to death elicits a certain brand of satisfaction, while isolated audio details and travelling special effects make for a great time.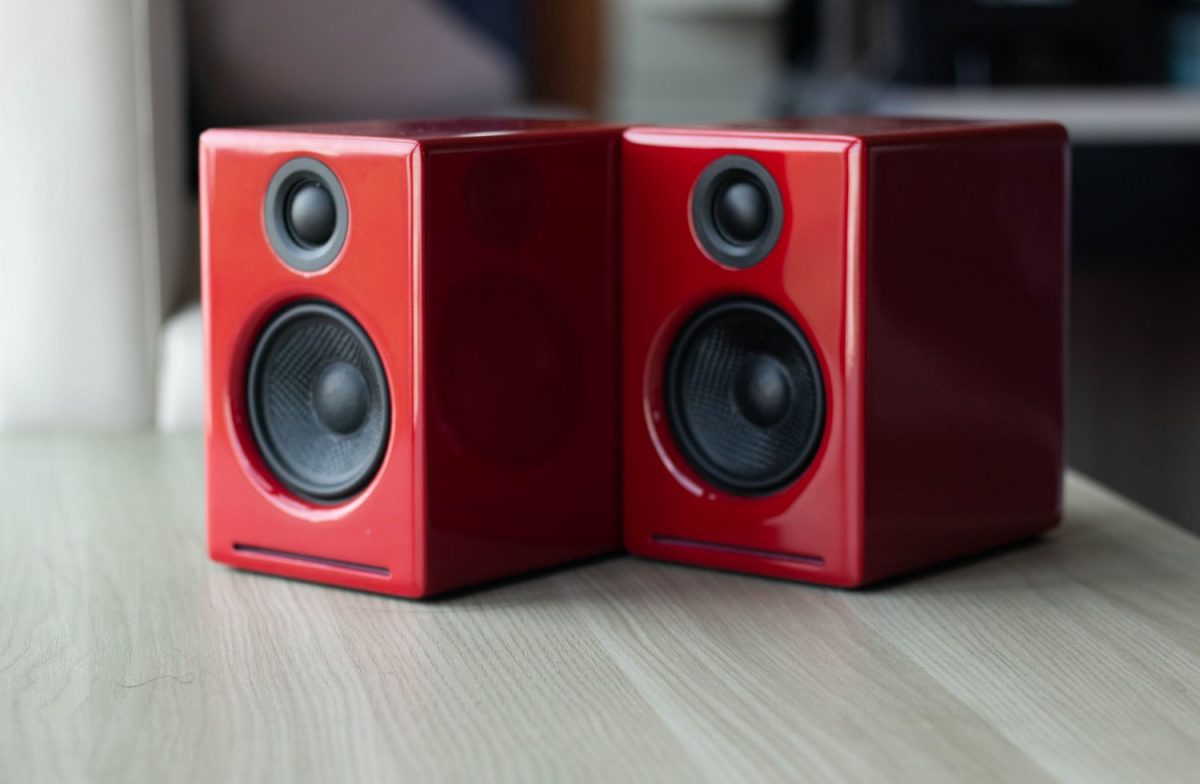 There are moments, however, where one ditches these earcups for the far-reaching sounds, lack of heat on the ears, and louder reverberations offered by speakers. The A2+ Wireless Stereo Speakers serve as Audioengine's answer to audio transmission in a smaller space, delivering a rich, solid frequency response without sacrificing stereo separation and precision in both wired and wireless form.
The speakers' first release dates back to 2019, but visitors can now purchase them directly from Omnidesk's website for S$469, courtesy of a collaboration between the audio specialist and ergonomic desk brand. Where the A2+ is concerned, that certainly makes sense – its compact build makes it a good fit for desktops, so bundling in a separate home sound system with an adjustable height table isn't a bad idea.
Available in matte black, glossy red, or glossy white iterations, the A2+ comprises two speakers that measure 155 mm by 102 mm by 133 mm. The left one weighs 1.6 kg, while the right passive tips the scale at 1.4 kg, with each housing a 1.9 cm silk dome tweeter and a 5.1 cm aramid fibre woofer. Together, the speakers work to transmit 60 watts of peak power and a frequency range of 65Hz to 22KHz.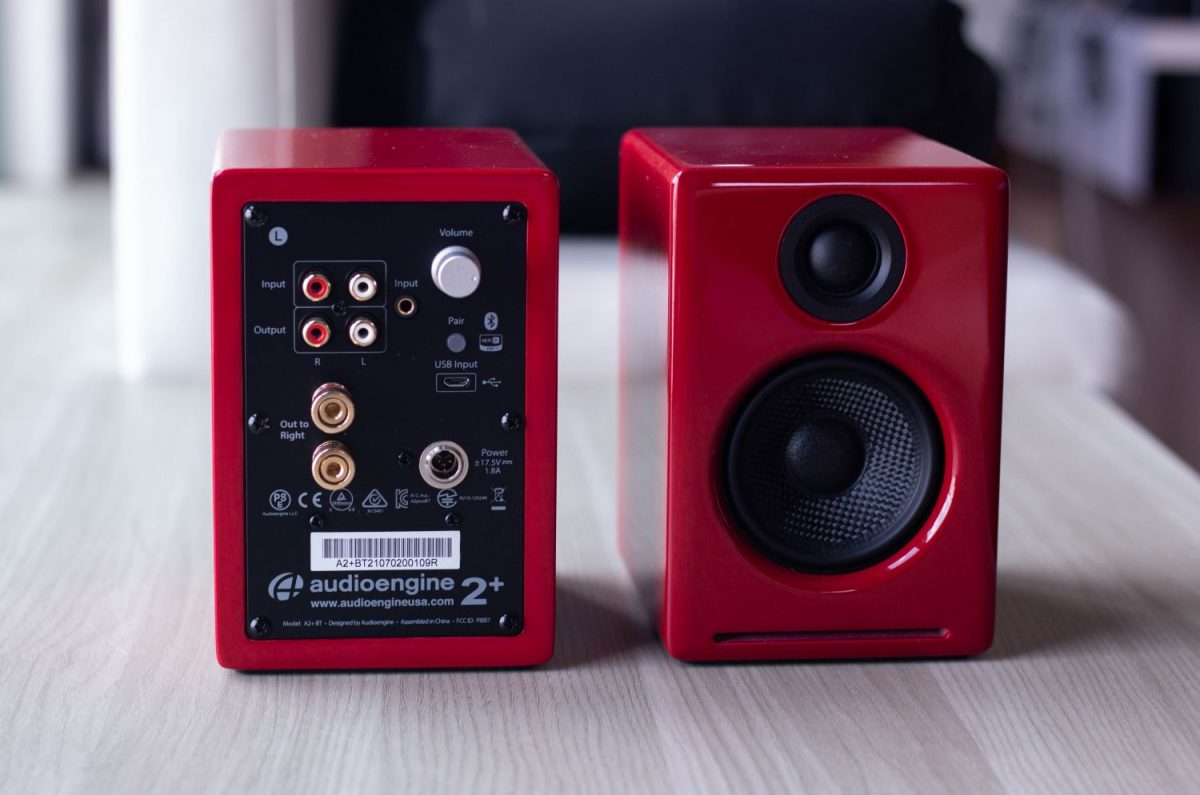 The review unit came decked out in a shade of vibrant red, which may prove a little flamboyant for those seeking a more muted design, even if it does grow on you after some time. The glossy sheen is reminiscent of a piano's polished veneer, adding a touch of elegance to its overall appearance. Adopting a grille-free aesthetic also allows for a more modern spin, complete with a clean and neat front layout, as well as pleasant-looking symmetry at the rear.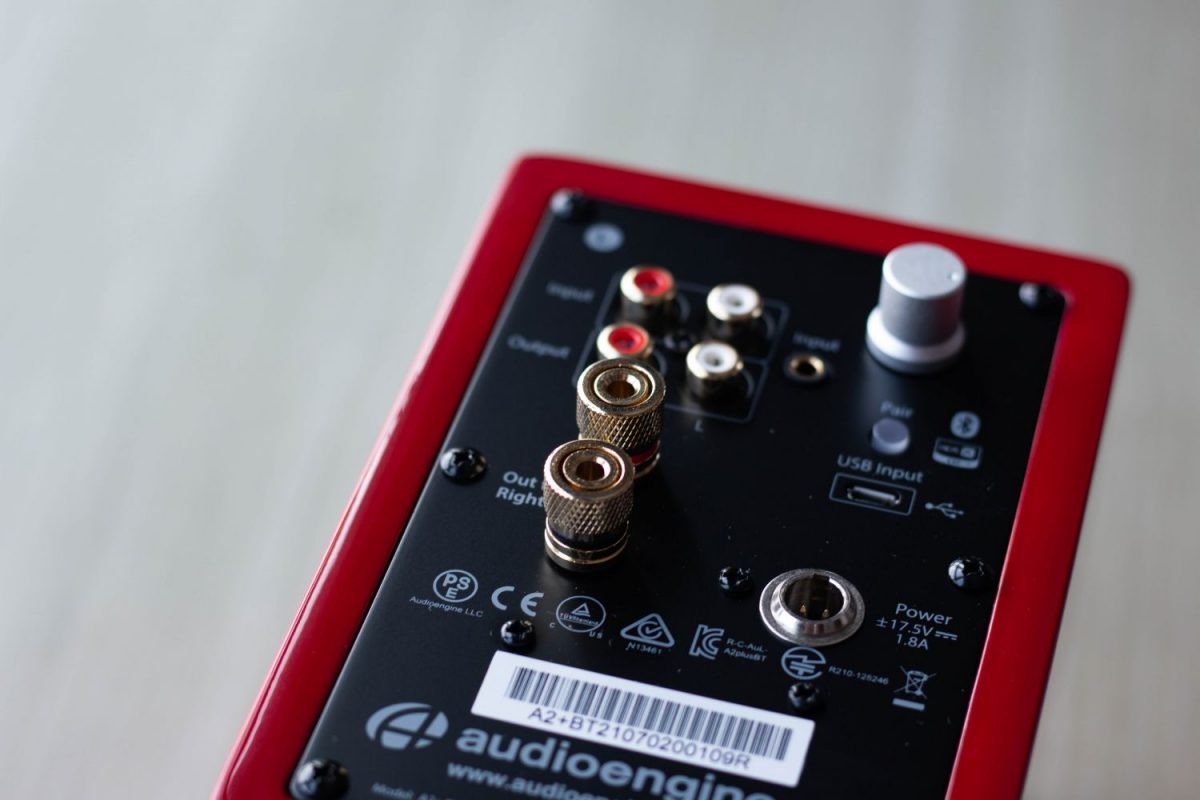 Set-up is fairly straightforward here. Most of the connections and ports are housed on the left speaker, with a power inlet, an RCA input and output (for a subwoofer), a 3.5mm aux input, a micro USB port, and a volume-knob-slash-power-button lined up on the back panel. Don't be taken in by its wireless nature though – since the A2+ offers stereo audio, users will still have to connect the left and right units via a stereo speaker wire for power to be transmitted.
The cabling work remains minimal with Bluetooth connections, which makes the speakers ideal for fans of wireless use. Pairing mode is activated immediately upon being switched on, allowing them to be up and running in a short window of time. A wired set-up would, of course, require extra effort for cable management, but the ease and option to swap between these two arrangements does bring a welcome touch of versatility. In practice, the process was indeed smooth, with a Nintendo Switch, Samsung S9, and laptop hooked up successfully without any issues on separate occasions.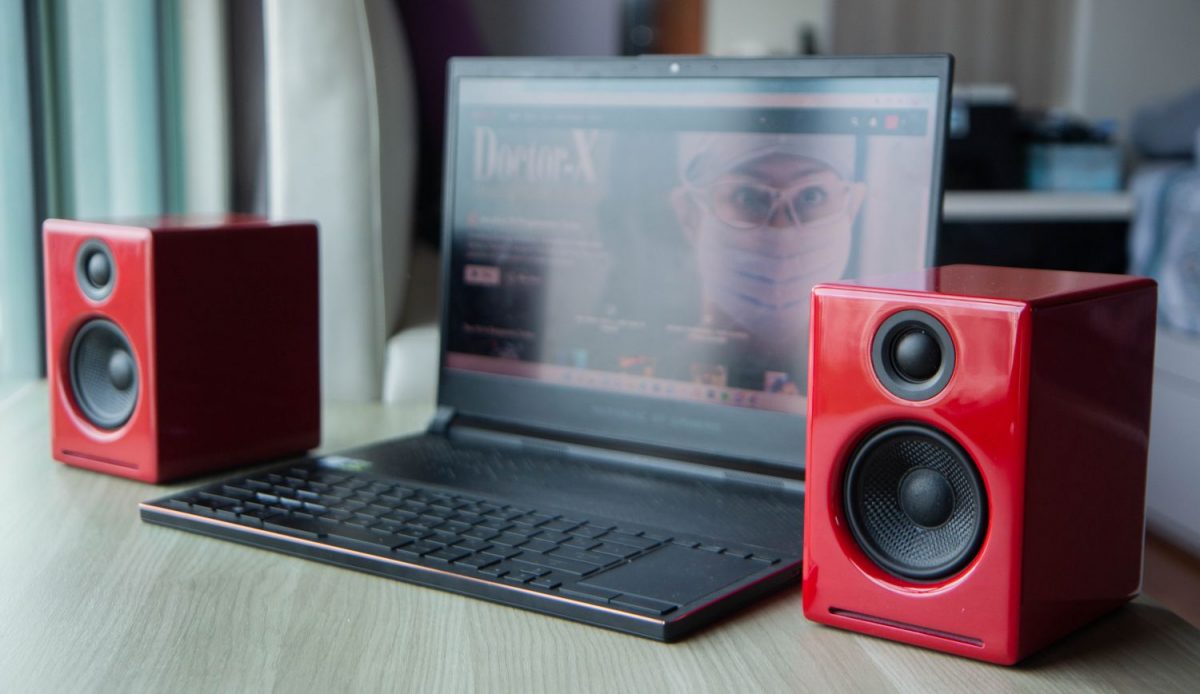 Obvious thought has been placed into the product design, too. For one, the base of each speaker is equipped with padded foam for added grip, so there's no need to worry about an accidental shift in positioning. The volume dial, meanwhile, works independently of paired audio sources to protect users from sudden loud bursts – even with users maxing out the speaker volume, the overall levels can sound low if the connected device's master audio is turned down.
A suggestion would be for Audioengine to include a remote control here. The lack of any integrated volume control means users will have to manually adjust audio levels by twisting the knob on the rear panel, which may be a little cumbersome for console owners gaming on the big screen, who, in another scenario, can easily do the same with their television remote.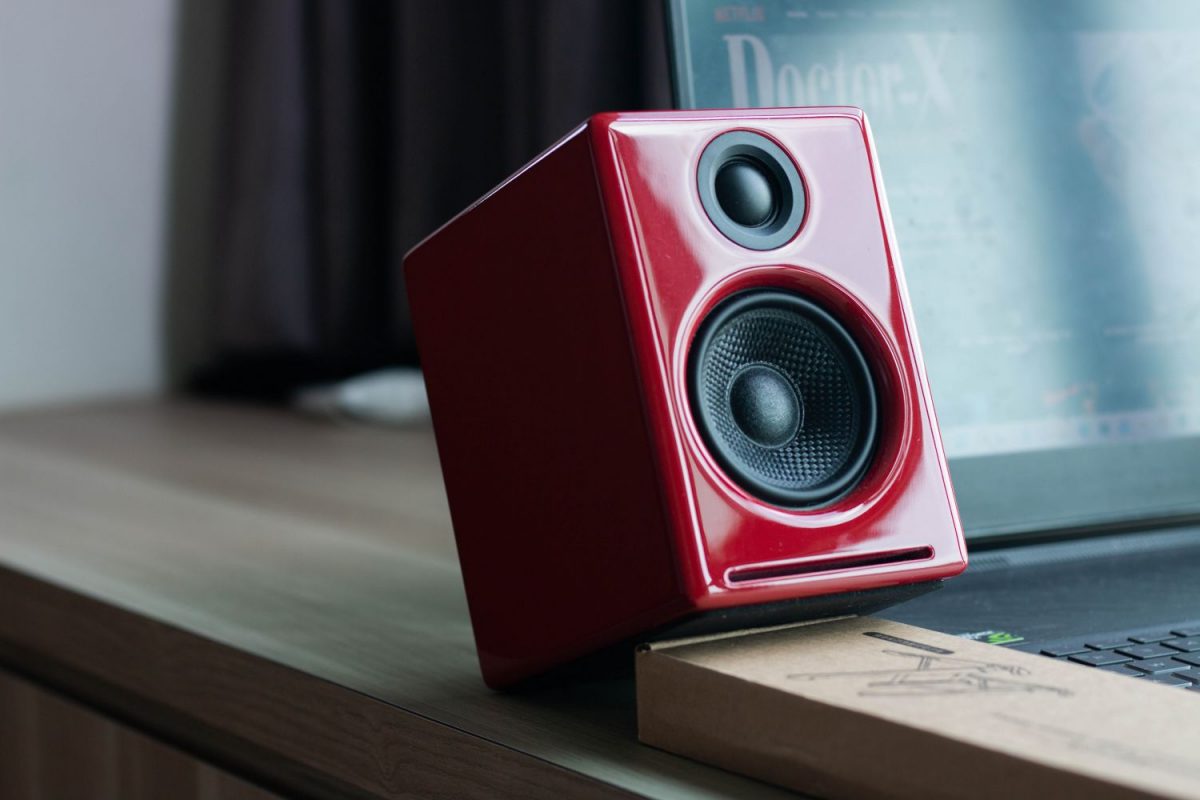 It'd also be handy if kickstands or wedges could be included to angle the speakers upward for an improved audio experience. In the case of desktop users, the A2+ will be firing directly at their chest area instead of being aligned more closely to their ears, thus affecting sound quality. None of these should prove to be a deal breaker, however.
Putting the speakers to the test yielded an impressive showing that had few faults to boot. With upward angling, the highs are less muted, and instead come off as crisp and bright. The background percussive hits in Denzel Curry, Gizzle and Bren Joy's "Dynasties and Dystopia", for instance, sound clear and punchy to the ear, with the A2+ doing a good job at separating the instrumentals.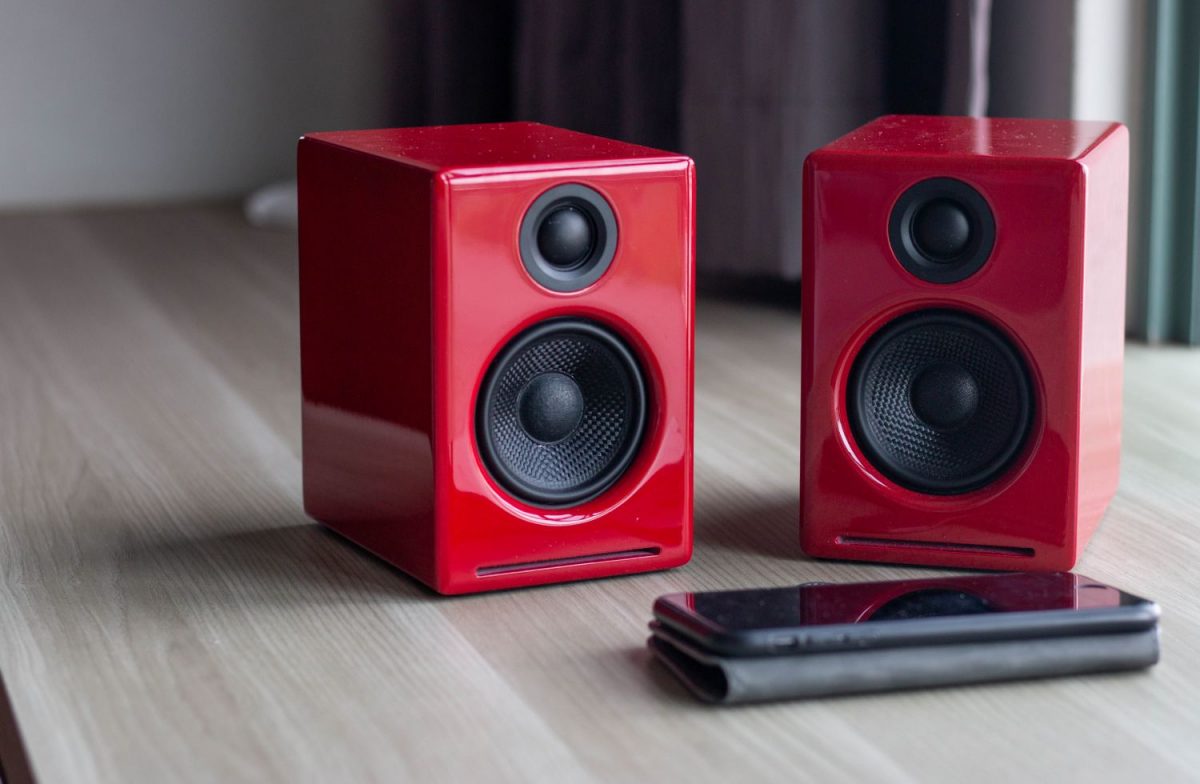 Depending on one's listening preferences, bass levels may come across as limited. While the heavy beats and sub-bass synth hits in the soundtrack do indeed pack a punch, they lack the loud, booming effect present in more bass-focused systems. The thumping in rap songs like Eminem's "Venom" and Rich Brian and Warren Hue's "Getcho Mans" is also notably more tame, sporting a moderate heft bass that doesn't ooze a lot of oomph.
It's not necessarily a drawback; in fact, the softer lows here are a refreshing breath of air from the usual bass-forward options, where low-frequency deliveries can be overly thunderous and less pleasant for some. If richer-sounding bass is the only way to go, there's the option to connect a subwoofer as well, but that comes at an additional cost.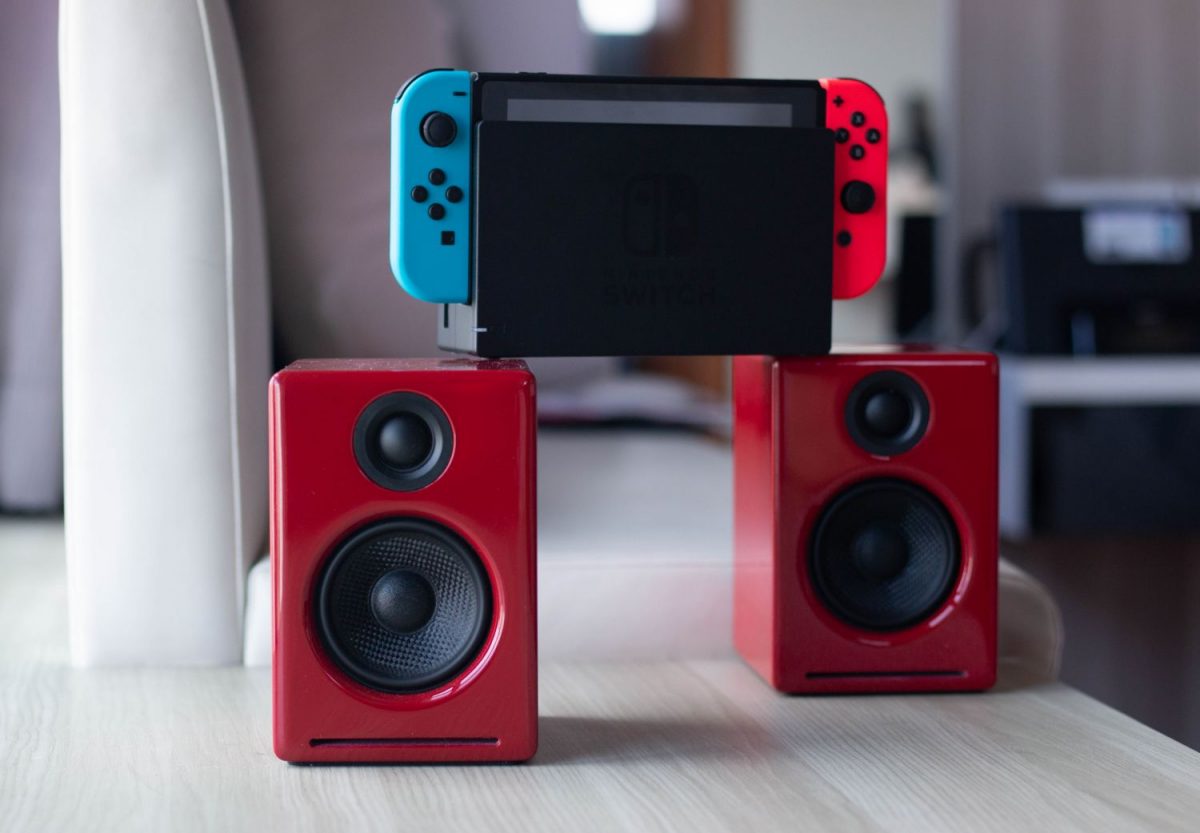 Vocals, in a continued show of audio prowess, are delivered in well-bodied, lively tones. In "We Don't Talk About Bruno" from Disney's Encanto, the cast's crooning is captured with great clarity, while the harmonious line of 'no, no, no' in the chorus makes for an enjoyable listening affair. This proficient transmission of the spoken word carries over to video games as well, with the cutscenes in The Legend of Zelda: Breath of the Wild demonstrating crystal-clear narration, character dialogue, and sound effects.
The A2+, in general, registers balanced signatures that are accompanied by a welcome tone of richness, although a slight distortion will creep in if both the speakers and main audio source are pushed to maximum volume. Audiophiles may also find fault in the lack of depth, but the difference should be less evident to the everyday listener.
At S$469, the A2+ Wireless Stereo Speakers are about as compact, loud, and competent as they come. Despite the power and range limitations brought on by its smaller build, this high-performing system still packs a punch without sacrificing audio quality and fidelity. There are a few small bumps to take into consideration, but individuals in search of versatile and space-saving options will be hard-pressed to find similarly-sized alternatives that can match its feature set and performance level.
GEEK REVIEW SCORE
Summary
Compact yet mighty, the A2+ Wireless presents a strong, iron-clad case for versatility, performance, and value.
Aesthetics -

8.5/10

Build Quality -

9/10

Performance -

9/10

Value -

8.5/10

Geek Satisfaction -

9/10