I've never driven a supercar until now.
I'm also not sure which is more intimidating: driving one you bought with your own money, or driving one you cannot even afford the repairs for if things go pear shaped. I briefly contemplated which organs I could donate to raise the money for potential repairs, but decided I'd really prefer to stay whole. That's why I gingerly eased my way out of the car park in the second-generation Audi R8 V10.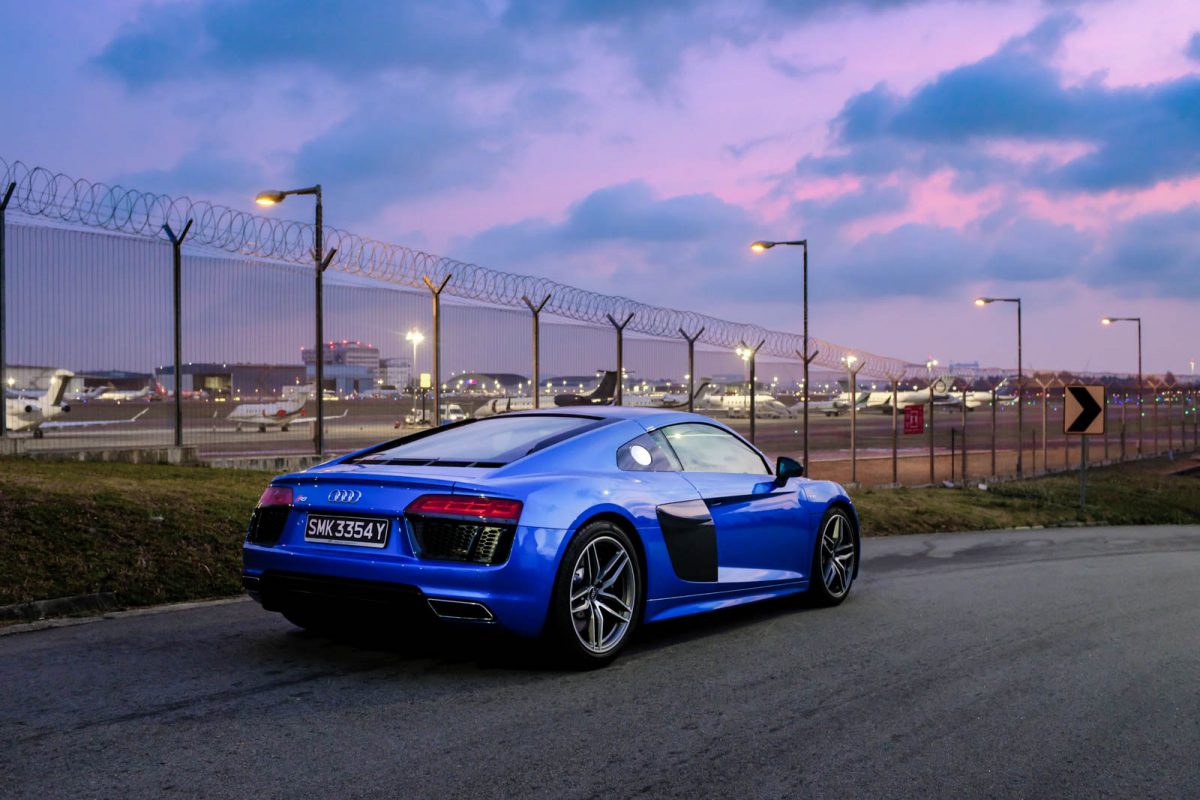 But once an open stretch of road appeared, I couldn't resist squeezing the throttle… just a little. The car urged forward several metres with a muted roar, and I got reeled into the mid-day suburban traffic. In a city with suffocating speed limits and traffic lights dictating your glacial progress, it matters not the size of your engine, the number of cylinders it has and how they are arranged, or what your 0-100 km/h time is. A supercar and supermini caught in the same traffic jam, headed to the same destination, will arrive at practically the same time. It's a cruel equaliser.
Which makes you wonder if there's much point shelling out somewhere in the region of S$800,000 (currently POA) for a car like the Audi R8. But buying a car in Singapore is seldom an act of reason, even less so when we're talking about one that costs more than most apartments.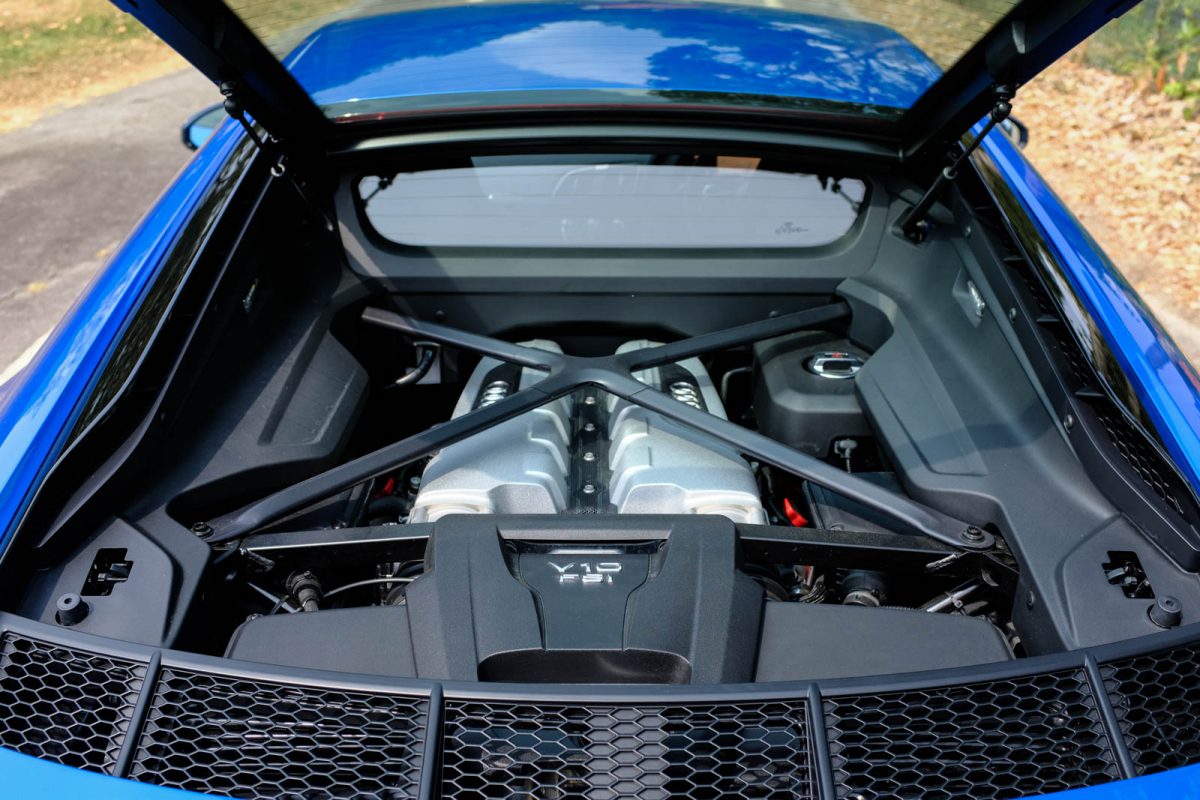 The Audi R8 V10 is a little different, however. Let's return to the engine for a moment, because it is one of the last symbols of motoring charm from a fading era. The naturally aspirated ten-cylinder motor starts up with a bark, splitting the hitherto silence before reluctantly settling into an idling growl. Apply enough pressure with your right foot and the R8 will red-line at 8,700 rpm, producing its maximum 540 hp and 540 Nm along the way. The century sprint is completed in 3.5 seconds. In the absence of turbochargers, the R8's acceleration is immediate and linear, accompanied by a sonorous howl which will make some passengers clutch desperately at anything in the cabin for emotional support.
The R8's V10 produces a unique dual-layered sound. There's the bellow at the top end but you also wonder if they mated it to a miniature jet turbine somewhere deep beneath – a continuous high-frequency hissing note becomes discernible when cruising above roughly 2,500 rpm with the engine in its sportier settings. Audi says the entire sound stage is genuine (read: not the result of some acoustic simulation), including its party piece – the babbling when you lift off the accelerator. It's addictive.
The magnificent engine is paired with Audi's S tronic seven-speed dual clutch gearbox, which performs seamlessly without any loss of torque when shifting up. Standard in the R8, the gearbox is mounted behind the engine and is very compact. Together with the car's quattro drive system, which has been fully re-developed, the new clutch can distribute torque between the axles fully variably for the best possible traction and handling, further aided by the purely mechanical rear differential.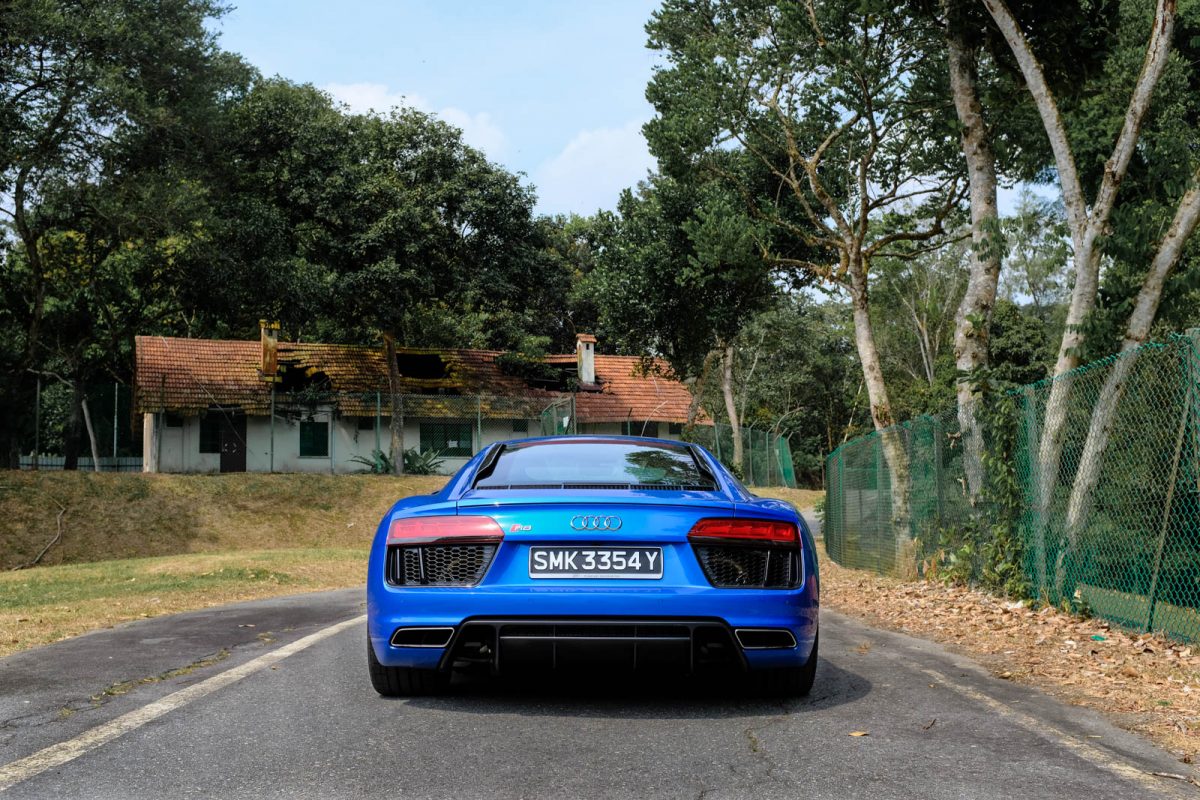 With some performance cars, there's a sense they're a little unhinged – regularly flirting with murderous insanity – but the R8 delivers the feeling of power under control. In Comfort mode, the ride quality of the R8 is comparable to a Golf's. On some of Singapore's uneven road surfaces, the suspension and dampers do very well to keep you in your passenger's good graces. The newly developed bucket seats are comfortable for long drives and still hold occupants in place against lateral forces.
Muster the courage to power through fast bends and you'll find the R8 to be responsive and balanced, thanks to its mid-engined quattro setup. Traction is superb, its wide track and low centre of gravity providing the confidence when you decide to put the hammer down. Visibility is fantastic for a supercar, apart from the large blind spot at its C-pillars. Parking the car presents less of an issue thanks to the reverse camera.
For all its performance and handling prowess, the Audi R8 is an easy car to live with in most situations. It's small enough to manoeuvre in most multi-storey car parks without triggering a panic attack, and it tucks snugly into regular parking spaces. It even has a reasonable turning radius (smaller than my Hyundai i30 N, in fact). Drive sensibly over speed humps and there's no risk of scraping the bumper.
Being an Audi, the R8 will most likely work with the same reliability as its other mainstream siblings, and that's important – this is arguably a car you can drive on a daily basis if you can get past its fuel economy, lack of rear seats and storage capacity.
As with anything that's taken close to the edge of its limits, the Audi R8 has its own idiosyncrasies. When slowing down at the traffic lights with the gearbox in its sporty setting, the car lurches forward as the S tronic shifts down its gears, like you fluffed a manual downshift. It's something to remember so you don't tap someone's rear by accident. The steering weight is fairly light, just like in other Audis. I was hoping for more feedback from the front wheels in a car of such ability. That said, the R8's setup arguably makes it less of an animal to tame for someone new to the supercar segment.
I wasn't impressed by the second-generation R8's looks at first, but the design grew on me. The lines at the front and rear seemed a little too hard, like the design brief was to draw the car's feature lines with a ruler. However, it starts to make sense when you consider how the entire Audi range has evolved in recent years; the newer R8 has shed the baby fat from its predecessor and is now a leaner, more muscular purpose-built track weapon.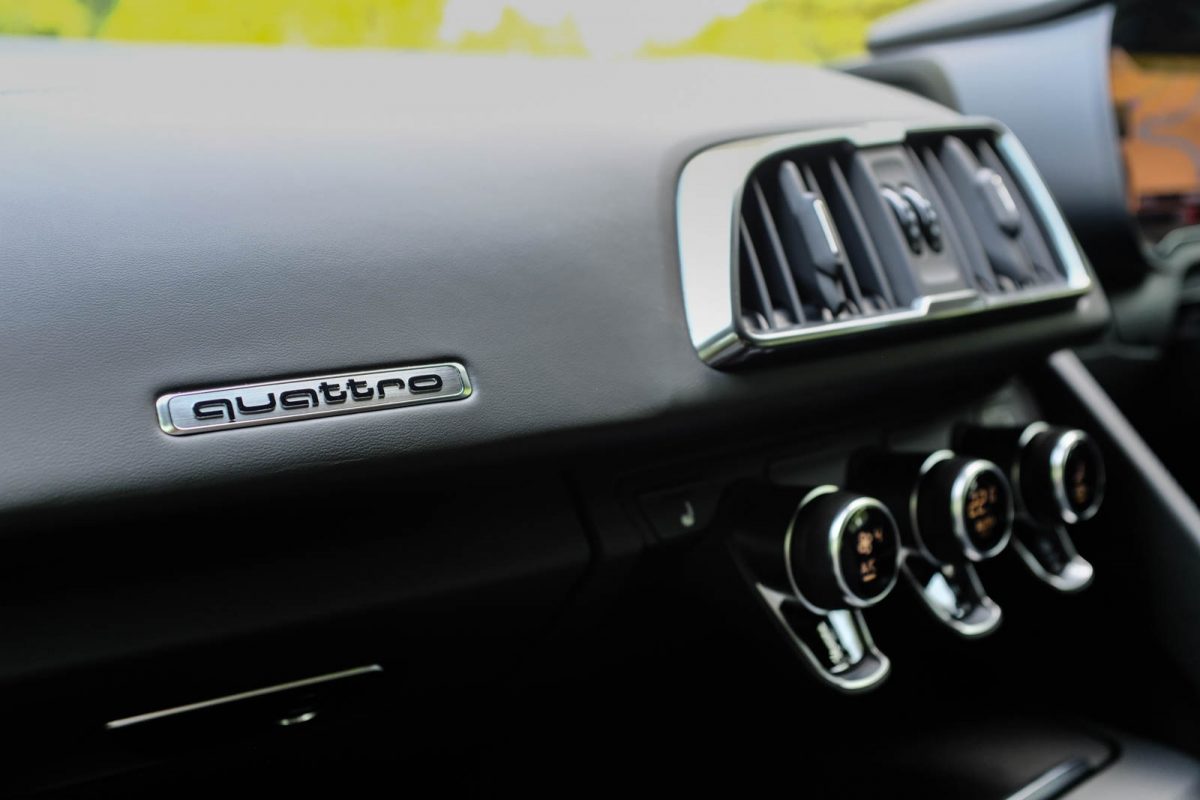 Audi's interiors are in a class of their own – their fit and finish are peerless. In a car that delivers a sense of theatre when the engine comes alive, however, the cabin's design feels clinical and cold, a little too grown up. But if being in a race car-inspired cockpit is what pushes your buttons, then this will hit the spot. The performance steering wheel is fantastic to hold and its satellite buttons are a nod to the company's motorsport pursuits. There are even knee pads on the side of the centre tunnel console.
As a car that delivers a jolt of acceleration and adrenaline with just a prod of the right foot, the Audi R8 V10 packs a lot of performance on the road. While looks will always be subjective, the R8 is one of the last few supercars driven by a large 5.2-litre naturally aspirated V10 engine. That makes the R8 an endangered species of high-performance cars that may not be possible to buy – even if you're willing to pay – in the future. If you're more mechanical watch than Apple Watch, you'll at least want to experience driving an R8 before it loses its pure V10 howl.
Special thanks to Audi Singapore for this opportunity.
The original version of this article first appeared on Eat.Fly.Drive.
GEEK REVIEW SCORE
Summary
The second-generation Audi R8 V10 is ferociously quick and provides a sense of theatre every time you start the engine. But those aren't the only reasons you'd want to have one.
Handling -

9/10

Performance -

9/10

Design -

8/10

Comfort -

7/10

Practicality -

7/10

Value -

8/10
---

Drop a Facebook comment below!