Joining a long-standing franchise, especially one that has been lauded as one of the best fantasy series in literature, is no easy feat. There's immense pressure from fans to keep adaptations and inspired work to be as close to the source material as possible, especially when it comes to legendary characters that had years of growth through books, movies and even video games.
Luckily for actors Charlie Vickers and Tyroe Muhafidin, they are free of this pressure.
The young Australian actors both play new, original characters in Amazon Prime Video's The Lord of the Rings: The Rings of Power streaming series, and what would've been pressure turned into excitement and the opportunity to explore J.R.R Tolkien's world of Lord of the Rings with fresh new eyes. Not just that, but being new characters also means receiving the rare honour of expanding the universe from when it was first conceived in 1954.
"It's been a pretty cool experience. Being able to adapt a new age is pretty exciting and bringing a new age to life and bring things like Númenor and a whole new time period is a very special thing," said Vickers, who plays original character Halbrand, in an exclusive interview with Geek Culture.
A human male from the Southland, Halbrand was first introduced in the first two episodes of The Rings of Power when Galadriel (Morfydd Clark) sought refuge on his ship after being stranded in the Sundering Seas. The first meet is a pivotal moment for both Vickers and Clark's characters and whilst it initially looks like their meeting would be short and curt, Vickers teases that said relationship will further grow and be explored as the series progresses.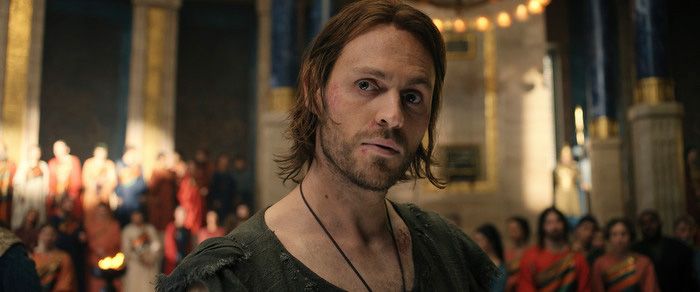 Set over a thousand years before the events of Tolkien's tomes, the series brings viewers to the second age of Middle-earth. This US$1 billion streaming series can be looked at as a prequel to the franchise, though they're not related to Peter Jackson's iconic film trilogy. In The Rings of Power, viewers are taken on a journey through the show's main character, Galadriel (Morfydd Clark), as she hunts for Sauron and seeks revenge for the death of her brother.
In fact, Vickers would go so far to say that he plays a very significant role in Galadriel's life, a character that many have revered to be a beautiful and mighty. As one of the ring bearers, Galadriel is incredibly powerful. To think that this warrior-like and at times, arrogant elf, could ever be impacted by a human is hard to fathom, but Vickers emphasises on Halbrand's importance and expressed that the relationship – whatever it may be – benefited both characters.
"He is starting a new life, he's leaving his past behind him and he is ready to begin anew and he meets characters which illuminate things in his past, things in his future and make him question his decisions," explained Vickers, who cut his teeth acting in Palm Beach and Death in Shoreditch.
"I don't want to say too much because it takes a lot of twists and turns as the series goes on, but he's made some decisions in his past which have taken him to this point, and she (Galadriel) makes him question a few things about his past, and I think, same him to her."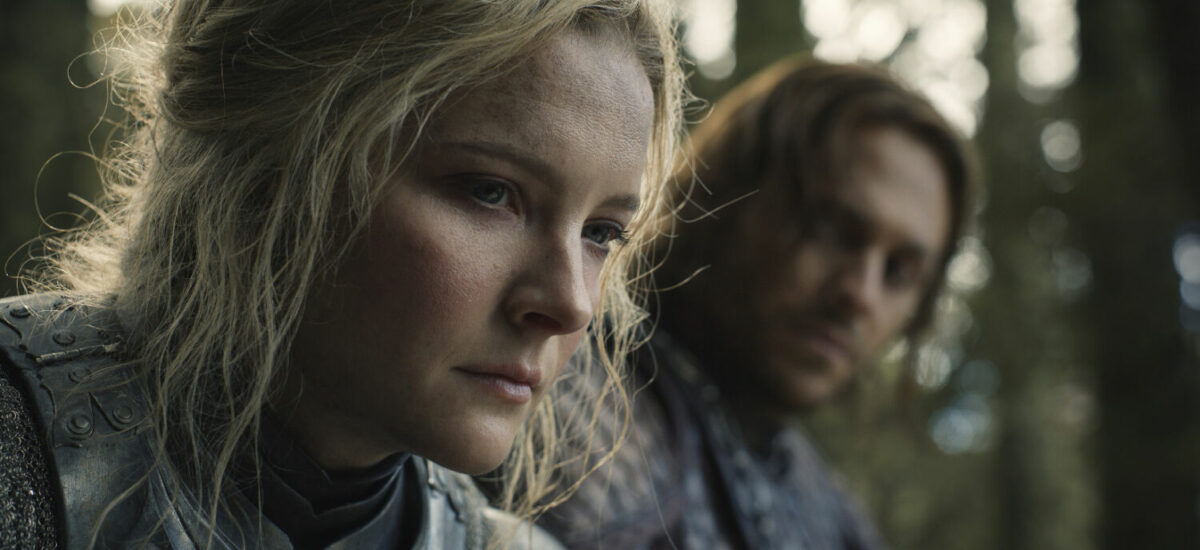 When asked to describe Halbrand's relationship to Galadriel, the actor could only say that "there's kind of a push and pull in their relationship" and that "he will move one direction and she'll pull him back and vice versa."
As it stands, Halbrand and Galadariel's relationship and journey together will likely be one of the focus in the series held against a larger background. A background sprawled with war, destruction and plenty of other relationships that will also come into play.
One of the said relationships that will affect the overarching story, is the relationship between the elves and the humans. The War of Wrath in the first age created distrust between elves and humans that bled into the second age. Muhafidin's Theo, is one of those humans with a particular dislike towards the elven race.
This is where it gets even more complicated – Theo's mother Bronwyn (Nazanin Boniadi) as revealed in the trailer, is in a romantic relationship with the Sylvan Elf Arondir (Ismael Cruz Córdova). Theo is not at all reserved about how he feels about the elves, and as seen in the second episode, he's not afraid to do something with his hate.
"I think Theo is very, very curious. I think he feels that his people don't deserve how they're being treated. They don't live in the greatest of conditions and the Elves don't treat them very well," shared a cautious and cheeky Muhafidin, who previously starred in Dusk and Caravan.
"And I think you know, with the history of the people, there are trickles of our history of men still within the village. There's a lot of questions and Theo is always searching for answers. And by searching for those answers, I think he finds himself in some situations."
How those situations happen remains to be seen, but fans of Tolkien would likely know how it turns out as the series happens thousands of years before the events of The Lord of the Rings and The Hobbit. Well, except for Muhafadin, who didn't get into The Lord of the Rings until he was cast.
"It's not my generation. So I knew of Lord of the Rings, I knew that it was a massive thing. I knew that there was Gollum, and I knew Frodo lost his finger, but honestly, after I got the role, I sat down and I did the dive and watched the films and read The Hobbit and got into the world," admitted the young Australian actor.
Vickers, on the other hand, admits to being a fan.
"I was definitely a big Lord of the Rings fan. I'd watched the films. I've never actually read the books. I've never read The Hobbit. I played the PlayStation games, and then when I sat down to prepare [for the role of Halbrand], I read as much as I could so I'm a much bigger fan now having been involved in this show," shared Vickers.
The Lord of the Rings: The Rings of Power premieres 2 September 2022.