It's always fun and exciting to embark on a new adventure overseas, but travelling does come with its fair share of woes. For many, under-packing has become a rite of passage, elicting an unwelcome dose of anxiety and panic that can sour the experience.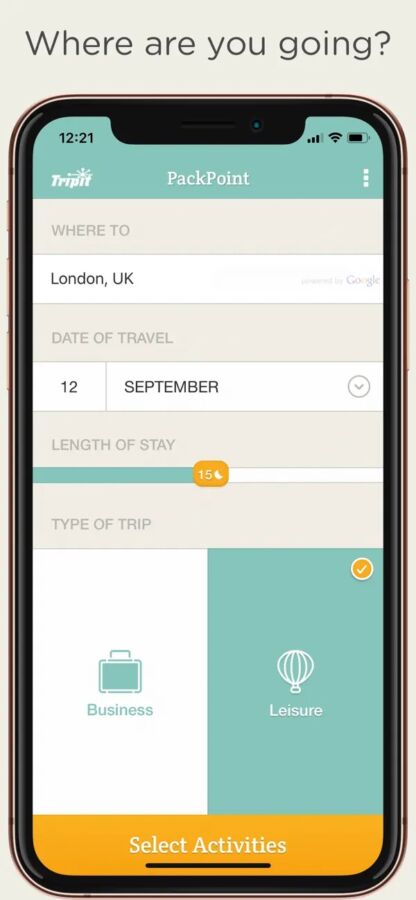 PackPoint is one of the most reliable solutions to this common occurrence, seeking to become the ultimate packing companion for anyone who hates packing, or has a tendency to forget about their travel essentials. The handy app configures trip lists according to a user's specific plans, and tells them exactly what to bring based on length of travel, weather at the destination, and activities planned for the trip.
It starts from a simple information-keying process – all travellers need to do is punch in the city they are going to, the departure date, and the number of nights they will be staying there. The app will then take over and build a packing list that takes these various details into account, including the nature of travel (business/leisure), the need for warm or cold clothes, and a reminder to bring along an umbrella if the forecast calls for rain. There's even a Laundry and Repeat Basics option, which covers considerations like access to laundry facilities, and the willingness to rewear basics like shirts and pants.
Once each item is packed, individuals can easily check it off the list, or swipe to remove if they don't it. The ease of use is further enhanced by a simple, easy-to-navigate and intuitive interface, so there's no need to go through hoops to enjoy packing convenience.
PackPoint is available free-of-charge on both the Apple App Store and Google Play Store, but there's also a paid-for premium version (US$2.99/S$3.98) that removes ads, offers custom packing templates, and integrates TripIt and Evernote. With travelling now back in fashion, the app is certainly worth checking out.