Some countries have winter, some countries rain all day, but here in Singapore, it's summer all day everyday, even when it rains. If there's one thing locals and tourists can agree on is that on days where we need extra shade or a glass of lemonade, there's nothing that can cure this heat like a scoop of cold dessert.
Nestled down the bustling stretch of Haji Lane is newly opened Momolato Gelato, which serves healthy gelatos, seltzers, and waffles. Yep, Momolato Gelato isn't just the latest cafe to pop up in the area, but it promises healthy options that leaves you guilt-free no matter how much you eat.
Opened in March, Momolato Gelato is inspired by Singapore's kampung days, from it's interior design that features botanical palm designs, hand-crafted rattan boards and biodegradable tableware made from fallen Areca leaves, down to their exquisite gelato flavours that include local favourites such as Ondeh Ondeh Sweet Yam and Mao Shan Wang Durian, amongst others. Whilst the idea of healthy doesn't usually accompany desserts, owner Sharon Tay is offering a cornucopia of creations that are diabetic friendly, sugar free and even Keto.
"My intent for Momolato is to create inventive, not-too-sweet gelato flavours that capture the essence of exquisite ripe fruits as well as various gourmet and natural ingredients," said Tay.
"Our philosophy can be succinctly summarized as this – we'd not make and serve gelato that we do not want our loved ones eating. We make our gelato using only clean, natural and wholesome ingredients. No nasties allowed."
With over 18 flavours to choose from, some of the flavours we got to try were Watermelon Soursop, Ondeh Ondeh Sweet Yam, Ecuador Chocolate Arabica, Kochi Yuzu Shisho, Mango Passionfruit Osmanthus and Keto Salted Caramel (S$4.90 – S$7.40 per scoop). 
Whilst each flavour certainly is unique, we found that the standout flavours that hit the sweet spot that we craved in gelatos were their fruity flavours, including Watermelon Soursop, Kochi Yuzu Shisho and Mango Passionfruit Osmanthus. With each first bite we took into the gelato, it almost immediately tastes like the real fruit itself, albeit in frozen form. The sweetness in the gelato isn't overpowering and definitely stems from the fruits that were made into the dessert, and each flavour came across sharply with each bite. 
It might seem normal to think that fruit flavoured gelato exists, but there is some magic here as watermelon isn't a regular dessert flavour, given its rather generic taste, yet Tay has been able to enhance something simple to make it distinct and noticeable. Likewise, soursop is another familiar though uncommon gelato flavour, so the pairing of this sour fruit with the sweet watermelon offers a cooling match made in heaven in this sweltering heat.
Speaking of cooling, fans of yuzu will undoubtedly fall in love with the Kochi Yuzu Gelato. The yuzu's unique flavour here is a combination of lemon, grapefruit and orange paired together with the minty Japanese Shisho leaf, presenting a sweet and sour tang that leaves a cooling effect in your mouth after every bite. 
Likewise, the Mango Passionfruit Osmanthus delivers just the right amount of fruity, sweet and sour burst, thanks to the passionfruit. However, out of the three flavours we tried, the mango passionfruit osmanthus is the only flavour that takes a while for you taste, as passionfruit has an overpowering kick that punches through the other flavours quickly. This gelato is also the most sour out of the three, so unless you're a fan of passionfruit and all things sour, our recommendation would easily be the Watermelon Soursop.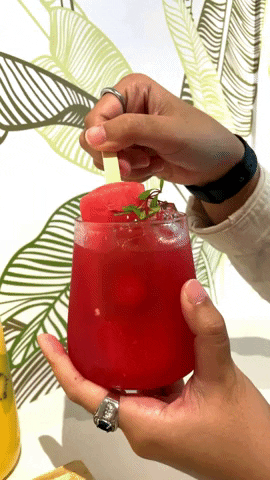 Apart from gelato, Momolato also serves popsicle spritzers and diabetic-friendly smoothies if you'd like to cool down with a drink instead. The Popsicle Spritzer comes in a few flavours – Watermelon Mint and Watermelon Kiwi Pop, Coconut Water Lychee Pop or Mango Coconut and Passionfruit Pop (S$8 each), while Momolato's keto and sugar-free smoothies cost are available in Mango Yoghurt Pomelo, Avocado Coconut and Strawberry Cheesecake (S$8 each) flavours. 
Just like the Watermelon Soursop gelato, the Watermelon Mint and Watermelon Pop spritzer is sweet and refreshing, as marrying the freshness of watermelon juice and the mint leaves is a tropical dream. The Mango Yoghurt Pomelo smoothie was thicker in consistency than we'd like, but that's also a personal preference. After all, it depends on whether you're looking for a drink as a quick cool down, or something to savour for an extended period.  
Of course, no gelateria in Singapore is complete without waffles on the menu. Served on biodegradable plates made out of Areca leaves, waffles from Momolato are the perfectly pressed waffles that are crispy on the outside and fluffy on the inside. We had a scoop of Pistachio gelato with our waffles and had keto salted caramel sauce and light cream on the side. 
The entire meal was satisfyingly sweet without feeling like we've worked out our sweet tooth. The Pistachio gelato was definitely a good choice to have with the waffles as the nuttiness and creaminess of the gelato melds well with the crispy and soft waffle.
Whilst we enjoyed their waffles, the star of the entire show has to be Momolato's Croffles (Croissant waffles). Like we mentioned before, no gelateria in Singapore is complete without waffles, but how many out there serve something as unique as croffles?
For those who are unfamiliar, croffles are what you get when you essentially cook croissant dough on a waffle pan so it looks like a waffle, but it is actually a croissant! Like croissants, they are soft and flaky, but given the method it's being cooked, there's some density to the pastry so it's not light and airy as a regular croissant. Momolato serves you two croffles on a plate so the size is comparable to that of Momolato's waffles.
A must-try, Momolato's croffles are delicious to have as is, but since you're sitting in a cafe of a premium gelato maker, you have to have it with a scoop or two.
The golden puff pastry smells divine and has a sweet buttery taste to it. Dusted with sugar, we recommend having the croffles with a gelato flavour that has a smooth creamy texture like the Pistachio, Avocado Coconut Gula Melaka or Ecuador Chocolate Arabica gelatos (maybe all three if you'd like) for a fulfilling meal.
The Momolato Gelato range changes weekly and offers various flavours that are Keto, dairy-free and vegan, plant-based and sugar-free. Made out of pure ingredients without additives or artificial flavouring, Momolato Gelato not only gives you means to escape Singapore's heat, it does so with unique flavour fusions that are delicious, healthy and guilt free!
Momolato Gelato
34 Haji Lane, Singapore 189227
Sunday to Thursday, noon to 11pm, Friday and Saturday noon to 2am.