It was not too long ago that Canon released its very first instant printer, the Mini Photo Printer, which allowed users to instantly print any photos taken from their phone. Today, Canon has announced that the Mini Photo Printer will be rebranded to iNSPiC and will feature two new instant camera printers in its lineup — the iNSPiC [S] and iNSPiC [C].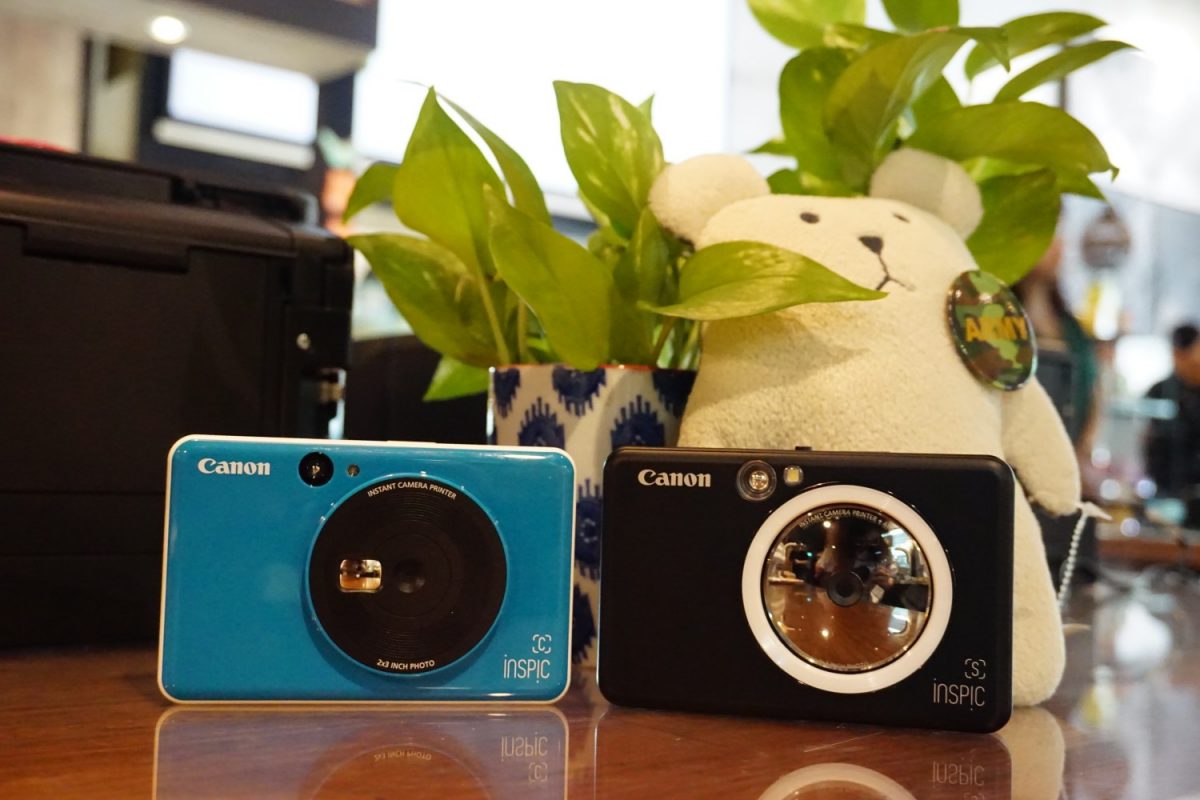 The name iNSPiC stems from the words 'inspiring photos' and according to Canon, properly encapsulates their intentions for users with the addition of the two new pocket-sized models.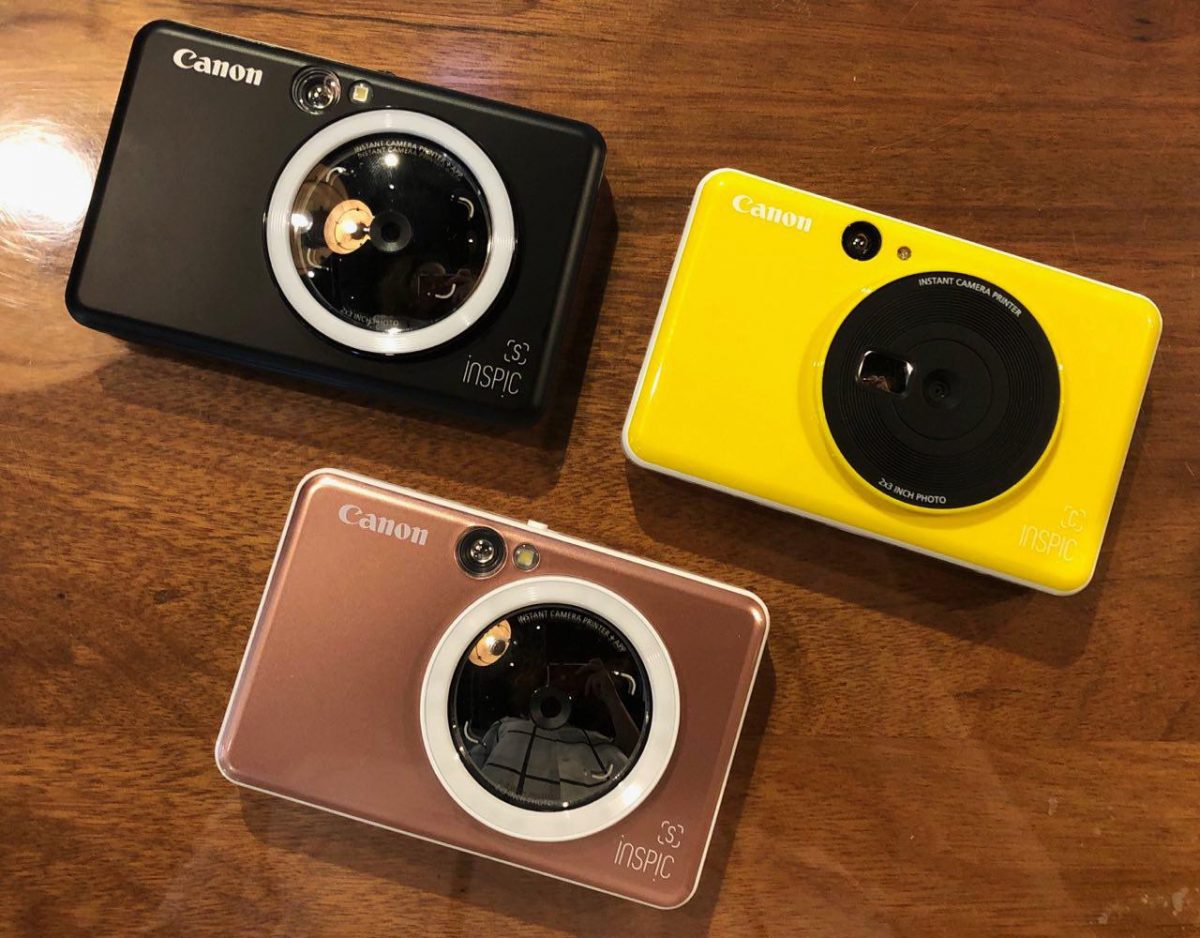 From young to old, the new additions offer the exciting benefit of instantly capturing a moment, which appeals to everyone who appreciates spontaneous fun on the go," said Edwin Teoh, Head of Marketing for Canon Singapore. "The iNSPiC was carefully designed to be stylish and lightweight, the perfect must-have for parties and gatherings to bring back the joy of instant sharing and living in the present."
iNSPiC [C]
Make a bold statement amongst your peers and family members with the iNSPiC [C]. It comes in three bright and bold colours — Bubble Gum Pink, Bumble Bee Yellow and Seaside Blue — which will definitely catch the attention of anyone in the room. Which works out just fine as you can then get them in for a selfie.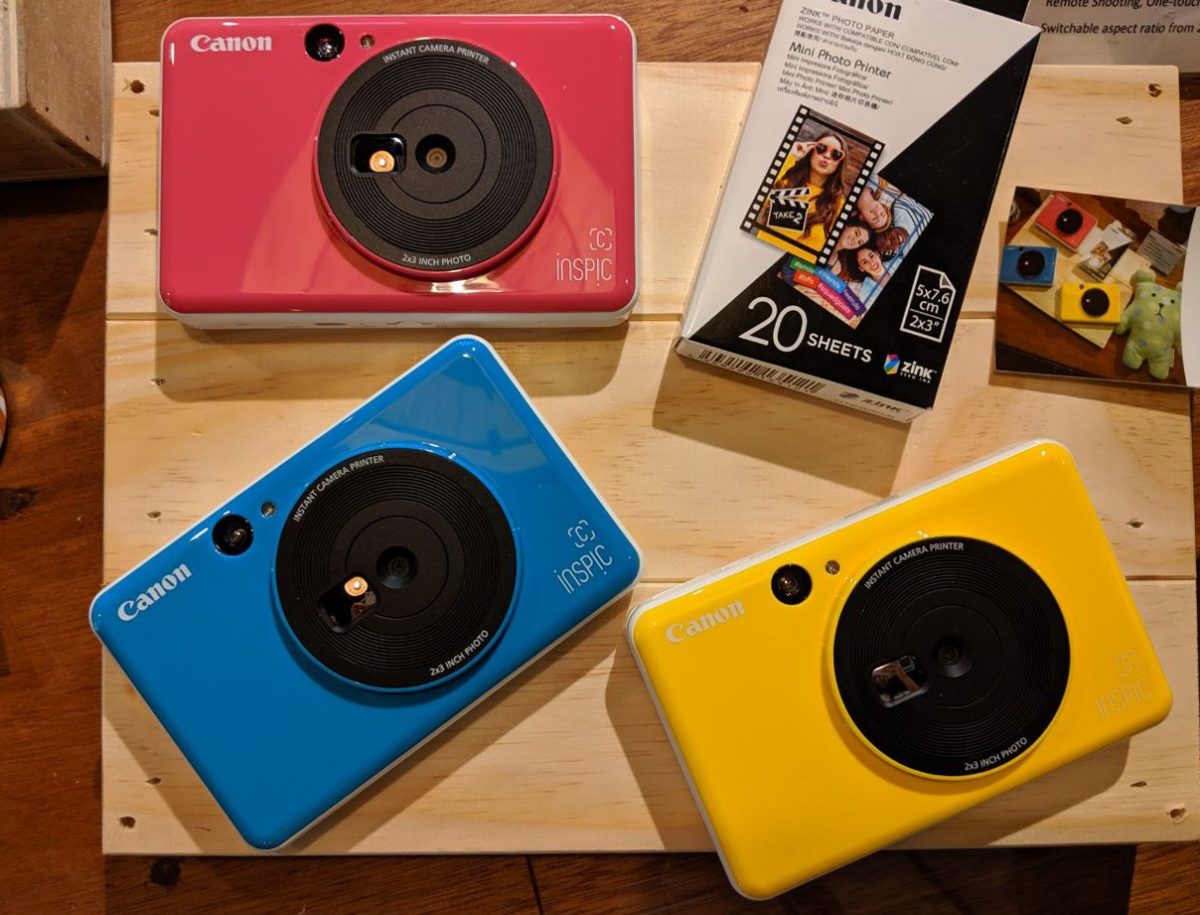 The iNSPiC [C] comes with a built-in 5-megapixel camera and a small selfie mirror right next to the camera lens for easier selfie-shooting. If you find yourself liking a particular shot, you can even reprint the same image at the touch of a button, with the one-touch reprint button.
The iNSPiC [C] will hit stores on June 17 and will be retailing for S$159.
iNSPiC [S]
The more premium of the two newly released instant camera printers, the iNSPiC [S] features a ultra-slim profile that's packed with an 8-megapixel fixed focus camera so that you can shoot and print instantly from one device without needing to fiddle around with your phone and a separate printer.
Unlike the iNSPiC [C}, the iNSPiC [S] comes with a built-in LED ring light that encircles the camera lens to help act as a powerful fill light for portrait shots. This makes taking selfies at night incredibly easy, especially when it is paired with the selfie mirror dome on the camera lens.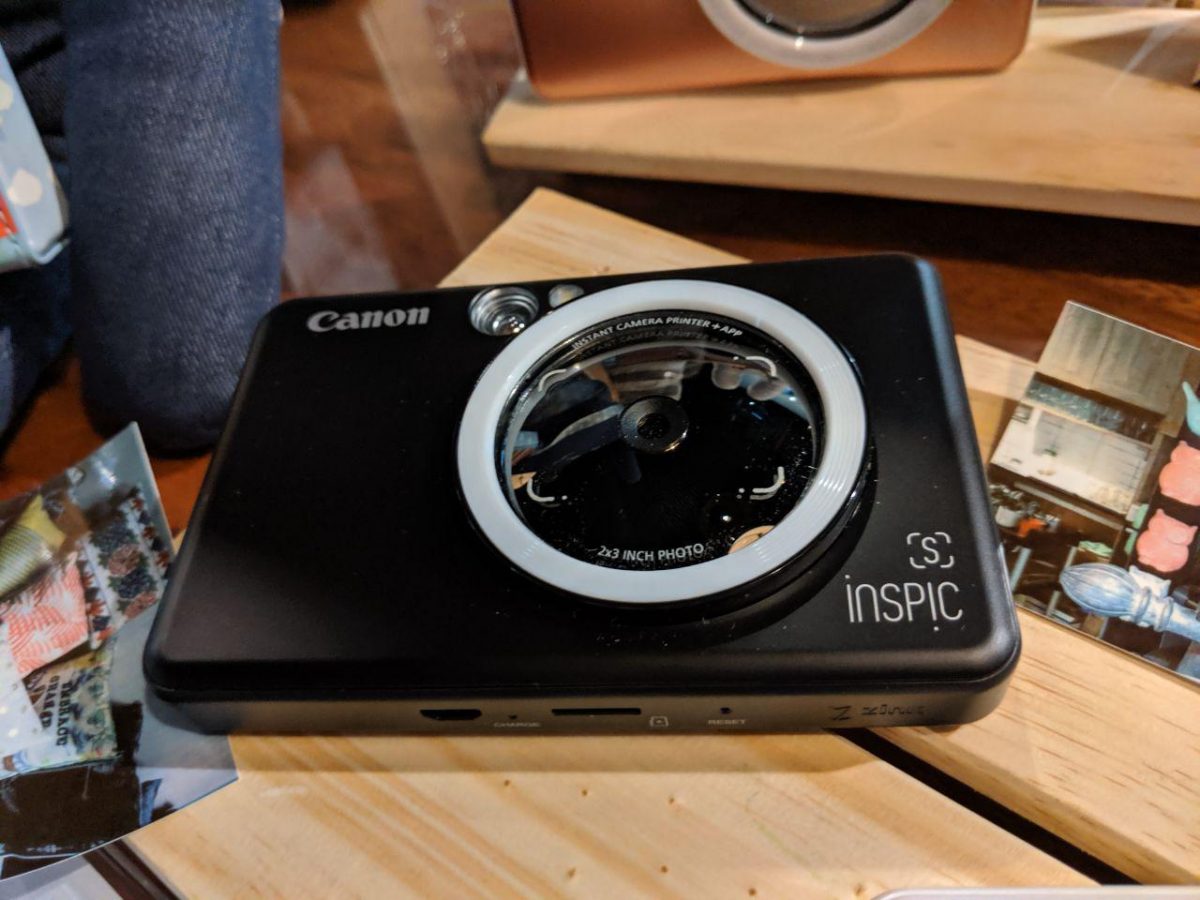 It also features a quick reprint button which makes it easy to get multiple reprints of the same image.
For users who wish to print photos taken on their phone, they can simply connect to the iNSPiC [S] via the Canon Mini Print mobile app to print any photos or pictures stored on their phones. This is a feature that is currently only available on the iNSPiC [S]. and not the iNSPiC [C].
The iNSPiC [S] will be available from June 17 in Pearl White, Matte Black and Rose Gold, and will retail for S$219.
Another key feature of both the iNSPiC cameras is the fact that you can adjust the aspect ratio of the image from 3:2 to 2:2. Both cameras also come with a Micro SD slot which supports card capacities of up to 256GB so that you can also save all your precious memories on the laptop once you get home.
Geek Culture got a chance to try out the camera and were fairly impressed with the speed that the photos were printed as well as the quality, as long as they were taken in a well-lit area that is. We tried taking a shot in a dimmer area, with the flash on and found the image to be a little grainy, with the flash overexposing the subject of the photo.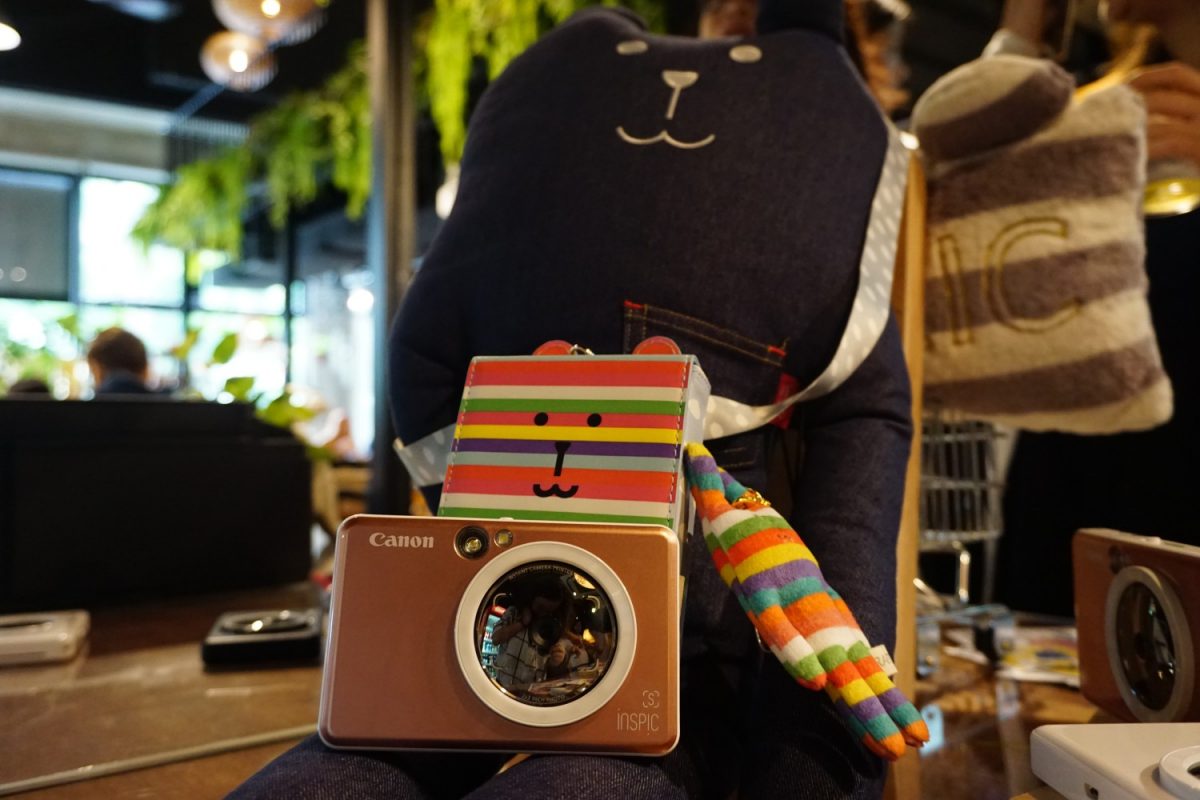 Lastly, Canon is currently holding a special collaboration with Craftholic where every purchase of an iNSPiC [S] or iNSPiC [C] will entitle you to a special bundle of Craftholic premiums (worth $59). The bundle includes a limited edition pouch, lanyard and keychain plushie.
Here are the specs of the two newly released iNSPiC instant camera printers.
| | | |
| --- | --- | --- |
| | iNSPiC [C] | iNSPiC [S] |
| Product Dimensions (L x D x H) | Approx. 121 x 78.3 x 23.8 mm | Approx. 121 x 80.3 x 21.5 mm |
| Connectivity | N/A | Bluetooth 4.0 & Canon Mini Print App |
| Print Resolution | 314 x 500 dpi | 314 x 600 dpi |
| Photo Resolution | 5MP | 8MP |
| Fill Light | No | Yes |
| Print Speed | Up to 50 seconds | Up to 50 seconds |
| Charging Time | Up to 90 minutes | Up to 90 minutes |
| Memory Card Compatibility | MicroSD Card up to 256GB | MicroSD Card up to 256GB |
---

Drop a Facebook comment below!