In the world of keyboards, there are several areas to look at, especially for enthusiasts. You have the mechanical purists, but even within the group, there are those that prefer certain switches, or even configurations of the keyboard itself. If you happen to be a fan of the ASUS Republic of Gamers brand, then there's good news, the company is pushing out the new ROG Azoth, its first 75% wireless custom gaming keyboard.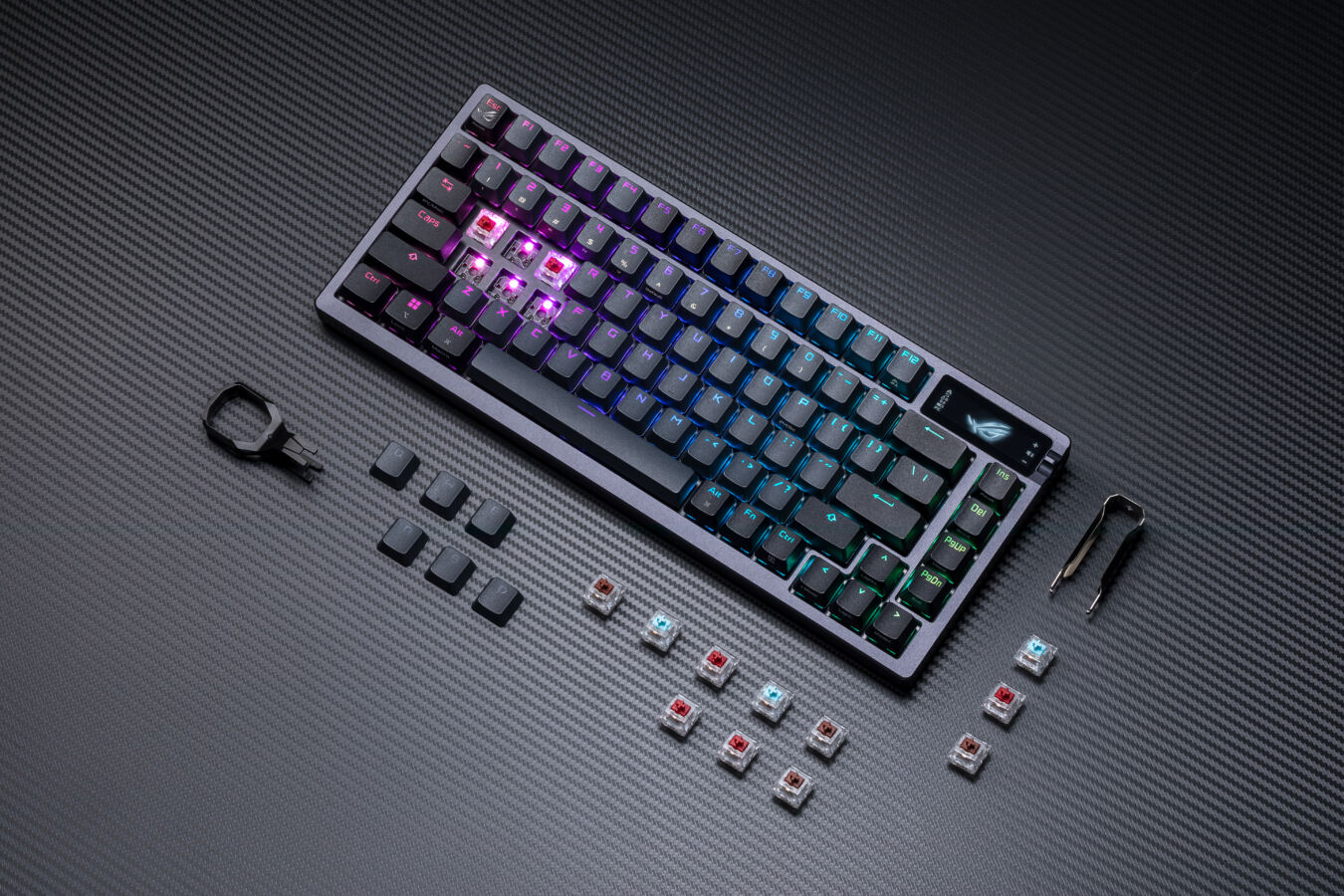 This is a premium product that comes with all the associated bells and whistles. The ROG Azoth features a unique gasket mount design with three-layer foam dampening that provides unrivalled typing experiences. The built-in 2-inch OLED display also allows users to view system info and keyboard settings at a glance, or use the built-in three-way knob for quick adjustments.
The keyboard also touts the ROG NX mechanical switches, which have pre-lubed stems and base housings that offer a smoother click feel and eliminate spring-bouncing noises. Enjoy that great keystroke feel and consistency with the ROG-tuned force curves and a fast-actuation design. The switches can be hot-swapped as well for a unique and customized feel.
To amp up that stable typing adventure, the ROG Azoth also comes with the ROG Keyboard Stabilizer, which is pre-lubed and specially tuned for gaming. The result is that there is less friction, allowing long keys such as Spacebar, Shift and Enter to stay true to the original switch feel. The Spacebar has extra lubing and modification for enhanced acoustics and feel too.
In addition, the ROG PBT doubleshot keycaps provide a premium feel and offer long-lasting durability, with the design of the keys having been optimized with mid-height keycaps and a shorter stem to reduce key wobble and provide more comfortable typing experiences while using the Azoth.
Lastly, users can count on the ROG Azoth tri-mode connectivity, with the ROG SpeedNova wireless technology offering up to 2000+ hours of stable, uninterrupted near-zero-latency gameplay in 2.4 GHz RF mode (with RGB and OLED off). Bluetooth mode can be used to connect the ROG Azoth to three devices simultaneously as well, while charging can be achieved by using the wired USB mode. There is even a MacOS mode that remaps keys for users in the Apple camp.
If you are excited to check out the ROG Azoth, it will be available at the end of January 2023 with a suggested retail price of SG$429.