It's been two years since ACG (Anime, Comics, and Games) fans and Japanese pop culture enthusiasts in Singapore stepped into the halls of Suntec Convention Centre for Anime Festival Asia (AFA), but that's set to change with 2022. The fan favourite event will be returning to a physical format this year, with a schedule set for 25 to 27 November.
In line with its theme of AFAVerse, gamified elements have been incorporated into dedicated festival zones, allowing visitors to enjoy a "game-like experience" from the moment they enter the premises — a first in the festival's history. Alongside gaming experiences direct from Japan, attendees can also look forward to an expanded AFA Creators Hub, a platform for local creatives to showcase their work. You know what this means: more fanart and fan merchandise!
Music lovers, meanwhile, will be excited for AFA Night Live!, which presents a cast of virtual YouTubers (VTubers) and artistes. Hololive Meet, an interactive live talk show and Meet & Greet session with the some of the world's most celebrated VTubers, is being held for the first time in Singapore on 26 November, while event staple "I Love Anisong" will return for one night only on 27 November.
The full list of highlights are detailed as follows:
Hololive Meet will see VTubers Moona Hoshinova (hololive Indonesia), Anya Melfissa (hololive Indonesia), Mori Calliope (hololive English), Gawr Gura (hololive English) making their debut in Singapore.
Watame Night Fever!!: Vtuber Tsunomaki Watame will be performing in a full 3-D concert, as part of AFA Night Live! on 26 November.
First wave of heavyweights for "I Love Anisong 2022" include JUNNA, May'n, nanawoakari, NHOT BOT, and Yuka Nagase. Fans from Southeast Asia and the rest of the world can catch the popular anime music festival, with 4 hours of concerts by 4 artistes/artiste groups and 3 special showcases by virtual talents.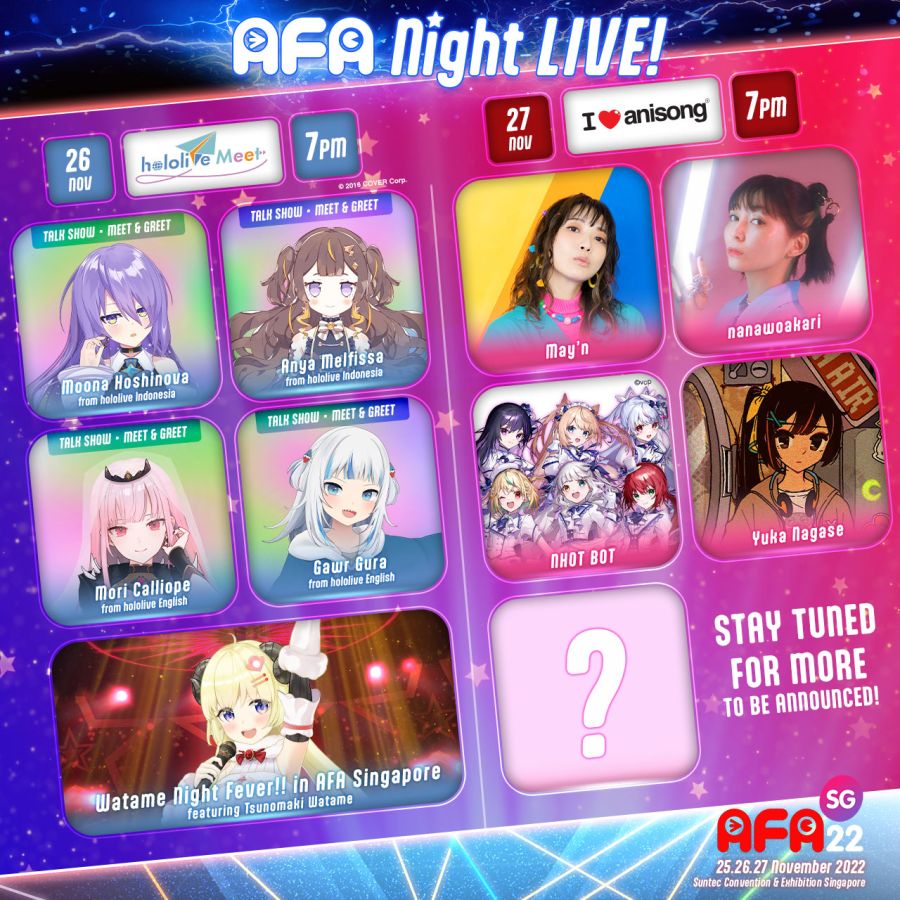 Interested parties may purchase the 2-Day VIP Ticket Packages ($318 early bird special; S$330 U.P) online from 16 September onwards. Apart from access to exhibition grounds, the bundles will include meet-and-greet ballot chances for hololive Meet, autograph ballot chances for selected "I Love Anisong" performing artistes, printed autograph posters and more.
As for the standard AFA tickets, prices will range from S$21 per day for the Exhibition Pass to S$32 per day for the Exhibition + Day Pass combo. More information about AFA Singapore 2022 can be found on the official event website, which includes an FAQ section.