If love or lust is in the air, it is safe to say that there probably is something happening at night (or day) sooner or later… And sometimes, mood needs to be created, usually in the form of music or videos.
But if you are lucky enough to have a partner willing to try something new, here are a set of games that could possibly help with naughty time. They are best played with two in mind, but there's always space for…more.
Lap Dance
First up is Lap Dance. In this game, you are all competing to become the manager of a strip club of both male and female dancers by satisfying customer requests.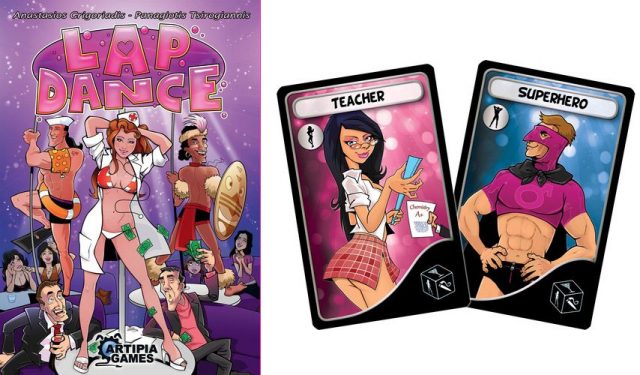 The game lasts for five rounds/customers and players do so by having to pick four cards from a stack of cards they each have. Then in turn order, players roll the dice and can reroll to get a better result barring any with a star symbol and locking an additional one non star die everytime dice are rerolled. Afterwhich, apply any effects from cards used and get paid according to the level the customer is satisfied to. At the end of the 5th customer, the manager with the most money wins.
There is nothing stopping both of you from dressing up to the theme of Lap Dance. And if you cosplayers out there do not want your expensive costumes damaged by the end of the night, it might be a good idea to remove some part of the costume every round.. as they can be heavy to wear for the whole game of course.
Fog of Love
The Romantic Comedy, a staple for movie going couples. Now what if I told you, you could play one instead of watching one. That is what Fog of Love does and the game can be played both cooperative or competitively with multiple endings being possible.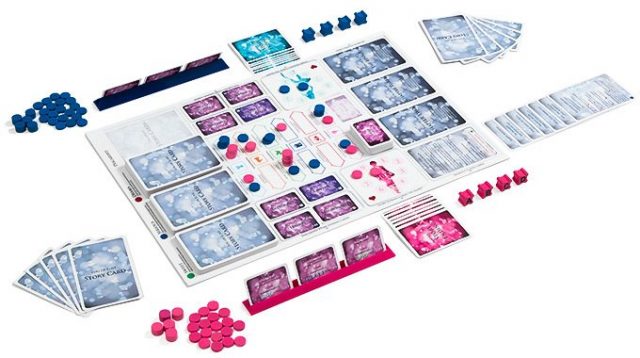 First thing you will do in Fog of Love is make a character through choosing traits and a job you will pick from a hand of cards. So the story can be about Phillip, a subservient, down to earth, nurturing criminal who meets Sophie, a impulsive, hypocritical and patient model for example.
These traits are important as they are how a player wins the game. For at the end of the game, a player wins if they have fulfilled both the conditions of all their trait cards and the story ending card they have chosen.
Every turn a player reads a story card representing different events in the relationship with answers being answered simultaneously by both via lettered blocks or by one player. For example, maybe our impulsive model Sophie wants to have sex in public. Then our subservient criminal Phillip says no, that is perverted. This then affects tracks on the board that will help or hinder both players winning conditions.
Fog of Love is very thematic and yet unlike many 'relationship' games, it is a game that works as a game. You will have to look at the other player's character traits they are roleplaying and try to figure out what are they going for to achieve your own goals.
At the end of the night, I am sure there will be stories of characters roleplayed and the fog of love will definitely be lifted.
Macroscope
This next game Macroscope was actually the first game I thought about for this article but with a twist to make it more interesting. Instead of the art given in the box, why not have screenshots of your memories with that special someone printed out. Why? Read on to find out.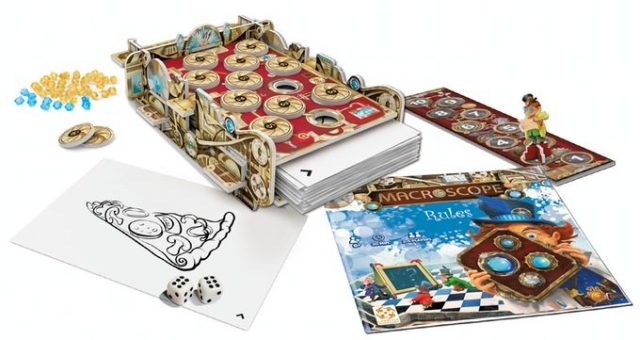 The way Macroscope is played is really simple, the picture is placed in the boxed shaped device and the current player rolls two dice and removes one or two tokens that corresponds with the numbers rolled. Then through the holes showing what little of the picture is available, If the player wants, they can guess what the picture represents. Afterwhich the picture is pulled out of the box to see whether they are correct. The score is based on the number of tokens removed. Either gaining points if correct, if not losing them if wrong. Whoever has the higher score at the end of ten rounds wins.
The cool thing about Macroscope is it can even be played on the bed if you are so inclined and the game can be played for as long or short as the players involved want it to be. Also, as mentioned above, you can customise your own picture deck and, well, even have a 'not safe for work' version to make the game all the more interactive.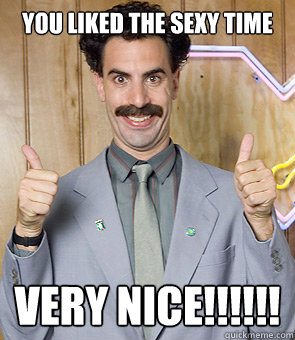 ​Akaisamurai is a cash-starved ronin of the nerd hobby whose moral inspirations are in order of Superman, Captain America and All Might. He also frequently finds himself playing boardgames, wargames, painting miniatures, reading about History and Philosophy and making Youtube videos on all of the above. Also, he has made it known that he is currently looking for 6 other samurai to defend a small village in rural Japan from Bandits.
---

Drop a Facebook comment below!